Impress your guests with a few of these easy appetizers. All can be prepped ahead with minimal hands on time. And all well tested and popular!
Below are many of my go-to appetizer recipes plus a few other ideas.  This is an update to one of our first-ever posts, 10 Easy Make-Ahead Appetizers (with early and terrible pictures!).  Honestly, I could just eat appetizers and skip the main meal, but if I've gone to all the trouble of making dinner, I try to coordinate the apps and not make them too heavy.  For example, I wouldn't serve a meat-based appetizer if I'm serving meat for dinner.
I typically try to make one or two somewhat unique appetizers (is there such a thing anymore?) and a couple of super easy ones like fresh orange juice shots, mango or melon chunks, mixed nuts, etc.
My sister Kathy turned me on to Dukkah.  You just grind up some nuts, seeds and spices in the processor and serve it as a "dip" with bread and olive oil.  It's different and people love it.  Vegetarian, 20 minutes, make ahead.
Flaky, crispy, cheesy, melt-in-your-mouth. Can't go wrong with that. I make these ahead, freeze them, then just heat them up for a few minutes before serving. Vegetarian, 30 minutes, make ahead.
Melted Olive Cheese Appetizers (get the recipe)
Really tasty – the blend of salty tangy olives with the cheddar, onions and curry works really well. Even non-olive lovers love these apps. I never have leftovers.  Vegetarian, 20 minutes, make ahead.
Easy Avocado Crostini with Balsamic Drizzle (get the recipe)
I love the avocado, lime, salt, tomato and balsamic combo and these are perfect for vegetarians served on costini 'toasts' with a hint of garlic. Super popular. Vegetarian, 12 minutes, make ahead and drizzle right before serving.
Easy Shrimp with Gremolata Dressing (get the recipe)
Just roasted shrimp with a simple dressing of parsley, lemon, garlic and olive oil that bursts with flavor.  Bright and fresh. Fine to serve at room temperature. 20 minutes, make ahead.
Thai-Inspired Butternut Squash Mini Soup Cups (get the recipe)
My friend Faygie inspired this recipe. Creamy, smooth and flavourful with some nice heat. I serve it in shot glasses or espresso cups for an appetizer. I put the soup in a thermos to keep it hot and let guests help themselves. Vegetarian, 30 minutes, make ahead.
Honey Garlic Chicken or Beef (get the recipe)
Crispy, fried, sweet and way better than take-out.  These are best served hot, freshly tossed in the sticky sauce, so I only make them when I'm having a small group for dinner like 4-6. Really good! 30 minutes, make ahead (not more than an hour).
Cocktail Chicken Meatballs (get the recipe)
Tender, sticky, sweet, spicy (or not) cocktail chicken meatballs make a great appetizer or pot luck dish. Serve with toothpicks or individually on Chinese spoons garnished with green onions or parsley. 25 minutes, make ahead.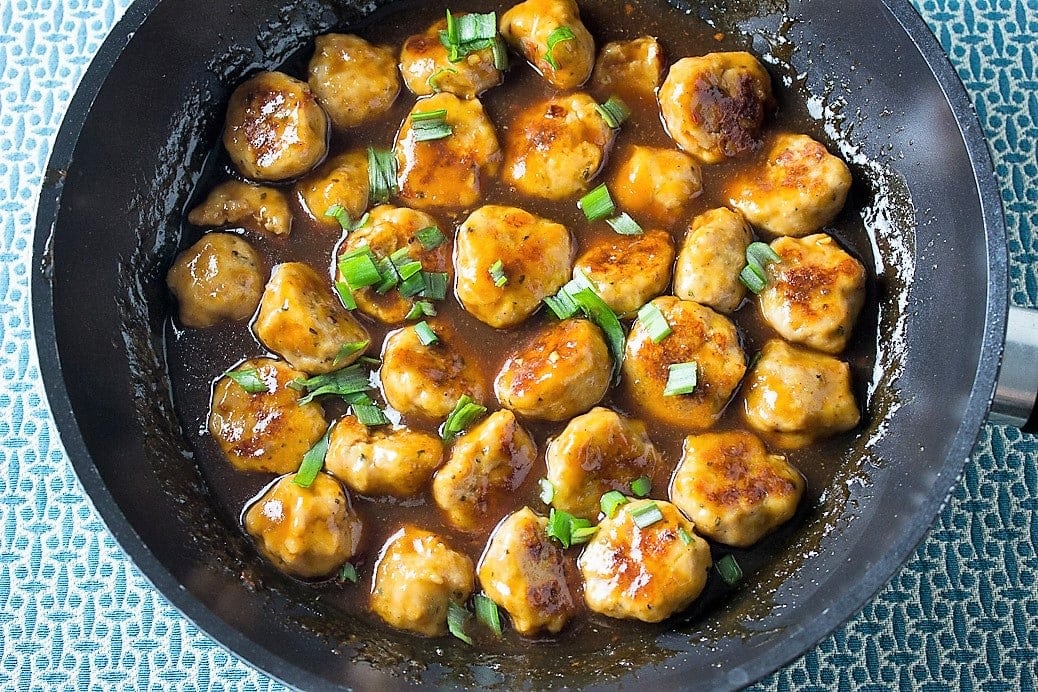 Peach and Prosciutto Appetizers (get the recipe)
In the summer, I grill these, but in winter, you can serve them at room temp (without cooking) or broil them for a minute or two.  Substitute pears if peaches are not in season. 12 minutes, make ahead.
Beef Crostini with Horseradish Aioli (get the recipe)
This was posted as a sous vide recipe (special cooking method), but you can use any leftover or quickly pan fried or grilled steak instead. Assembles in minutes and the rare beef works beautifully with the horseradish aioli.  15 minutes (with beef premade), make ahead.
Salmon on Cucumber
I make this appetizer with a piece of leftover roasted salmon (even half a piece goes a long way).  Slice an English cucumber (unpeeled) into thin rounds, about 1/4 inch thick. Top with a dab of mayonnaise, then a tiny chunk of cooked salmon.  I sometimes add a drizzle of sweet spicy thai sauce or red pepper jelly on top for beautiful colour.  10 minutes, make ahead.
Not your typical appetizer, but addictive and very popular.  Savoury. herb-y, lemon-y, garlic-y, smoky and a bit of heat. Yum. Vegetarian, 11 minutes, make ahead.
Roasted Shrimp Cocktail
Ok, not unique I admit, but always popular. I use large or extra large easy peel shrimp (count 16-20 or 20-25) and either boil them for 3 minutes or roast them tossed in olive oil, salt and pepper at 400F for 7-8 minutes.  I sprinkle the shrimp with some chopped parsley (or place around a bed of baby spinach) and serve with a cocktail sauce of ketchup, horseradish and a dash of worcestershire sauce. 10 minutes, make ahead
Other easy appetizers
Cheese board with grapes
Bruschetta with crostini
Antipasto platter
Olive bread sliced, served with olive oil mixed with herbs and balsamic
Melon chunks
Fresh orange juice shots (in shot glasses)
Dips with crunchy snap peas as scoops
Guacamole with pita chips
Fresh mango slices or melon chunks
If you're entertaining for the holidays, check out our tips: 
10 Tips for a Great Dinner Party (get the tips)
10 Tips on Keeping Foods Warm (get the tips)