Jazz up your same-old pasta and tomato meal with this creamy vegetable pasta. It's loaded with veggies and ricotta and ready in under 30 minutes. A great and quick weeknight meal.
Since I am married to an Italian, we usually have at least one pasta dish a week. I started experimenting to enhance our much-loved, albeit a bit boring, noodles and tomato sauce. This recipe for creamy vegetable pasta has now become one of our favorites. And much enjoyed by all who have tried it.
The ricotta adds a creamy mellowness to the marinara sauce and the peppers, zucchini and broccoli add great nutrients and color.
I wanted to make sure this recipe was simple enough to whip up after a long workday so expect this to take you under 30 minutes. The recipe has tons of veggies so even though it uses only 3 portions of pasta, the added bulk allows for 4 servings unless you have very big eaters.
Want to Make a Homemade Tomato Sauce? 
I used store bought marinara sauce for this recipe (a good one from a gourmet Italian store) but you can, of course, use your own homemade sauce or try out our Simple San Marazano Tomato Sauce Recipe.
Tailor To Your Taste
Feel free to use whatever vegetables you have in your fridge. The only thing to keep in mind is that different vegetables cook at different times.
And of course feel free to spice it up as you wish by adding chili flakes.  Even though I love spice, I love this dish just as much without it.



Print Recipe
Pin
Rate this recipe here
Creamy Vegetable Pasta
Jazz up your same-old pasta and tomato meal with this creamy vegetable pasta. It's loaded with veggies and ricotta and ready in under 30 minutes. A great and quick weeknight meal. 
Ingredients
250

gram

Bucatini pasta

or other spaghetti-like pasta

1 1/2

tbsp

olive oil

1

small onion, sliced

1

small head of broccoli, cut into florets

1

sweet red pepper, sliced

1

medium zucchini, diced

1 1/2

cup

marinara sauce/tomato sauce

1/3

cup

cream

(I use 10% half and half cream)

1/2

cup

creamy ricotta cheese

salt/pepper to taste

pinch

red chili flakes (optional)
Instructions
COOK PASTA: Boil water with salt and cook pasta according to package directions. Drain, reserving 1/4 cup of pasta water.

PREPARE VEGGIES: While pasta is cooking, put oil into large saute pan over medium heat. Add sliced onions first and cook for approx 3 mins until soft and translucent. Add pepper slices and broccoli florets. Note 1. Saute for approx 3-4 mins, stirring frequently. Finally add zucchini and continue cooking covered for another 3-4 mins.

FINISH SAUCE & DISH: Lower heat to medium low. Pour in marinara sauce, cream and ricotta stirring to cover all the vegetables well. Simmer for approx 5-7 mins (add chili flakes now if using). Season with salt and pepper according to taste. Toss in the pasta. Add some pasta water to smooth out sauce only if necessary. Plate with fresh Parmesan and parsley or enjoy as is. Serve immediately.
Notes
To keep broccoli florets vibrant green: Instead of sauteing the broccoli, microwave it covered for 2-3 minutes, then add to dish at the end. 
Tried this recipe?
We'd love you to rate it above under 'rate this recipe' or in the comment section below. Thanks!
Other Vegetarian Pasta Dishes you might like:
Mediterranean Pasta
This light Mediterranean Pasta is inspired by Mediterranean flavors of garlic, olives, lemon, basil and tomatoes. It's a great weeknight vegetarian meal in under 30 minutes. 
Get the recipe
Print
Fresh Vegetable Pasta
This is one of my favorite non-meat meals. Its a light, healthy, zesty, fresh vegetable pasta dish and perfect for spring (or any time for that matter).
Get the recipe
Print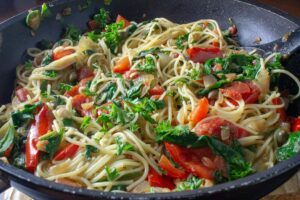 Pasta with Avocado Pesto Recipe
This healthy pasta with avocado pesto has a creamy texture and crunchy buttery Panko topping. Delicious served hot or at room temperature.
Get the recipe
Print
Fresh Tomato Lemon Olive Pasta Recipe
Fresh tomato lemon olive pasta is a beautiful blend of sweet summer-ripe tomatoes, lemon-basil zing and salty olives, capers and cheese.


Get the recipe
Print