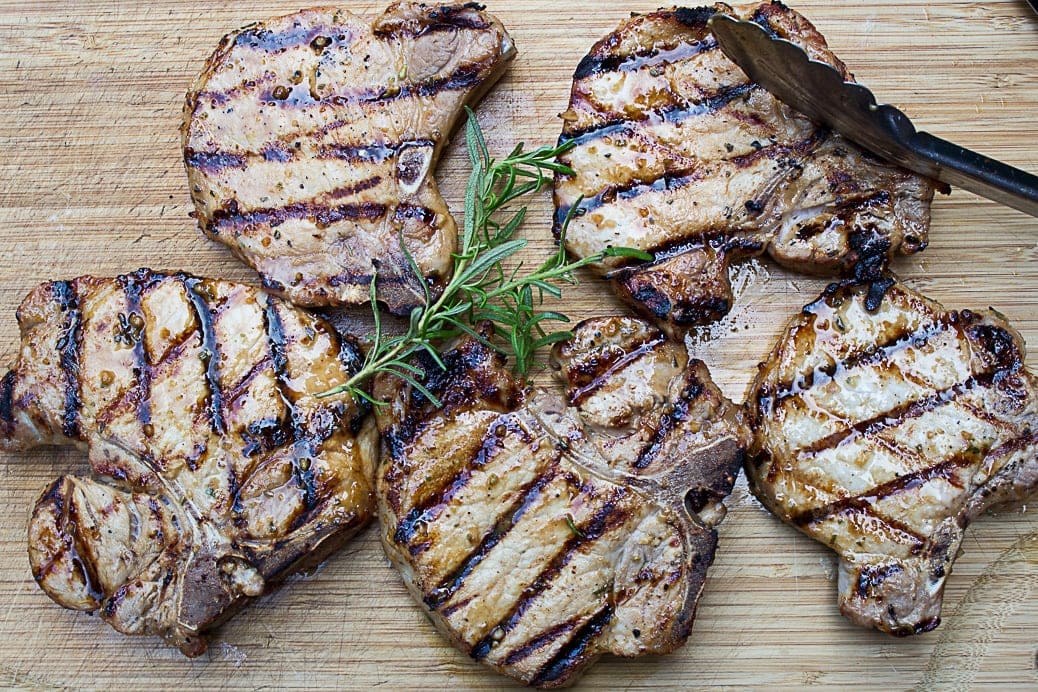 Once marinated for an hour, these Grilled Pork Chops turn out moist and full of flavour in only 5-6 minutes on the BBQ. A family favourite.
Moist and Flavourful Grilled Pork Chops Recipe
Ingredients
5 -6 rib end pork chops (about 1/2 inch thick)

salt and pepper

fresh chopped rosemary for garnish
Marinade
2

tbsp

oil

2

tbsp

soy sauce (I use light)

1

tbsp

lemon juice

0.5

tbsp

maple syrup (or honey)

2

tsp

Dijon mustard

2

tsp

minced garlic (2 cloves)

1

tbsp

fresh chopped rosemary (or 1 tsp dried)
Instructions
MARINATE CHOPS: Place marinade ingredients in large ziploc sealed bag. Massage well to combine. Add pork chops, seal bag and massage to distribute marinade over chops evenly. Let sit on counter for an hour or refrigerate for 3-24 hours.

HEAT GRILL: Clean and spray oil on grill. Heat to medium high (400-425F).

GRILL PORK CHOPS: Remove chops from marinade. Pat dry with paper towel. Spray with oil and sprinkle lightly with salt and pepper. Grill chops for 2-3 minutes per side depending on thickness. An instant thermometer should read 145F (temp will rise further when chops are resting). Remove from grill. Let chops rest 10 minutes, loosely covered, to lock in juices. Garnish with additional chopped rosemary if desired. Serve with apple sauce or fruit chutney.