A dollop of yogurt and drizzle of maple syrup make these healthy Baked Carrot Cake Oatmeal Breakfast Squares crazy good. Make ahead for a one-minute breakfast!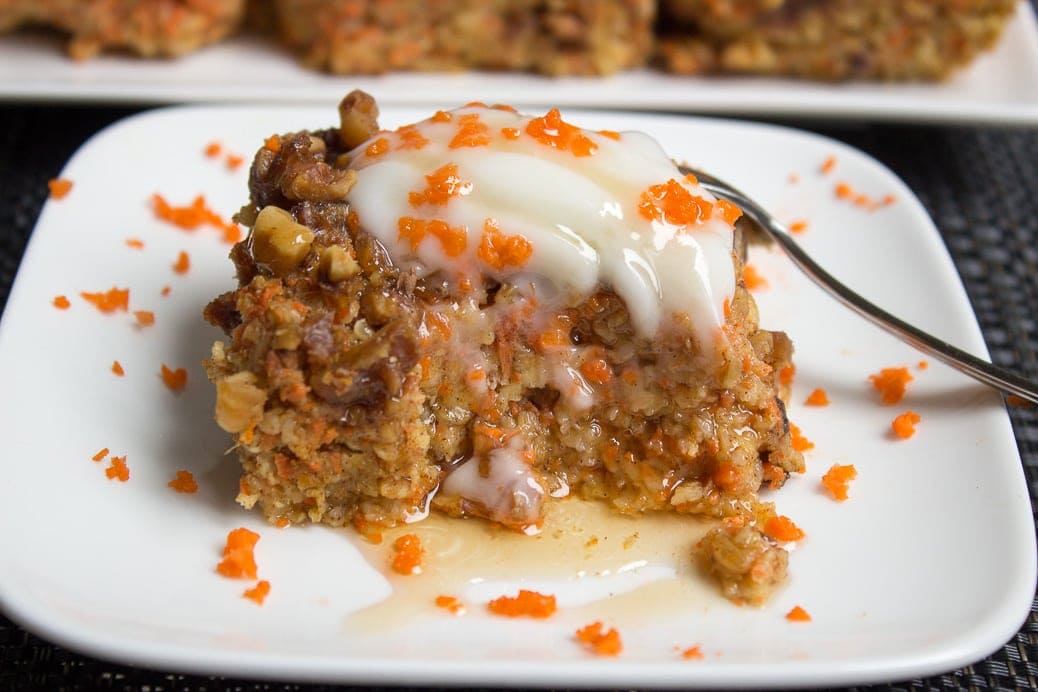 Recipe by Angela Liddon from Oh She Glows
Prep Time:12m
Cook Time:35m
Ingredients
2 1/4

cups

rolled oats

1 1/2

teaspoons

baking powder

1 1/2

teaspoons

ground cinnamon

1 1/2

teaspoons

ground cinnamon

1/4

teaspoon

salt

1 1/2

cups

lightly packed shredded carrots (about 3 carrots) - or finely grind in processor

2 1/2

cups

milk

1/3

cup

maple syrup

2

teaspoons

pure vanilla extract

1/2

teaspoon

ground ginger (or 1 1/2 teaspoons fresh)

1/2

cup

chopped walnuts

1/4

cup

chopped pitted dates or raisins

TOPPINGS/GARNISH (optional): vanilla yogurt, maple syrup, cinnamon and/or extra shredded carrots
Instructions
Preheat oven to 375F. Grease (or spray with oil) a 2 .5 quart/10-cup casserole dish e.g. 8" x 11", 7" x 11" or 9"x 9".
COMBINE DRY INGREDIENTS: In a large bowl, combine, oats, salt, baking powder, cinnamon, ginger poweder
MIX WET INGREDIENTS: In a medium bowl, mix together shredded carrot, milk, syrup, vanilla. Then add this to the dry ingredients in the larger bowl and stir to combine well.
ADD TOPPINGS AND BAKE: Pour mixture into casserole dish. Press down with hands to ensure oatmeal sinks into milk. Sprinkle on walnuts and dates (or raisins) and press down slightly again. Bake for 32-27 minutes until edges are lightly golden (I bake for 35 minutes). Inside texture will be moist. It firms up a bit when cooled. Cool for 10 minutes,
SERVE: Serve in bowls or cut into squares when cooled. Top with vanilla or plain yogurt, a drizzle of maple syrup, a sprinkle of cinnamon and/or extra shredded carrots if desired.
TO STORE: Wrap squares in plastic, sealed container or sealed bags. Keep in fridge for up to 3 days or freeze for several weeks. Warm up in microwave (from fridge, my squares take 20-30 seconds).