If you're looking for a unique, delicious, non-fried way to serve crispy potatoes, try these roasted Potato Crisps with onions. Really good!
I made these three times this week to get the proportions right and here's what my husband said. "These are delicious! And they seem lighter than fries because they're so skinny, so I could probably eat a lot more of them without extra calories."  OK, so his last statement was probably wishful thinking.
For those who celebrate Hanukkah, these potato crisps taste a bit like latkes (potato pancakes). There are, however, no eggs, no frying, no flour (so gluten free) and no smelling up the house.
The preparation is very quick if you have a food processor with a grater blade. A box grater or mandolin with a julienne blade will also work with just a bit more effort. I have to admit I was surprised to see how long these shredded potatoes took to get to a nice brown crispiness (at least 30 minutes) at 425-450F. They're worth the wait though.
These potato crisps were great served with steak, marinated pork chops and chicken. And I'm sure they are also good with hot dogs and Grilled Chicken Burgers or just about anything. The other kook, my daughter, wants to try them on a salad for a warm crunch factor. I might try that.
The shredded potatoes do lose heat quickly as they are so thin, but I still found them delicious at room temperature which is how I eat a lot of food now after taking photographs.  🙂
Shortcut for Potato Crisps
Use pre-julienned matchstick carrots purchased at the store. They worked fine, but the fresh carrots had more flavor.
Leave out the carrots or onions.
Tailor to your Taste
Try different seasonings such as thyme, chili powder or a pinch of garlic powder.
Serve with a dipping or topping like pesto mixed with mayonnaise, basil blended with mayonnaise, Dijon mayo or good old Ketchup.






Print Recipe
Pin
Rate this recipe here
Potato Crisps
If you're looking for a unique, delicious, non-fried way to serve crispy potatoes, try these roasted Potato Crisps with onions. Really good!
Ingredients
1

lb

potatoes, Yukon Gold or Russet

1/2

medium onion, red or white

1

large carrot (or 2-3 small), peeled - optional

1

tbsp

fresh rosemary, finely chopped (or 1 teaspoon dried)

1

tsp

smoked paprika

1/2

tsp

salt

1/4

tsp

pepper

1/4

cup

olive oil

chopped fresh parsley (garnish) optional
Instructions
Heat oven to 425F.

GRATE POTATOES AND ONIONS: Wash potatoes well. Peel if desired (I don't bother). Grate potatoes and onions using the grater blade on a processor. Alternatively, you can grate by hand with a box grater or with a mandolin fitted with a grater/julienne blade.

DRY THE GRATED VEGETABLES WELL: Squeeze grated vegetables over sink by handfuls to remove as much water as possible. Then wrap in lots of paper towels to squeeze out the rest of the water. Get vegetables as dry as possible so they will become crispy in the oven. Place in bowl.

ADD SEASONINGS: Add rosemary, smoked paprika, salt, pepper and oil. Mix well. Prepare a large pan lined foil, sprayed generously with oil. The pan should be large enough to hold the mixture in one thin layer. If not, use two pans. Don't overcrowd the pan or it won't get crispy. Add potato mixture and spread out evenly.

ROAST: Roast for 20 minutes. Remove from oven and flip mixture over, stirring and separating pieces to ensure even browning. Increase heat to 450F. Roast for another 10-15 minutes until you reach the level of crispiness and brown-ness you. I like to leave some bits softer. Pile onto a plate, garnish with parsley if desired and serve immediately. Pass some toppings if you like such as ketchup, basil mayo or Dijon mayo.
Other crispy non-fried potato recipes you might like:
Crispy Smashed Potatoes with Gremolata Recipe
Crispy smashed potatoes with gremolata is potato heaven with an added burst of flavor from the parsley-garlic-lemon gremolata. Delish!
Get the recipe
Print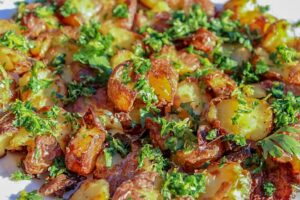 Crispy Oven-Roasted Potatoes Recipe
Crispy Oven-Roasted Potatoes are soft and fluffy inside; crispy and golden outside. The cooking method takes a bit longer, but it is SOOOOOO worth it!
Get the recipe
Print