The combination of honey (or maple syrup), soy sauce, sriracha, zesty lime, garlic and ginger in this spicy honey lime chicken recipe is wicked. Delicious hot, room temp or cold.
You can make the recipe with whole boneless chicken thighs or chicken breasts on skewers or with bone-in chicken.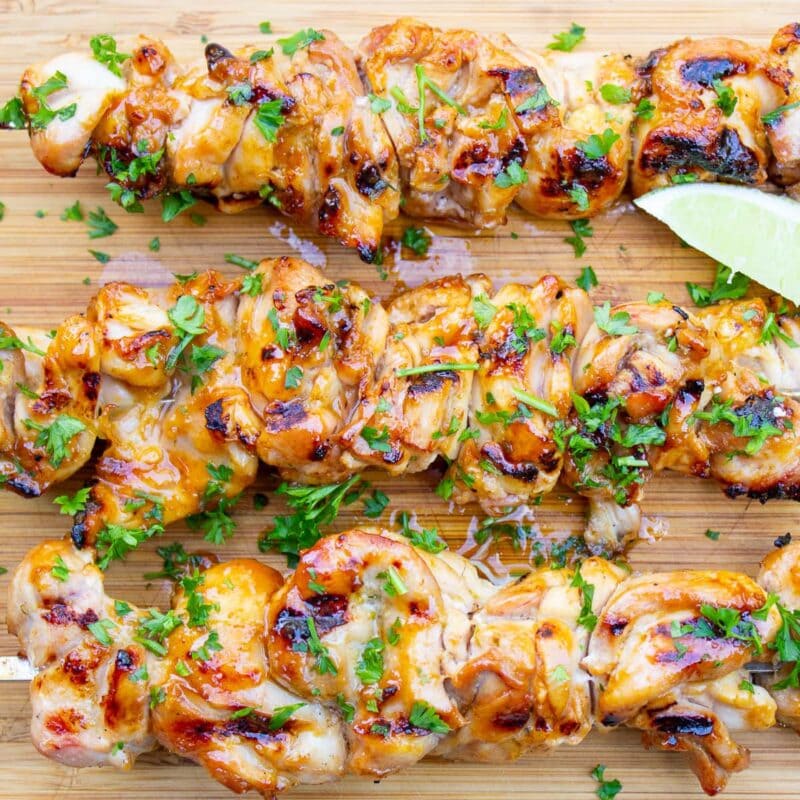 My favorite is boneless skinless chicken thighs (pictured here) because they are so flavorful, they absorb the marinade well and they tend to stay moister than breasts. If you've read any of our other chicken posts, you've heard this. Many times.
The spicy honey lime chicken marinade with its tart citrus tang – so delicious, so much flavor – also works well with pork skewers, tenderloin or chops. Even tofu. It's one of my favorite chicken thigh recipes.
Best side dish for this chicken dinner
That's hard. So many things go well with honey-lime chicken thighs. Here are some great ideas for a side and side salad: citrus salad, easy potato knishes, bread salad with charred snap peas, grilled corn salad, party salad with grilled vegetables and quinoa, roasted baby cauliflower and grilled vegetable orzo salad recipe.
Tailor To Your Taste
How to serve honey lime chicken
I love the grilled chicken skewers format the best because you get the maximum glaze covering the chicken. But you can also use whole chicken breasts or thighs. If using bone-in, I suggest doubling the marinade.
For appetizers, use regular boneless chicken thighs or breasts. Once cooked, cut the chicken into small pieces and thread on small wooden skewers or toothpicks to serve.
The chicken is fabulous served in pita or tortillas with a tangy coleslaw or Israeli salad.
Options for honey lime chicken marinade
Vary the amount of sriracha heat you like. The amount in the recipe is fairly spicy. I know some will like it even hotter. Or some not at all. If you don't have sriracha, try chili powder or red pepper flakes.
Replace the lime with lemon in the honey lime mixture (marinade).
Try adding coriander or a favorite spice to the marinade.
Cooking method alternatives
If you don't have a grill, broil the chicken skewers in the oven for 9-12 minutes.
Cooking time will take longer with bone in chicken. Heat one side of the grill on low, the other on medium high. Cook until almost done ((140F) on the low side, then switch to the hotter side to brown and finish cooking.
Shortcuts
Skip the skewers and cook boneless or bone-in chicken (not cut up). Still delish! And dinner in 20 minutes.
Substitute 1/2 teaspoon garlic powder for the fresh garlic.
Marinate at room temperature for 30-40 minutes instead of 4-6 hours or overnight in the fridge. Or skip the marinating altogether. The flavors won't be as intense, but still great. Consider doubling the sauce or making 1 1/2 times the amount if you are not marinating the chicken.
How to make spicy honey-lime chicken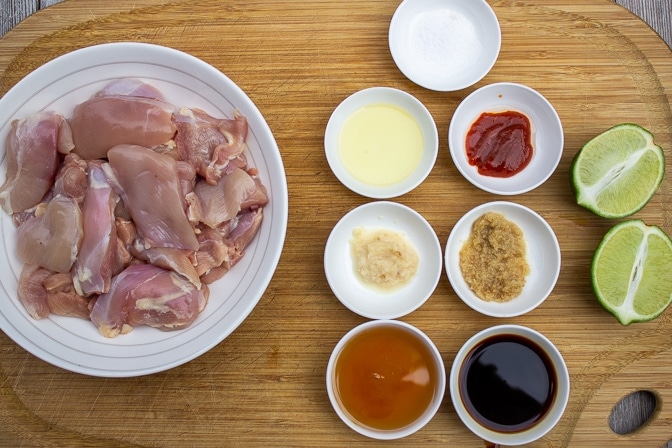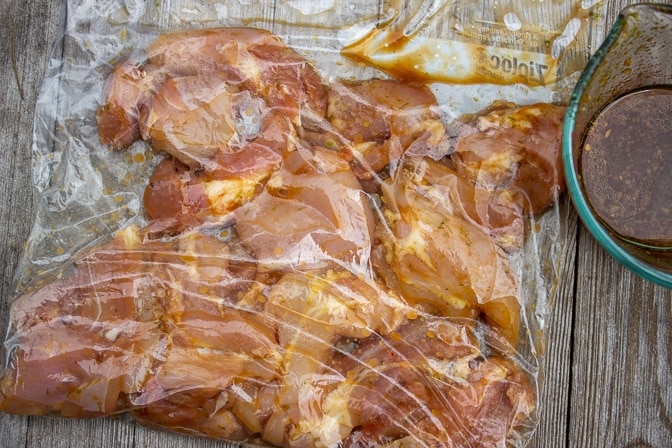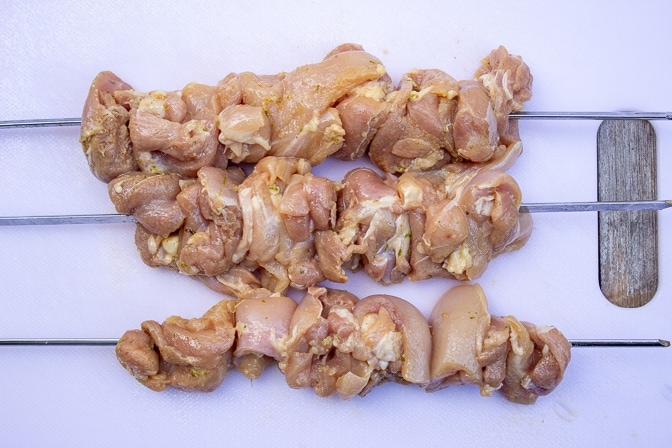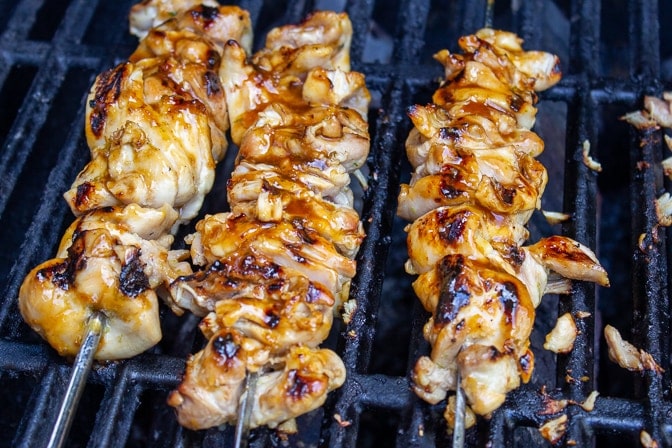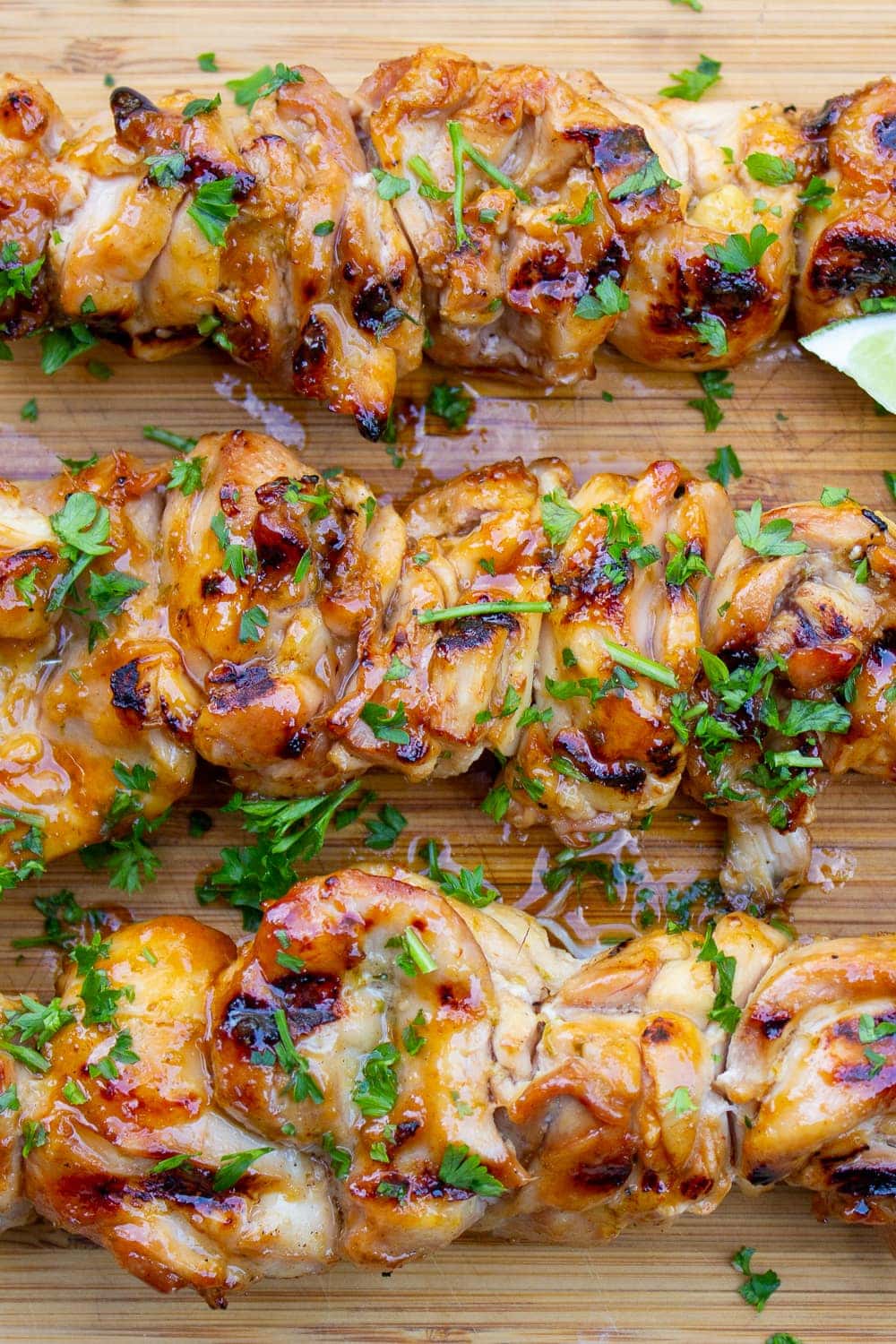 Make Ahead
Make the recipe ahead for a crowd and serve it at room temperature. Or warm it briefly in the microwave for a minute or two. Don't overdo it or the chicken will dry out and toughen.
Other easy grilled chicken recipes you might like
If you like this recipe, please leave a 5 star rating 🌟🌟🌟🌟🌟in the recipe card below. And if you REALLY like it, consider a review in the comments. Thanks very much!
Spicy Honey Lime Chicken
The combination of honey (or maple syrup), soy sauce, sriracha, lime, garlic and ginger in this spicy honey lime chicken recipe is wicked. Delicious hot, room temp or cold.
Equipment
Skewers (metal or wood). If using wood, soak for 30 minutes before using. Skewers not needed if using uncut boneless or bone in chicken.
Ingredients
2 1/2

pounds

(1.13kg) boneless skinless thighs, trimmed and cut into 2 inch/5.1cm pieces, Note 1 chicken tenders or boneless breasts are fine too
Garnish: 2 tablespoons chopped cilantro or parsley; lime wedges
Honey Lime chicken marinade (and glaze), Note 2
3

tablespoon

soy sauce

low sodium is good if you have

6

tablespoon

honey or maple syrup

1

teaspoon

lime zest

from one lime

3

tablespoon

fresh lime juice

from 1 1/2 to 2 limes

4

garlic cloves, minced or grated

(or 1/2 tsp garlic powder)

1 1/2

tablespoon

grated fresh ginger

(about 1 1/2 inch of fresh ginger)

1

tablespoon

vegetable oil

1 1/2

tablespoon

Sriracha sauce for pretty spicy

(use more or less to taste)

1 1/4

teaspoon

kosher salt

1/2

teaspoon

cornstarch (to thicken to glaze consistency)

Optional
Instructions
MAKE MARINADE/SAUCE: Whisk all marinade ingredients together in a small bowl. Or blend them in a food processor.

MARINATE CHICKEN: Pour half the marinade (about 1/2 cup) into a sealed zipper bag or container and add chicken. Marinate for 30 minutes at room temperature or 6-12 hours in fridge. Tip: if marinating overnight, I leave out lime juice and increase zest so it doesn't 'cook' the chicken. Glaze: The reserved 1/2 cup marinade will be used for glazing/basting. (Optional but suggested: Mix 1/2 teaspoon cornstarch into reserved marinade and microwave for 1 minute to make a glaze-like consistency. I do this). Set aside.

PREPARE GRILL: Scrape grill and spray grill with oil (or dip paper towel in oil and rub on grill). Heat grill to medium-high heat. If using wood skewers, soak them for 30 minutes beforehand to avoid burning. Note 3.

GRILL CHICKEN SKEWERS: Skewer marinated chicken pieces onto skewers and pat dry (important). Discard the marinade used for marinating. Lightly spray chicken with oil to further avoid sticking. Grill on all sides until chicken cooks to a golden brown (you'll need to turn chicken a couple of times), for 9-12 minutes in total (depending on thickness and how tightly packed the skewers are), basting once or twice with the honey lime glaze. Instant thermometer will read 160F/71C. Rest chicken, loosely covered for 5 minutes.

SERVE: If you have any leftover sauce, drizzle it on the chicken or warm it in microwave for 30 seconds and pass it around. Sprinkle chicken with cilantro or parsley and serve with lime wedges if desired. Serve hot or at room temperature.
Recipe Notes
Chicken options:

I prefer thighs because they are juicier and less likely to dry out when cooked. In this recipe, however, breasts work really well too when marinated.
Instead of skewered chicken, you can also cook regular bone-in or boneless chicken (but make extra marinade for bone-in)
Kosher chicken is juicier and has a little extra flavor because it is already brined. 

Marinade/glaze: If you are using bone in chicken, I suggest doubling the marinade/glaze. In fact, you might also want to double it (or do 1 1/2 times the amounts) to use as a dipping sauce or to soak into a side of rice or quinoa. 
No grill? Instead, chicken can be broiled in the oven, turning once, for 9-12 minutes, brushing with the glaze.
Make Ahead: The recipe can be made ahead for a crowd and served at room temperature or cold. Or warmed briefly in the microwave for a minute or two. Don't overdo it or the chicken will dry out and toughen.
Nutritional information estimates include boneless chicken breasts. Thighs would have more calories and fat. 
Nutrition
Calories:
373
kcal
|
Carbohydrates:
23
g
|
Protein:
50
g
|
Fat:
9
g
|
Saturated Fat:
3
g
|
Cholesterol:
145
mg
|
Sodium:
1553
mg
|
Potassium:
904
mg
|
Fiber:
1
g
|
Sugar:
21
g
|
Vitamin A:
68
IU
|
Vitamin C:
9
mg
|
Calcium:
18
mg
|
Iron:
1
mg
Tried this recipe?
We'd love you to rate it above under 'rate this recipe' or in the comment section below. Thanks!
This recipe, adapted from Once Upon a Chef, was originally published in 2016, has been edited with new images and information. It is now our most popular recipe!