We've gathered some tips & recipes for hosting a Rosh Hashanah dinner (or any dinner party) to help reduce the stress and enjoy some traditions.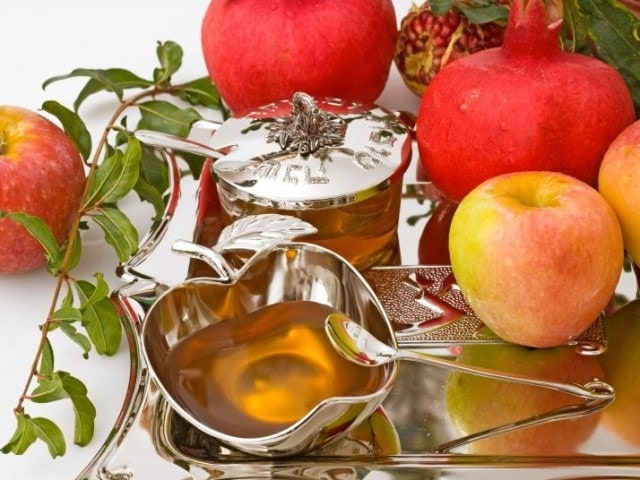 Rosh Hashanah, the Jewish New Year, is fast approaching. The holiday is about beginning a 10 day personal reflection on how we can improve for the next year  – to become a better person – as well as ushering in a sweet New Year. The latter part is where the food comes in. Big job if you're hosting a dinner!
In this post, I've gathered a few tips for hosting a Rosh Hashanah dinner from previous posts.  We've also included some traditional foods and a few of my own traditional recipes.
I've certainly hosted many Rosh Hashanah dinners in my time.  Not the 25-35 people that I see some people take on (a whole other ballgame), but anywhere from 12-18. Regardless, it's a lot of work, planning and preparation.  My first suggestion is to take all the offers for help you can get!
10 Tips for a Great Dinner Party (get them here)
The 10 tips in this previous post are not specifically related to a Rosh Hashanah dinner, but the first 9 are totally applicable.  As with any hosting of a dinner or special occasion, most of us want our guests to enjoy the food and ambience and to leave with a good feeling.  One good thing about planning a Rosh Hashanah dinner is that most families have their food "traditions" (like Thanksgiving for example) so sometimes less planning about what to make.
10 Tips for Keeping Foods Warm (get them here)
I have always been an obsessive researcher on how to keep foods warm when I'm hosting a dinner, so I am sharing 10 of the tips, posted previously, that I've accumulated over many years of entertaining. Any host will agree it's a big challenge.  Feel free to add your own in the comments – I love new tricks.
Top 10 "Make My Life Easier In The Kitchen Tips" (get them here)
"I like to do everything from scratch, I never take a shortcut and I don't mind cleaning a ton of greasy, baked-on dishes" SAYS NO ONE EVER!  Anything to lighten the load on prep, cooking time or clean-up is a good thing.  Here's a few of our favourite MAKE MY LIFE EASIER IN THE KITCHEN shortcuts, time savers and conveniences – several of which may come in handy when hosting a dinner – Rosh Hashanah or other occasion.
Traditional Rosh Hashanah Foods
These, of course, vary widely depending on where you are from and long family traditions, but here are a few common ones:
apples dipped in honey (symbolizing a sweet new year)
challah (egg bread) sweetened with raisins, often in a round shape
tzimmes, a sweet vegetable/fruit dish (see my version below)
pomegranates
honey or apple cake
potato kugel (casserole)
chicken and brisket
chicken soup (not sure if every includes this, but we do!)
A few Two Kooks In The Kitchen Traditional Recipes
Homemade Chicken Soup (get the recipe)
Super Easy Knishes (get the recipe)
Roasted Glazed Carrot Tzimmes (get the recipe)
Baked Apricot Onion Chicken (get the recipe)
This is not a traditional recipe per se, but a good one for a crowd. 
Apple Cake with Caramel-Bourbon Sauce (get the recipe)
To all those who celebrate, L'Shanah Tovah ("A Good Year")!