"I like to do everything from scratch, I never take a shortcut and I don't mind cleaning a ton of greasy, baked-on dishes" SAYS NO ONE EVER!  Well, we at Two Kooks In The Kitchen, don't exactly fit that mold.  If we can find a simpler way without compromising taste, we're all over it.  And if we can use tricks to lighten the load on prep, cooking time or clean-up, we're down!  Here's a few of our favourite MAKE MY LIFE EASIER IN THE KITCHEN tips (shortcuts, time savers, convenience).  We'd love to hear your tips too!  In fact, we'll choose a few of the best for another post, so keep those comments coming….

TIP#1: FROZEN HERB CUBES 
We discovered frozen herb cubes about 5 years ago and keep them stocked in our freezers at all times.  We have basil, crushed garlic, crushed ginger, cilantro, parsley and chili peppers.  They come in small trays of 20 little cubes, each cube is one clove or teaspoon.  We defrost them in the microwave for 10 seconds if needed or just toss them into soups, stir fries, sauces and salad dressings.  We both grow herbs outdoors in the summer, but in winter, these little cubes are fantastic and so darn convenient.  No having to buy a whole bunch of herbs when you just need ¼ cup or less.  And no smelly hands chopping garlic.  Yes, you can make these on your own using freezer trays – use the processor to chop, add olive oil to cover and voila.
TIP#2:  TIN FOIL
We should buy stock in tin foil.  We use it every single day.  Not so much to cover foods to keep them warm or save them in the fridge (although we do that too), but mostly to cover pans so there is no clean up.  You can thank us now dear husbands.  We line the pan with tin foil, cook, throw the tin foil out, then put the pan back in the cupboard.  (ok, we know that's not the most environmentally friendly idea, but it's a huge time saver for the cleaner-upper and we're saving on water use right?).
TIP#3:  OIL SPRAY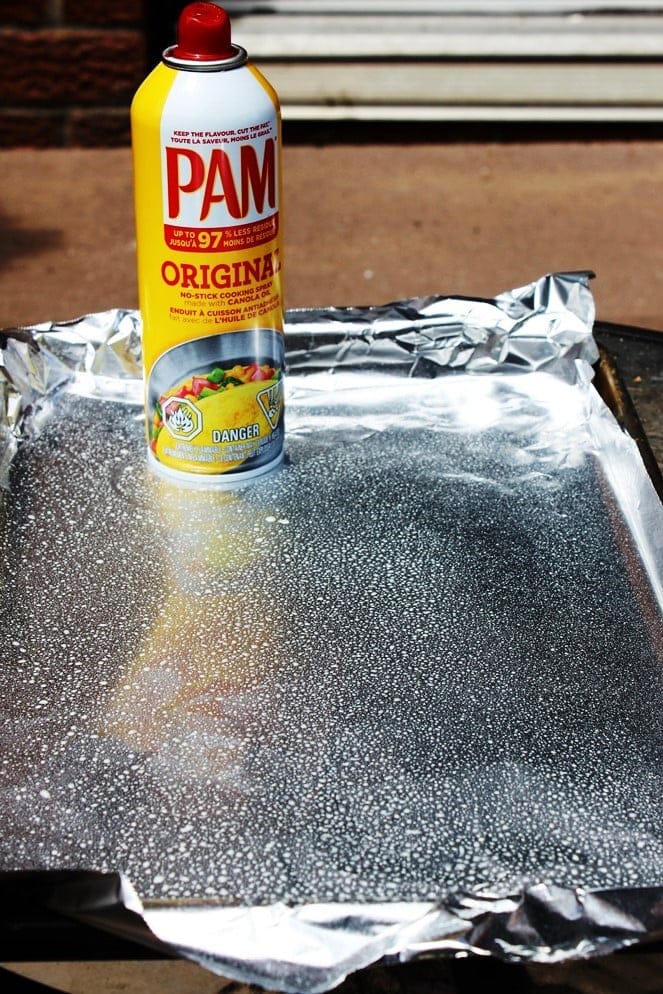 We also use oil spray pretty much every single day.  Mostly for cooking, not baking.  We spray it directly on meat or chicken (not so much Jenna) or vegetables before grilling instead of or addition to spraying the grill.  This is to prevent sticking of course.  And, when we use #1 tinfoil on the pan, we always spray the tin foil with oil for easy clean up (fish skin just slides off, flipping or removing foods like roasted potatoes and roast veggies or chicken from the pan becomes effortless).  Oh, and you can now buy many different types of oil like olive oil and coconut oil.
TIP#4: FREEZING LEFTOVER RICE
Whenever we make rice in the rice cooker or on the stove, we make more than we need.  We cool the rice, spoon it into freezer bags in portions we need, then toss them into the freezer.  We use the frozen rice regularly for stir fries or sides.  If we remember to take a bag out in the morning to defrost for dinner, that's great.  If not, we just microwave the frozen rice covered for 2-3 minutes.  Perfect every time.
TIP#5: QUICK REFERENCE MEASUREMENT CHARTS
How often are you scrambling to convert ounces to cups or kilograms to pounds.  For us, very frequently, so we tape a couple of charts inside our cupboards for quick reference.  Very handy!  Here are a few printable charts we found on the internet that you might find helpful.
TIP#6: BEST STORE BOUGHT SAUCES
We like sauces on just about everything, but we are usually wary of packaged or canned sauces.  A few real winners in our opinion are Knorr Swiss Hollandaise,  Knorr Swiss Bernaise and Knorr Swiss Peppercorn sauce.  For the first two, we use HALF the butter and the results are excellent.  In fact, over the years, we've had many requests for "our recipe' (yes, it's embarrassing when we have to fess up!).
TIP#7:  SOFTENING FROZEN BUTTER QUICKLY
We can't tell you how many times we've been caught without softened butter before baking.  Here's a couple of tricks we use.  Our preferred way is to place the butter in a small sealed bag and run it under tepid water for a few minutes until soft; or if we're really in a hurry, we will grate the butter with a hand grater. Problem solved.
TIP#8: PRE-CUT AND PEELED BUTTERNUT SQUASH/SWEET POTATO

We don't know which grocery store thought of this first, but it's brilliant. Root vegetables can very challenging to work with – time consuming when it comes to peeling and hard to cut. Pre-cut and peeled butternut squash or sweet potato is a huge time saver and tastes the exact same as if we did it ourselves.  It does cost a bit more, but soooo worth it!
TIP #9: SALAD BAGS/BOXES
Again, not the most environmentally friendly tip (because of the overpackaging), but sometimes a little help on a big meal for company or even after a long day of work is much appreciated.  No washing, spinning and chopping lettuce.  Just plunk it in a bowl.  Some even come with their own salad dressings.  Ready to go!
TIP #10: PUFF PASTRY DOUGH
Literally no one makes their own puff pastry unless you are Martha Stewart or a pastry chef. Having this frozen miracle on hand is a time-saving must for any budding young cook(daughter Jenna) or older experienced cook (Mom Cheryl) as we both use it for so many things – crust on a pot pie, appetizers, knishes, apple turnovers and super yummy and easy cheese twists.  You don't even have to roll out the dough anymore as puff pastry comes in sheets that you just unfold – how great is that!
What are your favourite "make my life easier in the kitchen" tips?  Send us a comment.  We'd love to hear.