Melted Olive Cheese Appetizers
Melted Olive Cheese Appetizers are a fabulous, quick and easy "can I have the recipe?" recipe.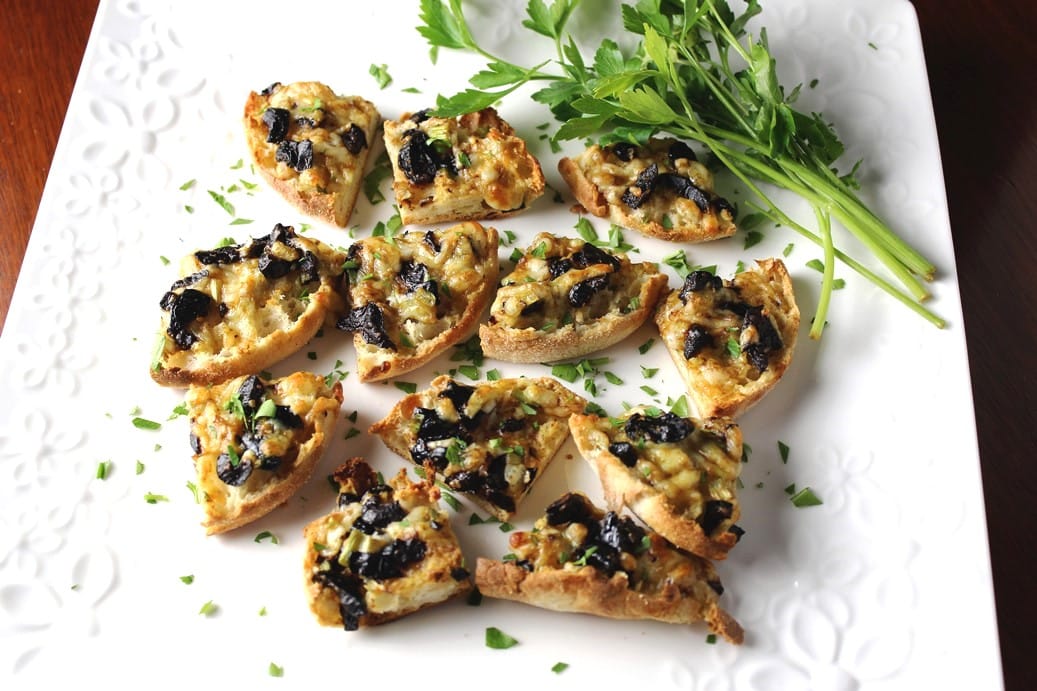 When I was my daughter Jenna's age living in Montreal, a nutritionist brought these Melted Olive Cheese appetizers to a work party.
Well….we all inhaled them and promptly asked for the recipe. Now I am asked for the recipe which of course I give out, but I have to admit I'm slightly embarrassed by how easy and basic they are.
Not upscale, not fancy, not foodie-esque. Just super tasty. I'm a big sucker for fast, easy, good and pretty on the plate. This appetizer is all four. I even use pre-shredded cheese sometimes (finely shredded works best, but all are fine).
These vegetarian melted olive cheeses appetizers are perfect for making ahead – great for the holidays and brunch. The blend of salty tangy olives with the cheddar, onions and curry works really well. Even non-olive lovers love these apps.
Serving Idea: They are technically appetizers, but you can also serve them with a hearty soup (for example, vegetarian pea soup or butternut apple squash soup) instead of a side of bread for a great weeknight meal. In this case, you can leave the muffin halves whole instead of cutting them into quarters.
Tailor To Your Taste
The English muffins are an easy foundation for these appetizers, but you can use other breads such as ciabatta or french bread as the base instead.
Vary the cheese – Cheddar, Emmental, Fontina, Gruyere
Shortcut
Use a food processor to blend the olive cheese mixture together (and hide the olives if you have fussy eaters)
Use pre-shredded cheese.
Make Ahead Olive Cheese Appetizers
Just flash freeze the unbaked pieces for 45 minutes, pile them into a freezer bag and freeze them for up to a month. Pull them out and bake as many as you need for a last minute appetizer. No need to defrost.
Be sure to check out our 20 vegetarian appetizers (with serving tips).
Melted Olive Cheese Appetizers Recipe
Melted Olive Cheese Appetizers are fabulous, quick and easy to make and are a consistently "can I have the recipe?" recipe. Freezes well.
Ingredients
1

cup

chopped pitted olives (I use black)

1/3

cup

finely chopped green onions (green and white part)

1 1/2

cup

grated cheddar cheese (I use white) or emmental

1/2

cup

mayonnaise (light is fine)

1/2

teaspoon

curry powder

salt to taste (don't use if olives are very salty)

8

English muffins, halved
Instructions
Preheat oven to 400F.

PREPARE OLIVE-CHEESE MIXTURE: Place all ingredients in a bowl (except muffins) and mix with a spoon until well combined.

ASSEMBLE: Divide mixture onto the 16 muffin halves and spread evenly to cover. Cut each muffin half into 4 quarters to make 64 pieces in all. To freeze (Note 1)

BAKE: Lay appetizer pieces on a baking sheet lined with foil or parchment. Bake for 10-11 minutes or until bubbly and lightly browned. Best served hot, but also good at room temperature.
Recipe Notes
To freeze (before baking): Place pieces on a baking sheet and put in freezer for 45 minutes until frozen. Pile pieces into a ziploc bag, then put back in freezer to use when needed. No need to defrost before baking.
Nutrition
Tried this recipe?
We'd love you to rate it above under 'rate this recipe' or in the comment section below. Thanks!
Other quick and easy vegetarian appetizers you might like:
Dumpling Lettuce Wraps with Peanut Sauce (shortcut) get the recipe
Loaded Endive Ricotta Appetizers get the recipe