Rack of Pork (Succulent, Easy, Impressive)
A roasted rack of pork (or pork rib roast) is a great choice for a family or company meal because it's relatively inexpensive, it's easy to make and it's impressive. Not to mention delicious!
I also love that I can ask my local butcher to scale it up or down depending on the number of people I'm serving. And, if the pork has a nice fat cap, your gravy will be rich and flavorful. Not a bad list for one Sunday dinner or holiday meal.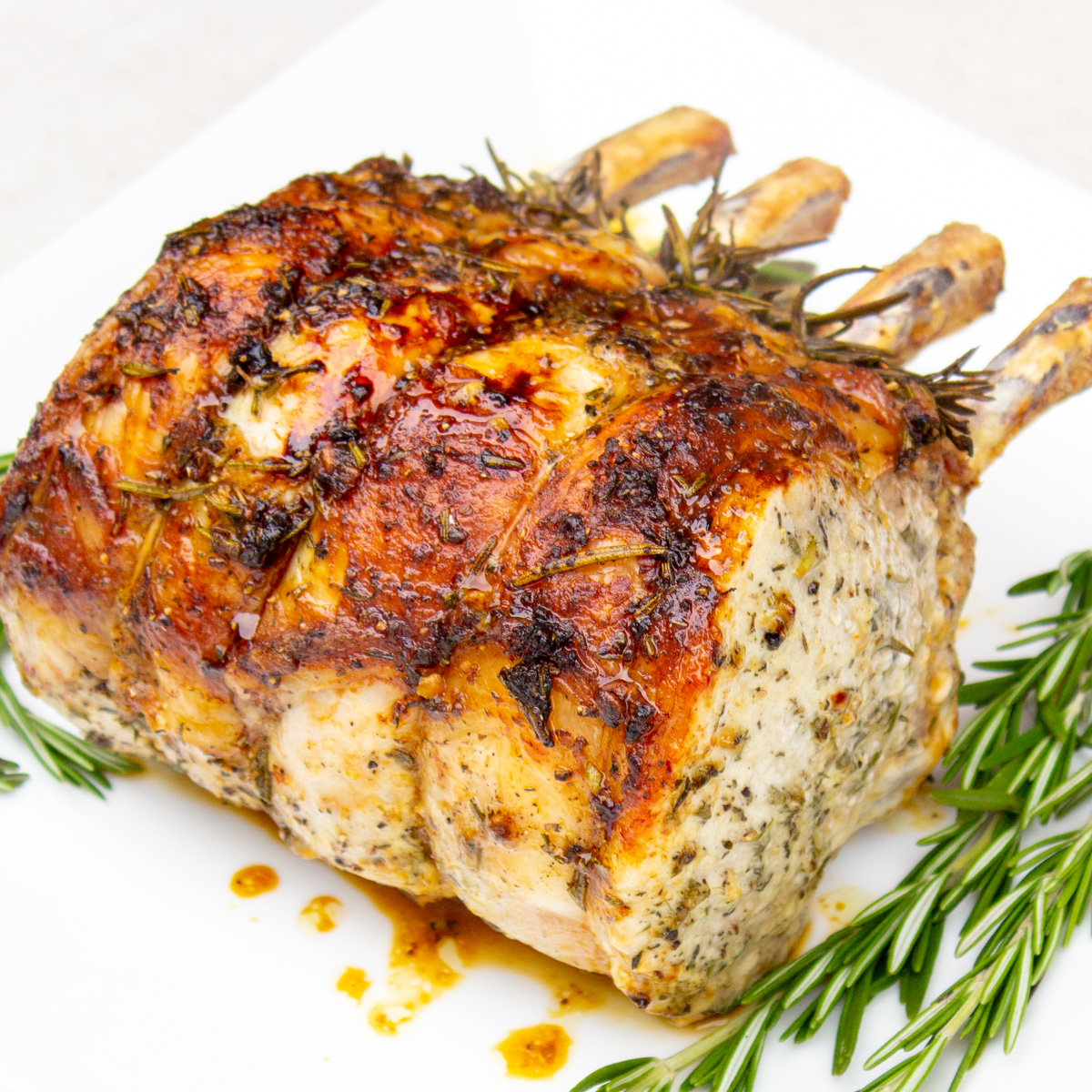 With this rack of pork recipe, you can expect a well seasoned roast with a golden brown exterior and tender, juicy meat if cooked cooked properly. We show you how to get the best results.
The rib bones – my favorite part – are succulent with tons of flavor.
Ingredients – tailored to your taste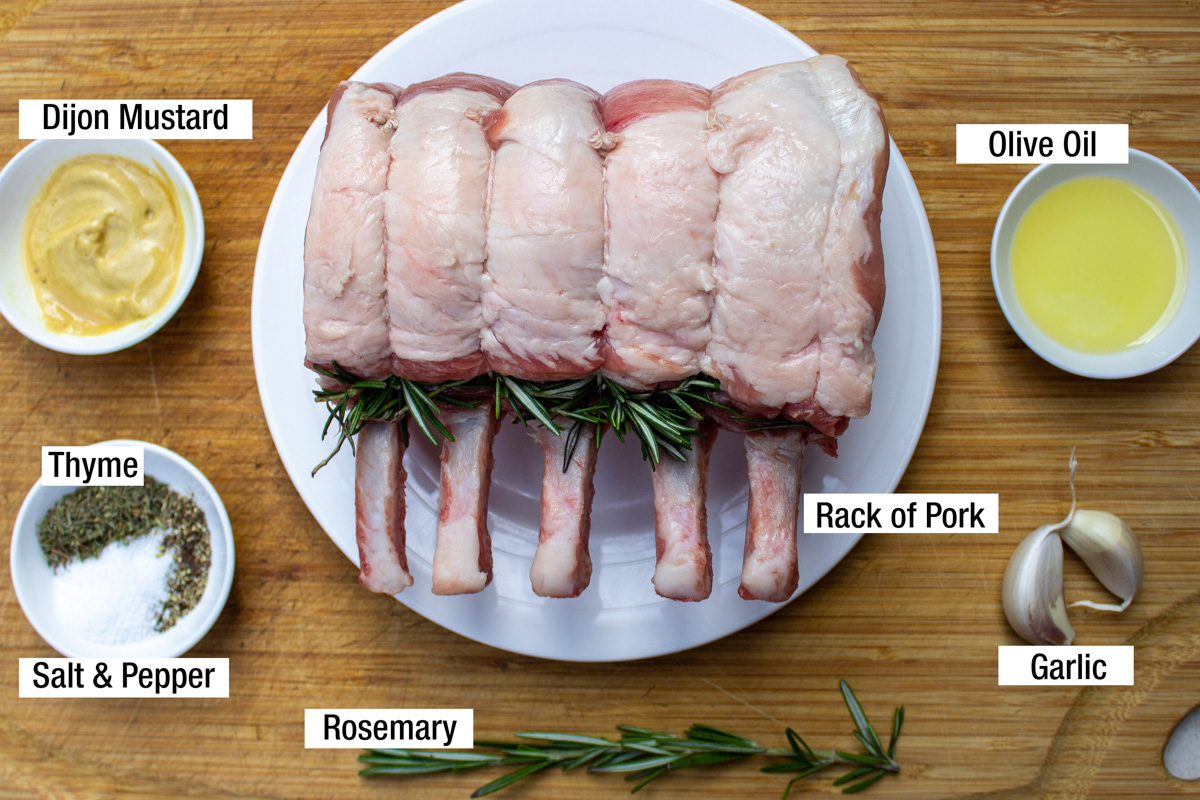 Rack of pork (also called a pork rib roast): Ask the butcher for the approximate size you need. It's best to be guided by weight. For example, a 3 pound/1.36 kg. roast will feed 6 people and can have 4-6 bones. See tips below on how to select the best pork roast.
Seasoning: Classic flavors for pork are garlic, salt, pepper and herbs such as rosemary, thyme or sage. I love to add Dijon mustard as well.
Variations: Change up the flavors if you like. Here are a few options:

Brown sugar and mustard – brush on in the last few minutes of roasting
Asian-style – soy, ginger and honey or maple syrup
Spicy – paprika, cumin and chili powder.
Step by step instructions
If you want flavorful and juicier meat, I highly recommend brining the pork for 4-5 hours before seasoning and roasting it. Instructions are in the recipe card. If you don't have time, skip it.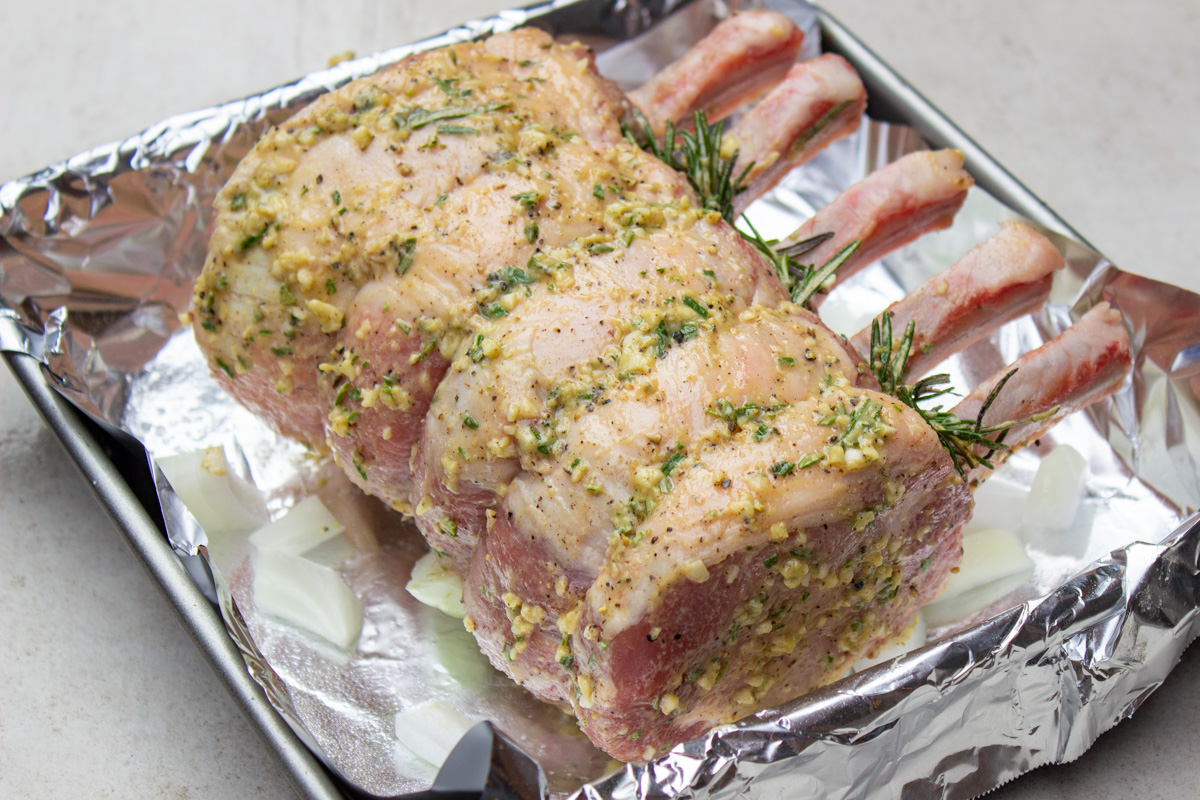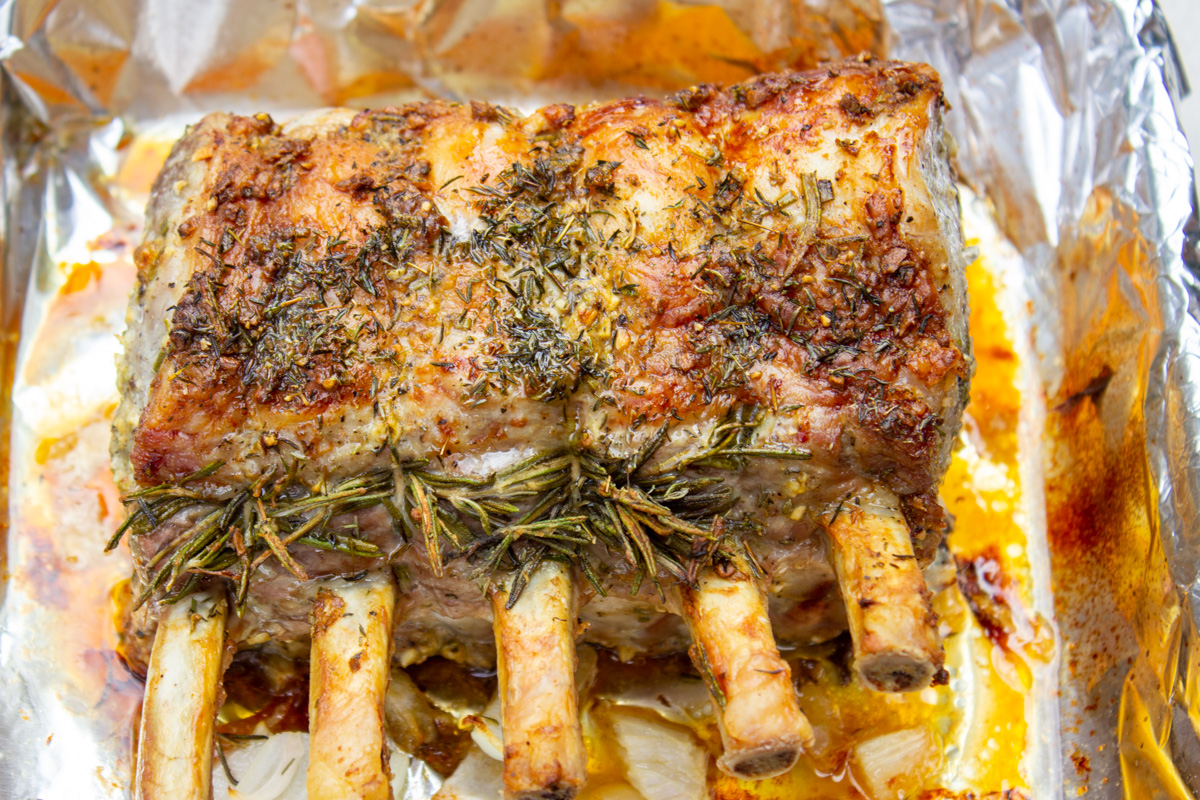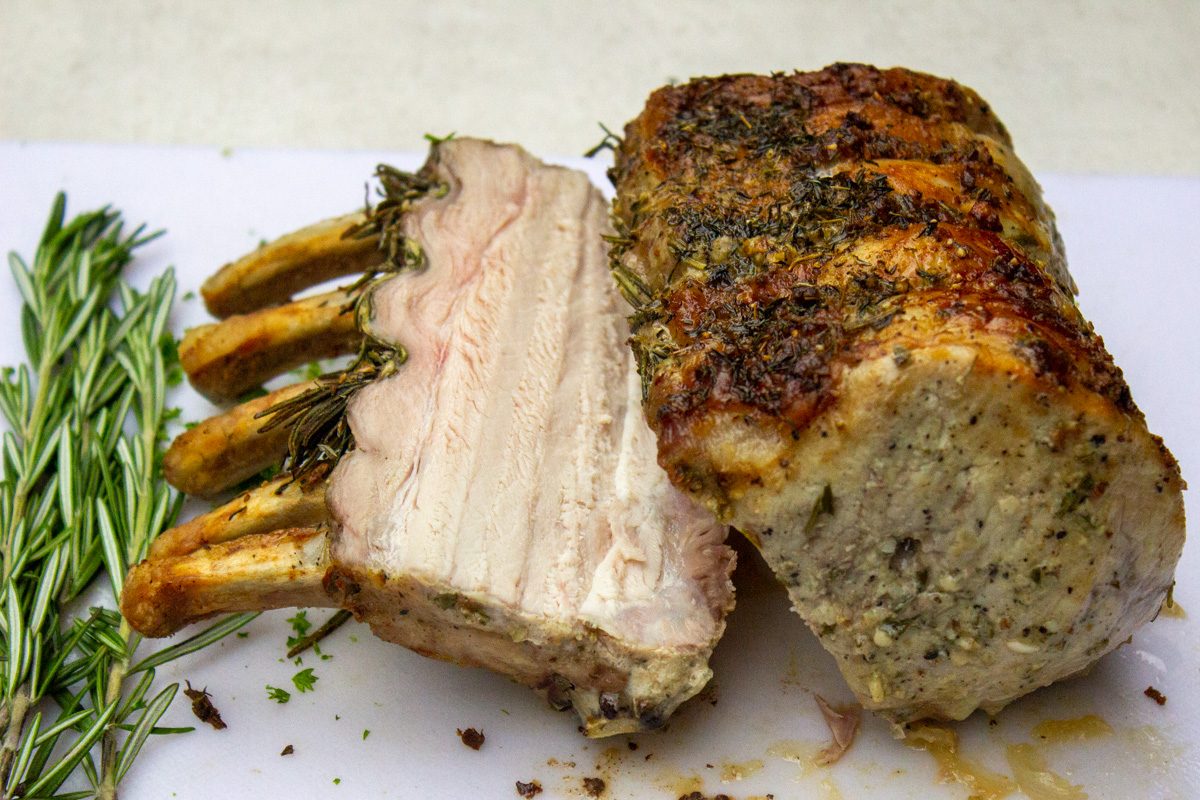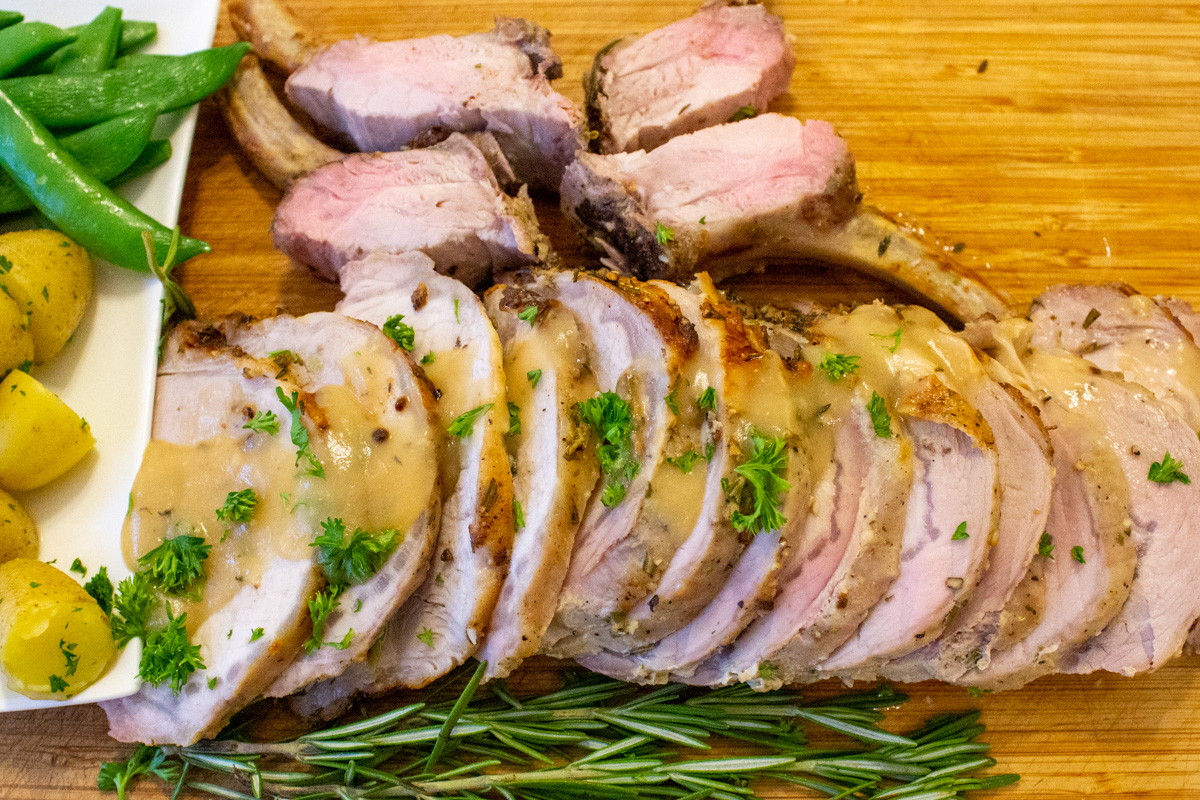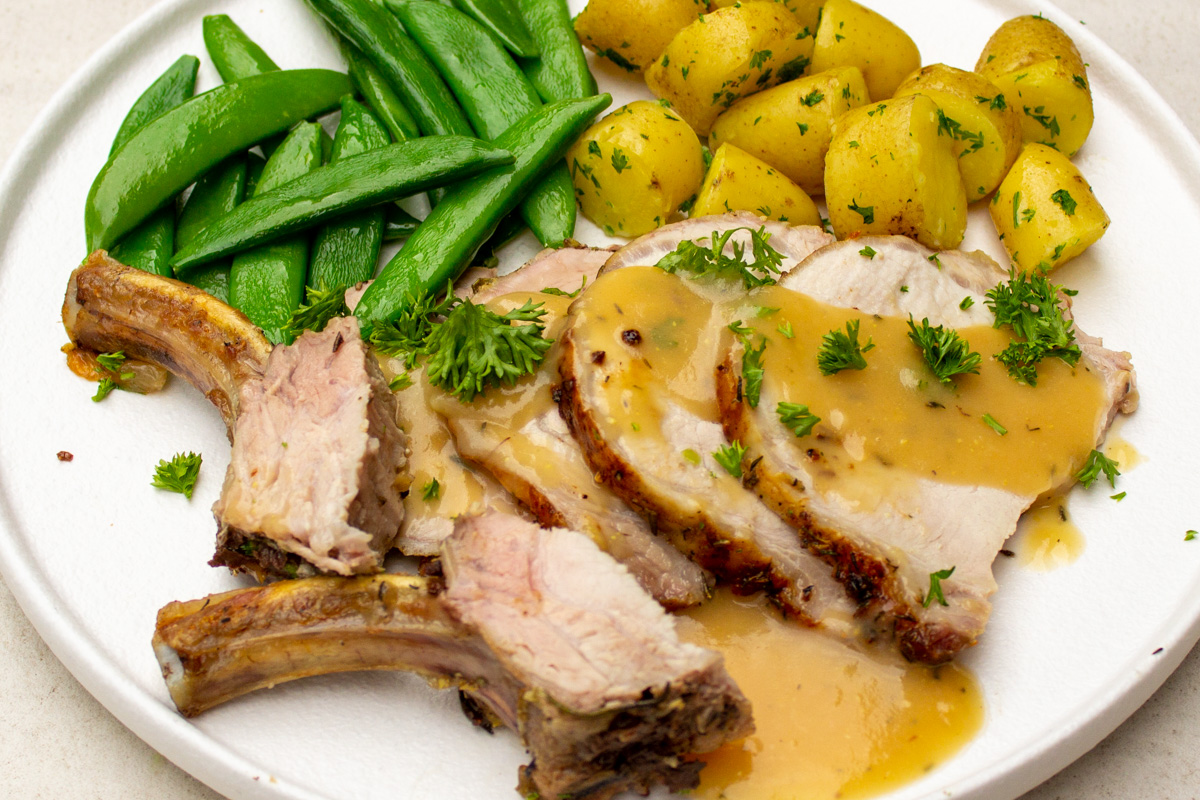 Tips for selecting the best rack of pork
Fat cap: Try to buy a pork rib roast with a layer of fat on the top to keep the meat moist and juicy during cooking.
Marbling: A better roast has some fat marbling (little white threads) throughout the meat. Fat means more flavor and juiciness.
Evenly shaped: Try to get a roast that is the same thickness throughout for even cooking.
Clean bones: Ideally, the bones should be cleaned for a nice presentation. The butcher can do that for you. Avoid bones that have a lot of dark red on them as this can be an indication that the meat is past its prime.
Size: The number of bones is not always an indication of portions. I like to go by weight, figuring about 1/2 pound/8 ounces/225 grams per person. Or a bit more for bigger eaters.
Tips for BEST results
There are two potential pitfalls for this cut of meat and cooking method: dry, tough meat and bland meat.
To create a moist, juicy, flavorful pork roast, follow these 5 tips.
Bring the pork to room temperature before roasting for even cooking.
Brine the pork roast to maximize juiciness and flavor. Brining does make a difference. See notes in the recipe card.
Season the meat well.
Don't overcook the pork roast if you want moist juicy meat! I have tested several oven temperatures and find a lower temperature works best.
Rest the meat after roasting (important!) to help redistribute the juices throughout the meat instead of the juices 'bleeding' onto the plate.
Recipe FAQs
Is brining unhealthy?
The short answer is that brining is not unhealthy for most people because minimal salt is actually absorbed into the pork while brining. According to Salon and Cooks Illustrated on brining, only about 1% of the total sodium from the brine is absorbed (~ 1/8 teaspoon per serving). This assumes a typical brine solution ratio of 1 tablespoon salt per 1 cup/237 ml water.
What oven temperature is best for cooking a pork roast?
I prefer an oven temperature of 325°F (163°C) which takes a bit longer – about 30-35 minutes per pound – but results in juicier meat. At 350°F (177°C), cook the pork for about 20-25 minutes per pound. It's best to use a meat thermometer to check the internal temperature, not the time per pound.
What internal temperature should pork be cooked to?
In the past, the safe temperature for pork was considered 160F/71C. Now, the USDA recommendation for safe cooking is 145F/62.8C. You may still see a bit of pink which is perfectly fine.

I remove a pork roast at 140F/60C as the temperature will rise 5 degrees f when resting. It's always best to use a good thermometer to check internal temperature.
What to serve with roast pork
The classic pairing for pork roast is mashed potatoes and gravy. We have a roast pork gravy recipe in our recipe for boneless pork roast with gravy).
Here are a few other great pairings that don't require using the oven:
Shortcuts
It's best to brine the roast for moist, flavorful meat, but not everyone has the time. Skip it if you have to. You will save yourself hours of time.
Use your favorite store-bought dry rub.
Make ahead
Prep: You can do two things ahead to prep the roast. 1) Brine the pork and 2) stir the seasoning mixture together in a small bowl.
In the recipe notes, you will find instructions for:
How to roast the pork and keep it warm until serving time.
How to reheat roast pork the next day.
If you like this recipe, please leave a 5 star rating 🌟🌟🌟🌟🌟in the recipe card below. And if you REALLY like it, consider a review in the comments. Thanks very much!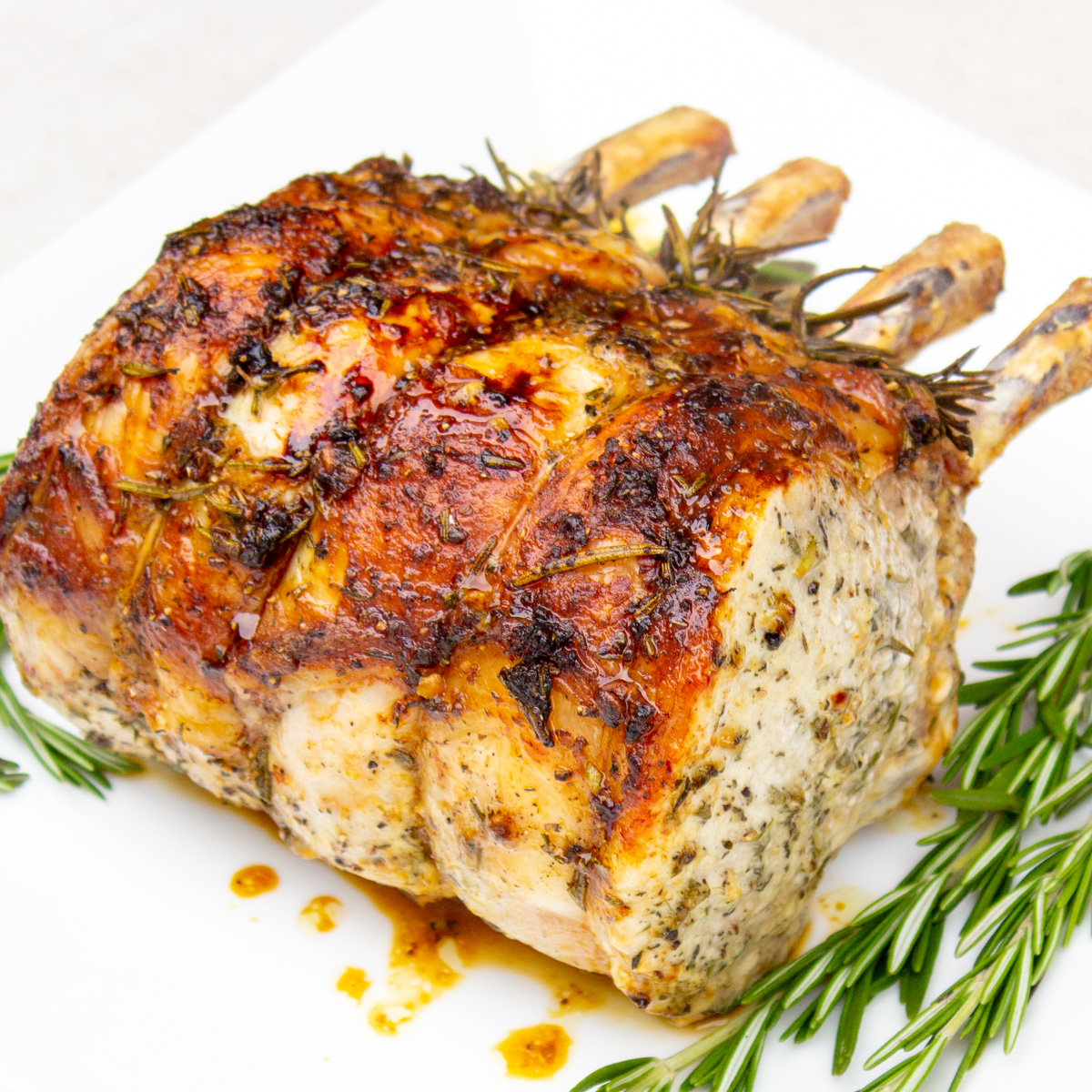 Print Recipe
Pin
Save Recipe
Recipe Saved!
Rate this recipe here
Rack of Pork Recipe (Succulent, Easy, Impressive)
A roasted rack of pork (or pork rib roast) is a great choice for a family or company meal because it's relatively inexpensive, it's easy to make and it's impressive. Not to mention delicious!
Servings:
5
(but easily scaled)
Ingredients
2.5

pounds

rack of pork (pork rib roast), Note 1

It will have 3-5 rib bones

Brine solution, Note 2
Seasoning mixture
1

tablespoon

olive oil

1/2

tablespoon

Dijon mustard

2

garlic cloves, minced

(or 1/2 teaspoon garlic powder)

1

teaspoon

kosher salt

1/2

teaspoon

ground black pepper

1/2

teaspoon

dried thyme

2

teaspoon

fresh rosemary leaves

(or 1 teaspoon dried rosemary)
Instructions
BRINE PORK RIB ROAST: Note 2. Optional but recommended.

HEAT OVEN TO 325F/163C, Note 3. Line a roasting pan with aluminum foil for easy clean up.

SEASON PORK: In a small bowl, mix together seasoning ingredients. Spread over entire surface of the rack of pork. Place meat, fat side up, in prepared pan.

ROAST THE PORK: Place pan with pork on rack in middle of oven. Roast for about 30-35 minutes per pound at 325F/163C (I prefer this temp) or 20-25 minutes per pound at 350F/177C. Check temperature 10-15 minutes before it's done with instant read thermometer. It's best not to rely on timing alone as most oven temperatures are not exact. Remove pork roast when meat thermometer reads 140F/60C. The temp will rise by 5 degrees f on resting.

REST MEAT, SLICE AND SERVE: Place pork on cutting board and loosely cover with foil. You can make gravy in the meantime (or see Note 4). Rest meat for 10-15 minutes. To slice, use a sharp knife to slice off all the bones together. Then slice between ribs to separate them. Place roasted pork cut side down and slice roast. Alternatively, slice between the ribs for thick pork chop style servings. Transfer to platter and serve with gravy and your favorite sides. If you didn't brine the meat, consider a light sprinkle of sea salt to bring out the flavor.
Recipe Notes
Tips for selecting the best rack of pork:

choose a pork rib roast with a layer of fat, some marbling of fat if possible, evenly shaped (same thickness throughout for even cooking) and rib bones that are cleaned by the butcher for a nice presentation. 

How to brine rack of pork. Brining is recommended for juicier more flavorful pork, but it is optional if you don't have the time.

Here's how to do it.

Place 6 cups cool water in a large bowl, container or pot. Add 6 tablespoons kosher salt and 2 tablespoon white or brown sugar (optional). For more flavor add a garlic clove and sprig of rosemary. Stir until salt dissolves. Submerge pork in water. Place in fridge for 3-5 hours depending on the thickness of the rib roast. Remove, pat dry with a paper towel and season the meat as per recipe. 
To speed up cooking process, heat oven to 350F/177C. Use an instant-read thermometer to check temperature of meat after roasting. The approximate cooking time is 20-35 minutes per pound/450 grams. 
To make gravy without drippings,

use our beef gravy without drippings

. (replace with a chicken base or broth instead of beef if you prefer). Instead of gravy, try serving the pork with chimichurri, mustard sauce or cranberry-orange relish. 
Make ahead:

Prep: brine pork roast and make seasoning mixture a day ahead.
Roast and keep warm: You can roast the pork roast, cover it loosely with foil when finished, then lower the oven temperature to 200F or 250F/121C. When temp is lower, put the roast in the oven (not sliced!) to keep warm for up to an hour. Or just cover it well with foil on the counter for up to 30 minutes. 
How to reheat roast pork

: The goal is not to dry out the sliced pork. There will always be some moisture loss, but the best way is to add a few tablespoons of broth or gravy, cover it with foil and rewarm it in a low heat oven.
Nutrition values are estimates. If you want larger portions per person or leftovers, this rack of pork recipe will serve only 4 people. 
Nutrition
Calories:
307
kcal
|
Carbohydrates:
1
g
|
Protein:
31
g
|
Fat:
19
g
|
Saturated Fat:
4
g
|
Polyunsaturated Fat:
2
g
|
Monounsaturated Fat:
6
g
|
Trans Fat:
0.1
g
|
Cholesterol:
87
mg
|
Sodium:
333
mg
|
Potassium:
515
mg
|
Fiber:
0.2
g
|
Sugar:
0.04
g
|
Vitamin A:
19
IU
|
Vitamin C:
0.4
mg
|
Calcium:
44
mg
|
Iron:
1
mg
Tried this recipe?
We'd love you to rate it above under 'rate this recipe' or in the comment section below. Thanks!