Mashed potatoes are a must with turkey and roast beef or just about anything with gravy.  These are light, fluffy, creamy and sensational.
Mashed potatoes are the ultimate comfort food.  I love them and most people I know, including the other kook, love them too.  There are a ton of "perfect mashed potato" recipes online and I'm sure they're all good.  All I know is that mine are too.  They should be. I've made them over 200 times I figure!  This recipe is just your basic mashed potatoes you can be confident will work and taste great.  And, they take less than a half hour to make which you can even break up into a couple of steps if needed. 
Based on lots of experience and a bit of research, I've offered some tips below.  Some cooks will tell you that the only way to make perfect mashed potatoes is to use a ricer, but I find that mine come out fine – better than fine – with just an electric handheld mixer.  In fact, you can even use a potato masher if you don't mind a slightly less creamy texture and are willing to put some muscle behind the mashing.
Tips on Making Great Mashed Potatoes
Type of potato: Everyone says Russet/Idaho or Yukon Gold/Yellow (pictured below) are best.  Or a combination of the two.  Apparently Yukon Gold have a richer taste. Who knew? I guess when you put gravy on the potatoes, it's hard to tell.
Portions:  Figure about 1/4-1/3 pound of potatoes per person, so 1 pound potatoes will serve 3-4 people.
Start with cold salted water, then add potatoes and bring to a boil.  (Don't boil water first).
Since you salt the water before boiling, try to use unsalted butter when mashing.  This allows you to control the level of salt better.
Many cooks use half and half (10%) or cream (35%) or cream cheese in the potatoes.  I tend to use 2% combined with a bit of half and half to keep the calories down. Obviously, the more cream and butter you use, the richer they'll be so it's up to you.
Don't over beat the potatoes or they can turn to glue (trust me!).  The mashing takes less than a minute with an electric hand mixer.  Oh, and don't use a food processor.
Tailor To Your Taste
Try adding a half cup of chopped fried/caramelized onions to your mashed potatoes. Delish!
Make ahead
See 3 ways to keep potatoes warm in the recipe below.  For a dinner party, I peel and cut the potatoes early in the day and then mash them an hour or more ahead of serving time. They are easy to keep warm and still maintain their deliciousness. If you have to make them a day ahead, you can heat them in the microwave.





Print Recipe
Pin
Rate this recipe here
Basic Mashed Potatoes
Mashed potatoes are a must with turkey and roast beef or just about anything with gravy. These are light, fluffy, creamy and sensational.
Servings:
4
(or 3 generous servings)
Ingredients
1

lb

potatoes

(about 2 large Russet/Idaho or 3 Yukon Gold/yellow)

1/2

cup

milk

(2%-10%, based on your preference)

3

tbsp

softened butter, preferably unsalted

salt and pepper to taste
Instructions
PREPARE POTATOES FOR BOILING: Wash and peel potatoes. (Alternatively, leave skins on, especially with Yukon Gold which have thin skin - you won't even notice when mashed and you're getting all those nutrients). Cut potatoes into even size chunks - any size. The smaller the size e.g. 1/2-2 inch chunks, the faster they cook. Place potato chunks into pot with cold salted water (about a tablespoon of salt). NOTE: Potatoes can sit in cold water for several hours or in fridge overnight before boiling.

BOIL POTATOES: Bring potatoes to a boil, then lower heat to medium and boil gently for about 12-20 minutes, depending on size of potato pieces. Potatoes should be soft and easy to pierce with a knife but not falling apart. Drain well. Place back in pot and shake over medium high heat for a minute or two to dry them out and evaporate any remaining water (this will make them fluffy, not gluey). Add milk and butter to hot potatoes and pot to heat up for 30 seconds. Remove from heat.

MASH POTATOES: Using an electric mixer - NOT a food processor - beat potatoes, butter and milk/cream until creamy and fluffy, about 30-60 seconds. Add more milk/cream if needed. Do not over beat. Taste and add salt and pepper as needed. Serve immediately or keep warm (Note 1)
Notes
To Keep Mashed Potatoes Warm: If you have a warming ring on your stove, set to medium, place pot on ring, add a bit of milk to sit on top of potatoes, cover and let them sit on the stove for up to an hour. Mix in milk to re-fluff potatoes and serve. If you have a crock pot, transfer potatoes, set on low for up to 4 hours. Potatoes can also be warmed in a microwave on high with a bit of extra milk/cream, 30 -60 seconds at a time (keep checking and stirring).
Nutrition
Nutrition Facts
Basic Mashed Potatoes
Amount Per Serving
Calories 160
Calories from Fat 90
% Daily Value*
Fat 10g15%
Cholesterol 26mg9%
Sodium 390mg17%
Potassium 509mg15%
Carbohydrates 16g5%
Protein 4g8%
Vitamin A 312IU6%
Vitamin C 13mg16%
Calcium 71mg7%
Iron 4mg22%
* Percent Daily Values are based on a 2000 calorie diet.
Tried this recipe?
We'd love you to rate it above under 'rate this recipe' or in the comment section below. Thanks!
Like potatoes another way?  Here's a few recipes you might like.
Mashed Potato Pancakes (Latkes)
Leftover mashed potatoes make these Mashed Potato Pancakes (Latkes) a snap. They're crispy on the outside and creamy, cheesy delicious on the inside.
Get the recipe
Herb Potato Salad
Herb potato salad is a perfect light summer side dish that's quick and easy to make and bursting with flavor. Great for picnics (no mayo), potlucks and BBQs.
Get the recipe
Super Easy Potato Knishes
These easy potato knishes are flaky and melt-in-your-mouth despite the shortcuts that cut the recipe time in half. A great appetizer or side. Don't count on leftovers.
Get the recipe
Indian Potatoes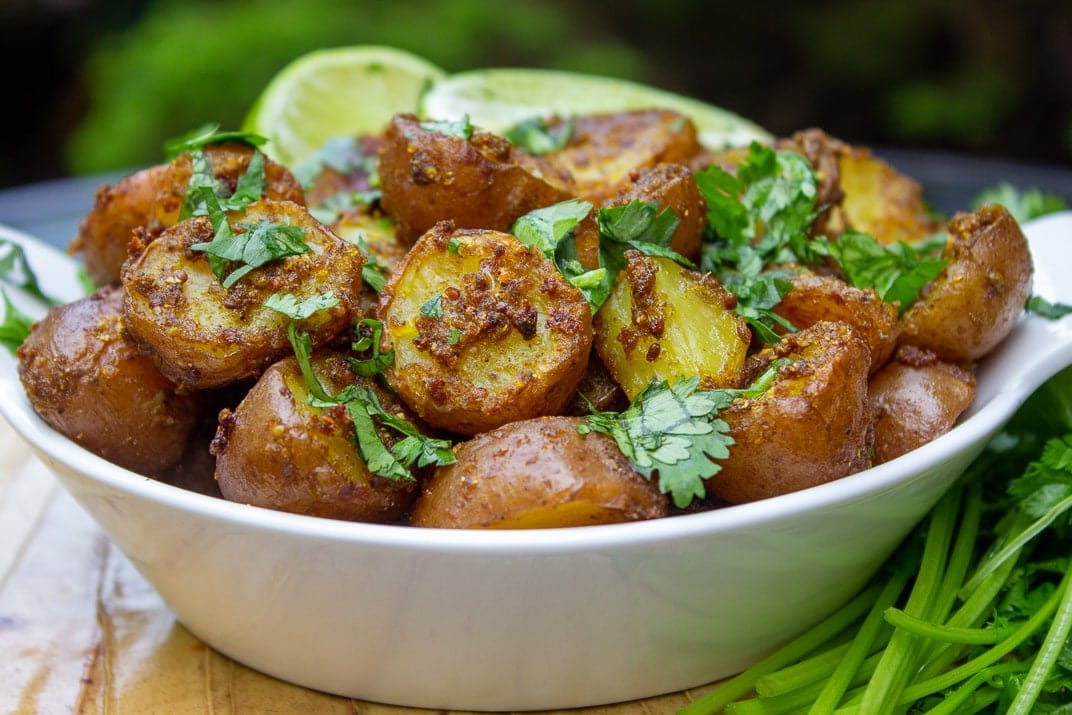 These richly spiced Indian potatoes feel like a cross between exotic and comfort food. Soft creamy interiors with a beyond delicious seasoning blend. Flavor bomb!
Get the recipe
Crispy Smashed Potatoes with Gremolata
Crispy smashed potatoes with gremolata is potato heaven with an added burst of flavor from the parsley-garlic-lemon gremolata. Delish!
Get the recipe
Vegetarian Sweet Potato Hash
This quick Vegetarian Sweet Potato Hash recipe with onions, garlic, peppers and smoked paprika is a delicious side, main, breakfast item or filling.
Get the recipe
Hasselback Sweet Potatoes (15 min)
Feature these hasselback sweet potatoes in the star supporting role at your next BBQ or gathering. A great shortcut makes them quick and easy to make. And the topping takes them from plain to special. 
Get the recipe
Grilled Veggies and Potatoes
Next time you're grilling some steaks or your favorite protein, try this super easy two-in-one side dish of grilled veggies and potatoes. Dinner in a flash with whatever veggies you like best.
Get the recipe
Maple-Lime Roasted Sweet Potatoes with Pecans Recipe
The combination of pure maple syrup, fresh lime and toasted pecans elevate these Roasted Sweet Potatoes to a wickedly good side dish.
Get the recipe