Easy Balsamic Glazed Chicken (10 min prep)
With just 6 ingredients, balsamic glazed chicken is a simple family meal. Sweet, tangy and delicious with just 10 minutes of prep time.
The chicken has a rich, sticky, glossy balsamic finish with a robust flavor. Not fancy, but very tasty. Perfect for a casual weeknight dinner or for serving guests too.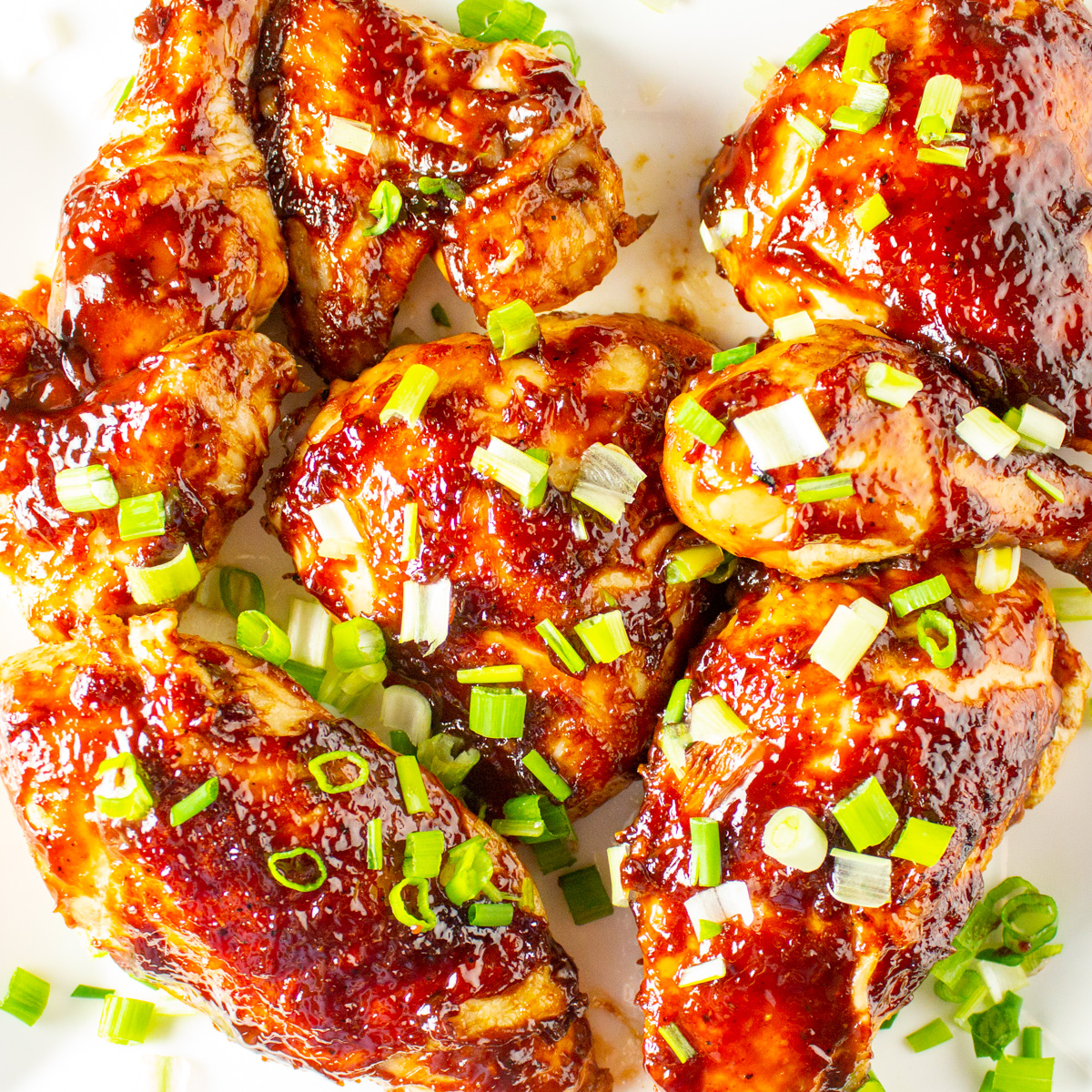 You can marinate the chicken if you want, but it's not necessary.
What to expect
Easy: This flavorful and super easy chicken recipe uses simple ingredients. The cook time is probably too long for busy weeknights, but fine for a delicious meal on weekends.
Flavorful: The glaze is made with tangy ketchup, sweet honey and sharp balsamic vinegar that simmers until it thickens and coats the juicy chicken giving it incredible flavor. It takes boring baked chicken to a whole new level.
Ingredients – tailored to your taste
Chicken: Use a whole chicken cut into pieces or chicken breasts, drumsticks or thighs…whichever you prefer. I almost always use kosher chicken, which is brined, flavorful and juicy.
Balsamic glaze: The glaze is made with ketchup, maple syrup (or brown sugar), Dijon and a good balsamic vinegar. If you don't have balsamic vinegar, try this substitute. For every 1 tablespoon balsamic vinegar, substitute 1 tablespoon apple cider vinegar (or red wine vinegar) plus ½ teaspoon sugar.
Step by step instructions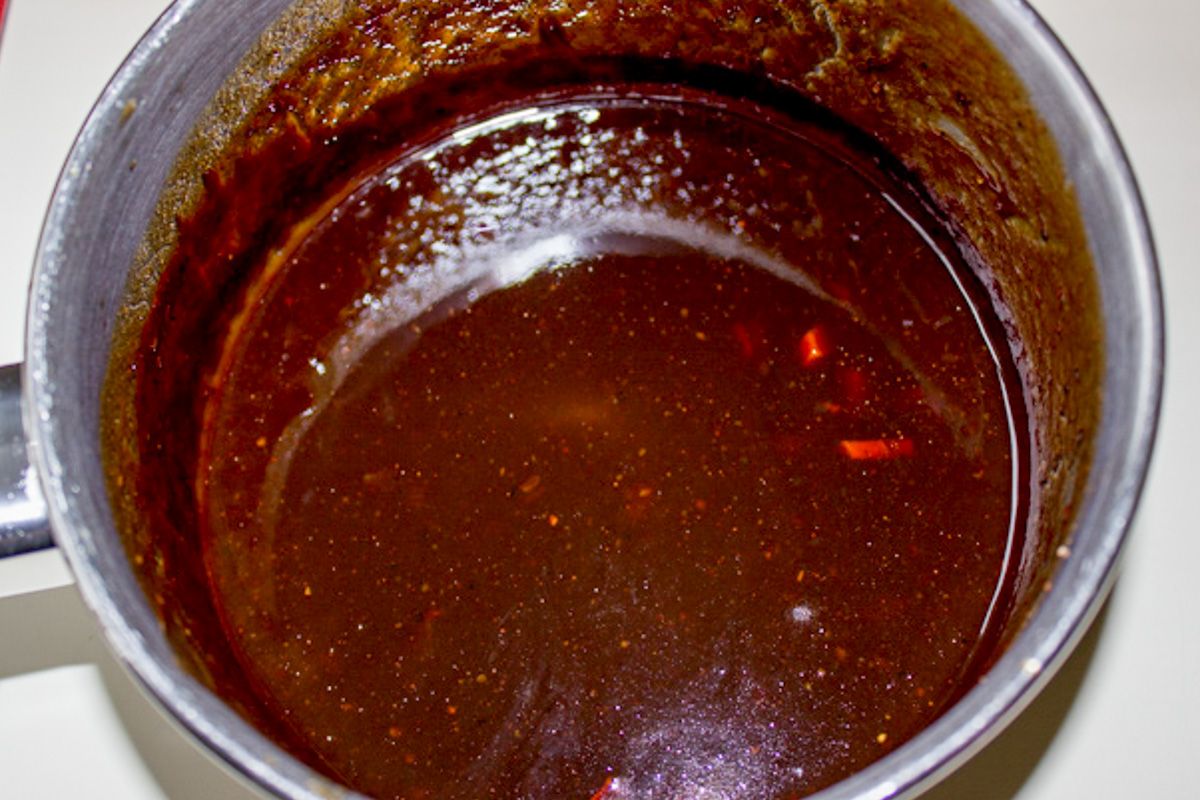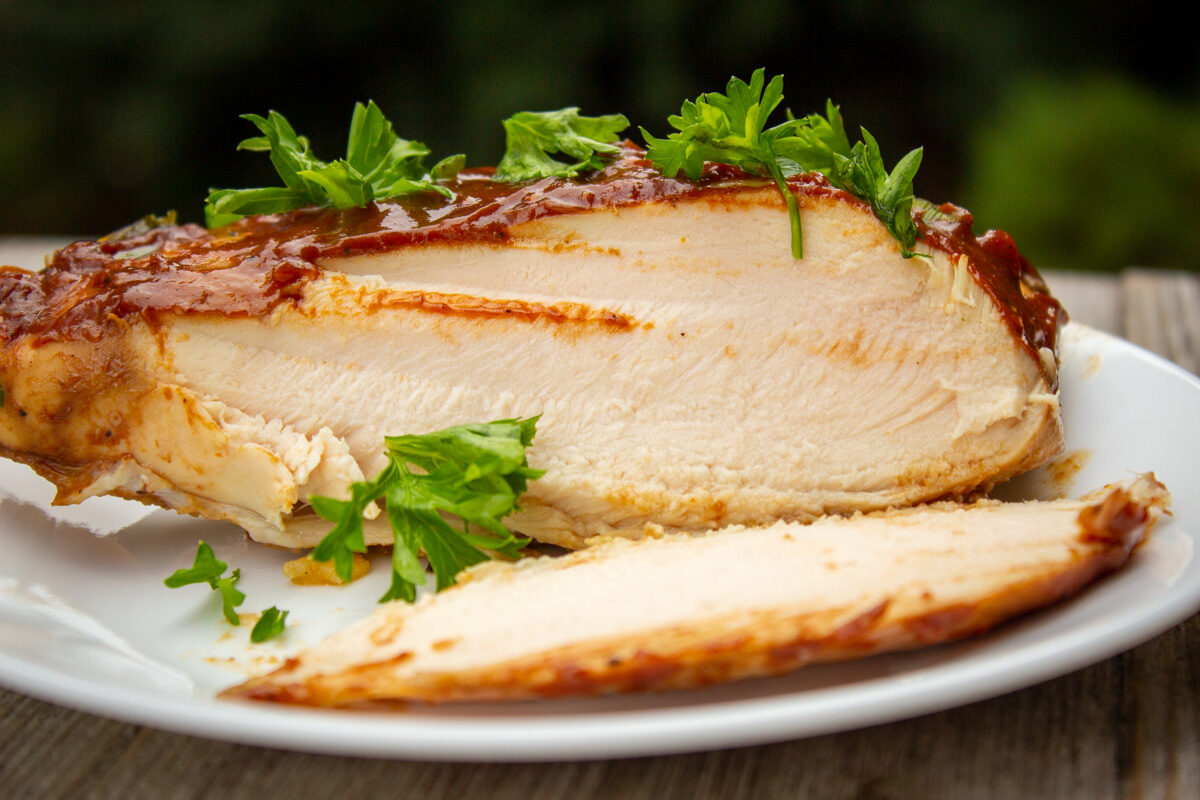 Tips for cooking chicken
1. How to thaw chicken: It's best to thaw chicken in the fridge, under cold water (covered in a sealed plastic bag) or in the microwave, NOT on the counter for safety reasons. Thaw chicken completely and use within 24 hours.
2. Should you rinse chicken before cooking it? No. It can increase contamination on your counters, sink, etc.
​3. Should I rest my chicken after cooking? Yes! Always. As the chicken rests, it allows the juices to redistribute and retains moistness. If you cut it right away, all the juices will spill onto the cutting board.
Recipe FAQs
Can I use boneless chicken breasts or chicken thighs instead of bone-in chicken?
Yes, you can. The boneless chicken will cook for less time at a higher temperature. Instructions are in the recipe.
How can I tell when the chicken is cooked?
Cooking time will vary based on the thickness of the chicken. The best way to tell if chicken is cooked is to use an instant read meat thermometer. The temperature should read 160F/71C. It will rise to 165F/74C after resting for 5-10 minutes.
Will I have enough glaze to drizzle on my rice or veggies?
The recipe gives you enough glaze to brush on an extra coat before broiling or serving. If you want to add a drizzle of balsamic glaze over rice, pasta or veggies, consider making 1 1/2 times the amount of glaze.
What balsamic vinegar should I buy?
Balsamic vinegars vary widely in content, taste and price. Cheaper versions in a grocery store are combined with wine vinegar, caramel, flavorings and other ingredients. Read the label. Higher end balsamic vinegars will have a DOP designation and be made from 100% grapes. Here's a good article by Epicurious on how to shop for balsamic vinegar.
Shortcut
Use boneless chicken which cooks in less time. See recipe notes.
Make Ahead
You can prepare the balsamic glaze ahead and use it to marinate the chicken overnight. Or just toss it with the chicken the next day.
Or you can complete the recipe, under cooking it slightly, and keep it warm in the oven. Broil for a few minutes just before serving.
Leftovers will keep in the fridge in an airtight container for several days. The leftover chicken is delicious cold.
Other saucy chicken recipes you might like
If you like this recipe, please leave a 5 star rating 🌟🌟🌟🌟🌟in the recipe card below. And if you REALLY like it, consider a review in the comments. Thanks very much!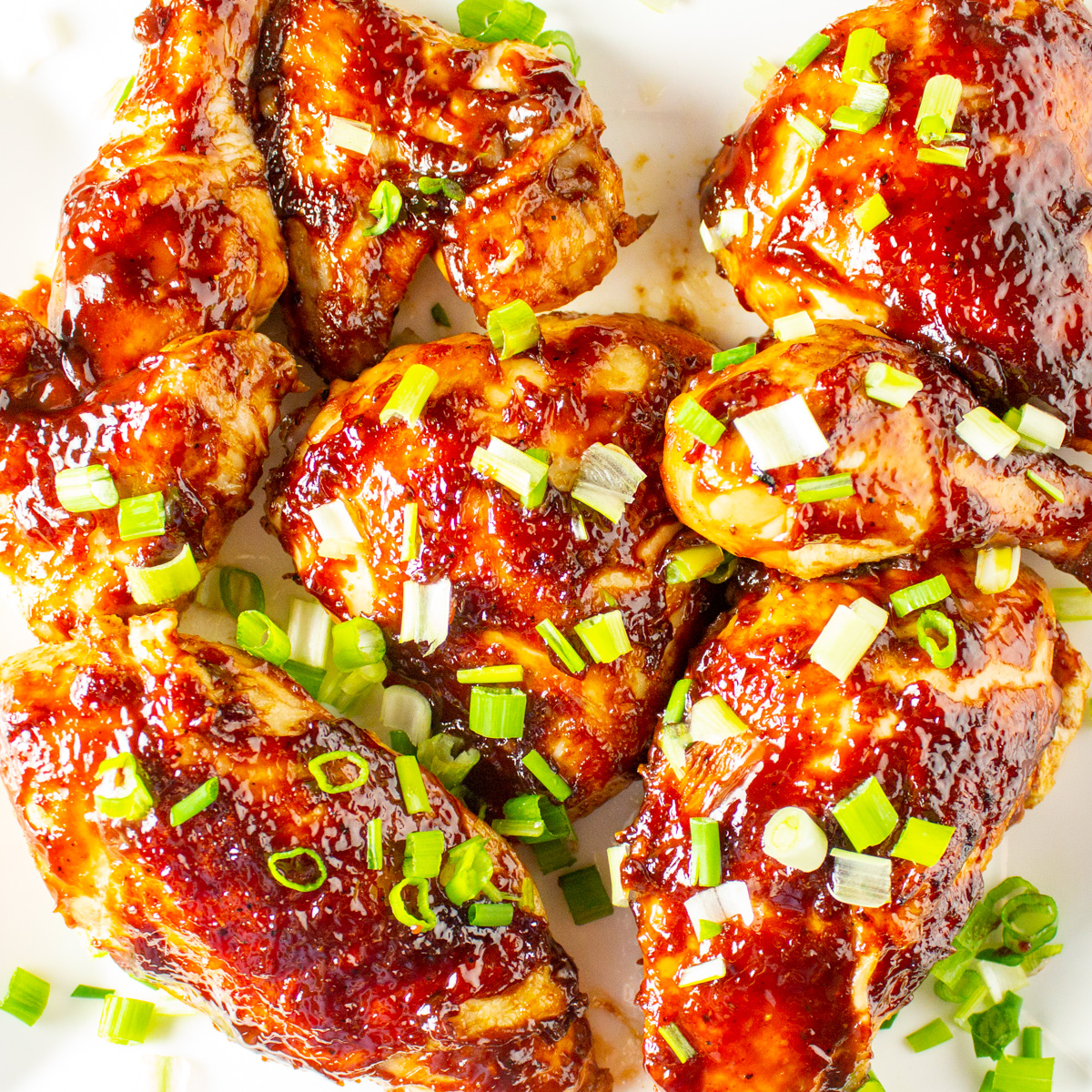 Print Recipe
Pin
Save Recipe
Recipe Saved!
Rate this recipe here
Balsamic Glazed Chicken
With just 6 ingredients, balsamic glazed chicken is a simple family meal.  Sweet, tangy, delicious chicken with just 10 minutes prep. 
Ingredients
3 1/2

pounds

bone-in chicken pieces, Note 1

2

tablespoon

parsley or green onions, chopped (optional for garnish)
Balsamic Chicken Marinade/Glaze, Note 2
6

tablespoons

good quality Balsamic Vinegar

1/2

cup

ketchup

2

tablespoon

maple syrup

(or honey)

2

teaspoon

Dijon mustard

(or whole grain)

1/2

teaspoon

salt

1/2

teaspoon

pepper

1/4

teaspoon

ground cinnamon

(optional, but good!)
Instructions
Preheat oven to 400F/204C.

MAKE BALSAMIC GLAZE: Place all glaze ingredients in a small saucepan and stir to combine. Bring to boil, lower heat and simmer for 5-7 minutes until glaze thickens and coats the back of a spoon. (if you increase the amount of glaze, you might need a bit more time).

PREPARE CHICKEN: Put chicken pieces in a large mixing bowl. Reserve 1/4 cup of glaze and pour the rest on the chicken. Mix to coat chicken evenly. (At this point you can refrigerate for several hours or over night if you like). Place chicken on a baking pan, lined with parchment paper or foil sprayed with oil for easy clean up.

BAKE: For bone-in chicken, bake for 30-40 minutes, depending on size of chicken pieces or until the internal temperature on an instant read meat thermometer reads 155F/68C. Or to 160F/71C if you are not finishing with a quick broil. Note 3 to bake boneless chicken. Optional: To get a nice shiny finish, brush on some reserved glaze and broil chicken 6-10 inches/15-25 cm from heat for 3-4 minutes, watching to make sure it doesn't burn.

Transfer chicken to a serving platter. Sprinkle with parsley or green onions if desired and serve immediately.
Recipe Notes
Types of chicken you can use for about 4 servings

1 whole chicken, cut up into 8 pieces
3 1/2 pounds (1.6kg) bone-in chicken pieces, dark or white meat
2 lbs/0.9 kg boneless chicken breasts, pounded to even 1/2-3/4 inch (1.2-1.9cm) thickness
2 lbs/0.9 boneless thighs
I use bone-in kosher chicken as it is already brined which makes it very juicy and flavorful. 

Amount of marinade/glaze to make

: You will have plenty of glaze if you are using boneless chicken. You will also have enough glaze for bone-in to brush on extra for a final broil finish. If you want extra sauce/glaze for drizzling on rice, for example, make 1.5 times the amounts in the recipe. 
To bake boneless chicken (instead of bone-in): Bake boneless chicken at 425F/218C. Bake boneless breasts for 15-18 minutes and boneless thighs for 25-30 minutes depending on size. Temperature should measure 160F/71C on an instant thermometer if not broiling to finish (or 155F/68C if broiling). If broiling, place pan 6 inches from top of oven to broil. 
Make Ahead
Option 1: Prepare glaze, combine with chicken, reserving 1/4 cup for later, place in large bowl, container or ziploc bag. Refrigerate for up to a day. Bake as directed when needed. Use extra sauce to pass around or drizzle on before broiling.
Option 2: Complete the recipe except for broiling at the end. I under cook a little to 155F/68C. Cover chicken with foil and keep it in a low heat (e.g. 160-200F) for up to an hour. Or turn the oven off if you are serving within 1/2 hour. Broil for a few minutes just before serving. 
Nutrition values are estimates and will depend on the kind of chicken used and the amount of glaze used. 
Nutrition
Calories:
665
kcal
|
Carbohydrates:
19
g
|
Protein:
51
g
|
Fat:
41
g
|
Saturated Fat:
12
g
|
Cholesterol:
202
mg
|
Sodium:
787
mg
|
Potassium:
654
mg
|
Fiber:
1
g
|
Sugar:
16
g
|
Vitamin A:
532
IU
|
Vitamin C:
6
mg
|
Calcium:
52
mg
|
Iron:
3
mg
Tried this recipe?
We'd love you to rate it above under 'rate this recipe' or in the comment section below. Thanks!