Easy broccoli apple slaw with avocado dressing makes a wonderful healthy side dish for any meal, potluck or buffet. Great textures and fresh flavours.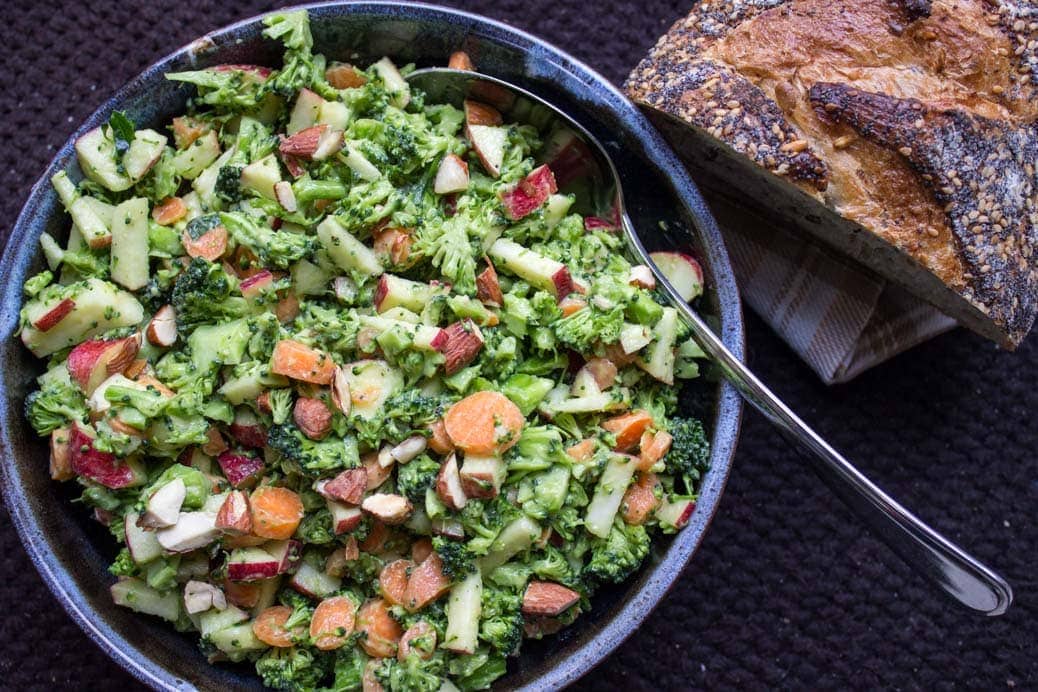 There's no shortage of textures in this slaw recipe – you get varying degrees of crunch from the apples, broccoli, nuts and carrots; and creamy smoothness from the avocado dressing.  It's a perfect accompaniment to a rich meal or a lovely side for a light fresh lunch/brunch. Serve it with eggs and fresh country bread;  or lox and bagels;  or as a side dish for a ham, turkey or roast beef dinner.
I love the combination of sweet crunchy apples with the slightly bitter broccoli in this slaw recipe. It's a great balance. One of the best things about this salad, apart from the fresh flavours, is the fact that you can make it a day or two ahead. No cooking, heating or reheating.  Just serve.  Or bring it to your next potluck event.
Simple, quick and super healthy.
Variations
add cranberries
add green onions or red onions, finely chopped
Shortcut
if you're short on time, use a good bottled dressing such as lemon poppy seed, raspberry vinaigrette, honey-mustard, creamy avocado or one of your favourites.