Skillet Pork Chop Dinner is an easy and quick weeknight meal made in one skillet with apples, veggies, thyme and a light gravy. Simple, yummy comfort food.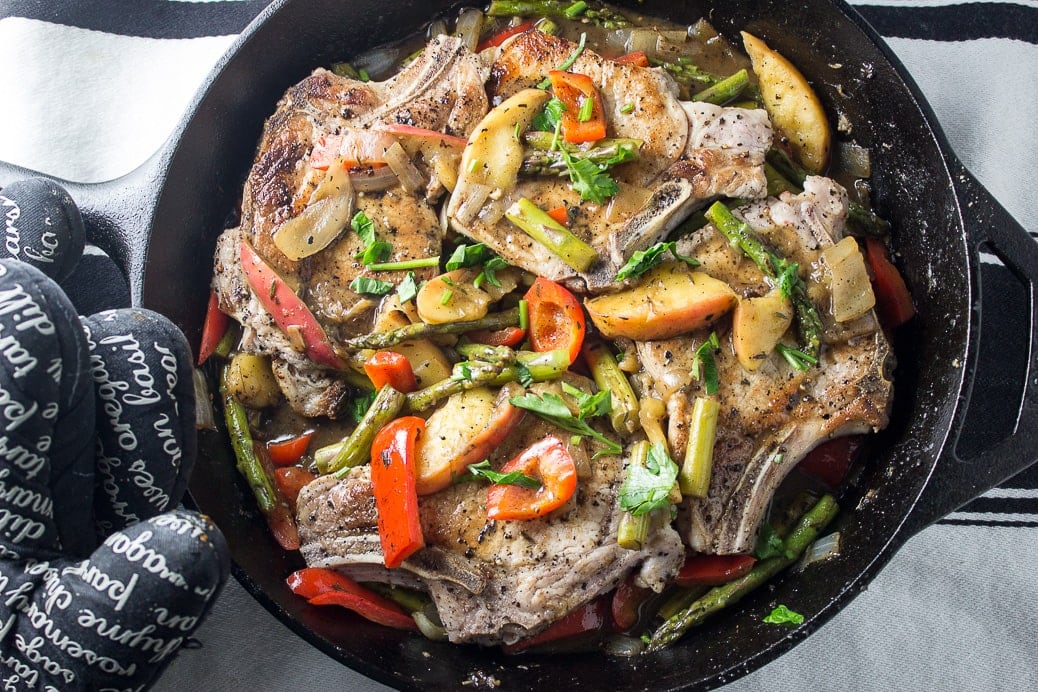 If you like flavourful pork chops and you like the idea of a dinner made in one skillet, you'll like this recipe.  And you can knock it off in half an hour if you don't choose to brine the chops.  To step it up a notch, I do suggest brining (for juicier, tastier chops) and serving this skillet dinner with rice, Perfect Basic Mashed Potatoes or any of our other potato recipes.
I use thinner bone-in rib chops that are 1/2-3/4 inch thick and portion about 1 1/2 chops per person.  Thicker chops can be used but you will have to cook them a bit longer to 145F on an instant read thermometer.
The gravy is simple and light, consisting of broth, apple cider, a pinch of sugar (or maple syrup) and some thyme.  I thicken it slightly with some cornstarch. You can skip the gravy altogether but I think it adds flavour and it's great (actually essential in my book) if you are serving the chops with rice or potatoes.
Tailor To Your Taste
Vary the vegetables.  Mushrooms, for example, would work well.  Or fresh baby spinach stirred in at the end instead of the asparagus).
Use rosemary or sage instead of thyme.
Substitute the pork chops with boneless chicken breasts.
Shortcuts
Leave out the gravy.
Just use onions and apples.
Omit the brine step for the chops.
Other pork recipes you might like:
Pork Tenderloin with Balsamic Maple Mustard Glaze get the recipe