Skillet Pork Chop Dinner is an easy and quick weeknight meal made in one skillet with apples, veggies, thyme and a light sauce. Simple, yummy comfort food.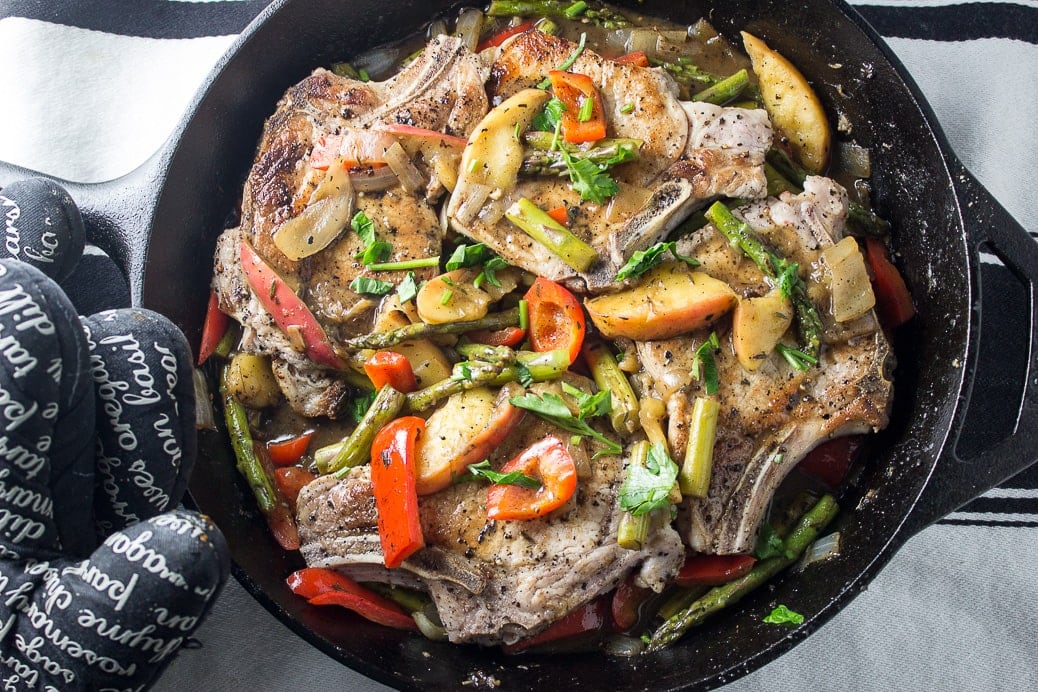 If you like flavorful pork chops and you like the idea of a dinner made in one skillet, you'll like this recipe.  And you can knock it off in half an hour if you don't choose to brine the chops.  To step it up a notch, I do suggest brining (for juicier, tastier chops) and serving this skillet pork chop dinner with rice, Perfect Basic Mashed Potatoes or any of our other potato recipes.
I use thinner bone-in rib chops that are 1/2-3/4 inch thick and portion about 1 1/2 chops per person.  Thicker chops can be used but you will have to cook them a bit longer to 145F on an instant read thermometer.
The sauce is simple and light, consisting of broth, apple cider, a pinch of sugar (or maple syrup) and some thyme.  I thicken it slightly with some cornstarch. You can skip the sauce altogether but I think it adds flavor and it's great (actually essential in my book) if you are serving the chops with rice or potatoes.
Tailor To Your Taste
Vary the vegetables.  Mushrooms, for example, would work well.  Or fresh baby spinach stirred in at the end instead of the asparagus).
Use rosemary or sage instead of thyme.
Substitute the pork chops with boneless chicken breasts.
Shortcuts for Skillet Pork Chops
Leave out the sauce.
Just use onions and apples.
Omit the brine step for the chops.






Print Recipe
Pin
Rate this recipe here
Skillet Pork Chop Dinner Recipe
Skillet Pork Chop Dinner is an easy and quick weeknight meal made in one skillet with apples, veggies, thyme and a light gravy. Simple, yummy comfort food.
Ingredients
6

bone-in rib pork chops, 1/2-3/4 inch thick (about 2-2 1/2 pounds)

BRINE (OPTIONAL): 4 cups water, 4 tablespoons salt, 1 tablespoon sugar, 1 garlic clove, 1 tablespoon fresh rosemary or thyme (or 1 tsp. dried)

salt and pepper to taste

4

tsp

vegetable oil, divided (plus a bit more if needed)
Vegetables/Fruit
1

apple, sliced

1

bunch asparagus, trimmed of woody ends, cut into 2-3 inch pieces

1

red pepper, cored, seeded, cut into pieces

1

small onion, roughly chopped
Light Sauce
1 1/2

cup

chicken broth

1

tbsp

cornstarch

2

tbsp

apple cider

1

tbsp

maple syrup (or sugar)

1

tsp

dried thyme or rosemary
Instructions
BRINE PORK CHOPS (OPTIONAL): Place brine ingredients in a large zipper locked bag. Massage for a few seconds to dissolve salt and sugar. Add pork chops. Seal and let brine for 1-3 hours. Remove pork chops, rinse and pat dry with paper towels.

PREPARE SAUCE MIXTURE: Mix together all sauce ingredients in a measuring cup or small bowl. Set aside.

SAUTE PORK CHOPS: Season chops with salt and pepper (use less if chops were brined). Heat 1/2 tablespoon oil in large (12") cast iron or other skillet to medium high. Saute half the pork chops for 2-3 minutes per side (or a bit more if chops are thicker). Repeat with remaining pork chops. (If too smokey, reduce heat to medium). Remove chops to a plate and cover with foil to keep warm.

SAUTE VEGETABLES/APPLES AND MAKE SAUCE: Add a teaspoon or two more oil if needed. Add onions, peppers, apples and asparagus to pan and stir. Saute for 3-4 minutes until onions are translucent and vegetables/apples are tender (they don't have to be soft). Add gravy mixture and stir for a minute. Sauce will thicken. Taste and adjust seasonings as needed. Add pork chops to warm through. If pork chops are thicker and not quite done (some pink is fine), cover and finish cooking for a few minutes. Spoon sauce and vegetables on top. Serve immediately with rice, noodles or potatoes if desired.
Other pork recipes you might like:
Pork Tenderloin with Balsamic Maple Mustard Glaze get the recipe