About Us
This blog, Two Kooks in the Kitchen, has two contributing authors – Cheryl and Jenna (mom and daughter) – that's us. We lead very different lives, we are at different stages in life and we both love creating, making and eating good food. Through this blog, we are sharing great recipes for all occasions that we hope will speak to your needs. 
Here are the kind of recipes you will find on our site
Most importantly, we aim for recipes that taste delicious. We love to use fresh foods (but we do love convenience and shortcuts where possible). And we recognize that most people are busy and don't want recipes with obscure ingredients and a zillion steps.
We hope that you will find a few recipes that you will love enough to add to your rotation. And build confidence to experiment and make them your own.
Here's what you can expect from our recipes:
well researched, tested and loved. You wouldn't believe how many recipes don't make the cut because they are just OK or simply not good enough.
shortcuts wherever possible. We love shortcuts that are convenient and efficient as long as they don't compromise taste.
clear instructions even for beginner cooks
tailored to your taste, allowing for substitutions and variations based on what you love or what you have on hand. This is very important to us. And of course lots of vegetarian recipes (because that's what Jenna is).

least amount of steps possible

. In fact, we LOVE recipes that can be made in 30 minutes or less or with minimal hands on time. 
make ahead, especially when entertaining, to reduce stress and allow more time with guests. Every recipe has instructions for storing, make ahead and freezing (if applicable).
variety of cooking methods like stove top, grilling, oven, no cook, sous vide and instant pot. In many recipes, we give you different options.
nutritious. We love our treats, but on a day to day basis, we try to pack our meals with lots of good nutrition. You will see tons of baby spinach in our recipes for example! 
pretty on the plate. We love bold colors and beautiful looking food.
About the Two Kooks
Hi, I'm Cheryl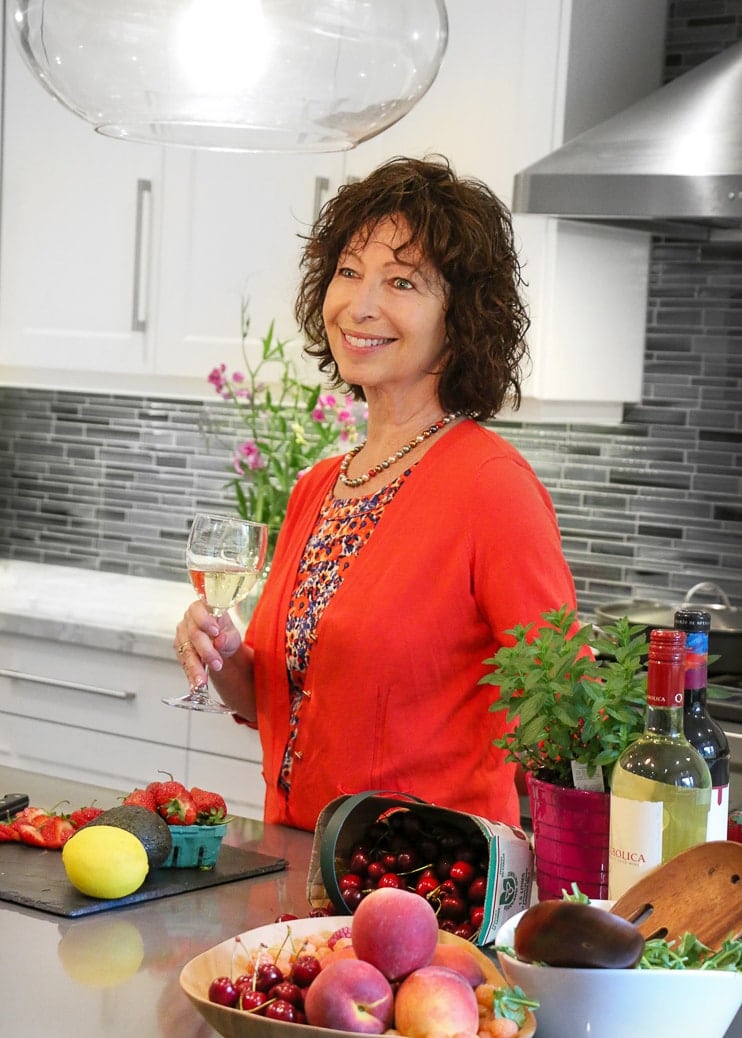 I'm a wife, mom, daughter, sister, grandmother, aunt, friend and avid cook for almost 40 years.
Formerly a strategic planner in health care, I have now taken the plunge to explore new adventures – this blog, photography, operating a boomer learning & enrichment program in my community and… who knows what else down the road.
As a major research-lover, I've learned a great deal about cooking over the years from experience, books, videos, classes and experimentation. I am eager to share great recipes and tips. And new cooking methods like Sous Vide and the Instant Pot (well, not so new anymore).
I love planning and hosting dinner parties (I admit I'm a bit obsessive with the planning part). I love comfort foods, short cuts that still taste great, recipes that get you from point A to B the fastest way possible and food that looks beautiful on the plate.
Together with my sisters, I wrote and published 2 editions of a family cookbook in honor of our mother's 65th and 75th birthdays.
Jenna is my beautiful daughter who dreamed up this food blog for the two of us and presented me with this gift in December 2015.
Hi, I'm Jenna

I have transformed from a girl who was once told by a nutritionist that I had a fear of food to an emerging foodie who collects cookbooks and spends weekends trying out new kitchen gadgets and recipes. As a vegetarian since the age of 8, I have often had to dig a bit deeper to find amazing cuisine that accommodates my dietary restrictions.
My favorite weekend activities include walking to farmers markets, a nice dinner out with my husband or friends and/or attending one of the many food festivals in Toronto. I also love to travel and explore the food scene in new cities/countries.
Through fundraising and participating in Cook for the Cure (which raises money for The Canadian Breast Cancer Foundation), I have had the incredible opportunity to meet and cook with some amazing celebrity chefs including Marcus Samelsson, Elizabeth Falkner, Mark McEwan, Lynn Crawford, Vikram Vij, Corbin Tomaszeski, Susur Lee, and Ricardo.
I married in 2014 and continue to learn how to cook for someone who is used to eating meat at every meal. Fortunately, he's enjoying a lot more vegetarian meals! I'm
By the way, if you're curious, here is how my mom reacted to me becoming a vegetarian at 8 years old. And another by the way. I'm a mom now!
Fun facts about us and Two Kooks
How did you choose the name for your food blog?
It's Cheryl talking here. My mom/Jenna's grandmother has always called me kooks (pronounced cooks) and I, too, call Jenna kooks (pronounced kooooks). And yes, a play on the word "cooks"! Jenna actually came up with the name when she created the blog for the two of us to work on together.
Do you two get along since you have to work so closely together?
We do (most of the time). We are big fans of each other and bring different skills and experiences to the table. We respect each others' opinions and, thankfully, have the same goals with the blog. And, we both love cooking and eating of course.

Do we annoy each other sometimes? Absolutely! Hey, we are mother and daughter!
What are your favorite kinds of recipes?
We both love comfort foods and internationally-inspired foods. Jenna only eats vegetarian so we have lots of those on our site. Jenna also loves pasta (she married Italian!) and Cheryl loves sous vide cooking and grilling.
Do you have any special holiday recipes you love?
We are both in mixed marriages so we celebrate Christian and Jewish holidays. With all the yummy foods of both (as you will see on our site) – from sugar cookies to potato knishes!