Crispy Oven Roasted Potatoes are soft and fluffy inside,crispy and golden outside. The cooking method takes a bit longer, but it is SOOOOOO worth it!
These crispy oven roasted potatoes are truly exceptional.
How are they different from the usual roasted potatoes?  It's all in the cooking method. You boil and rough up the potatoes first, then add butter and oil (I really recommend using butter, but just oil is good too), then roast the potatoes at very high heat. The end result is a potato that's fluffy and creamy on the inside and crispy on the outside. Almost like a fried potato. I can assure you, there will be no leftovers.
Try serving oven roasted potatoes with Marinated Flank Steak or Chicken With Herb Garlic Lemon Smear .
Tailor To Your Taste
You can use any combination of oil and butter you like or even all of one or the other. Butter does add some extra flavor.
Add some dried rosemary.
Sprinkle the potatoes with chopped fresh parsley after roasting.
Make Ahead Crispy Oven Roasted Potatoes
If you need to make these potatoes ahead, go ahead and finish roasting them, but for slightly less time. Remove them from the oven and let them sit on the counter. Reheat them at a high temperature, 450F,  for 7-10 minutes to crisp them up again.
Alternatively, make the recipe up to the point of putting them into the oven to roast. About 50-60 minutes before serving, roast the potatoes.
boiled and roughed up potatoes
add butter and/or oil before roasting.
Print Recipe
Pin
Rate this recipe here
Crispy Oven Roasted Potatoes Recipe
Crispy Oven Roasted Potatoes are soft and fluffy inside; crispy and golden outside. The cooking method takes a bit longer, but it is SOOOOOO worth it!
Ingredients
2 1/2

lb

potatoes

Note 1 for which potato to use

2

tbsp

unsalted butter

(if using salted butter, cut down on salt)

2

tbsp

olive oil

cooking oil spray

1/2

tsp

salt

pinch

pepper

1/2

tsp

dried rosemary (optional)
Instructions
Preheat oven to 450F

PREPARE AND BOIL POTATOES: Peel (if desired) and cut potatoes into 1.5 to 2 inch pieces. Boil potatoes in a medium pot of boiling salted water for 6-8 minutes until tender, but not too soft. Drain well. Put potatoes back into the pot and give them a good shake. This will make them ragged and allow them to absorb the oil and butter better.  Microwave the butter and oil until bubbling - about 20 seconds. (use any combination of butter and oil as preferred to equal 4-5 tablespoons). Add to the pot along with salt and pepper (and rosemary if using). Stir gently to coat the potatoes well.

ROAST THE POTATOES: Line a large baking pan with aluminum foil. Spray well with cooking oil. Transfer potatoes to the pan, spreading them out in a single layer. Roast for 45-60 minutes or until golden brown and crispy, turning them once after 20 minutes.
Notes
Which potatoes are best to use: Yukon Gold would be my #1 choice. They have thin skins and don't need peeling and they brown and crisp up beautifully.  Russet are good too, but should be peeled. They don't get quite as crispy.  I often use red potatoes too, unpeeled. 
Tried this recipe?
We'd love you to rate it above under 'rate this recipe' or in the comment section below. Thanks!
Other potato recipes you might like:
Indian Potatoes
These richly spiced Indian potatoes feel like a cross between exotic and comfort food. Soft creamy interiors with a beyond delicious seasoning blend. Flavor bomb!
Get the recipe
Print
Herb Potato Salad
Herb potato salad is a perfect light summer side dish that's quick and easy to make and bursting with flavor. Great for picnics (no mayo), potlucks and BBQs.
Get the recipe
Print
Crispy Smashed Potatoes with Gremolata
Crispy smashed potatoes with gremolata is potato heaven with an added burst of flavor from the parsley-garlic-lemon gremolata. Delish!
Get the recipe
Print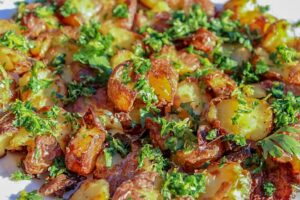 Mashed Potato Pancakes (Latkes)
Leftover mashed potatoes make these Mashed Potato Pancakes (Latkes) a snap. They're crispy on the outside and creamy, cheesy delicious on the inside.
Get the recipe
Print