Moist, lemony and bursting with blueberries, this Lemon-Blueberry Loaf is perfect for a tea, shower or brunch.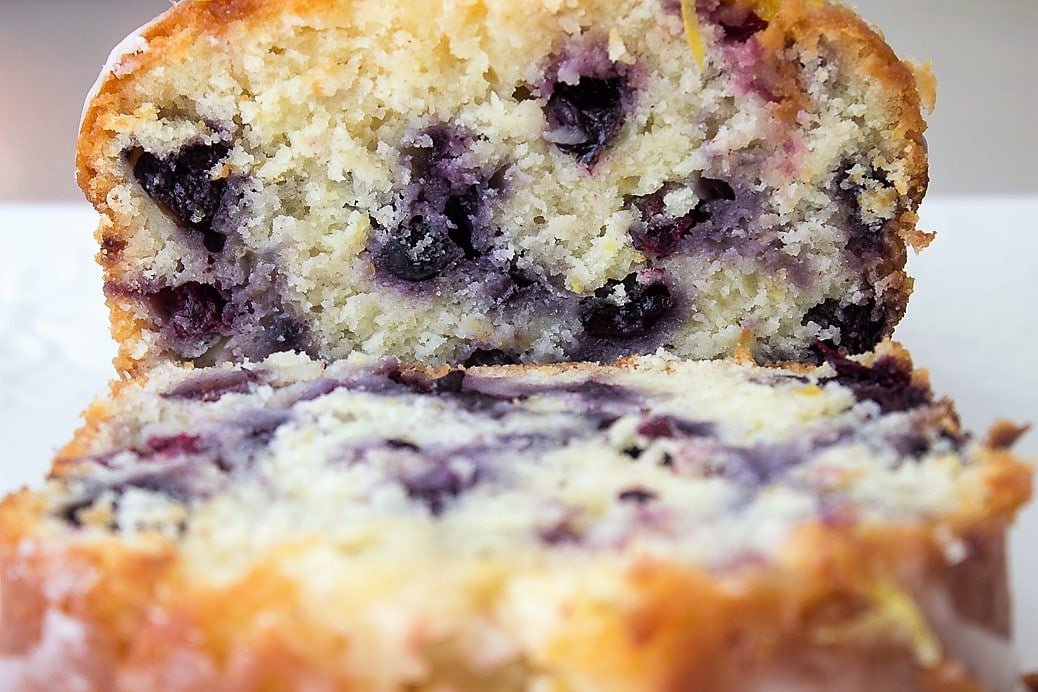 I froze a few leftover slices after we devoured most of the loaf. A few days later, I was looking for something to satisfy my after-dinner sweet tooth craving and pulled out the frozen slices.  Too impatient to wait until they defrosted, I microwaved them for 20 seconds and inadvertently discovered that Lemon-Blueberry Loaf warmed-up is sublime!
Looking for something a bit lighter to serve after a big Thai meal. I searched for recipes and found 3 very similar ones by Ina Garten, Jo Cooks and TinEats. All 3 recipes did not require any equipment – just a whisk.  This Lemon-Blueberry Loaf is a close version of the 3 recipes with a couple of minor tweaks. The end result was a simple, delicious dessert or snack that is easy to make, super moist and full of lemon and blueberry flavor.
Tailor To Your Taste
The recipe has an option for a lemon syrup which adds extra moistness and lemon taste, but you can leave that step out if you want.  Or alternatively, use the syrup and leave out the glaze.
Substitute Greek or plain yogurt for the sour cream.
Leave out the blueberries
Tips for Lemon-Blueberry Loaf
Be sure to toss the blueberries in flour before adding to the batter. This will ensure they don't all sink to the bottom.
If the glaze is too thick, add a bit more lemon juice or water. If it's too thin, add a bit more icing sugar.
The recipe freezes well and it's delicious warmed in the microwave for a few seconds
The loaf stays moist for days (I store it in a sealed cake pan or ziploc bag)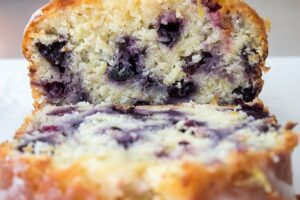 Print Recipe
Pin
Rate this recipe
Moist Lemon-Blueberry Loaf Recipe
Moist, lemony and bursting with blueberries, this Lemon-Blueberry Loaf is perfect for a tea, shower or brunch.
Ingredients
For Loaf
1 1/2

cups

all-purpose flour

2

tsp

baking powder

1/2

tsp

salt

1

cup

sour cream

(or Greek or plain yoghurt)

1

cup

sugar

3

large eggs

1

tbsp

lemon zest

(from 1 large lemon)

1/2

tsp

vanilla

1/2

cup

vegetable or canola oil

1 1/2

cups

fresh or frozen blueberries, tossed in 1 tablespoon flour
For Optional Lemon Syrup
juice of 1 lemon mixed with 2-3 teaspoons sugar
For Lemon Glaze
1/2

cup

icing sugar

juice from 1/2 lemon

dash of pure vanilla extract

Optional: Lemon zest to sprinkle on top
Instructions
GET ORGANIZED: Preheat oven to 350F. Spray an 8.5 x 4.5 x 2.5 inch loaf pan with cooking oil (or grease with butter) and dust with flour. Zest two lemons and set aside.

COMBINE DRY INGREDIENTS: Whisk together flour, baking powder and salt in large bowl.

COMBINE WET INGREDIENTS: In a medium bowl, mix together sour cream eggs, sugar, lemon zest, vanilla and oil.

COMBINE WET AND DRY INGREDIENTS: Add wet ingredients to dry ingredients and combine with whisk. Gently fold in the blueberries mixed with flour.

BAKE: Pour batter into greased/floured loaf pan. Bake on middle rack for about 50-70 minutes. Since ovens vary, start checking at 50 minutes. If toothpick or tester inserted into center of loaf comes out clean, it's done. Rest cake for 10 minutes on rack, then remove cake from loaf pan and place it on rack over a pan or cutting board (something to catch any drips).

MAKE AND ADD LEMON SYRUP (OPTIONAL): For an even moister, more lemony loaf, poke holes in top of cake with tester or toothpick. Pour on lemon syrup to soak in. Let loaf cool.

MAKE AND ADD GLAZE: Mix together icing sugar and lemon juice in a small bowl. Drizzle glaze over cake. Sprinkle with lemon zest if desired. Slice and serve.
Here are some other cakes you might enjoy:
Apple Cake with Caramel-Bourbon Sauce get the recipe
Super Moist Carrot and Pineapple Cake get the recipe