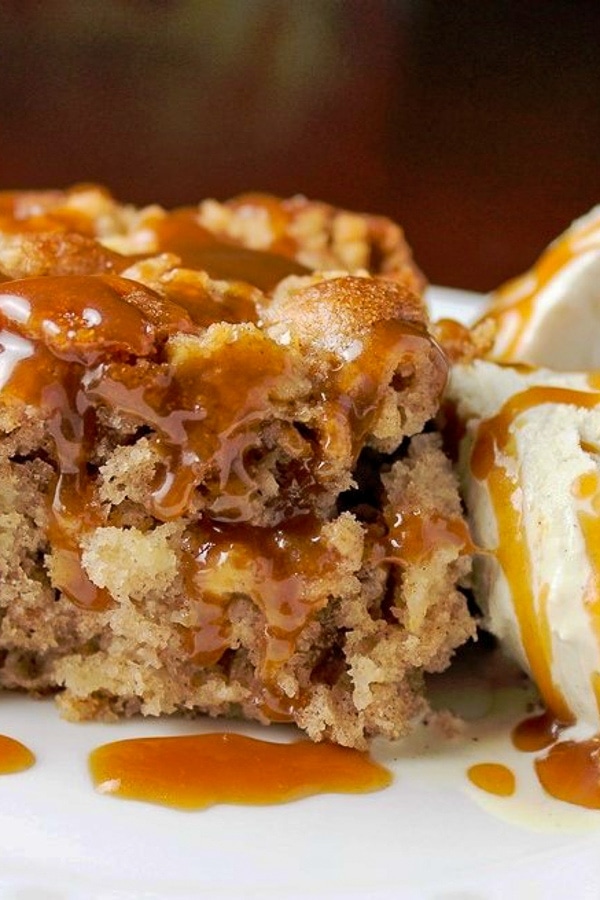 What can be more tempting for Fall than a moist, tender cake full of apples and drizzled with a silky smooth decadent sauce?  Apple Cake with Caramel-Bourbon Sauce, that's what.  This cake is always popular at dinner parties and potlucks.
Variations:  We like to use a variety of apples like Gala, Granny Smith, Cortland, Empire or Fuji.  One Delicious or Honey Crisp is fine, but they won't hold their shape as well .  The recipe is an adaptation and blend of three other recipes.  We cut way back on the sugar, particularly if you use sweeter apples, and we vary the toppings from a simple sugar-cinnamon topping to a crumble topping.  Both are included in the recipe.  You can also lighten it up a bit by using half applesauce and half oil instead of just oil.  And, feel free to add a half cup of raisins, walnuts or pecans.  Bake the cake in a 9 x 13 inch Pyrex dish or a Bundt pan.
As for the caramel-bourbon sauce?  It's addictive.  Just a drizzle goes a long way.  It does have a good kick of bourbon even though the recipe only calls for one tablespoon, so cut it back a bit if you want a more subtle taste.  You can, of course, omit the sauce altogether, but seriously, it's worth the extra step. So good!
The apple cake can be made ahead and warmed in the oven at 350F for 5 minutes.  Serve it with ice cream or whipped cream and a drizzle of the caramel-bourbon sauce.  Yum.