Here are a few ideas for your Rosh Hashanah menu just in case you're looking. Admit it, you probably just googled Rosh Hashanah recipes!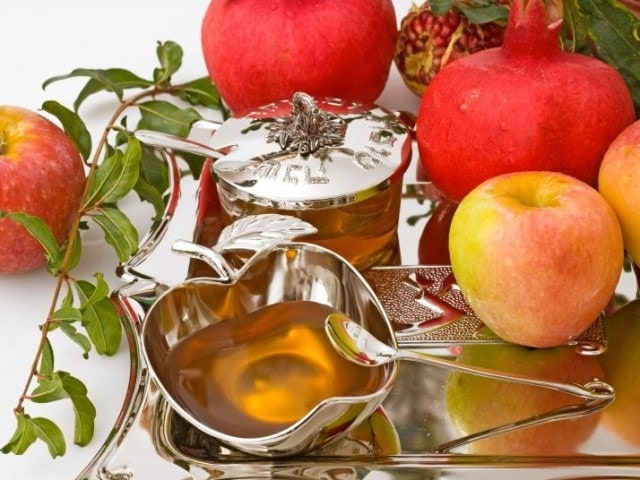 On Rosh Hashanah, the Jewish New Year, many families stick to traditional fare. Some (like me), like to change it up, tweaking one or two of the traditional foods or adding a couple of new ones.
To help with your menu and planning, we've noted a few criteria you might have for each of the recipes below:
Vegetarian (it's common these days to have one or more vegetarians at the table)
Make Ahead (very important when you're preparing dinner for a large crowd)
Under 30 Minutes (who doesn't like quick recipes to make or bring?)
Has Shortcuts (many of our recipes offer shortcuts that are pretty invisible when it comes to results)
Shanah Tova (Happy New Year) to those who celebrate!
Traditional Rosh Hashanah Foods
Where I come from, these are some common foods eaten on Rosh Hashanah. They, of course, vary widely with family traditions.
apples dipped in honey (symbolizing a sweet new year)
challah (egg bread) sweetened with raisins, often in a round shape
tzimmes, a sweet vegetable/fruit dish (see my version below)
pomegranates
honey or apple cake
potato kugel (casserole)
chicken and brisket
chicken soup (not sure if every includes this, but we do!)
Entertaining Tips
Some of these tips may be helpful if you are hosting a Rosh Hashanah dinner.
Rosh Hashanah Recipes from Two Kooks
Appetizers and Starters
Eggplant Dip (Baba Ghanoush): Vegetarian, 3o minutes, Make Ahead
Dukkah – Vegetarian, 3o minutes, Make Ahead, Shortcut
Puff Pastry Tomato Tart – Vegetarian, Make Ahead, Shortcut
Main Dishes
Apricot Chicken – Make Ahead, Shortcut
Sous Turkey Breast – Make Ahead
Vegetable Strudel – Make Ahead, Vegetarian, Shortcut – a great option for vegetarians at your table.
Roasted Salmon Stuffed with Herbs – Make Ahead, 30 Minutes
Smoked Brisket in a Smoker – Make Ahead
Sides
Easy Potato Knishes – Make Ahead, Vegetarian, Shortcut
Roasted Glazed Carrot Tsimmes – Make Ahead, Vegetarian
Roasted Sweet Potatoes, Peppers, Eggplant and Apples – Make Ahead, Vegetarian
Salad With Grilled Vegetables and Quinoa – Make Ahead, Vegetarian
Vegetable Quinoa Stuffing – Make Ahead, Shortcut, 30 Minutes, Vegetarian
Herb Potato Salad – Make Ahead, Vegetarian, Shortcut
Grilled Coleslaw – Make Ahead, Vegetarian, Shortcut, 30 Minutes
Sweet and Tangy Eggplant – Make Ahead, Vegetarian, Shortcut, 30 Minutes
Desserts
Apple Cake With Caramel Sauce – Make Ahead, Vegetarian
Orange Polenta Cake – Make Ahead, Vegetarian
Crispy Buttery Lace Cookies – Make Ahead, Vegetarian, 30 Minutes
Homemade Caramel Popcorn (a treat to usher in a sweet year!)- Make Ahead, Vegetarian, Shortcut
Best Banana Cake With Chocolate Icing – Make Ahead, Vegetarian