How to Keep Food Warm: 10 Tips & Strategies (2023)
Keeping food warm when hosting a dinner party or crowd can be one of the biggest challenges when juggling so many dishes with varied timing. From endless practice and research, I am sharing strategies – beyond the basics – on how to keep food warm with as little stress and fuss as possible.
Some of these tips might be familiar, while others may surprise you.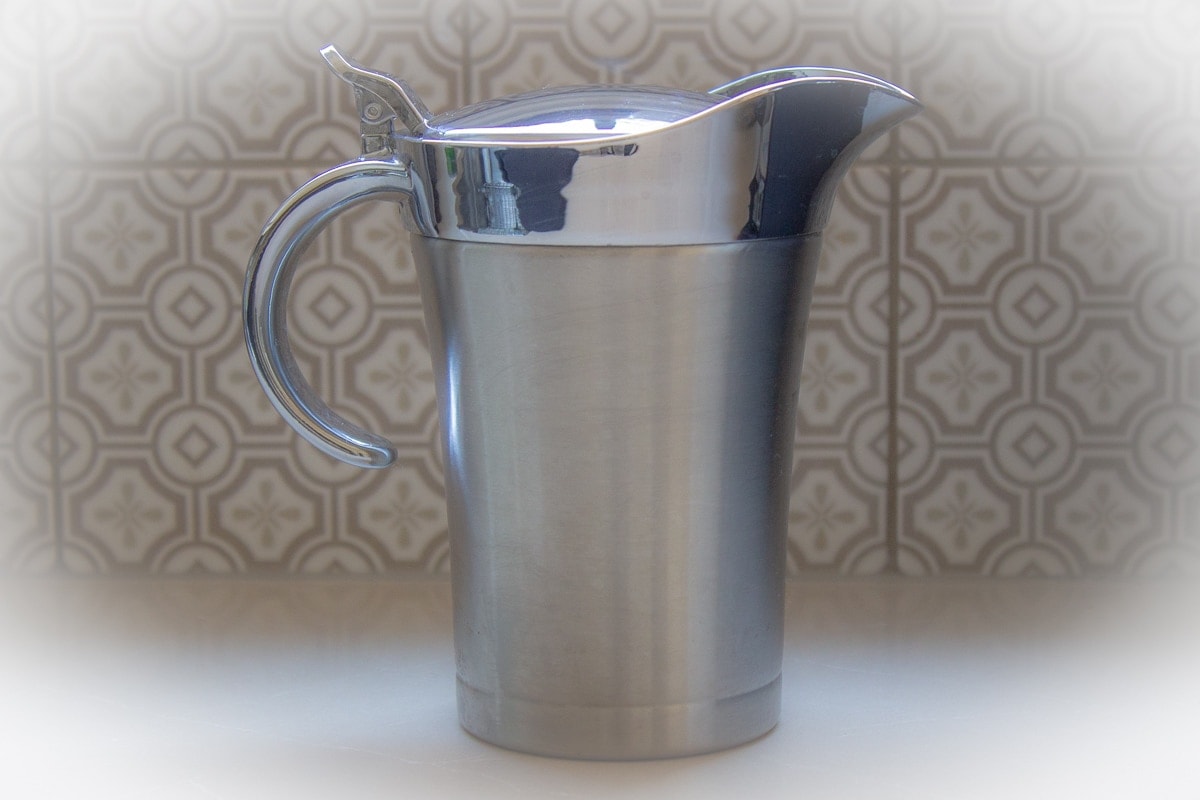 The best hosting tip I read recently is to cut yourself some slack. I mean no matter what you do, carrots or asparagus and similar types of hot food are simply going to get cold in minutes once they hit the table. Just let it let it go (I tell myself). No big deal.
But for other foods, we have some good tips that can keep you from constantly checking the temperature of the dishes while your guests are already enjoying the spread. Read on..
1. Plan Plan Plan (at least a bit)
Plan some room temperature or cold food as well as dishes that can be made ahead and reheated or successfully kept warm until serving.
It's pretty stressful to realize an hour before guests arrive that you don't have enough oven and stove space to accommodate your menu.
I suggest that you at least think about choosing your menu so that you don't have to reheat or finish off everything at the same time, right before serving.
A word on food safety. The most important thing to remember is the safe zone for foods sitting around is between 40-140F (4-60C) so keep an instant-read thermometer on hand to check food to make sure they are at a safe temperature from time to time.
2. Serve buffet style if possible
If you have the space, serving buffet style in the kitchen or elsewhere is almost always a better option for keeping things warm.
You can set out food in covered dishes (or covered with aluminum foil), on warming trays, with heat packs under them or in chafing dishes which will all keep casserole dishes and other serving dishes nice and warm until serving.
If you're using disposable or other chafing dishes, be sure to put your food in piping hot. Chafing dishes maintain temperature. They don't heat up food.
3. Use a caterer's instructions
Caterer's put out baking and reheating instructions for their foods that we can all use to guide us in reheating our own dishes.
Here are some good reheating instructions I found online from a caterer: Kitch Catering for reheating main dishes and sides
And if you want to slip in a few prepared foods to your meal, here is Whole Foods Cooking and Reheating Instructions. I find these can really help with how-to's and timing.
4. Think beyond the stove and oven
When I have a larger crowd and lots of dishes with insufficient stove top and oven space, I expand my tools for keeping foods warm. Here's a few I've used successfully.
Crockpot/Slow cooker
Perfect for keeping stews, soups, stuffing and mashed potatoes warm
Make sure your food is already warm/hot before putting it in the electric slow cooker to keep it warm on the "warm" setting
Insulated thermos
Great option for keeping gravy and soup hot.
I use a coffee thermos if I need to hold a liter of gravy.
If I'm serving a butternut squash soup or lobster bisque as an appetizer in mini cups, for example, I heat up the soup and put it in a thermos well ahead of time – and pour it straight out of the thermos. Or let guest pour for themselves.
Microwave
Simple way to warm up side dishes and other foods, that aren't in a metal container, and that don't need to be crispy such as mashed potatoes, stews, rice, and many vegetables.
Some microwaves have a warm setting.
I don't suggest using the microwave to warm meats, fried food, chicken, fish.
Toaster oven
Perfect to warm bread, rolls, casseroles (if large enough).
I use this very often as a small oven.
Use the bake setting at the lowest temperature.
Heating pad
Don't knock it! It's actually a good heat source that works well. I've used this in a pinch on a buffet table or sideboard as a warm surface to keep a serving plate of food warm after it's served initially e.g. turkey. Tuck it between towels or place mats and hide the cord.
BBQ
A BBQ can be used as extra oven space, particularly if you are able to keep the temperature fairly steady.
You can also turn off one side of a gas grill and keep the food on the non heated part.
Or turn off the heat completely (after the BBQ is preheated), put your dishes in covered with foil and keep the lid closed.
Cooler
Does a great job in keeping casseroles, brisket, stews, mashed potatoes and other food items warm – even hot – for a couple of hours.
Heat the cooler first by pouring hot water into it and leaving it covered for 15-20 minutes. Then empty and dry the cooler. Line with hot wet towels for extra insulation. Or line with foil and then towels on top.
Coolers are also good for transporting hot foods in a baking dish covered in foil.
Rice cooker and instant pot
Both will keep foods warm for an hour or more on the warm setting.
Chafing dishes
They do an excellent job for buffet items as they can keep foods warm or even heat them up.
They are essentially serving trays that sit over a hot water bath heated by sterno flames (you have to buy all this)
To speed up the heating, add hot water to the water trays and use larger sterno cans.
Oven
The oven, of course is your most common heating appliance.
Set it to "warm" if you have that setting which is typically 160F (70C). If you don't have a warm setting, set it to 250F (120C).
Follow catering instructions above for keeping foods warm.
5. Use warm plates
Generally, heavier dishes like ceramic will keep foods warm for longer. And use lots of tin foil if your dishes don't have covers.
A great way to keep food warm – and a nice touch – is to warm your plates before serving. Here are a few options:
use a warming drawer if your oven has one;
heat plates in a 150F/65C oven for 15 minutes;
some plates like Earthenware can be warmed in the dishwasher – run the cycle 2 hours before you're serving – plates will stay warm.
6. Serve hot gravy or sauce
Gravy or sauce can be a real savior when serving meat, chicken or turkey. If the meat is baked right in a sauce, there's no need to worry. Those types of dishes can keep warm, covered, in a 150-200F (65 -93C) oven for up to an hour usually.
If, however, you're slicing meat or poultry at the last minute (after resting it), it tends to get cold quickly.
I heat the gravy or sauce on the stove or microwave about 15-20 minutes before serving and pour it into an insulated coffee or gravy thermos which keeps it hot for hours. The hot gravy/sauce can make a big difference.
7. Try sous vide cooking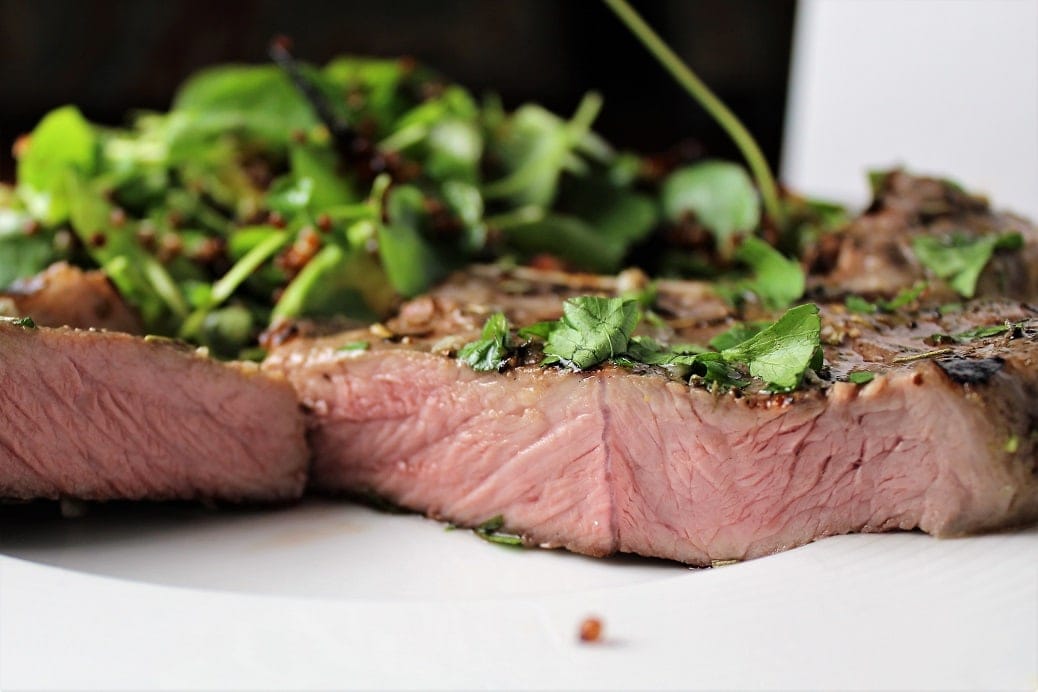 The Sous Vide method cooks food in a specially-controlled water bath to the exact temperature you set it for.
Meat and poultry can be left in the water bath for a couple of hours after it's done in most cases. Or reheated at a slightly lower temperature for 20 -60 minutes depending on the thickness of the food.
This method will not work for everything, but it's certainly a new option in the tool box that wasn't available in the not-too-distant past. Sous vide is particularly excellent for flank steak, pork chops, pork tenderloin, duck breast, chicken breasts, turkey breast.
In terms of stress-free, I give it a 100% rating. You can be totally confident that the meat will come out exactly as you intend (and super tender too).
You do have to finish it off on the BBQ, broiler, pan or oven for a few minutes to get some color on the meat, but in my opinion, that is a very reasonable trade off. And because you're applying some high heat at the very end, the meat tends to come to the table at the right temperature.
8. Serve straight off the grill
Keeping meat and poultry warm after cooking can be tricky. It's easy to dry them out. See tips for how to keep roasts and steaks warm below.
One option I use (not in the dead of winter usually), is to have all my sides ready and cook the protein right before serving. Yes, you have to let meat and chicken rest to keep in their juices, but but the time you get everything to the table, you should be fine.
9. How to keep specific foods warm for a party
Here are some tips for a few common dinner party foods.
A general rule of thumb if you are refrigerating foods then reheating them, first bring the food to room temperature (30-90 minutes) before reheating. See reheating instructions above from caterers.
Rice
I use a rice cooker or instant pot where the rice will stay hot and moist for an hour or more.
Alternatively, rice reheats very well in the microwave, covered, for a few minutes
It's also fine to keep it warm in the oven, covered.
When reheating rice, add a tablespoon or two of water and cover it to keep the rice moist.
Check out our recipes for savory rice and roasted veggies, instant pot veggie rice and curried rice with raisins.
Mashed potatoes
I use my warming ring on the stove top for up to an hour.
Put a bit of extra milk/cream on top, let it sit, then fluff the potatoes up just before serving. I often serve potatoes right out of the pot. No one seems to care and one less dish to wash.
Mashed potatoes also reheat very well in the microwave for a few minutes (stir half way through).
Or, they can be kept warm for hours in a slow cooker on warm.
Check out our recipes for basic mashed potatoes and root vegetable mash.
Roasts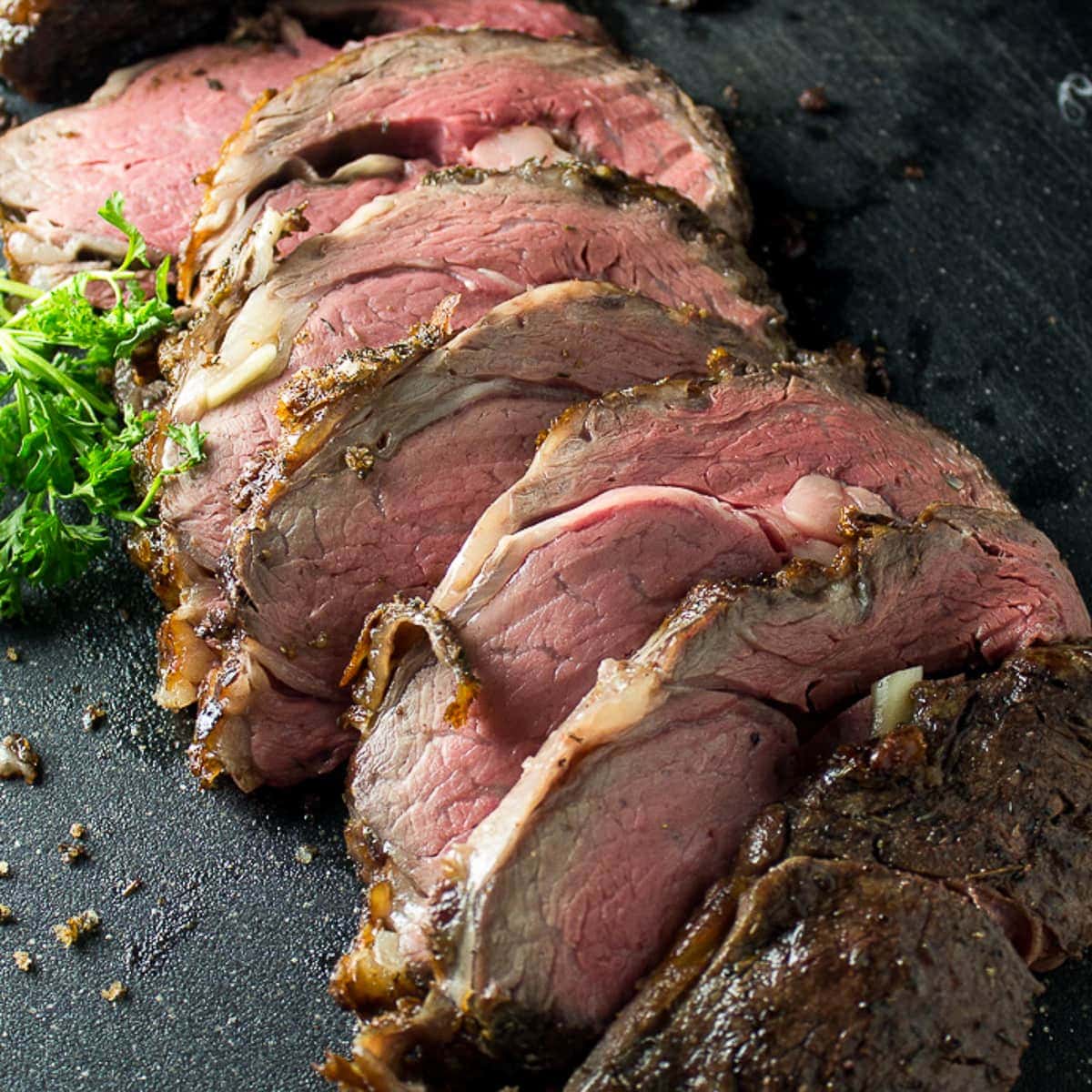 I let my roasts sit on the counter for up to 45 minutes with lots of tin foil covering them loosely, then I slice just before serving. Or, I use the reverse sear method for prime rib (pictured above) and boneless pork roast with gravy (reverse sear) which is perfect for entertaining. With the prime rib, you get a 90 minute grace period for resting on the counter!
You can keep roasts warm in a 150-200F (65-93C) oven or on "warm" if you have this setting, but keep checking the internal temperature with an instant read thermometer to make sure it is not rising.
I've also used a pan with hot water under the roasting pan which works quite well.
I never reheat meat in the microwave as it can become gray and rubbery.
If you do nothing else, serving with hot gravy will save the day.
Turkey
(You can do this 1-2 days ahead).
Once roasted, loosely cover with tin foil and let rest for 40-60 minutes (a must to retain juiciness).
Slice and add to a pan, pressed close together to maintain moisture. Cover with plastic wrap pressing it all around the turkey. It can be refrigerated at this point.
When ready to use, bring to room temperature for an hour.
Set the turkey slices in one layer, with a bit of overlap. Drizzle hot broth over the turkey – covering about 1/8 inch of broth on the bottom of the pan.
Reheat tightly covered with foil for 20-30 minutes (just until heated through) at 350F (176C).
Alternatively you can flash heat it at 450F (232C) for 7-10 minutes. Transfer to a hot plate and drizzle a bit of the broth from the pan over the turkey.
Check out our recipes for bone-in turkey breast with pear chutney and grilled turkey breast.
Steak
(At least 1 inch/2.5 cm thick, 1.5 inches/3.8 cm even better)
Season and sear steaks on the grill or in a pan on high for just 2 minutes on each side.
Transfer to a wire rack sitting over a pan (this will keep them from steaming and cooking more).
A half hour before ready to serve, put the steaks in a 325F (163C) preheated oven and cook for about 10-20 minutes (depending on thickness) or until an instant thermometer reads 130F (54C) for medium rare.
Vegetables
If roasted, keep warm or reheat in a 350F/176C oven for a 5-10 minutes uncovered. A good recipe for this is oven roasted vegetables.
For beans, broccoli and asparagus, for example, early in the day I blanch them in the microwave or in salted boiling water until tender but still have a bite. Then drop them into ice water to stop the cooking, drain and leave them sit until dinner. Just before serving, I stir pan fry them with oil, salt, pepper, garlic and/or lemon for 2 minutes.
And, there's always the option of serving them at room temperature (not a crime!).
10. Assign people to help
Guests are usually happy to help. With you orchestrating, let people carry things out to the table and help serve. If you have someone you trust to be a sous chef, take the plunge and assign something bigger. I know this is hard for perfectionists!
Need a few tips for hosting with minimal stress? Check out our tips for hosting a dinner party.