You can't argue with tender, moist, flavorful and stress-free. That sums up sous vide turkey thighs glazed with maple syrup, Balsamic, Dijon and orange zest. I know there are a lot of turkey dark meat doubters out there, but you just might change your mind when you taste these turkey thighs.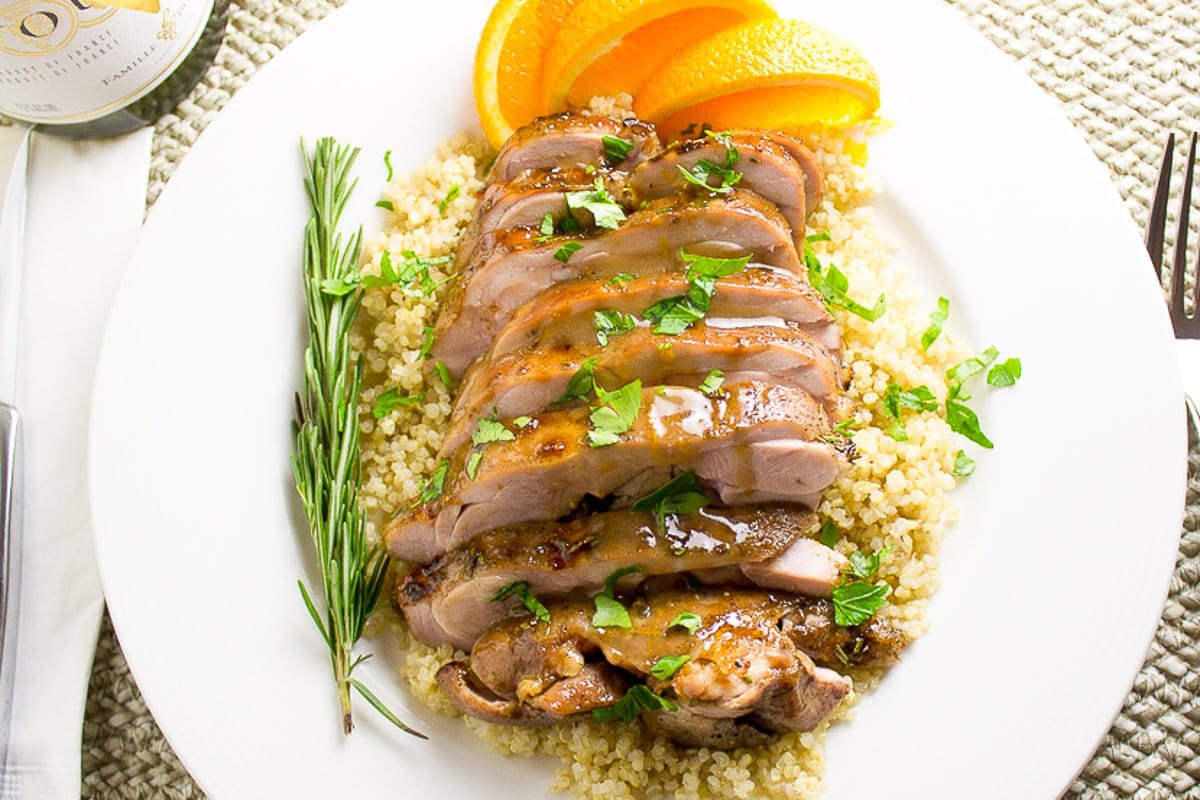 The soft tender meat emboldened by the glaze and sauce is simply delicious. I admit even I was surprised and I'm a dark meat lover.
Roasted turkey thighs can be chewy, tough and stringy. The sous vide method creates a whole different universe for thighs. And the best part is they only take about 20 minutes of hands on time.
I have tried this recipe with bone-in turkey thighs. I recommend removing the bone before you start for more even cooking, super easy slicing and a much better presentation. Here's a video on how to debone and turkey thigh. Or, ask your butcher to do it.
For those who are new to this cooking method:
Sous vide is a technique in which food, sealed in a bag, is immersed in a water bath and cooked at a very precise, consistent temperature. This cooks the food to perfection – the exact temperature (e.g. medium rare) that you choose. No worries about overcooking. Meats are amazingly tender. And the whole process is pretty much stress free.
I have an 'oven' type sous vide machine from Cedarlane Culinary that works great. The sous vide immersion stick, of course, is perfect for this sous vide turkey thigh recipe too.
I love to serve these turkey thighs with quinoa, Basic Mashed Potatoes, Root Vegetable Mash, Mushroom Spinach Couscous or Curried Rice with Raisins.
Sous vide tips
We've been experimenting with sous vide for several years. Our post on Best Sous Vide Recipes includes:
great sous vide recipes,
tips on do's and dont's of sous vide cooking, and
links to several experts' time and temperature charts which are the holy grail of sous vide.
Make ahead turkey thighs
You can vacuum seal (or zipper lock) and refrigerate the thighs for a few days before cooking.
The sous vide process can be done ahead of time (or just leave the sealed bags in the water an extra 30-60 minutes). Glaze and broil the cooked thighs just before serving.
Other turkey recipes you might like
How to make sous vide turkey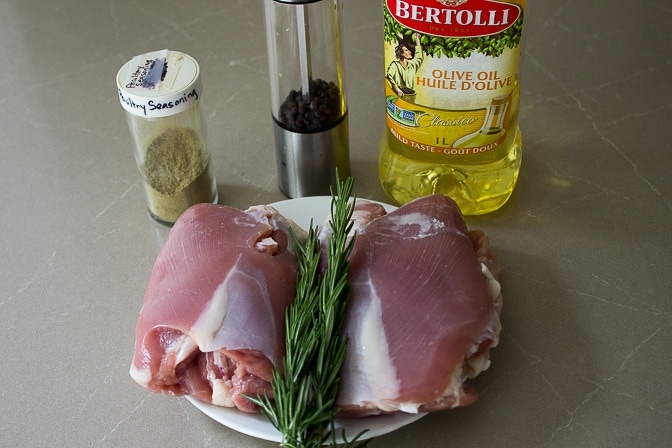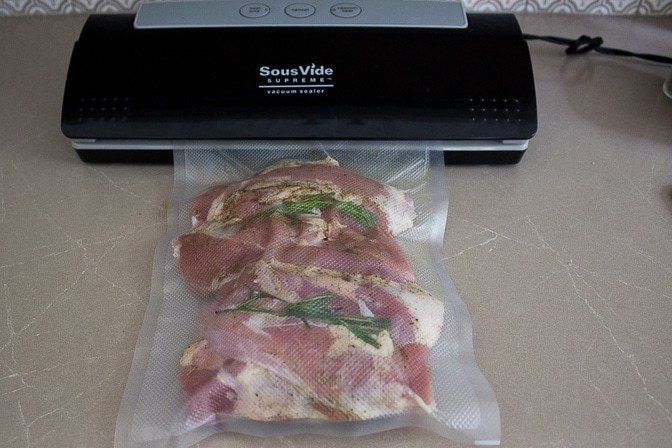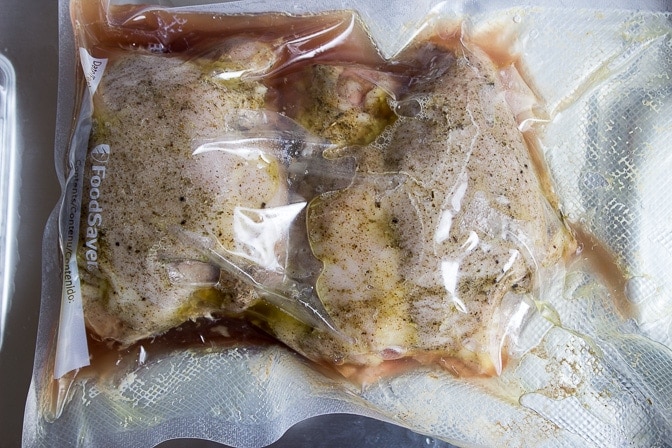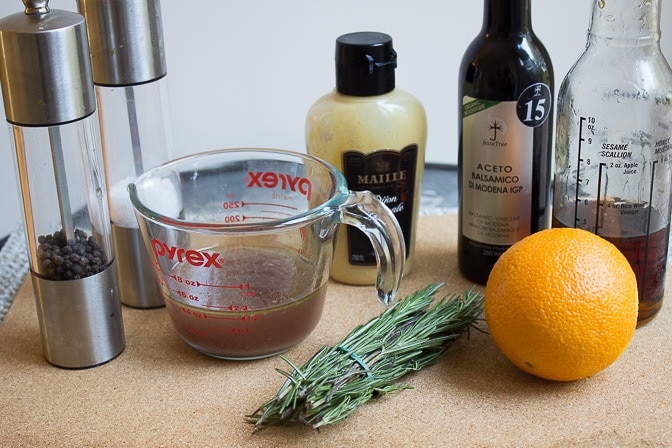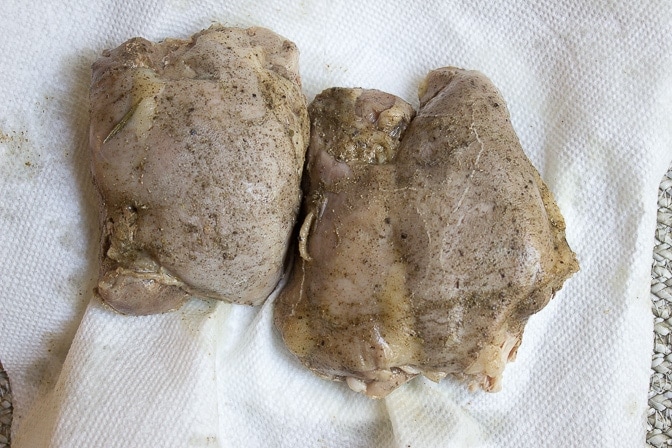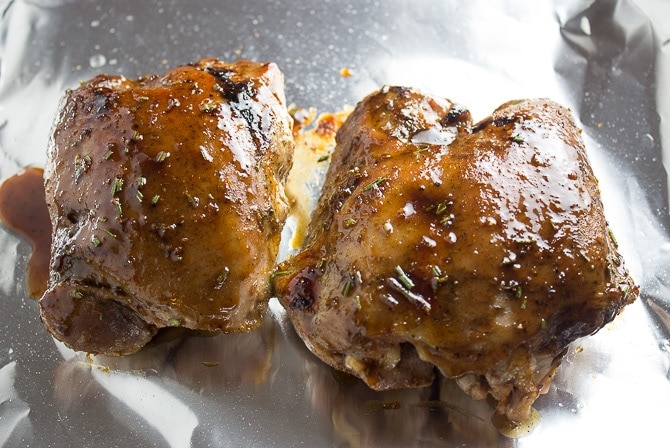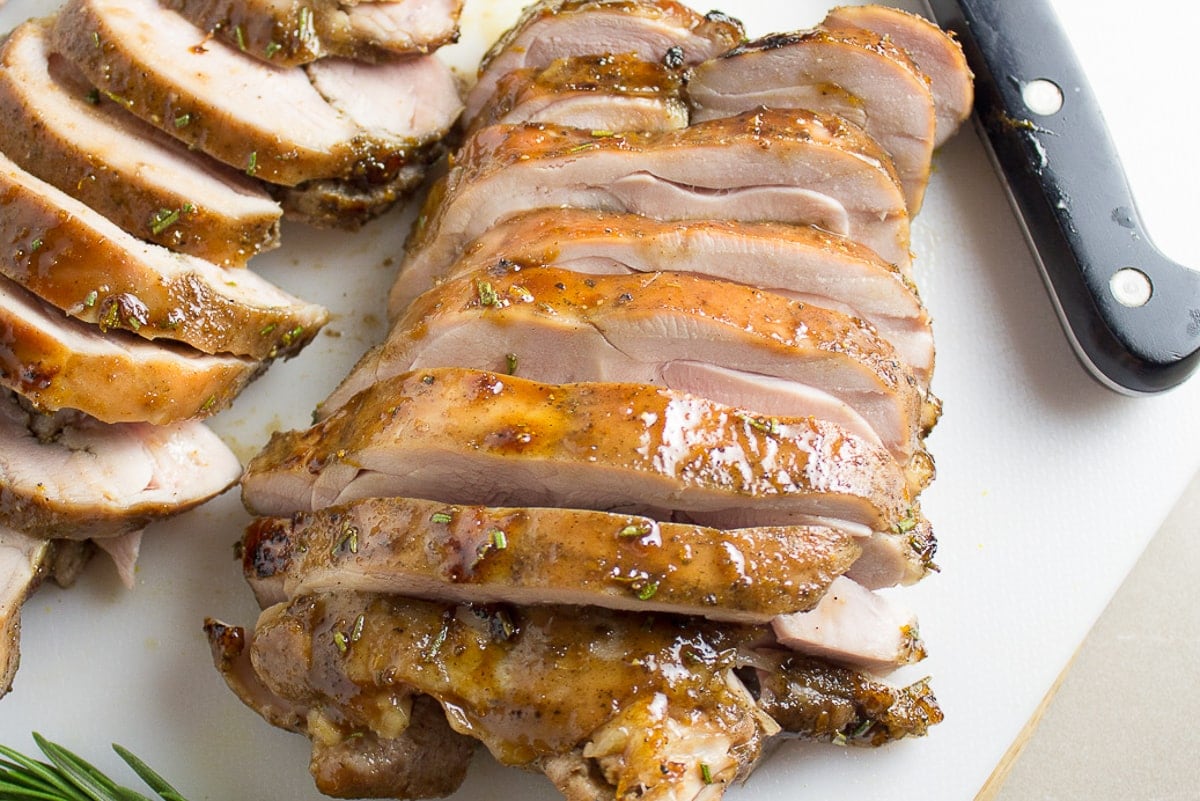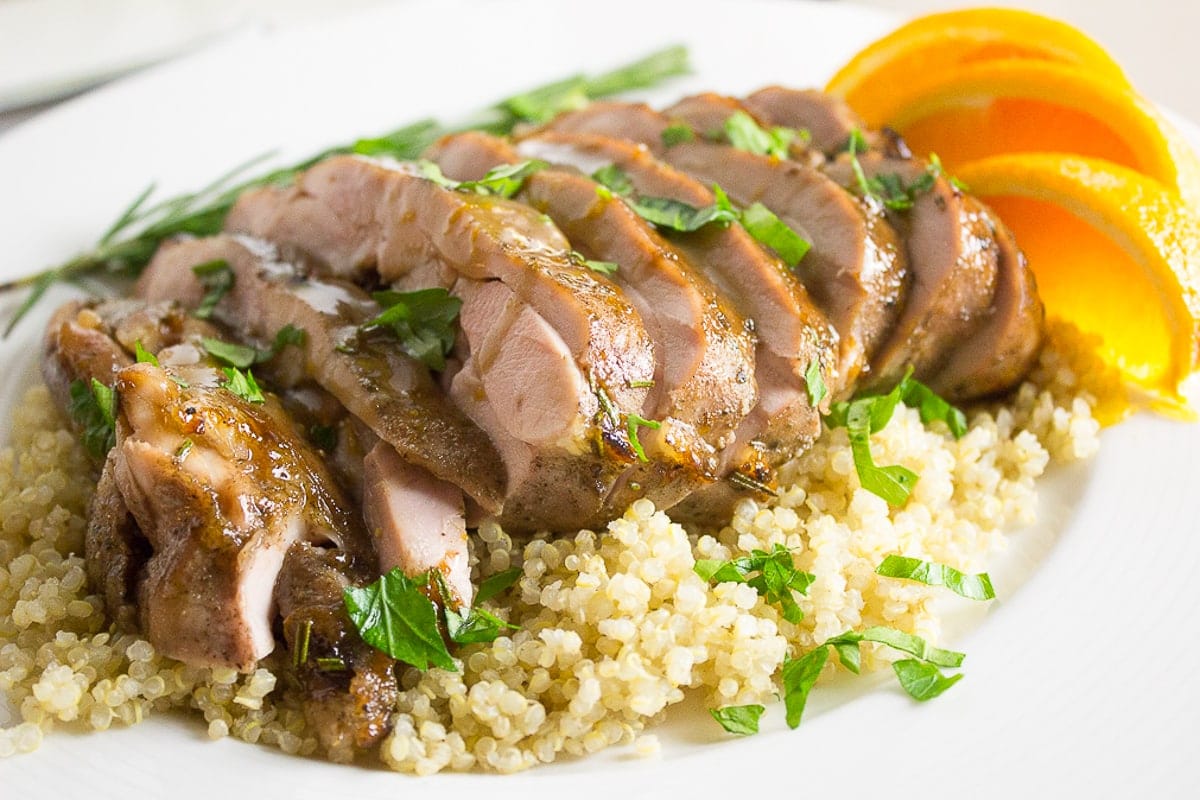 Sous Vide Turkey Thighs
You can't argue with tender, moist, flavourful and stress-free. That sums up Sous Vide Turkey Thighs glazed with maple syrup, Balsamic, Dijon and orange zest. The hands on time for this dish is about 20 minutes. The rest is hands free. What a pleasure.
Equipment
sous vide equipment - oven type or immersion stick
Ingredients
2

boneless turkey thighs, with or without skin, Note 1

(1.5-2 pounds total)

2

tsp

olive oil

1

tsp

poultry seasoning or thyme

salt and pepper, to taste

2

sprigs fresh rosemary

(or 1/2 teaspoon dried)

OPTIONAL BRINE: salt, peppercorns, sugar

Note 1
Glaze
2

tbsp

Maple syrup

1

tbsp

good Balsamic vinegar

2

tsp

Dijon mustard

1

tsp

orange zest, divided

1/2

tsp

chopped fresh rosemary

1/8

tsp

each, salt and pepper
Turn Glaze into Sauce
1/2

cup

turkey juices/broth

1

tsp

cornstarch

GARNISH: sea salt, chopped parsley, extra orange zest
Instructions
BRINE TURKEY THIGHS (OPTIONAL): Note 2 

PREPARE SOUS VIDE BATH: Fill water in the sous vide tub as per manufacturers instructions (not too high). Set the temperature to 150F and allow water to heat to that temperature.

PREPARE TURKEY FOR SOUS VIDE: Mix oil and poultry seasoning in a small cup. Rub mixture all over turkey thighs and tuck edges under to make an even roll. Place small sprig of rosemary under each thigh or sprinkle some dried rosemary on thighs. Don't put in too much rosemary or the flavors will be overpowering.

SOUS VIDE TURKEY: Place thighs side by side in freezer zipper-lock bag. Slowly lower bag into water. The pressure of the water will press air out of bag. When bag is just above water line and air is mostly out, seal (zip up) bag. Cover and cook for minimum 2 1/2 hours and a maximum of 4 1/2 hours. (If thighs are fairly large, I cook them for 3 1/2 to 4 hours). Remove from water bath. Take thighs out of bag and remove skin if there is any. Reserve juices for sauce. Pat turkey dry with a paper towel.

MAKE GLAZE/SAUCE: In a small cup, whisk together all Glaze ingredients including 1/2 teaspoon orange zest. Half of glaze will be used to glaze thighs - the rest to make the sauce. To make sauce, add remaining glaze, cornstarch, turkey juices/broth, 1/2 teaspoon orange zest and salt and pepper to taste to a small sauce pan. Heat on medium high for about 5 minutes, stirring occasionally until slightly reduced and thickened. Taste and adjust seasonings (syrup, salt, orange, etc).

FINISH AND SERVE: Place thighs on foil lined pan, brush with glaze all over and broil for 2-3 minutes (the top only) 6 inches from heat at top. Remove and brush with glaze again. Add garnish of orange zest and parsley if desired. Slice and serve with sauce drizzled on top or on the side.
3
Notes
How to debone a turkey thigh. Here's a video. 
To brine turkey thighs (optional): I  buy kosher turkey, already brined, but you can easily brine thighs yourself to add flavour: Fill ziploc bag with 3 cups room temperature water, 3 tablespoons kosher salt, 1 tablespoon, 6-8 peppercorns. Massage to dissolve salt and sugar. Place thighs in bag, seal and let sit in fridge for about 1-2 hours. Don't brine too long as boneless thighs are not very thick.
To Make Ahead: The turkey thighs can be vacuum sealed and kept in the refrigerator for a few days before cooking. The sous vide process can be done ahead of time (or just leave the sealed bags in the water an extra 30-60 minutes). Glaze and broil the cooked thighs just before serving.
Nutrition values do not include garnishes or optional brining which will increase the sodium level. 
Nutrition
Nutrition Facts
Sous Vide Turkey Thighs
Amount Per Serving (3 g)
Calories 430
Calories from Fat 198
% Daily Value*
Fat 22g34%
Cholesterol 141mg47%
Sodium 1272mg55%
Potassium 608mg17%
Carbohydrates 12g4%
Protein 43g86%
Vitamin A 18IU0%
Vitamin C 4mg5%
Calcium 39mg4%
Iron 4mg22%
* Percent Daily Values are based on a 2000 calorie diet.
Tried this recipe?
We'd love you to rate it above under 'rate this recipe' or in the comment section below. Thanks!
3
g