Curried Rice with Raisins
Curried rice with raisins is a simple recipe made with broth, onions, curry powder and raisins.
The aromas while cooking bring back lots of memories for me.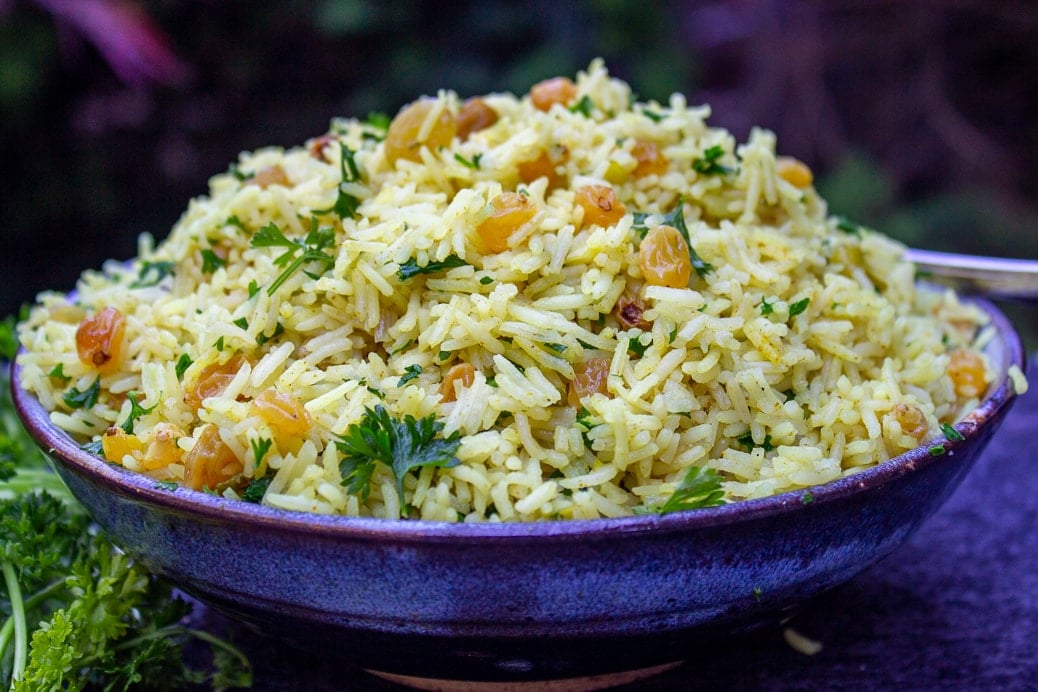 Back in the day when I was growing up, my mother's curried rice with raisins seemed pretty fancy. Probably not anymore, but it's still delicious and I still love it. We ate it with lamb, beef or chicken. We used beef broth when the rice was paired with meat and chicken broth when paired with chicken. Nowadays, of course, many would prefer to use vegetable broth which makes it a nice vegetarian side dish.
The curried rice has a mild curry flavor with some sweetness from the raisins. The onions and parsley enhance the flavor and there are many other things you can do to intensify the flavors even more.
The recipe uses Basmati rice. Long grain white rice and Jasmine rice work well too. Just be mindful that the liquid to rice ratios may be different. For Basmati, I use a rice to liquid ratio of 1: 1.5. For long grain rice, I use 1: 1.75. Be sure to check the package for directions.
This rice would be excellent with grilled pork chops, chicken with herb garlic lemon smear and stuffed portobello mushrooms. My mother served it with broiled or grilled lamb chops. Yum!
Tailor To Your Taste
Add roasted chopped cashews just before serving
For more intense flavors, substitute cilantro for the parsley, add a pinch of turmeric, add more curry powder and/or use full strength broth.
Saute finely chopped red peppers with the onions.
Use chicken, beef or vegetable broth.
Add spiciness with chili flakes.
Instead of golden or dark raisins, try dried cranberries or chopped dried apricots.
Add a sliver of butter after cooking for extra richness.
Make Ahead Curried Rice with Raisins
The rice dish can be made ahead and rewarmed in the microwave (or the stove top) with a few tablespoons of broth or water to keep it moist.
Curried Rice with Raisins Recipe
Curried rice with raisins is a simple recipe made with broth, onions, curry powder and raisins. The aromas while cooking bring back lots of memories for me.
Ingredients
1

cup

Basmati rice, rinsed well and drained in a strainer

Note 1

2

green onions (green and white parts), finely chopped

2

teaspoon

butter (or vegetable oil)

1 1/2

cups

broth

(chicken, beef or vegetable)

1 1/2

teaspoon

curry powder

(or more to taste)

salt and pepper to taste

Note 2

1/2

cup

raisins

(golden or dark)

1/4

cup

chopped parsley, for garnish (optional)
Instructions
SAUTE: Heat butter (or oil) on medium and saute the onions until soft, about 1-2 minutes. Add rice, curry and salt. Mix well and continue to cook another 2 minutes.

COOK RICE: Add broth and raisins. Bring to boil. Reduce heat to low/simmer, cover tightly and cook for about 15-20 minutes or until liquid is absorbed. If rice is too firm, add a bit more broth and cook for another few minutes.

SERVE: Let stand for 5 minutes. Fluff with a fork and mix in parsley if desired. Serve immediately.
4
Notes
Rice: Jasmine or long grain white rice can be used instead of Basmati rice. For long grain white rice, add an extra 1/4 cup broth.
Salt: The amount of salt will depend on the broth used. If using low-salt broth, add 1/2 tsp or more. Start with less, then taste and adjust if needed. 
To Make Ahead:  Make earlier in the day or a day ahead. Leave out parsley initially. When ready to serve, add a few drops of water, cover (but allow for steam to escape), reheat in microwave on high for about 90 seconds. Add parsley. If making an hour or two ahead, leave on counter in pot and reheat on medium low, stirring, with a few tablespoons of liquid. 
Nutrition
Nutrition Facts
Curried Rice with Raisins Recipe
Amount Per Serving (4 g)
Calories 251
Calories from Fat 27
% Daily Value*
Fat 3g5%
Cholesterol 5mg2%
Sodium 381mg17%
Potassium 252mg7%
Carbohydrates 53g18%
Protein 4g8%
Vitamin A 626IU13%
Vitamin C 7mg8%
Calcium 31mg3%
Iron 1mg6%
* Percent Daily Values are based on a 2000 calorie diet.
Tried this recipe?
We'd love you to rate it above under 'rate this recipe' or in the comment section below. Thanks!
4
g
This recipe was originally posted in September 2016 and has now been updated with new pictures.
Other rice recipes you might like:
Instant Pot Veggie Rice
Kinda handy. You get two sides in one with a tasty veggie rice made in your Instant Pot. The rice is loaded with vegetables and seasoned with a great blend of spices. Add a protein if you like and dinner is ready!
Get the recipe
Lemon Dill Homemade Rice-A-Roni
Homemade Rice-a-Roni has that great texture combination of rice and pasta, delicious lemon-dill flavors and, of course, a trip down memory lane.
Get the recipe
Savoury Rice and Roasted Veggies
Savoury Rice and Roasted Veggies takes a rice side dish to a new level with a delicious blend of spices and eye-popping roasted vegetables. In fact, two sides in one.
Get the recipe
Pumpkin Risotto Recipe (Instant Pot)
This rich, creamy, flavor-packed Instant Pot Pumpkin Risotto recipe is pure comfort food that tastes amazing. It's a knockout vegetarian dinner for Fall or Winter. Substitute butternut squash if you can't find pumpkin.
Get the recipe
Slow Cooker Pumpkin Risotto Recipe
In the spirit of Fall, we're making slow cooker pumpkin risotto. Rich, creamy and dairy free (unless you add Parmesan).  And best of all, so easy to make.
Get the recipe
Lemon Risotto with Grilled Vegetables (Instant Pot)
Creamy risotto without the constant hands-on stirring? Yes! Instant pot lemon risotto with grilled vegetables takes minimal effort for exceptional results. Ready in 30 minutes.
Get the recipe
Vegetable Rice with Spicy Peanut Sauce
Vegetable Rice with Spicy Peanut Sauce is quick, easy way to use leftover rice and whatever vegetables you have on hand. As versatile as your imagination.
Get the recipe
And here are a few Indian recipes you might like:
Easy Naan Recipe
You will be hard pressed to go back to eating store bought Naan bread after making this easy Naan recipe. With 4 basic ingredients and no special equipment, treat yourself to a delicious, versatile soft chewy bread for dipping, scooping or filling.
Get the recipe
Easy Gnocchi Recipe Indian-Style
In 20 minutes with a few store-bought items, this easy gnocchi recipe delivers deep, rich Indian flavors with a creamy tomato-based sauce. Soak it up with Naan for a simple, but decadent Indian style pasta.
Get the recipe
Indian Butter Chicken Recipe (Sous Vide or Regular)
The star of this scrumptious Indian Butter Chicken recipe is a rich, creamy, Indian-spiced sauce with tomatoes, onions, garlic, cream and butter. You can cook the chicken with any method including Sous Vide.
Get the recipe
Indian Potatoes
These richly spiced Indian potatoes feel like a cross between exotic and comfort food. Soft creamy interiors with a beyond delicious seasoning blend. Flavor bomb!
Get the recipe