Balsamic Steak Sous Vide (Two Ways)
Sous Vide Steak with Balsamic Sauce is tender, perfectly cooked and flavorful. Go one step further and create a complete meal in one dish.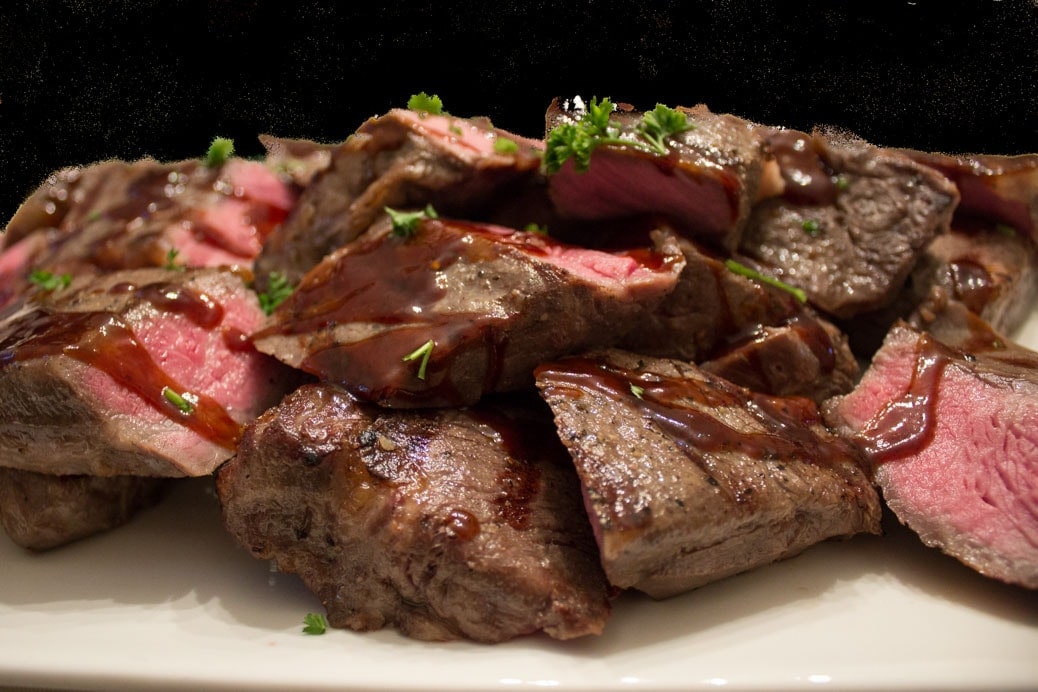 At the heart of this recipe is sous vide steak. Stress free sous vide steak I should say.
With 2 years of experimenting with sous vide, I know I sound like a broken record about the ease of plunging your meat into a water bath, walking away and coming back to beautifully tender meat at the perfect temperature every single time. Need an extra hour? No problem. Want to make it ahead and just brown it 2 minutes before serving? No problem.
I especially like this method when I have guests. I recently had a dinner party for 8 and managed 8 steaks easily (see picture above).
Sous Vide Balsamic Steak Two Ways
The steak and sauce is used here in two ways:
Steak finished on the grill: For this option, the steak is cut in a couple of pieces, then drizzled with the balsamic sauce. Plain, simple and delicious. And great served with lemon-herb potato salad or crispy smashed potatoes with gremolata. Add a salad like Thai mango salad, beet orange and goat cheese salad or party salad with grilled vegetables and quinoa – and done!
Steak-topped salad: For this option, the sous vide steak is thinly sliced and cut into bite sized pieces. It's then laid on a bed on greens, quinoa and roasted or grilled vegetables and drizzled with the balsamic sauce. A complete meal with some crusty bread. Also delicious. This option is a great way to go if you want to stretch your expensive steak further. Yes, it takes more effort, but consider that it's essentially a meal in one. No need for extra sides except perhaps some fresh bread.
Tips
I suggest you choose steaks that are closer to 2 inches thick. I use boneless Ribeye and New York Striploin – both are excellent. Regular sirloin would probably work well too (I think I would cook it an extra 30-60 minutes because it's not quite as tender a cut). Our sous vide machine is from Cedarlane Culinary so I use their temperature and time guidelines more or less. In this case, I reduced the recommended temperature for steak from 134F to 132-133F. The 134F does produce a medium rare steak, but I like to leave a little extra buffer for finishing it off on the grill or pan.
Tailor To Your Taste
For the salad option, use any grilled or roasted vegetables you like (and any greens for that matter).
Add a bit of water if your prefer your balsamic sauce less thick.
Shortcuts
For the salad, you can use:

fresh instead of grilled/roasted vegetables.
a good bottled balsamic dressing instead of making your own.

Obviously you can just grill your steaks instead of using the sous vide method.
Make Ahead
The steaks can sit in the sous vide bath for an extra hour or two. They can also be kept at room temperature for an hour then grilled or pan fried for a minute per side just before serving.
If you like sous vide cooking, check out Two Kook's Best Sous Vide Recipes.
Balsamic Steak Sous Vide (Two Ways)
Sous Vide Steak with Balsamic sauce is tender, perfectly cooked and flavourful. Go one step further and create a complete meal in one dish.
Ingredients
2 to 2.5 pounds/0.9-1.2 kg New York Striploin steaks (1 3/4 - 2 inches thick)

Boneless ribeye can be used instead.

salt, pepper, garlic powder

olive oil for drizzle
Balsamic Sauce
6

tablespoon

Balsamic Vinegar

1/2

cup

ketchup

2

tablespoon

maple syrup or honey

2

teaspoon

Dijon mustard

1/4

teaspoon

each, salt and pepper
Salad, Grilled Vegetables and Quinoa Option (if using)
1

cup

quinoa

(plus 1 3/4 cups water, 1/2 tsp salt)

2

Japanese eggplants, sliced into 1/2 inch discs

2

red or orange peppers, cored/seeded, sliced into 3-4 pieces each

1

large onion (red or white), sliced into 1/2 inch rounds

4-5 cups lettuce or fresh baby spinach, roughly chopped

chopped parsley (garnish)
Instructions
HEAT THE WATER IN SOUS VIDE MACHINE: Fill the sous vide machine about 3/4 full with water. Set the temperature to 132-133F for medium rare (or according to your machine guidelines). The water will take about 15 minutes to reach the correct temperature for an oven-type sous vide machine (or less if you start with warm water). Follow manufacturer instructions for heating with sous vide circulator.

SEASON THE MEAT: Sprinkle the steaks with generously with salt and pepper (and lightly with garlic powder if desired) on both sides.

PREPARE MEAT FOR SOUS VIDE: Fold over a flap on 1-2 vacuum seal bags (use maximum 2 steaks per bag). Place two New York Striploin steaks inside each bag and unfold the flap. Using a vaccum sealer, seal the bag (and vacuum out the air) as per machine instructions. Note 1.

SOUS VIDE THE MEAT: Plunge the vacuum-sealed bag (s) into the pre-heated water bath. They will sink to the bottom. Cover the machine. Walk away. If steaks are 1 inch thick, cook for 1-3 hours. If 1.5 inches thick, cook for 2-3 hours. If 2 inches thick, cook for 3-5 hours.

MAKE THE BALSAMIC SAUCE: Place all balsamic sauce ingredients in a small saucepan and stir to combine. Bring to boil, lower heat and simmer for 5-7 minutes until it thickens and coats the back of a spoon. If desired, stir in a tablespoon of cold butter for a velvety finish.

PREPARE SALAD (IF MAKING THIS OPTION): Drizzle olive oil and sprinkle with salt/pepper peppers, eggplant, onions, asparagus (or any veggies of your choice). Grill for 3-4 minutes per side or roast at 400F for 20-25 minutes until tender. Cook quinoa: Bring to boil rinsed quinoa, water and salt. Reduce heat to simmer. Simmer for 15 minutes. Mix greens and quinoa and place on large shallow bowl or platter. Add grilled vegetables on top. Set aside.

GRILL OR PAN FRY STEAKS: Heat grill to High. Remove the meat from the sealed bag(s). Discard juices. Pat the meat dry with paper towels. Rub oil over the meat and sprinkle again with kosher salt and pepper. Sear the beef about 1- 1 1/2 minute on each side to achieve nice grill marks. Alternatively, sear in a very hot pan on the stove. No need to rest the steaks. STEAK WITH BALSAMIC SAUCE: Cut steaks into 3 pieces and drizzle on balsamic sauce. Serve and pass extra sauce. STEAK SALAD OPTION: Drizzle a little of the sauce on the salad. Slice the steaks thinly across the grain, cut into bite-size pieces and pile onto the salad/vegetables/quinoa. Drizzle more sauce on top. Sprinkle with parsley. Serve warm or at room temperature.
Notes
Instead of vaccum sealing: you can place the meat in ziploc bags. For each bag, lower into water so that zip seal is just above the water line (air will be pushed out from water pressure). Seal bag. 
Make Ahead: The steaks can sit in the sous vide bath for an extra hour or two. They can also be kept at room temperature for an hour then grilled or pan fried for a minute per side just before serving.
Nutrition values are estimates based on approximately 1/3 lb/0.150 kg steak per person and balsamic sauce only (not the salad with vegetables). 
Nutrition
Nutrition Facts
Balsamic Steak Sous Vide (Two Ways)
Amount Per Serving
Calories 326
Calories from Fat 135
% Daily Value*
Fat 15g23%
Cholesterol 100mg33%
Sodium 380mg17%
Potassium 575mg16%
Carbohydrates 13g4%
Protein 32g64%
Vitamin A 103IU2%
Vitamin C 1mg1%
Calcium 53mg5%
Iron 2mg11%
* Percent Daily Values are based on a 2000 calorie diet.
Tried this recipe?
We'd love you to rate it above under 'rate this recipe' or in the comment section below. Thanks!