Sous Vide Beef Ribs (Mouthwatering!)
If you are the one who reaches for the bones when eating a prime rib of beef, these sous vide beef ribs are for you. Rich, succulent, tender meat with incredible flavor. They take little effort to make and a long time to cook.
These back ribs are not for everyone, but if you are a beef rib lover, you will definitely LOVE these.
The sous vide method for beef back ribs is very similar to pork ribs. Season, sous vide for a good amount of time in a water bath and finish them off in the oven, broiler or grill.
I like to make a glaze from the beef juices for extra sweet-savory flavor when browning the ribs on the grill but, as always, there are options. And since these ribs are so flavorful on their own, a simple salt and pepper seasoning works well too.
Who this recipe is NOT for: If you cut off every sliver of fat from your meat and prefer lean cuts of meat, skip this recipe :). Beef back ribs are a fattier cut of meat.
Time and Temperature
As with most sous vide cooking, many variations will work so you have to experiment with the specific temperature and time that produces the best results for you.
I love 155F/65C for 20 hours (18 hours would be fine too I think). The ribs are extremely juicy and tender, not falling off the bone, but close. The longer the cooking, the more tender. I wouldn't go much past 36 hours though. As you can see in the pictures, the ribs were on the rarer side of medium.
If you do the research online, you will find other combinations of temperature and cooking time for beef ribs:
131F/55C for 4-10 hours, more tender at 24 hours – medium rare
140F/60C for 24-48 hours, closer to medium
146F/63C for 48 hours
150F/65C for 18-24 hours
176F/80C for 12 hours
How to make sous vide beef back ribs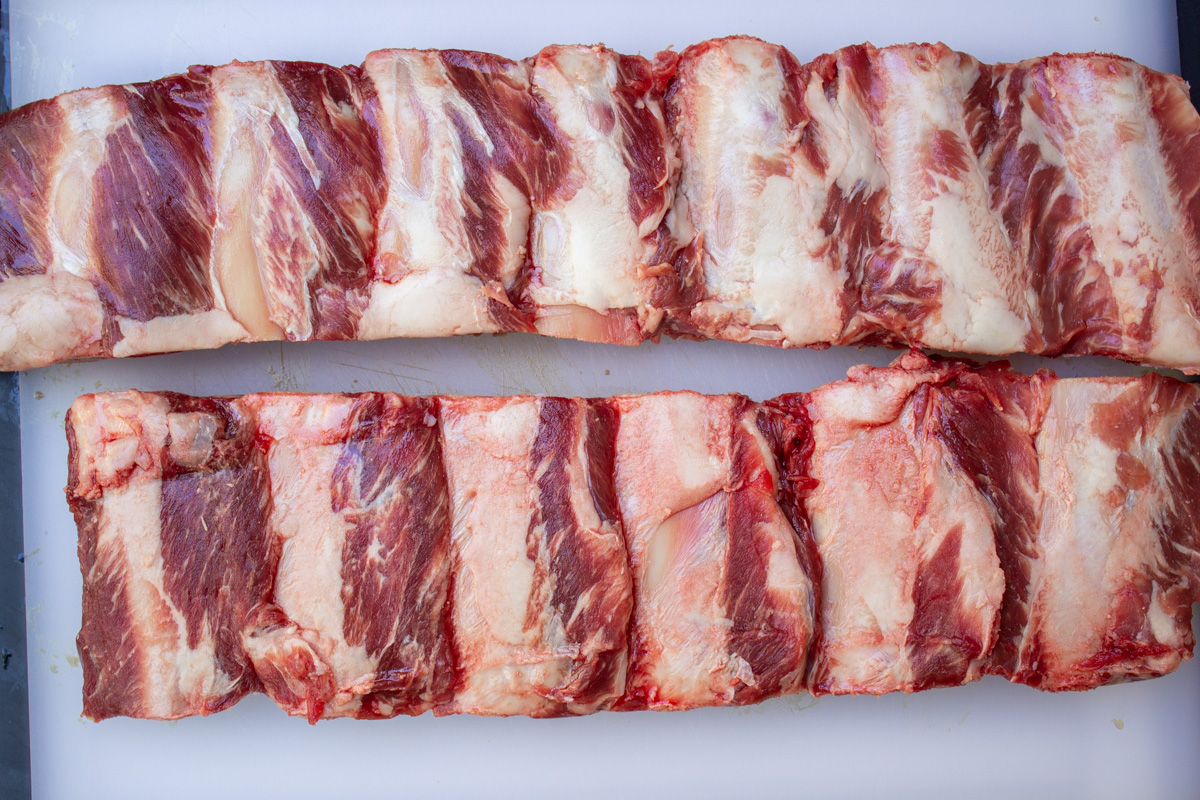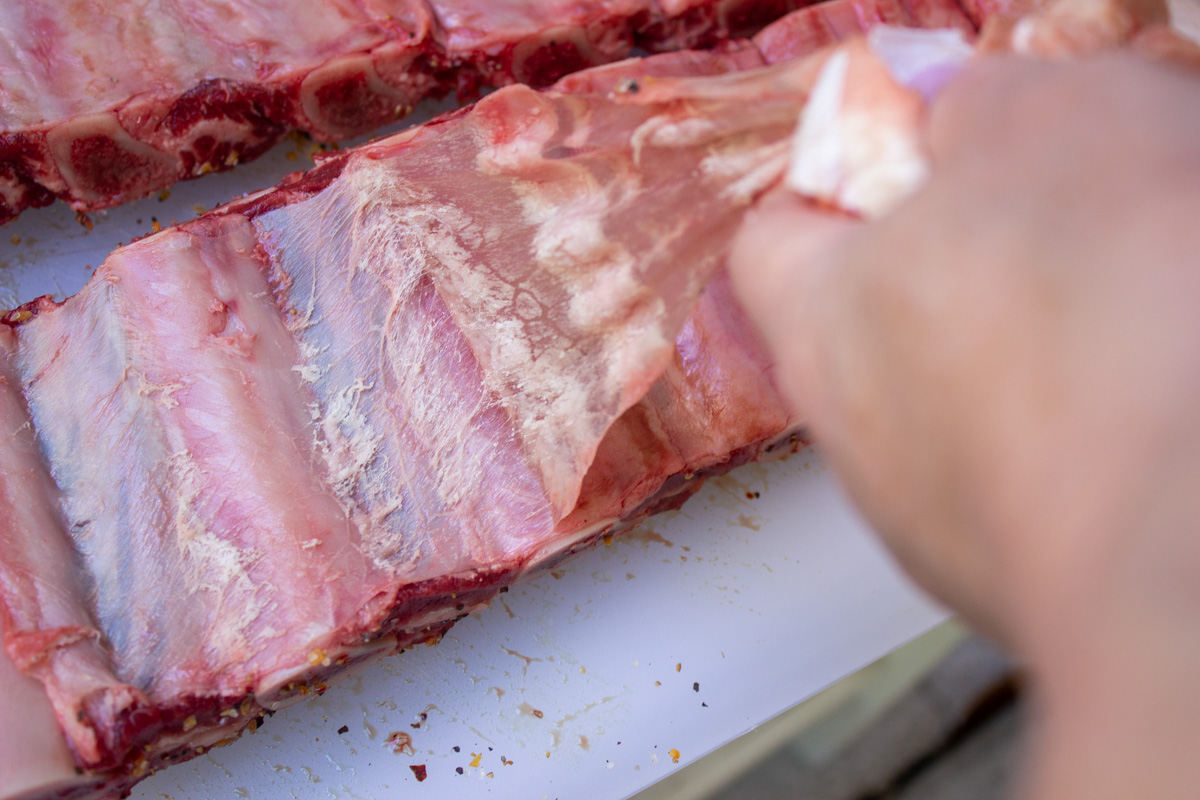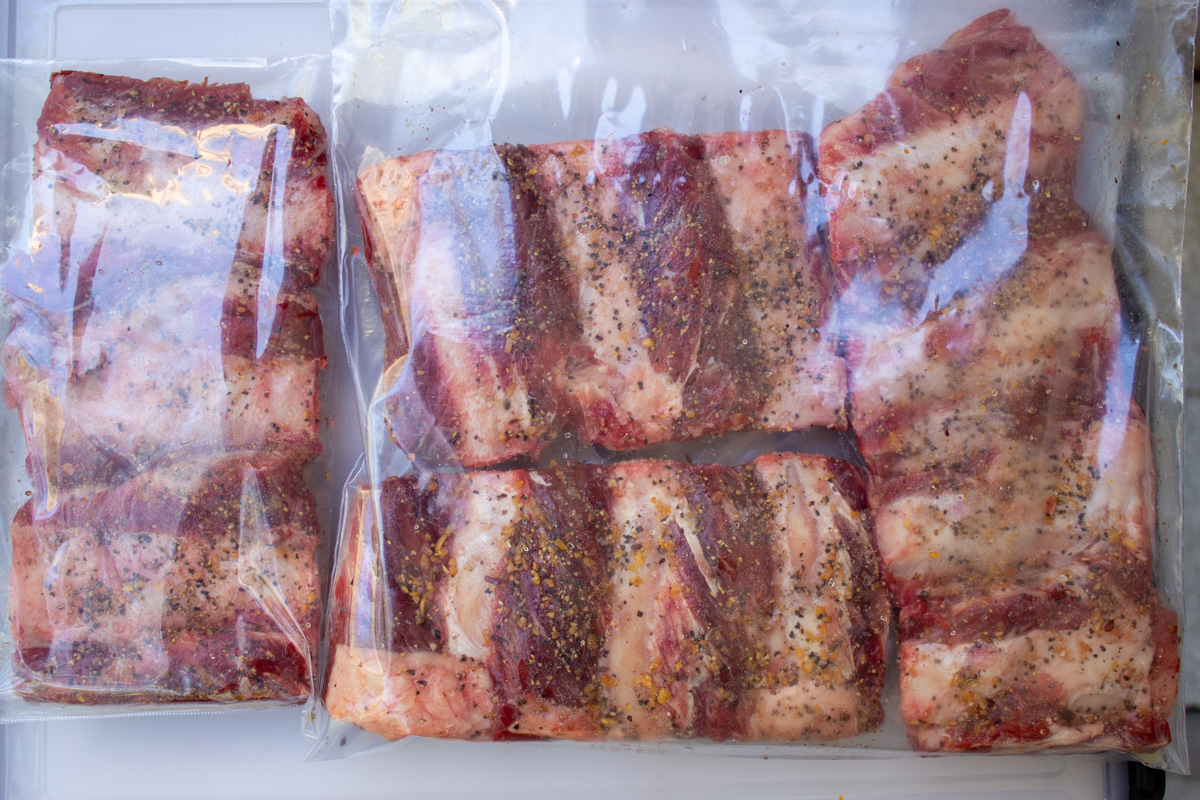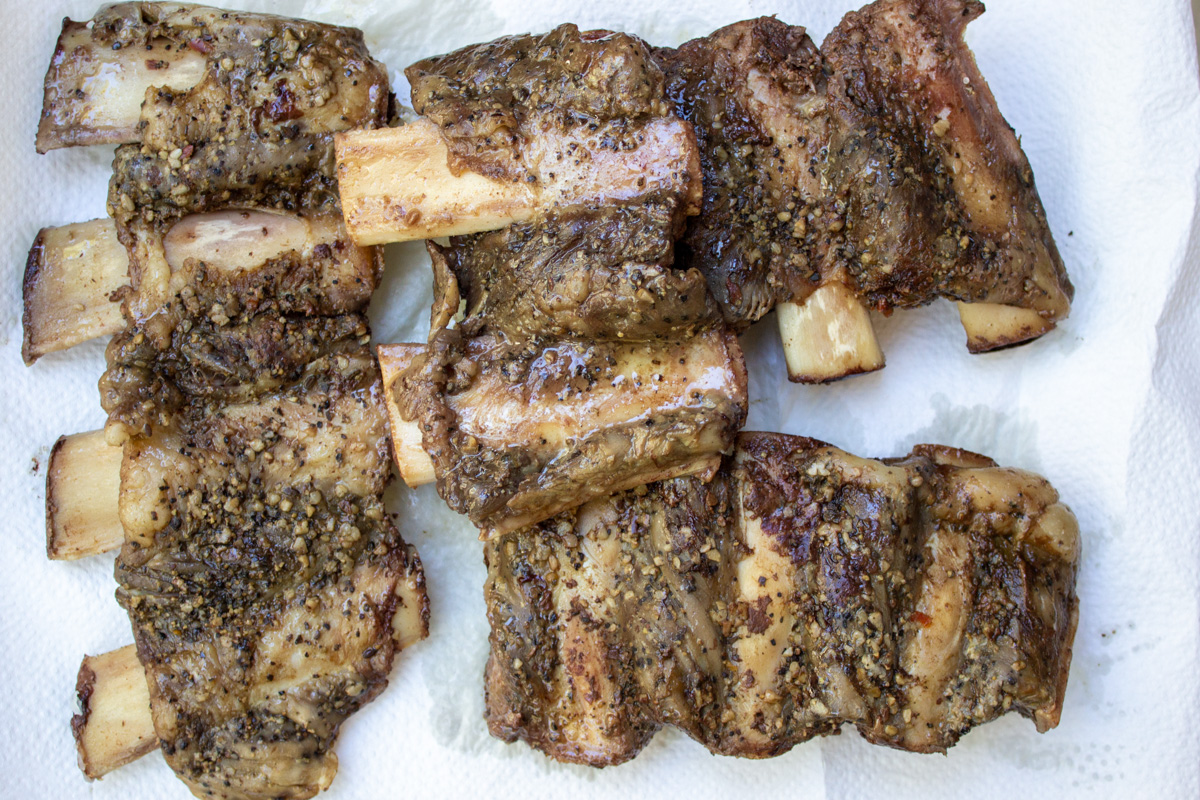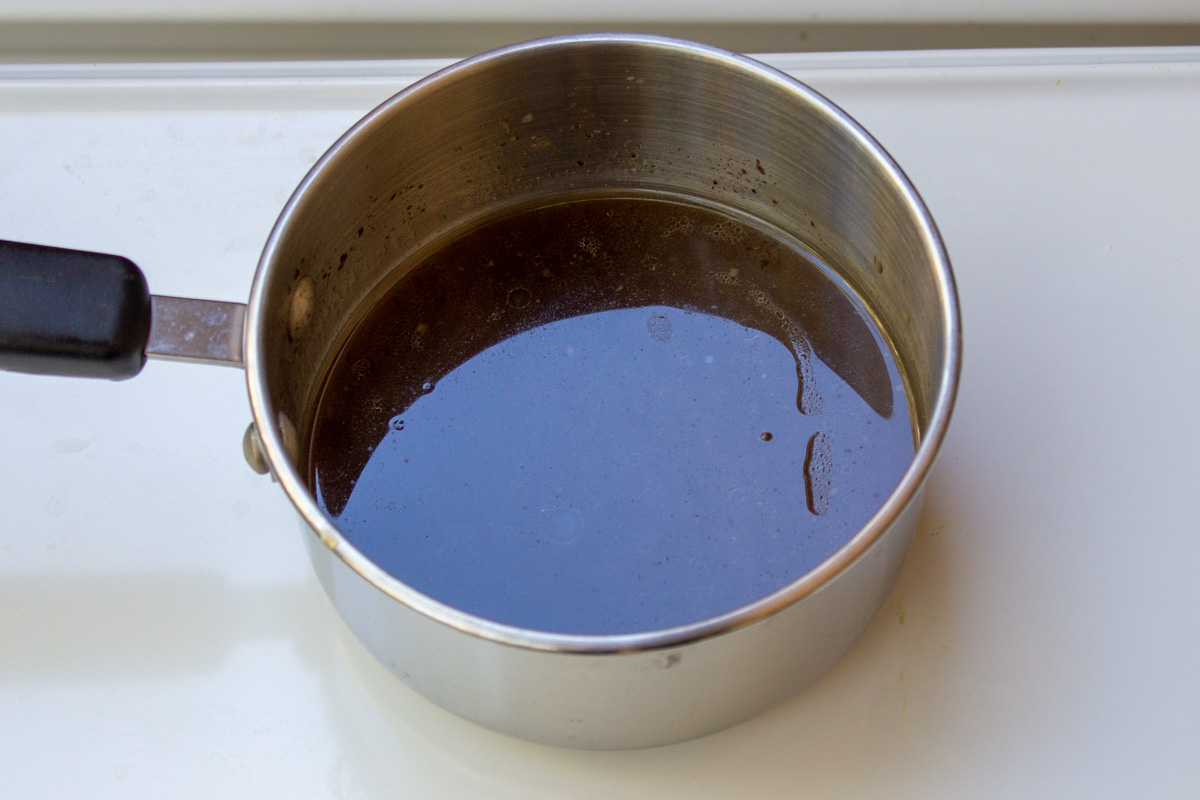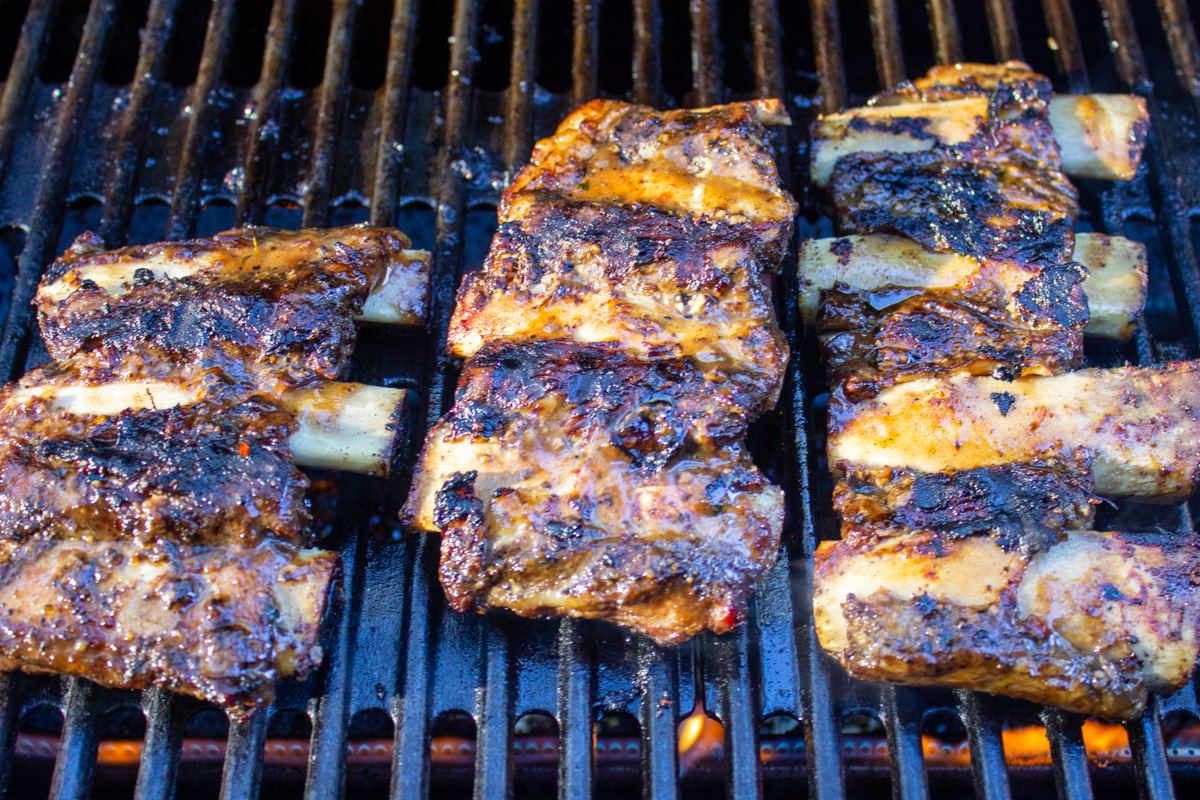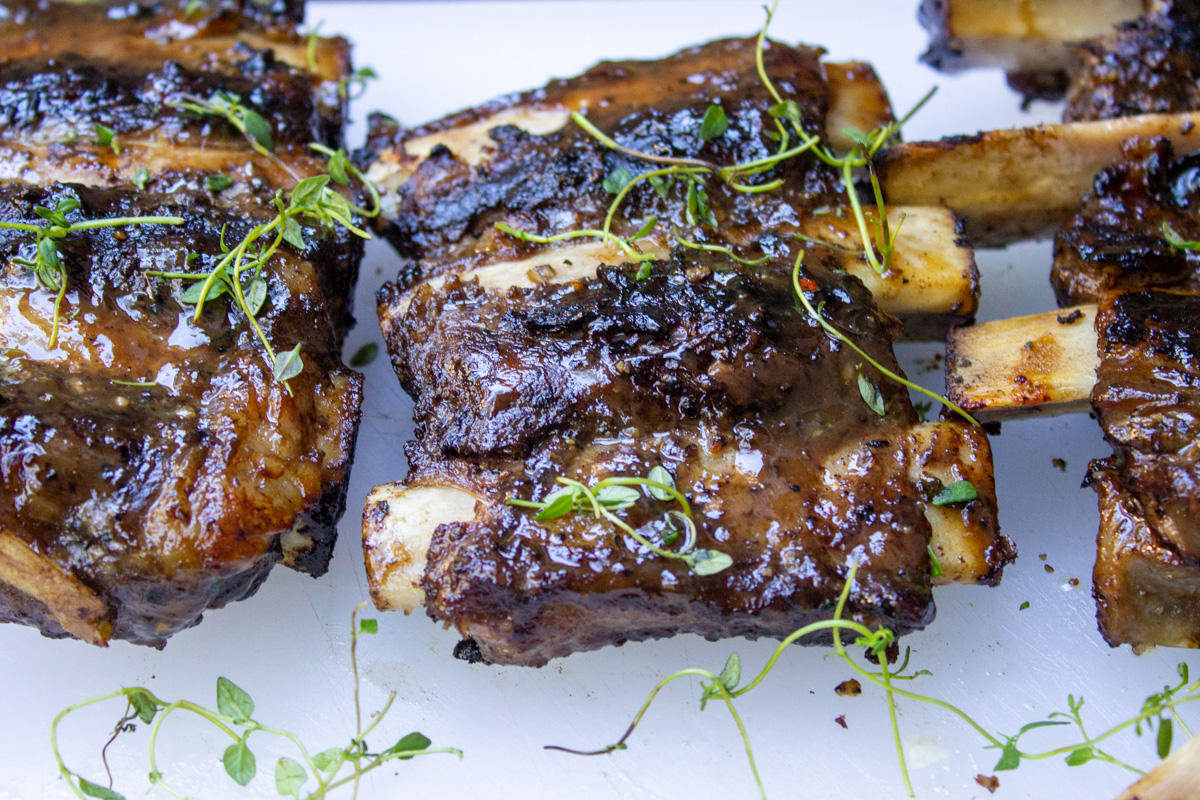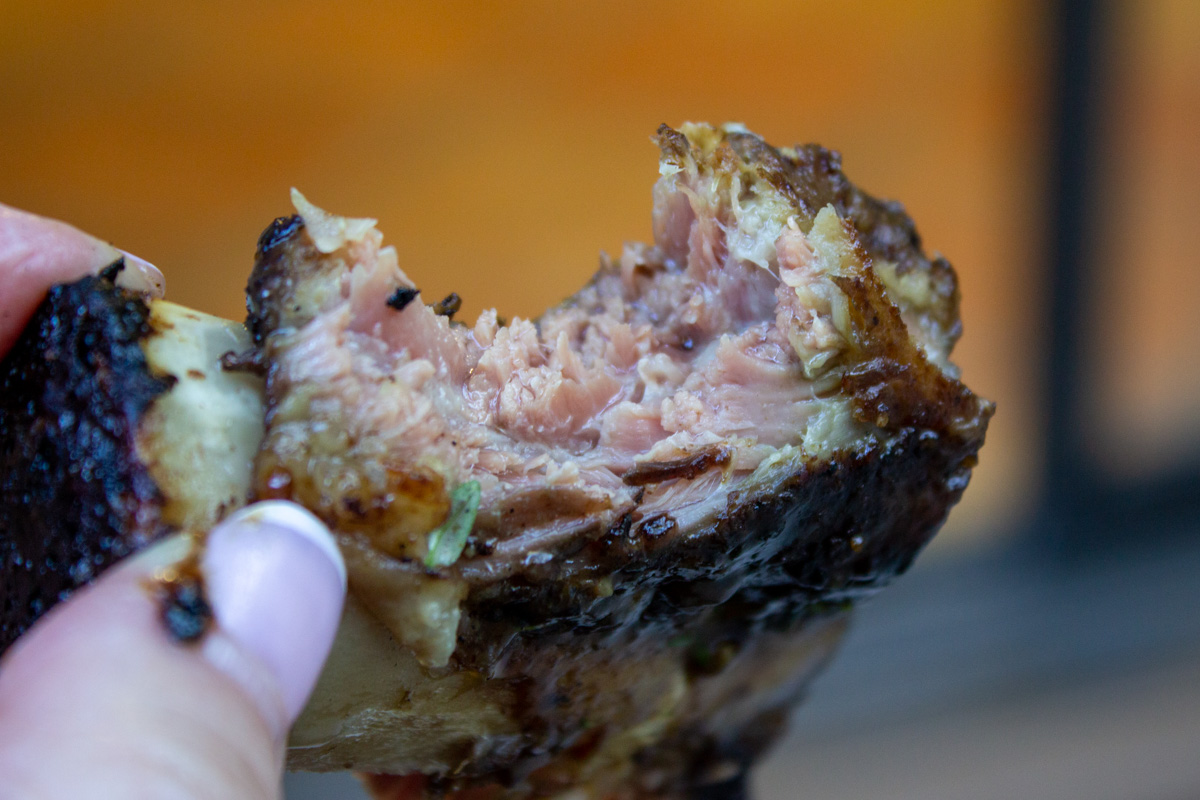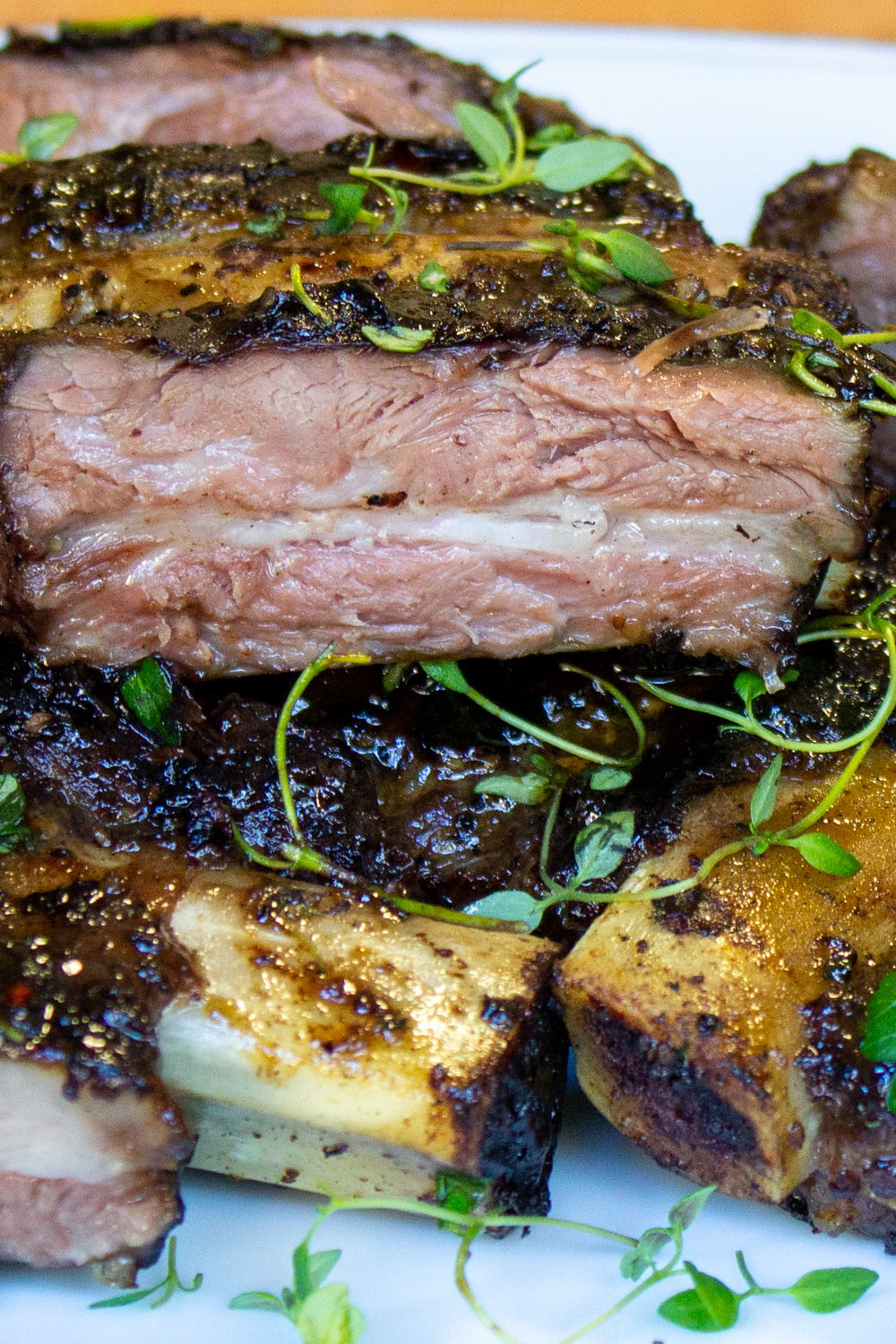 FAQ
Which beef ribs should I buy?
This recipe is for beef back ribs, sometimes called beef spare ribs. These ribs are the same as you would eat in a prime rib of roast beef – the premiere cut of beef ribs! They have less meat but are more tender than short ribs, plate ribs or chuck short ribs.

Beef back ribs are sold attached as a rack of ribs or individually. Both are fine although they are easier to keep juicy in rack form. Many stores sell them with most of the meat stripped off. Try to get ribs with as much meat on them as possible.
Can I sous vide beef ribs from frozen?
Yes. When you purchase beef ribs in a rack, cut them into portions that will fit in a large ziploc bag, season and freeze them. Add them to the sous vide water bath and cook them for an hour longer than stated in the recipe.
Do beef back ribs contain a lot of fat?
For the most part, yes. They have a high fat content (well marbled) and are very flavorful.
Tailor To Your Taste
Seasoning
I use Montreal steak seasoning. If you have a favorite steak spice rub, use that.
Salt and black pepper – and perhaps a sprinkle of garlic powder – would be fine too.
To glaze or not to glaze
Adding a glaze is a personal preference. I actually like both ways. Beef back ribs have a distinct meaty (umami?) flavor and purists will want to keep it simple and let that shine through (so no glaze or sauce).
I added a simple glaze using the beef juices from the sous-vide cooking as well as Dijon and a bit of maple syrup and cornstarch to thicken the glaze. A splash of balsamic vinegar is a great optional addition. I like that the glaze helps with caramelization in the final browning. It does add an extra step and time though.
If you have a favorite BBQ sauce, you can use that instead.
Finishing step options
Grill for a couple of minutes
Bake at a high oven heat of 500F/260C for 6-10 minutes
Broil the meatier side for 2-3 minutes
Shortcut
The beef ribs take a long time to cook, but you can cut down the hand-on time to less than 10 minutes if you skip the glaze and use a bottled BBQ sauce, teriyaki sauce or nothing.
Make Ahead
See make-ahead instructions in the recipe notes for:

Storing leftovers
Same day
Making 2-3 days ahead
Freezing and rewarming
Sous vide vs grilling for beef back ribs
Each cooking method has its pros and cons. I'm a sous vide fan because I love the guaranteed doneness (medium-rare, etc) and the hands-off cooking. Here's a quick list of the differences.
Sous vide cooking
creates a melt-in-your-mouth texture
easy walk-away method that lets the sous vide machine do its magic and achieve the exact temperature you like
takes much longer
Grill method
this is the more common method and takes far less time.
the flavor is great, but the texture is chewier, more steak-like if that's your preference.
you need to be very vigilant about getting the doneness you want.
Beef ribs can also be roasted in the oven at 275F/135C for 2 1/2 to 3 hours, similar to beef short ribs.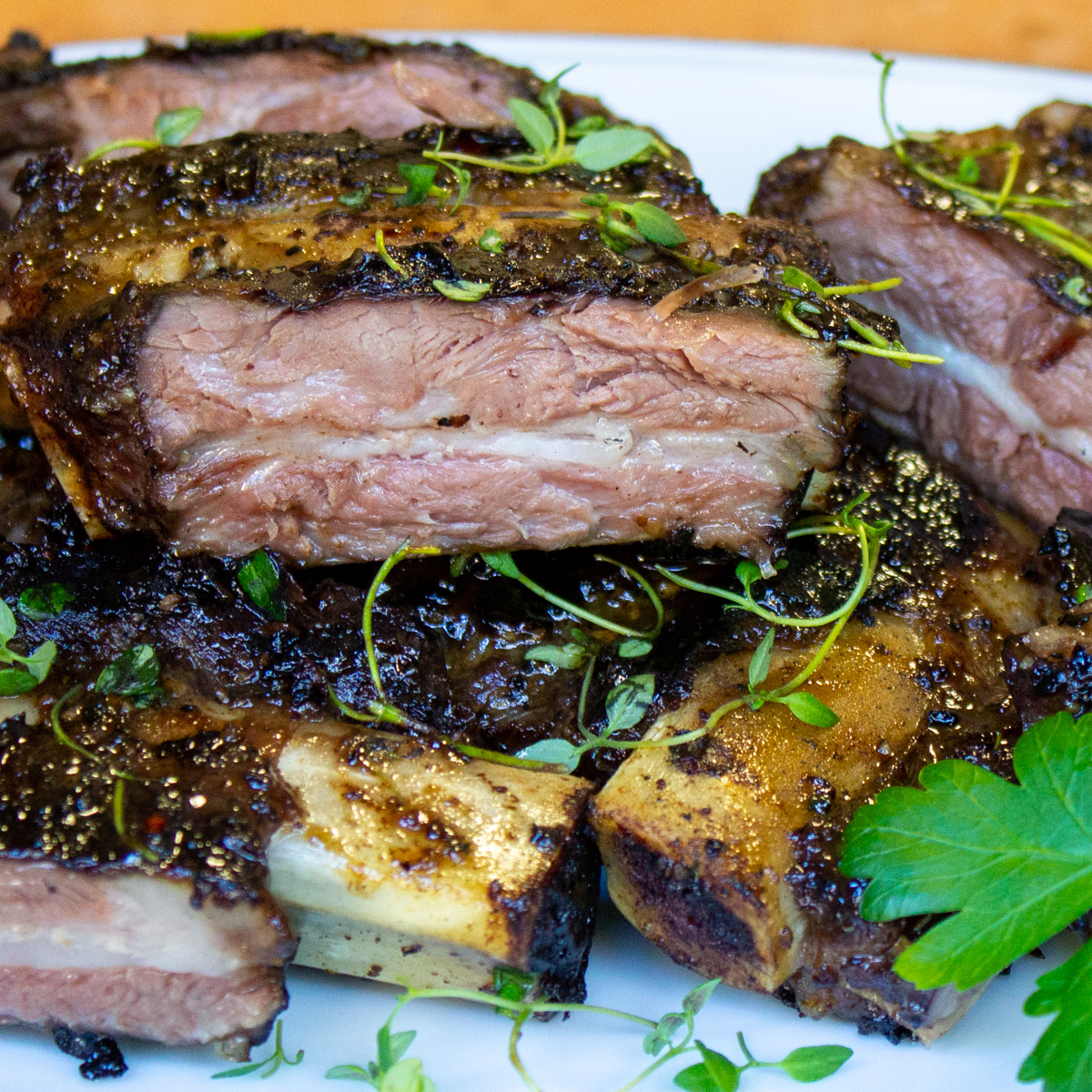 Print Recipe
Pin
Save Recipe
Recipe Saved!
Rate this recipe here
Sous Vide Beef Ribs (Mouthwatering!)
If you are the one who reaches for the bones when eating a prime rib of beef, these sous vide beef ribs are for you. Rich, succulent, tender meat with incredible flavor. They take little effort to make and a long time to cook.
Servings:
3
or 2 large portions
Equipment
Sous Vide equipment

immersion circulator or box-like sous vide cooker
Ingredients
3

pounds

beef back ribs

rack of ribs or individual ribs

Montreal Steak Seasoning, Note 1
Glaze
1/2

cup

beef juices

(accumulated in bag after sous vide)

1

teaspoon

Dijon mustard

2

tablespoons

maple syrup (or brown sugar)

use less if you like less sweet

1

teaspoon

balsamic vinegar, good quality

optional

1

teaspoon

cornstarch
Instructions
PREPARE SOUS VIDE WATER BATH: Fill water in a large pot or container about 3/4 to the top. I use hot water from the tap to shorten the heating time. Set the temperature on the immersion circulator to 155F/68.3C and heat water to that temperature. Note 2 for other sous vide times and temperatures.

PREPARE BACK RIBS: If using a rack of beef ribs, remove connective tissue (white membrane) from back of the ribs (Note 3).

Sprinkle seasoning on all sides of beef ribs. If using rack of ribs, cut into 2-3 sections so it fits a bag.

Seal ribs in bag using vacuum seal method or water displacement method, (Note 4)

COOK BEEF RIBS SOUS VIDE: When water reaches correct temperature, submerge bag with the ribs into the sous vide bath. Cover and cook for 18-24 hours to a maximum of 36 hours.

MAKE GLAZE: Remove ribs from water bath. Pour 1/2 cup/118 ml of beef juices from the bag into a small saucepan through a sieve (to strain the juices). Place in fridge or freezer for 30 minutes until fat starts to congeal. Spoon fat off top and discard. Add Dijon, maple syrup, balsamic vinegar (if using) and cornstarch. Stir to combine well. Bring sauce to a boil on high heat on stove, lower to medium heat and simmer for 5 minutes until thickened. It will coat the back of a spoon when it's ready. Taste and adjust seasonings. Note 5 for Shortcut.

FINISH RIBS (3 alternatives): To Grill: (my preferred method) Clean and oil grill. Heat grill to high. Brush glaze on both sides of ribs. I spray them with cooking oil to prevent sticking. Grill for 2-3 minutes per side, until starting to char, adding more glaze as you turn them. To Broil: Line a pan with aluminum foil. Brush glaze on both sides of ribs. Heat broiler and place oven grill 6 inches from the top of the oven/broiler. Place ribs (meaty side up). Broil for 2-3 minutes until browned. I don't bother broiling the bone side but it's up to you. Spread any remaining glaze on top of beef ribs. Cut into serving pieces and serve.To Bake: Heat oven to 500F/260C. Brush glaze on both sides of ribs. Place on baking sheet lined with foil and bake for 6-10 minutes until browned.
Recipe Notes
Rib seasoning alternatives: Use your favorite steak spice rub or simple salt and black pepper (with a sprinkle of garlic powder if you like)
Alternative temperatures and times for beef ribs to try, based on other online sous vide resources:

131F/55C for 4-10 hours, more tender at 24 hours – medium rare
140F/60C for 24-48 hours, closer to medium
146F/63C for 48 hours
150F/65C for 18-24 hours
176F/80C for 12 hours

To remove membrane on back of beef ribs if using rack of ribs:

Slide tip of a sharp knife under the tissue on a bone at one end of the rack. Loosen membrane from bone, then grab it with a paper towel and peel the skin off the entire rib. With any luck, it should peel away in one large sheet. Here's a video on

how to remove membrane from ribs

.

Methods to seal bag for sous vide cooking

vacuum seal method: Fold back top of vacuum seal bag about an inch to create a flap (this ensures no food touches the top of the bag where it gets sealed). Place ribs in bag – as many rib portions per bag that will fit in a single layer, ensuring no overlap. Unfold the flap and vacuum bag using a vacuum sealer. 
water displacement method. (my preferred method). Place ribs in a freezer ziplock bag, lower into water bath until seal of bag is just above water line (air will be pushed out), then seal the bag. You want to get air out of the bag so it doesn't float. Since the cooking time is long, you can double bag the ribs to be extra safe. 

Glaze alternatives: Instead of the recipe glaze, keep it simple with salt and pepper (no glaze or sauce) or use your favorite bottled bbq sauce or other sauce. 
Make Ahead:

Same day: The ribs can be made ahead up to the point of saucing and grilling/broiling. You have a window of an extra couple of hours in the water bath if you like.
Within 2-3 days: Cook the ribs sous vide. Drain the juices, cool and place in an airtight container or bag in the fridge for 2-3 days. When ready to use, re-season (or add the glaze) and grill for 2-4 minutes per side depending on the thickness of the meat.
Freeze and reheat: Place bag of ribs after sous vide into  an ice bath to cool down. Remove juices from bag and reseal (or transfer to another airtight bag or container). Freeze ribs for up to 3 months. To retherm (rewarm), place them in a water bath at 150F/65.6C for 45 minutes to 1 hour. Then finish them with glaze (or not) as per recipe. 
Storing leftovers: keep cooked ribs in the fridge in an airtight container for up to 2-3 days.  
Nutrition values are rough estimates and will vary based on the fat content of the beef and the amount of meat on the bones. I figure about a pound (450g) per person, but the meat is so rich that 1/2-3/4 pound per person may be enough with side dishes. 
Nutrition
Calories:
974
kcal
|
Carbohydrates:
10
g
|
Protein:
102
g
|
Fat:
57
g
|
Saturated Fat:
28
g
|
Polyunsaturated Fat:
1
g
|
Monounsaturated Fat:
1
g
|
Cholesterol:
281
mg
|
Sodium:
850
mg
|
Potassium:
56
mg
|
Fiber:
1
g
|
Sugar:
8
g
|
Vitamin A:
1
IU
|
Vitamin C:
1
mg
|
Calcium:
472
mg
|
Iron:
12
mg
Tried this recipe?
We'd love you to rate it above under 'rate this recipe' or in the comment section below. Thanks!