Best Sous Vide Recipes (and Tips)
Here's what you get with a Sous Vide cooking method: juicy, tender, perfect texture, full control over the temperature and cook on your food and stress-free cooking. In other words – A LOT. Below are our best sous vide recipes. And many tips for best results.
We've been experimenting for a few years now with our sous vide equipment and we are hooked. There are a few downsides such as longer cooking times, but the 'guarantee' of tenderness and the correct done-ness are a cook's dream. Sous vide cooking takes the stress right out, particularly for meat.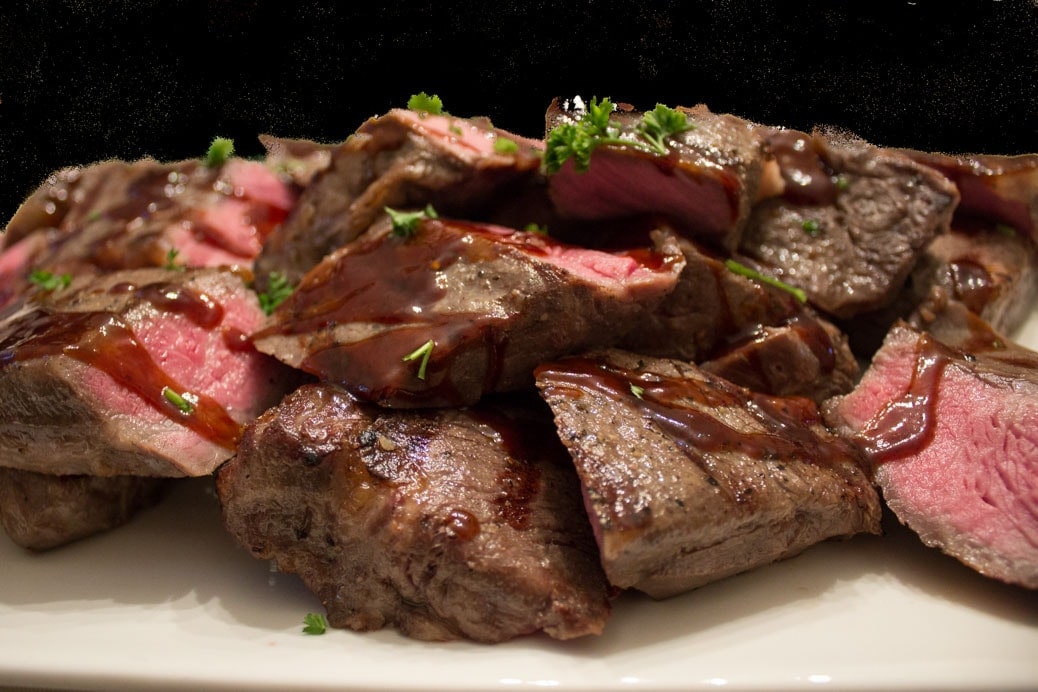 For those who are unfamiliar with this cooking method, Cedarlane Culinary which sells the equipment and other cooking appliances has a good definition. We have no affiliation.
Sous vide is a culinary technique in which vacuum-sealed food is immersed in a water bath and cooked at a very precise, consistent temperature. The precise temperature control allows you to cook food to perfection, while the forgiving nature of this cooking method also eliminates concerns about overcooking.
Tips about Sous Vide Cooking
Here are a few things we've learned about the sous vide cooking method from lots of research and practice. Some of these tips come from Chef Helen Rennie. I also learned a ton from Chef Kenji López-Alt.
Preparation Tips
Sous vide is extremely easy to prep. Just season the meat, seal it in a bag, heat the water bath and drop in the food.
It's best to experiment with seasonings. I found that you have to season meat both before and after the sous vide cook unless you are using a bold sauce in the final stage of the dish. Certain seasonings are not appropriate while cooking such as raw garlic and acidic condiments. Salt, pepper, garlic powder and fresh herbs are fine.
Tips for set up
Fill your tub with hot water to speed up the water bath coming to the correct temperature.
Use ziploc freezer bags (or other brands) instead of sealing with a vacuum sealer. It's quicker, requires no special equipment and allows you to include some marinade in the bag.
When adding food to the bag, fold over the top of the bag first to create a wider opening and avoid food interfering with the seal of the bag.
I put more than one steak, chicken pieces, fish fillets, chops or turkey breasts in the same bag if they fit and they are all about the same thickness.
There is a debate on whether to sear meat after cooking or before. Most chefs believe after is better (so do I).
In my experience, starting with good quality meat makes a difference.
Temperature and Timing Tips
Set the temperature according to a cooking chart guideline to achieve the EXACT temperature and texture you choose for the thickness and type of food you are cooking. You will have to experiment though to achieve the texture, juiciness level and cook you like best. We've gathered a few good charts for your convenience:
Thickness of the food drives how long to sous vide, not the weight. You often get a window 1-3 for many recipes where the meat will still be the exact medium rare, for example, without overcooking Not having to check the meat constantly toward the end of cooking to ensure the proper done-ness is a huge plus.
Here's a general few rules of thumb for timing:
If meat or chicken is less than 1.5 inches thick, about 1 hour cooking is fine (and an extra hour is fine too).
Fish and shrimp will take 20-30 minutes, but don't leave it in for more than 15 minutes extra.
Food can be overcooked. It will be more tender, but less juicy.
Finishing Tips
The sous vide method requires an extra step of making the meat look pretty – and I grumbled about this initially – but it only takes a few more minutes, so no big deal. Use high oven heat, grill or a pan sear. I grill whenever possible – less smell and no clean up. Given the window you have for timing, recipes can be made ahead then finished or browned in a few minutes before serving.
You should only sear the protein for a maximum of 1 minute per side (or even less) if you want to maintain the temperature you like. In some cases, it's hard to achieve a nice brown crust with this timing. To extend the amount of time to about 2 minutes per side, you can cool the protein first. One way is to cool the meat in the fridge in or out of the bag for 10 minutes. Out of the bag will create a dryer surface for searing which is good. Or, even quicker, drop the bag into an ice bath for a few minutes. In all cases, make sure to pat the meat dry before searing with a bit of oil.

Caution

: if you are cooking anything at less than 130F, don't use a cooling method. Eat it right away.
Make Ahead Tips
According to Chef Helen Remmie, here's how to make chops, steak and chicken breasts that are maximum 1.5 inches thick ahead of time:

Cook sous vide for an hour or a bit more.
Place bag in fridge for up to 2-3 days.
To rewarm, place in sous vide for 30 minutes. Chicken can be reheated directly in a skillet.
Best Sous Vide Recipes
Prime Rib Roast Sous Vide
Temp: 132F/55.6C for medium rare. Cook for 3 1/2 to maximum 6 hours (2 inches thick)
Sous Vide Turkey Breast
Temp: 145F/62.8C for tender juicy, little to no pink. Cook for 2 3/4-5 hours.
Sous Vide Veal Chops with Mushroom Sauce
Temp: 134F/56.6 for medium-medium rare for 3.5-4 hours
Sous Vide Flank Steak
Temp: 132F/55.6. Cook for 1 1/2 hours if 1/2 inch thick. If meat is thicker, cook for 2 to 2 1/2 hours.
Glazed Turkey Thighs (sous vide)
Temp: 150F/65.6C. Cook for 2 1/2 to 4 1/2 hours (mine for perfect at 3 1/2 hrs)
Sous Vide Short Ribs (Boneless Beef)
Temp: 135F/57.2C. Cook for 48 hours (not a typo) for approximately 1 inch thick meat.
Maple Glazed Sous Vide Chicken (sous vide)
Temp: 143F/61.7C. Cook for 90 minutes to maximum 4 hours.
Korean Beef Short Ribs (sous vide)
Temp: 135F/57.2C. Cook for 24 hours (variations in the recipe)
Sous Vide Pork Loin With Raspberry Balsamic Sauce
Temp: 140F/60C for medium (slightly pink, tender, moist but not too juicy) or 135F/57.2C for closer to medium rare (pinkish-red, soft, moist, juicy) or 137F/58.3C for somewhere in between and if you want to brown the roast after sous vide cook. Cook for 1 1/2 – 4 hours.
Sous Vide Steak with Balsamic Sauce Two Ways
Temp: 132-133F/56C for medium rare. If steak is 1 inch thick, cook for 1-3 hours. If 1.5 inches thick, cook for 2-3 hours. If 2 inches thick, cook for 3-5 hours.
Sous Vide Indian Butter Chicken
Temp: 145F/62.8C. Cook for 1 hour to maximum 3 hours.
Sous Vide Salmon with Lemon Caper Sauce
Temp: 129F/53.9C (for slightly above medium rare). If salmon is 1/2-1 inch thick, cook minimum 20 -30 minutes; if salmon is 1-2 inches thick, cook 30-40 minutes.
Sous Vide Pork Chops with Apple Chutney
Temp: 140F/60C for medium. Cook for 2 hours for about 1 – 1 1/2 inch thick.
Vietnamese Pork Chops (Sous Vide)
Temp: 142F/61.1C for medium with minimal pink. Cook for 1.5-4 hours. (I cook thick chops for 2.5 hours and thinner ones for 1.5-2 hrs).
Sous Vide Maple-Mustard Pork Tenderloin
Temp: 140F/60C for medium (slightly pink, tender, moist but not too juicy) or 135F for closer to medium rare (pinkish-red, soft, moist, juicy). Or 137F for somewhere in between. Cook for 1 1/2 – 4 hours.
Sous Vide Baby Back Ribs
Temp: 165F/73.9C. Cook for 6-8 hours.
Sous Vide Beef Crostini with Horseradish Aioli
Temp: 132F/55.6C for medium rare. If steak is 1 inch thick, cook for 1-3 hours. If 1.5 inches thick, cook for 2-3 hours. If 2 inches thick, cook for 3-5 hours.
Sous Vide Thai Mixed Vegetables and Tofu
Temp: 183F/83.9C. Cook for 30 minutes.
Easy Mongolian Beef (sous vide or grill)
Temp: 132F/55.6C for medium rare. Cook 1-5 hours depending on thickness of meat.
Sous Vide Burgers (taste test)
Temp: 137F/58C-138F/59C for medium. Cook 45 minutes to a maximum of 3 hours.
If you make one of the recipes above, feel free to rate it in the recipe (using the stars above "rate this recipe here") and leave a comment if you like.