Sous Vide Short Ribs (Boneless Beef)
If you own sous vide equipment or are planning to get some, do not miss these boneless beef Sous Vide short ribs. Beyond easy and mouth watering! Definitely worth the 48 hours they take to cook.
If there was ever a reason to use the sous vide cooking method, sous vide short ribs is it.
The low stress, 'put the food in and walk away' feature is the same as with other sous vide recipes.
Sous vide means immersing bag-sealed food in a water bath to cook at a very precise, consistent temperature. It incredibly achieves the exact food temperature you want.
These short ribs were even more effortless and had a much better texture than the ones I made in the oven a few weeks ago. They were tender, easily cut with a fork, not at all stringy and amazingly succulent. And the BBQ sauce is a perfect finisher.
Short ribs are the kind of meat that needs to be broken down to become tender, typically with a very long baking/braising method in the oven or slow cooker. The end result can be very tasty and tender.
But medium or medium rare and soft as butter? Not in my memory! That's exactly what you'll get with sous vide short ribs. Definitely rave worthy.
I love to serve these ribs with Basic Mashed Potatoes, Curried Rice with Raisins, Grilled Coleslaw (no mayo) or Grilled Corn Salad. Actually, almost anything goes.
Why you should sous vide short ribs
Apart from the great results, the process couldn't be simpler.
I spent a total of 15 minutes hand-on time, including making a BBQ sauce.
The other 48 hours for cooking is all done by the sous vide machine. Ok, I know that's a long time. But as I said, put them in. Walk away.
As always, the meat comes out of the sous vide machine grayish and ugly, but it only takes 2-3 minutes to make it beautiful with a grill or broiler.
Tailor To Your Taste
I used a basic BBQ sauce to finish them off, but you can try a glaze with an Asian flair, a peppercorn sauce or a wine reduction. Here's a great red wine sauce I use.
After cooking the boneless beef ribs sous vide, you can finish them by flash browning them in a frying pan, on the BBQ or under the broiler. I find the grill easiest if you have one easily accessible – no smell and no extra pan.
Shortcut
Use a good bottled BBQ sauce or glaze to finish off the boneless ribs. You can even brush the meat with it before adding it to the ziploc bag.
Make Ahead
I'm pretty sure 48 hours qualifies for make ahead! Since the BBQ sauce can also be made several days or more ahead, the only thing left to do is to slather the boneless beef ribs with the sauce and broil or grill them for a minute or so on each side.
How to make boneless beef sous vide short ribs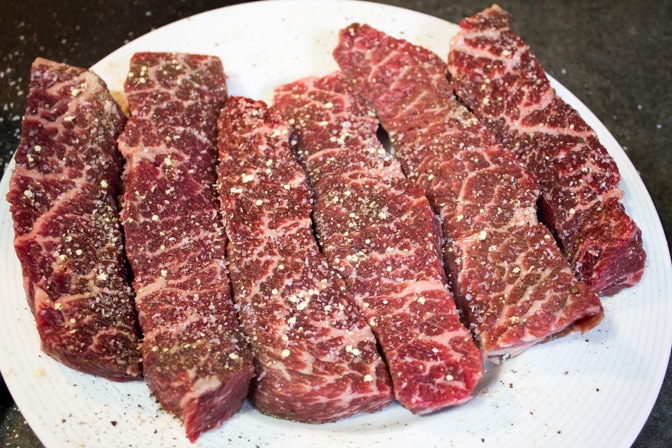 Other sous vide beef recipes you might like
Or check out our best sous vide recipes and tips for general tips on sous vide:
cooking preparation
set up
temperature
timing
finishing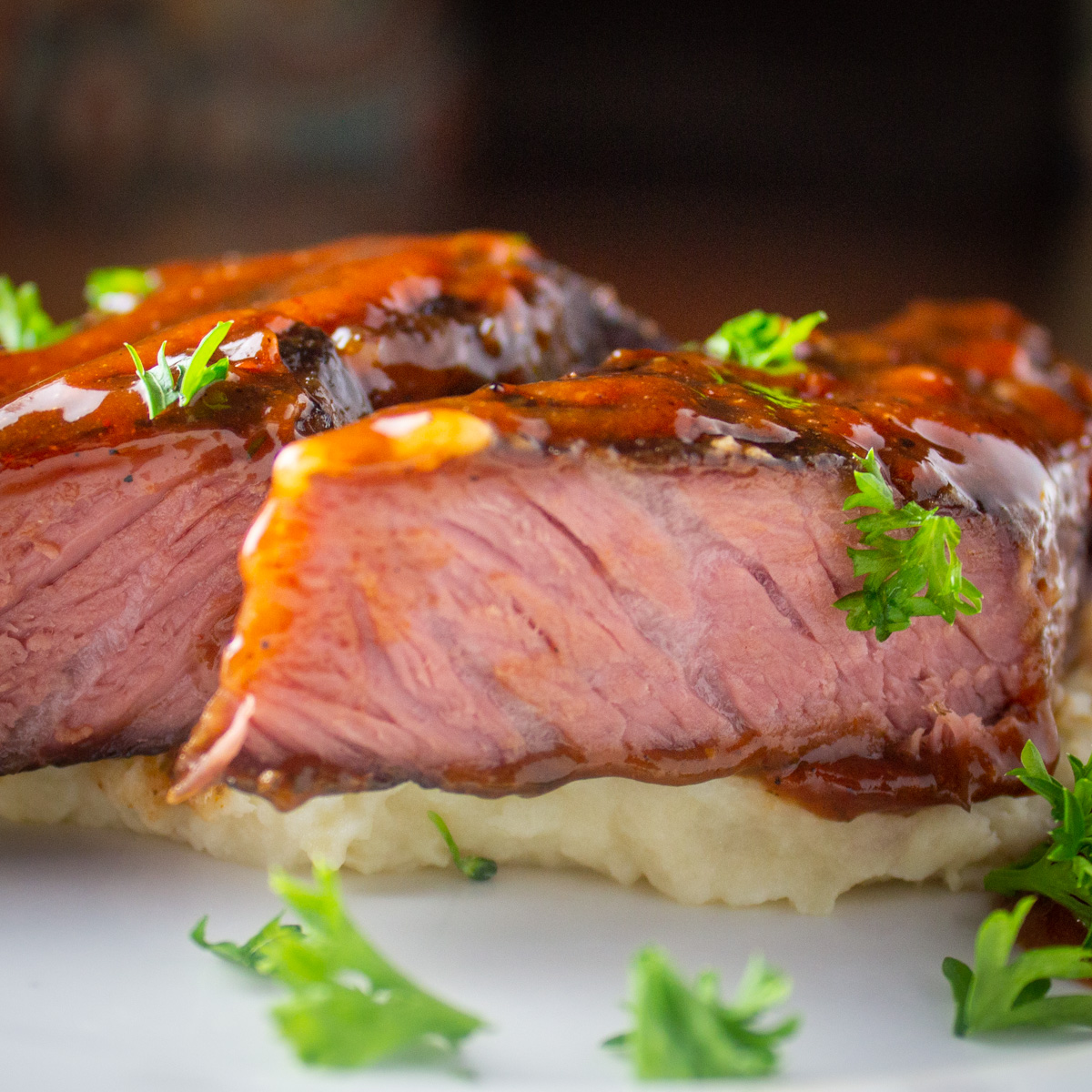 Print Recipe
Pin
Save Recipe
Recipe Saved!
Rate this recipe here
Sous Vide Short Ribs (Boneless Beef)
If you own a sous vide machine or are planning to get one, do not miss these boneless beef Sous Vide Short Ribs. Beyond easy and mouth watering! Definitely worth the 48 hours they take to cook.
Ingredients
3.5

pound

boneless beef short ribs, about 1 inch thick

(I used Certified Angus Beef. Choice or Prime are excellent cuts too)

seasonings (salt, pepper)
BBQ Sauce
1

cup

ketchup

1/4

cup

brown sugar

2

tablespoon

cider vinegar

1/4

cup

Worcestershire sauce

2

teaspoon

Dijon mustard

1

tablespoon

chili powder (optional) or a bit of hot sauce

2

teaspoon

garlic powder

1/4

teaspoon

pepper

1/2

teaspoon

salt
Instructions
PREPARE THE SOUS VIDE BATH: Fill water in the sous vide machine as per manufacturers instructions (not too high). I use hot tap water to make the heating up go faster. Set the temperature to 135F/57.2 (for medium to medium-rare) and allow water to heat to that temperature.

PREPARE THE BEEF SHORT RIBS: Generously season both sides of the boneless ribs with salt and pepper. Fold back top of sous vide bags about an inch to create a flap (this ensures no food touches the top of the bag where it gets sealed). Insert up to 3 boneless ribs per bag, ensuring no overlap. Unfold the flap and vacuum seal the bag using a vacuum sealer. Note 1.

COOK THE BONELESS BEEF RIBS SOUS VIDE: When the temperature of the sous vide machine reaches 135F/57.2C, submerge the vacuum sealed bags with the boneless ribs into the water. Cover and cook for 48 hours (that's right, 48 hours, give or take an hour or two).

MAKE THE BBQ SAUCE: Add all BBQ sauce ingredients into a small saucepan and heat to medium low. Stir to combine and simmer for 2-3 minutes. (can be made several days ahead). Alternatively, use your favorite bottled BBQ sauce.

FINISH THE RIBS: Remove the boneless beef ribs from the bags and pat dry with paper towels. Discard accumulated juices from the bags. Brush ribs generously with sauce on both sides. TO GRILL: Heat grill to high. Lightly spray ribs with oil to avoid sticking to grill. Grill ribs for 1-2 minutes per side until you see grill marks or until sauce is bubbly and ribs are nicely glazed. TO BROIL: Broil close to the heat for 1-2 minutes per side until bubbly and nicely glazed. Serve with remaining sauce. Ribs are great served with mashed potatoes.
Notes
To seal using zipper lock bag: Place boneless ribs in ziploc bag and zip up part way only. When water reaches correct temperature, slowly lower bag into water. This will push air out (water displacement method). When top of bag is just above water line, zip it shut. Submerge bag. Close lid if using a oven/box-type sous vide machine.
Make Ahead: Cook the boneless beef ribs for 48 hours and make the BBQ sauce  several days or more ahead. Just before serving, slather the ribs with the sauce and broil or grill them for a minute or so on each side. 
Nutrition values are estimates. 
Nutrition
Calories:
556
kcal
|
Carbohydrates:
23
g
|
Protein:
51
g
|
Fat:
27
g
|
Saturated Fat:
12
g
|
Cholesterol:
156
mg
|
Sodium:
885
mg
|
Potassium:
1213
mg
|
Fiber:
1
g
|
Sugar:
19
g
|
Vitamin A:
610
IU
|
Vitamin C:
3
mg
|
Calcium:
52
mg
|
Iron:
7
mg
Tried this recipe?
We'd love you to rate it above under 'rate this recipe' or in the comment section below. Thanks!
This recipe, now updated, was originally posted in 2017.