Hamburger Steak With Onion Gravy (Sous Vide or Pan Sear)
Sink into a hamburger steak with onion gravy for pure and simple delicious comfort food. Moist and tender with beefy flavor in a rich oniony sauce.
I love using the sous vide method for this recipe, but pan searing will work well too. Instructions for both are in the recipe card.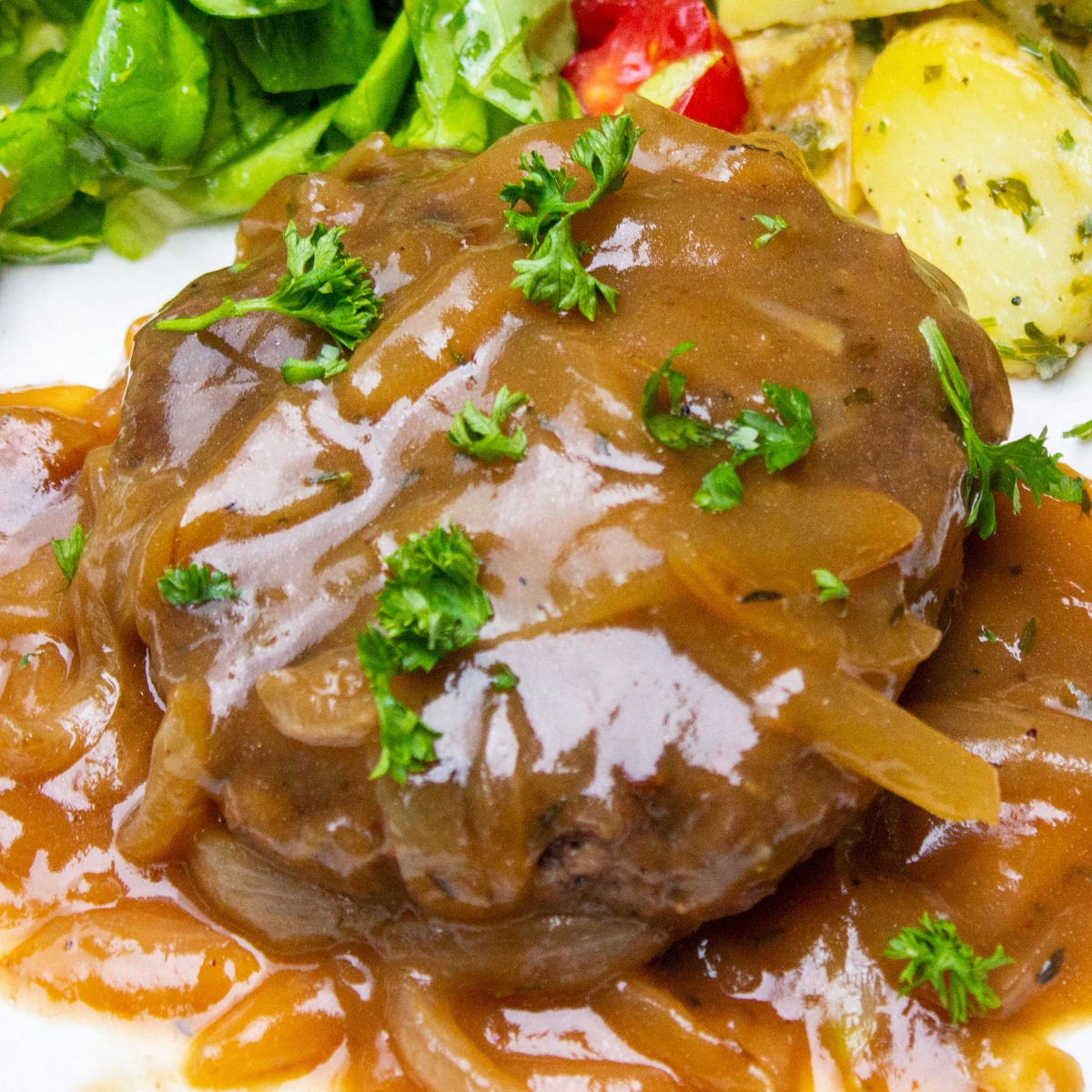 Just to keep things clear, a hamburger steak, chopped steak, hamburger and burger patty are pretty much the same thing. Whatever you call it, the whole family will be enjoying a delicious homemade hearty meal for tonight's dinner.
Why sous vide hamburger steaks?
In a nutshell, there are three parts to this recipe:
sous vide the meat
pan fry to get a nice crust
sauté onions and make the onion gravy
With a pan sear method, you can skip step #1. So why bother with sous vide?
Pros
Sous vide hamburgers are not for everyone. I love them. Here's why.
Cook safely to the exact doneness you prefer: Sous vide is precise. Once you find the right time and temperature (this can take some experimenting), you will always get 100% consistency from there on. As long as you are cooking above 130°F/54.5°C, all bacteria will be killed and burgers will be perfectly safe to eat – even at medium rare (which cannot be done at restaurants for fear of salmonella or e-coli).
The process is stress free: Plunge the meat in the water bath and walk away. Not only do you get the exact doneness you choose, you have an extra window of 30-60 minutes if you need without affecting the temperature and texture. This is not possible with a traditional method like pan fry or grilling.
Juicy tender hamburger steaks every time: You can always count on a juicy, tender burger – especially with burger meat that is 10-15% fat.
Make ahead for extra meals: This is one of the best things about sous vide. Freeze a batch of burgers after you sous vide them. Then you just have to warm them and grill or pan fry them for a perfect burger or hamburger steak.
Cons
Extra equipment: The sous vide cook is an extra step for this recipe and requires having sous vide equipment.
Extra time: The process will take longer than the pan fry method.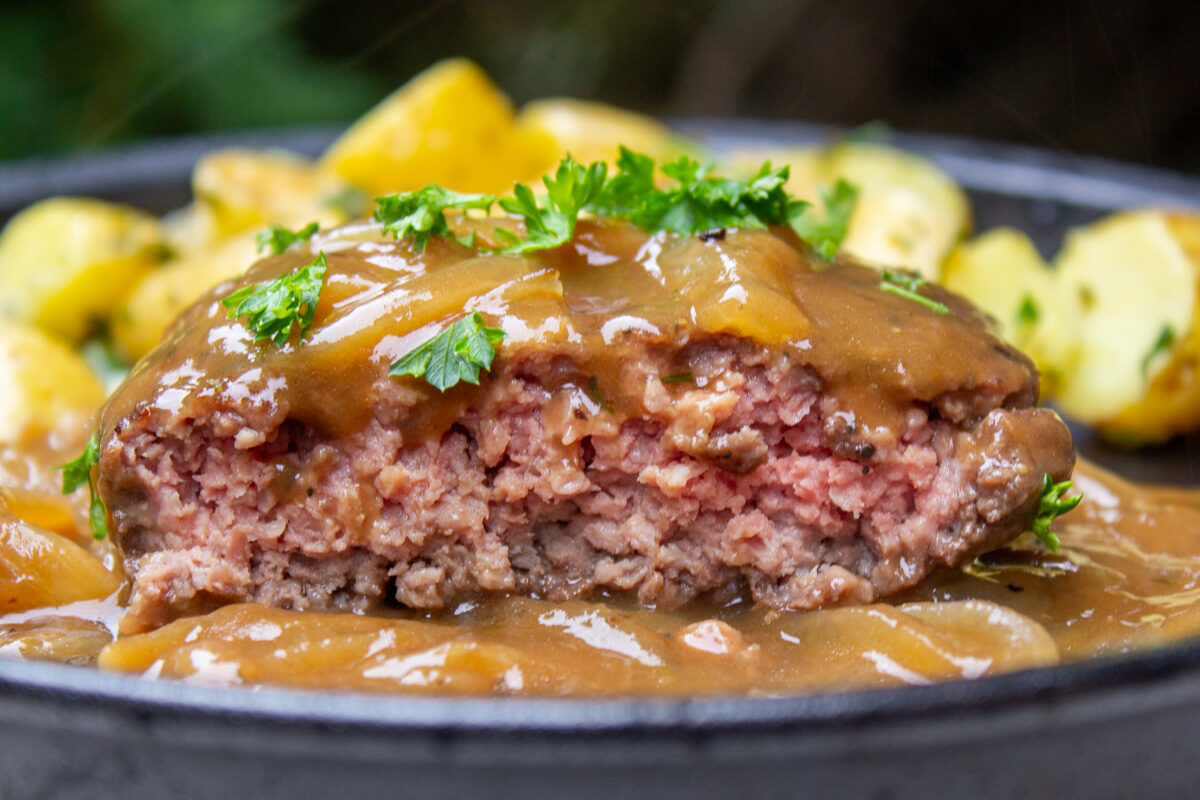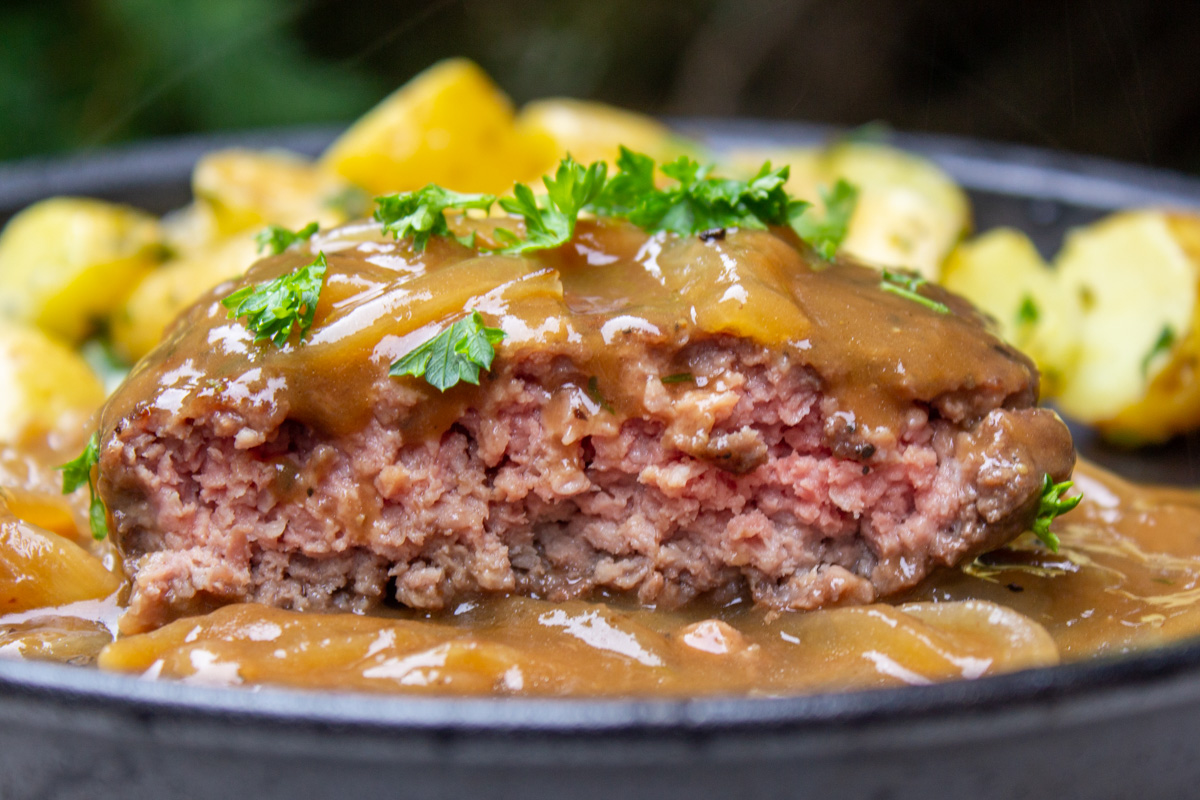 Tailor to your taste
Here are a couple of variations and substitutes you can use.
Cooking method: I use the sous vide method to cook the hamburger steaks. The instructions are in the step by step pictures and the recipe card. Instructions for the pan sear method are in the recipe notes as well. Or use the grill if you prefer.
Gravy: The onion gravy in the recipe pairs beautifully with hamburger steaks, but feel free to omit the onions, use mushrooms or red peppers instead, or onions and mushrooms together.
Seasoning: I use a simple seasonings of salt, pepper and garlic powder for the meat. Another good option is Montreal steak spice. For the gravy, try adding fresh chopped (or dried) herbs at the end such as thyme or rosemary for great savory flavors. Or a splash of sherry or red wine.
Step by step instructions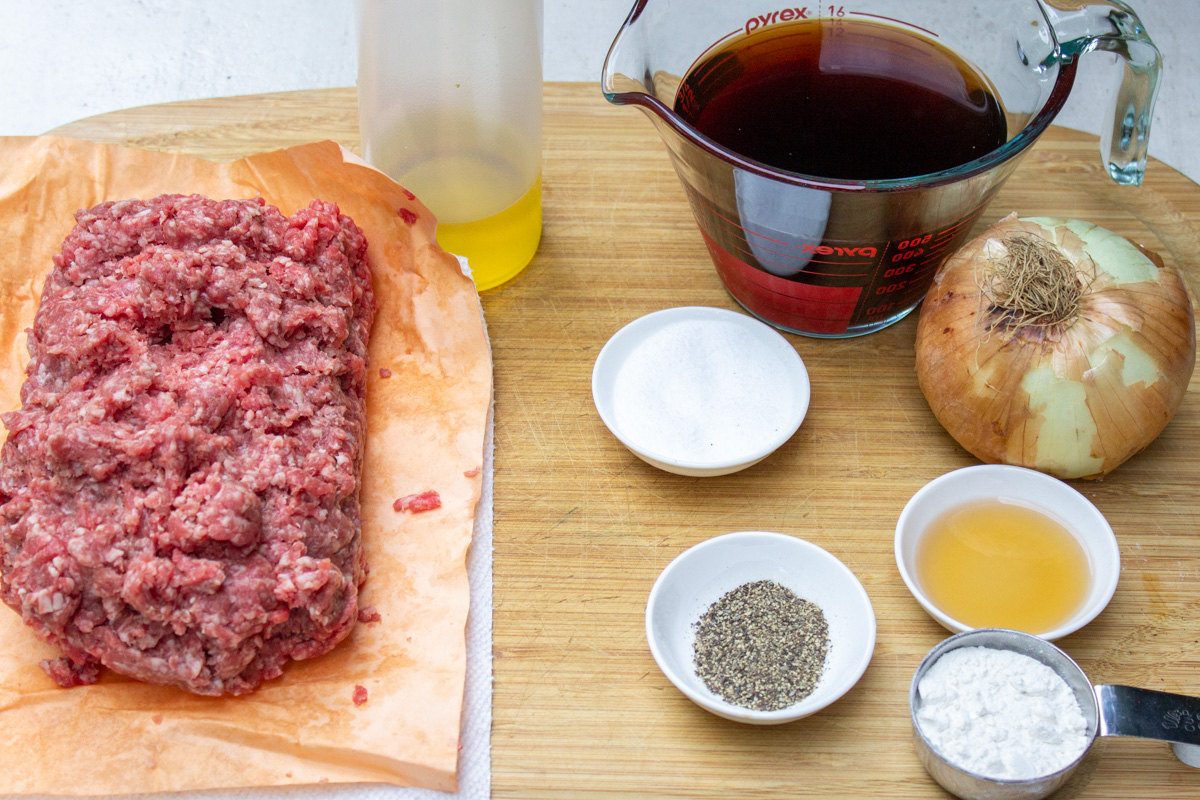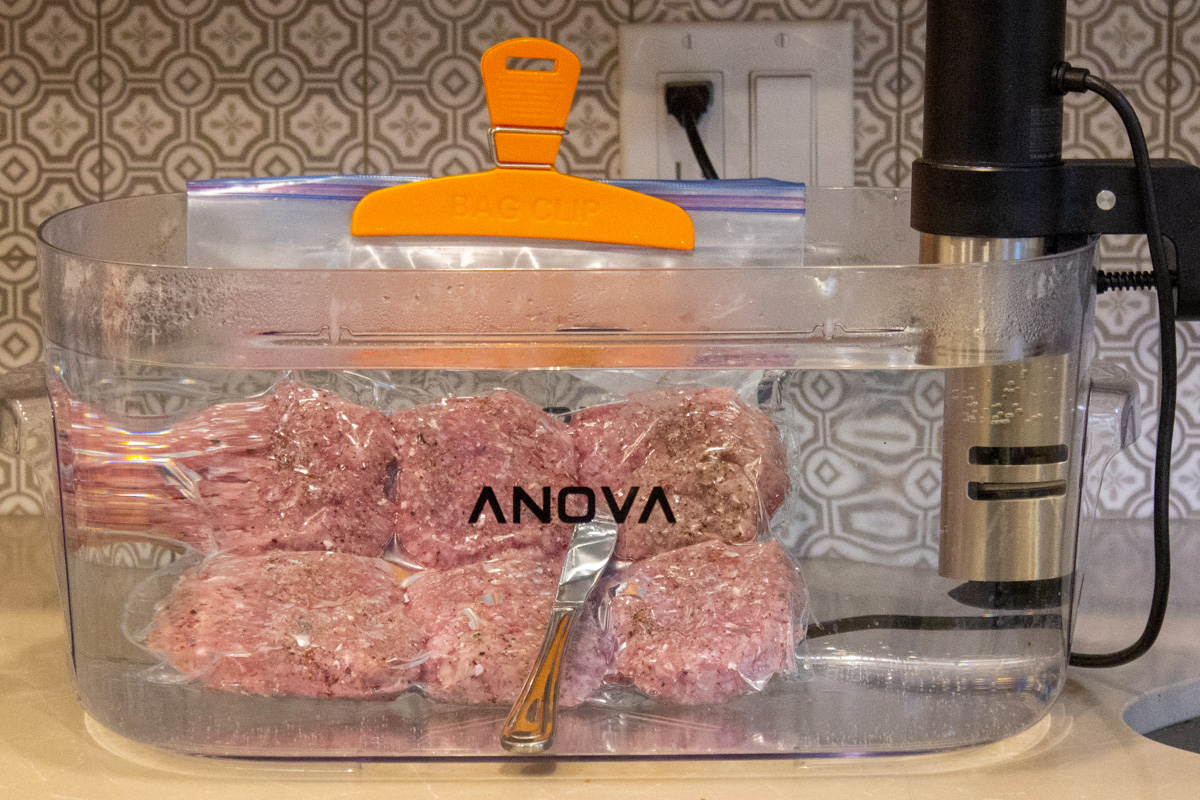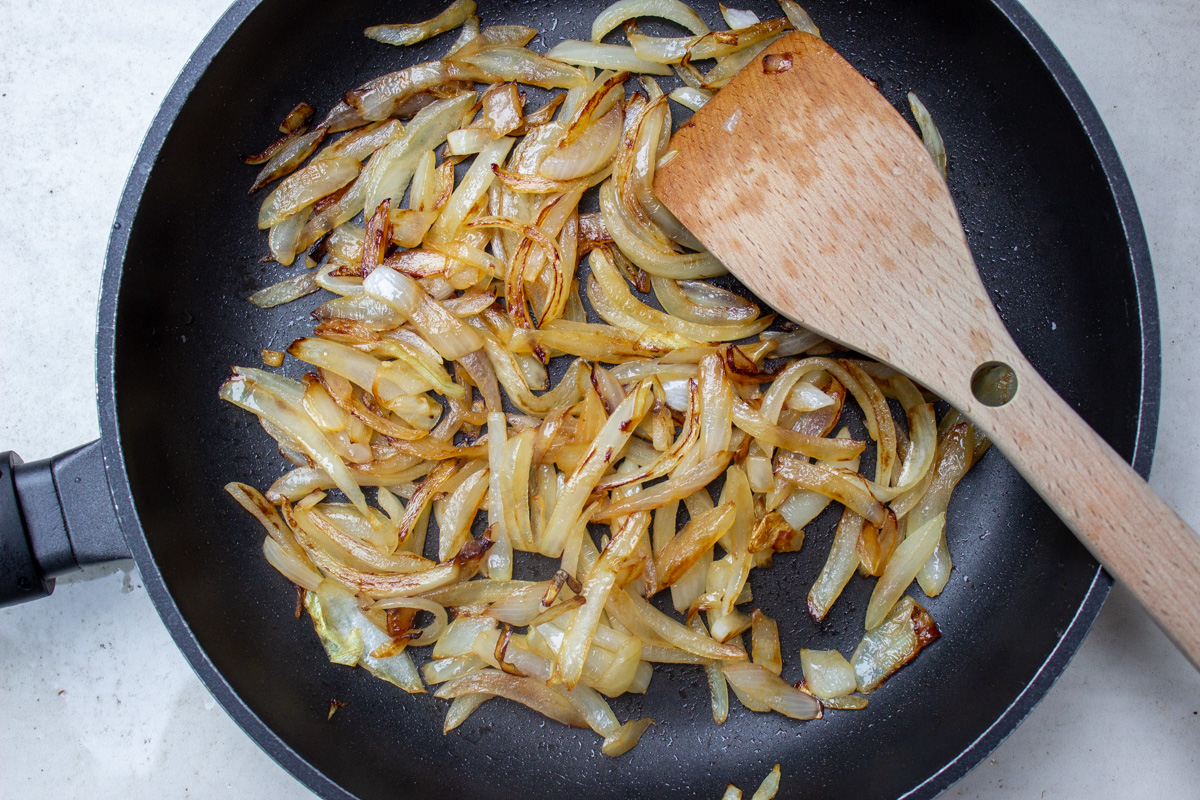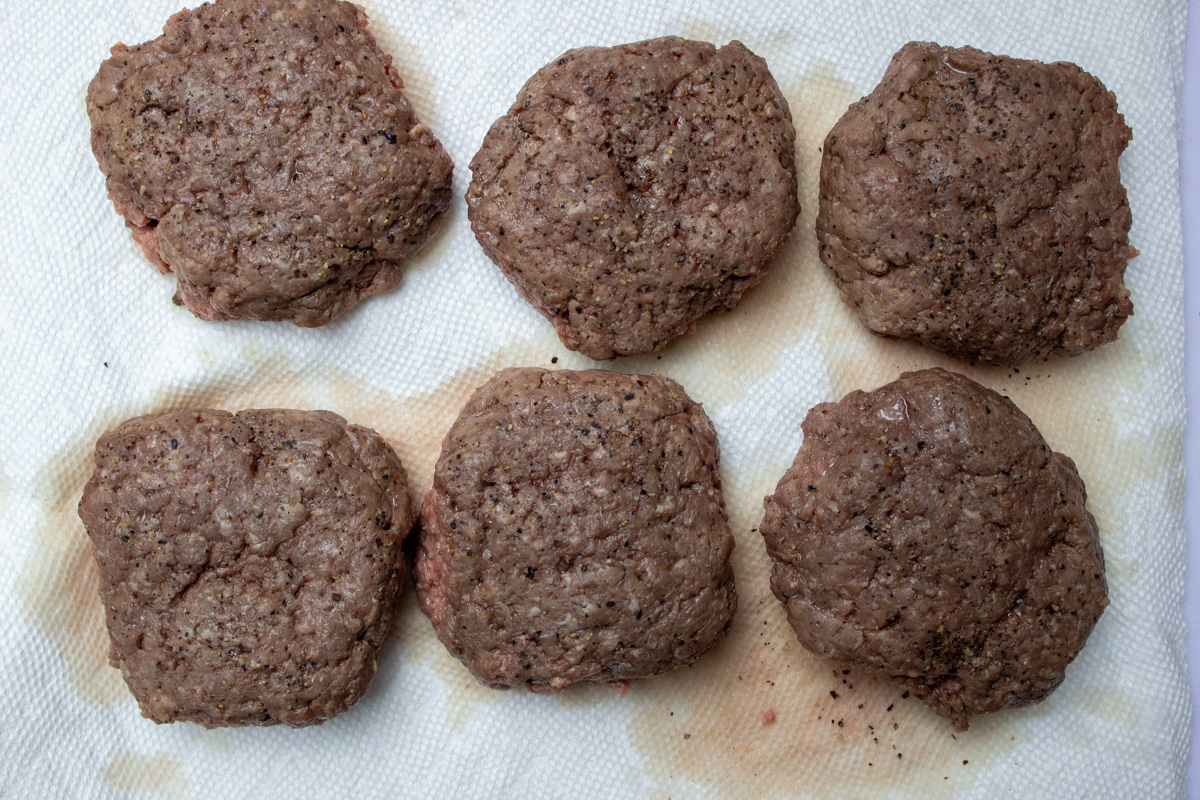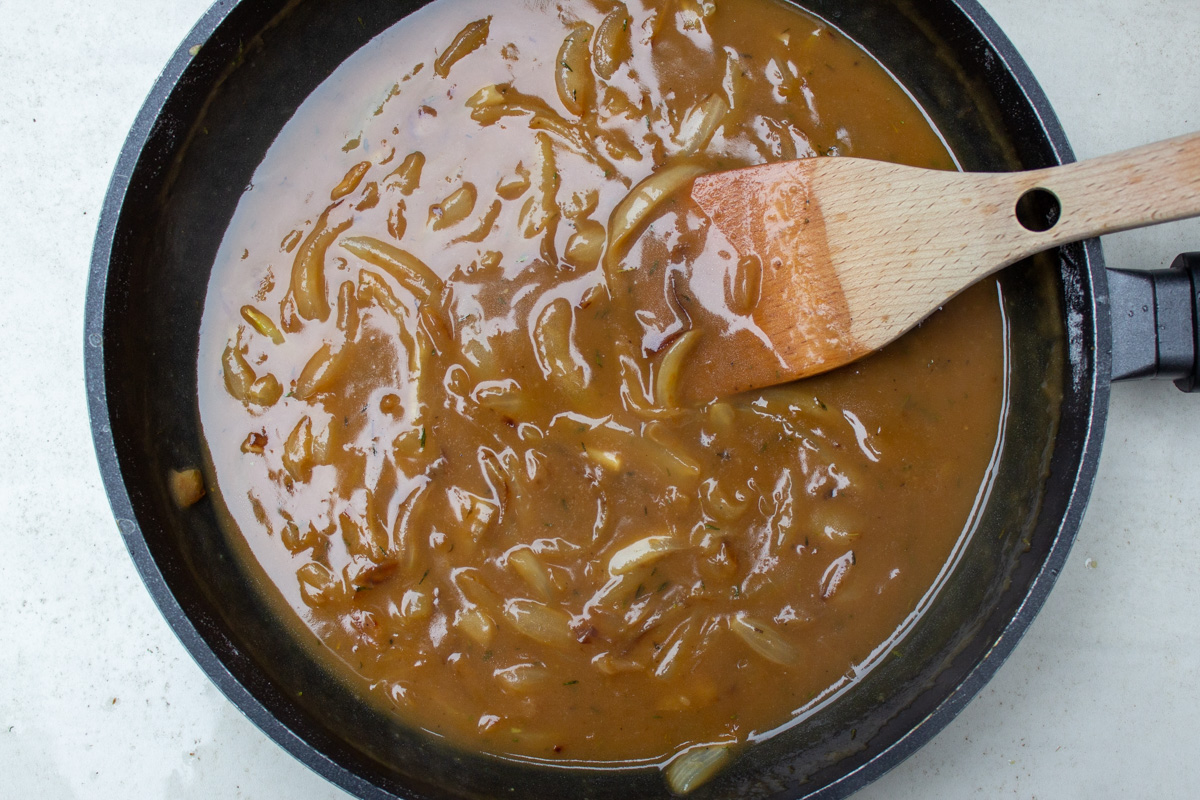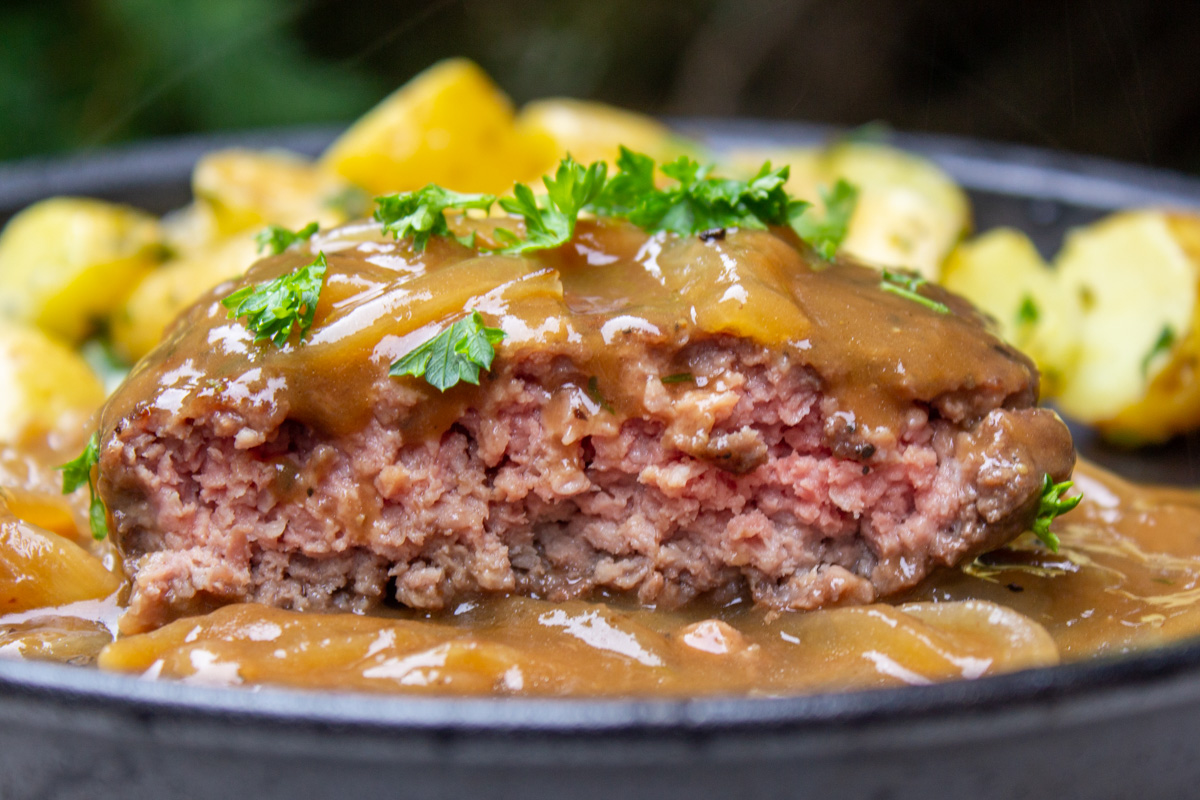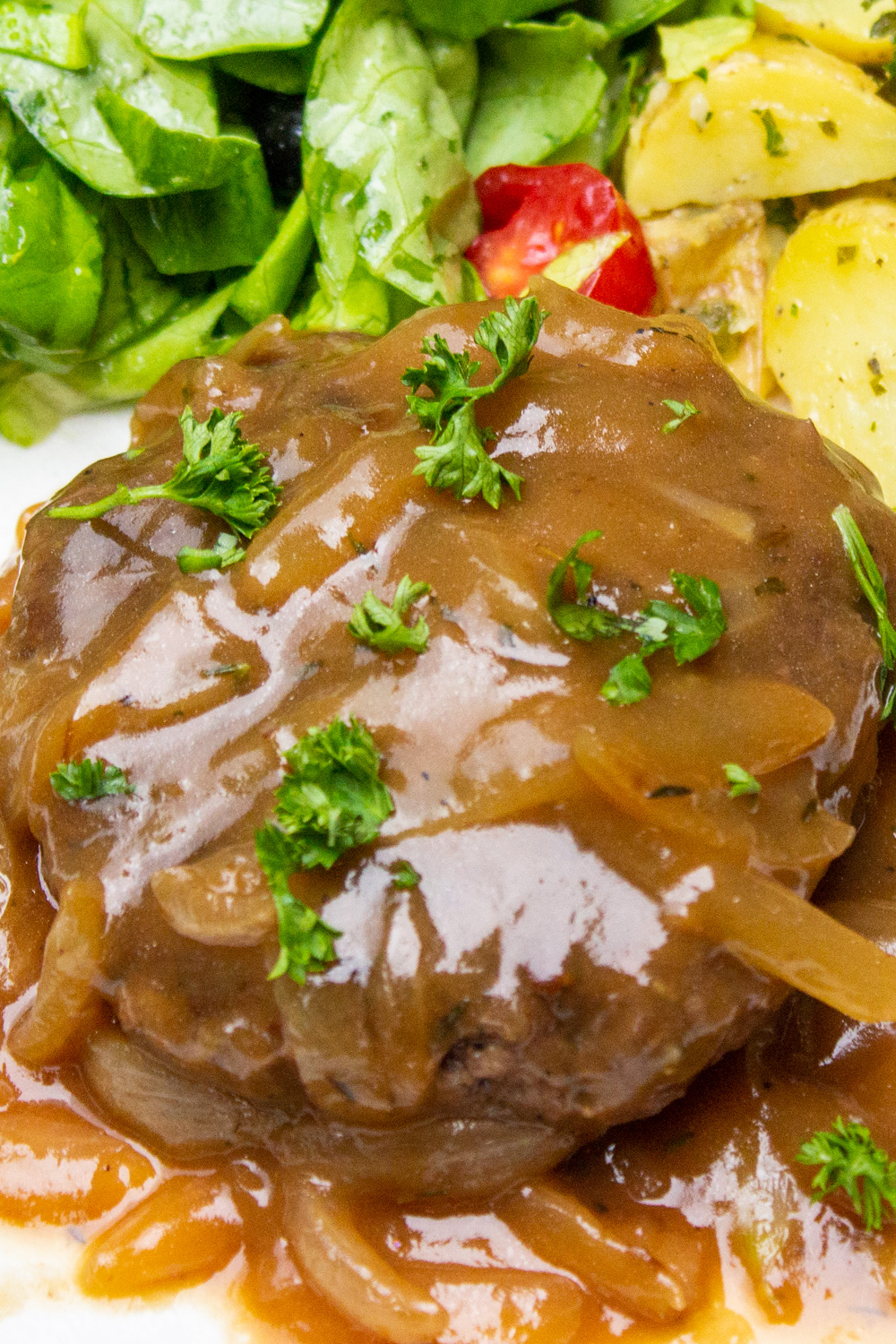 Expert Tips
This is a list of curated tips for making the best hamburgers (or hamburger steaks) sous vide from well known and respected sous vide bloggers/chefs and our own experience:
Patty size: Make them 6-7 ounces (170-198g) and 1 inch (2.5 cm) thick burger or just slightly thicker.
Forming patties: Don't overhandle them or pack the meat. Form the patties as lightly as possible to avoid dense burgers. You can use a ring mold. I don't bother.
Bagging: Don't use the vacuum sealing method as it packs the meat too much making the burgers too dense. For sous vide burgers, the water displacement method with plastic bags (e.g. zipper lock) is best.
Seasoning: Most experts advise that sous vide burgers should only be seasoned on the outside. Apparently, salt mixed in with the meat draws out moisture, making the burgers drier. See our sous vide burger taste test.
Rest time: Although there is a debate on this, I say don't skip this step. Rest your burgers for at least 10 minutes after the sous vide process and before pan frying to keep the meat juices in the burgers.
What to serve with hamburger steak
There are so many options like potatoes, egg noodles, spatzle or rice and a simple salad or coleslaw. Here are a few of my faves:
By the way, you can even serve the hamburger steaks in a toasted bun, gravy and all, with a bit of horseradish or coleslaw. Messy, but delish.
Shortcuts
Use the pan sear method instead of sous vide: I love the sous vide method for hamburger steaks, but the pan fry method is definitely shorter.
Skip the caramelizing of the onions and either quick pan fry them (much quicker) or eliminate the onions altogether. You can use a tablespoon or so of onion soup base from a soup package for onion flavor (or a teaspoon of onion powder) if you like.
Skip pan searing the cooked sous vide patties since they are being smothered in the onion gravy anyways. You will lose a bit of flavor though.
Recipe FAQ
Why is hamburger steak called hamburger steak?
According to the New York Times, German immigrants brought a Hamburg steak to America of seasoned ground beef which became popular in restaurants in the last 19th century.
Is there a difference between salisbury steak vs hamburger steak?
Many people use the names interchangeably, but there is a difference. Salisbury steak typically has fillers like egg and bread crumbs (more like a meatloaf). Hamburger steak, also called chopped steak, is usually plain meat seasoned on the surface.
What is the best meat for hamburgers?
Fresh ground chuck from the butcher or grocery store (with a meat-to-fat ratio of 85:10 or 90:10) is the best way to get a juicy burger.
What are the best onions to use for the onion gravy?
A sweet onion or yellow onion is great for caramelizing and sauces. Here's our article on which onions to use for different cooking purposes.
What is the best beef broth to use for gravy?
I use concentrated (undiluted) Campbell's beef broth in a can so that I can control the amount of water added (I always add less than called for more depth). Here's a good article on the best store-bought beef broths by Epicurious. Or google best beef broths to find one where you live. If you can't find beef broth, you can use a powdered or paste form like Better Than Bouillon Beef base.
TIP: Double the onion gravy to use with…
A trick I use is to double the onion gravy and save half for other uses like:
Make ahead, store, freeze
See instructions in the recipe notes for:
Make ahead sous vide hamburger steaks
Make the whole recipe ahead
Make ahead gravy
Love sous vide cooking?
Then check out our best sous vide recipes (with beginner tips).
Other ground beef recipes you might enjoy
Recipe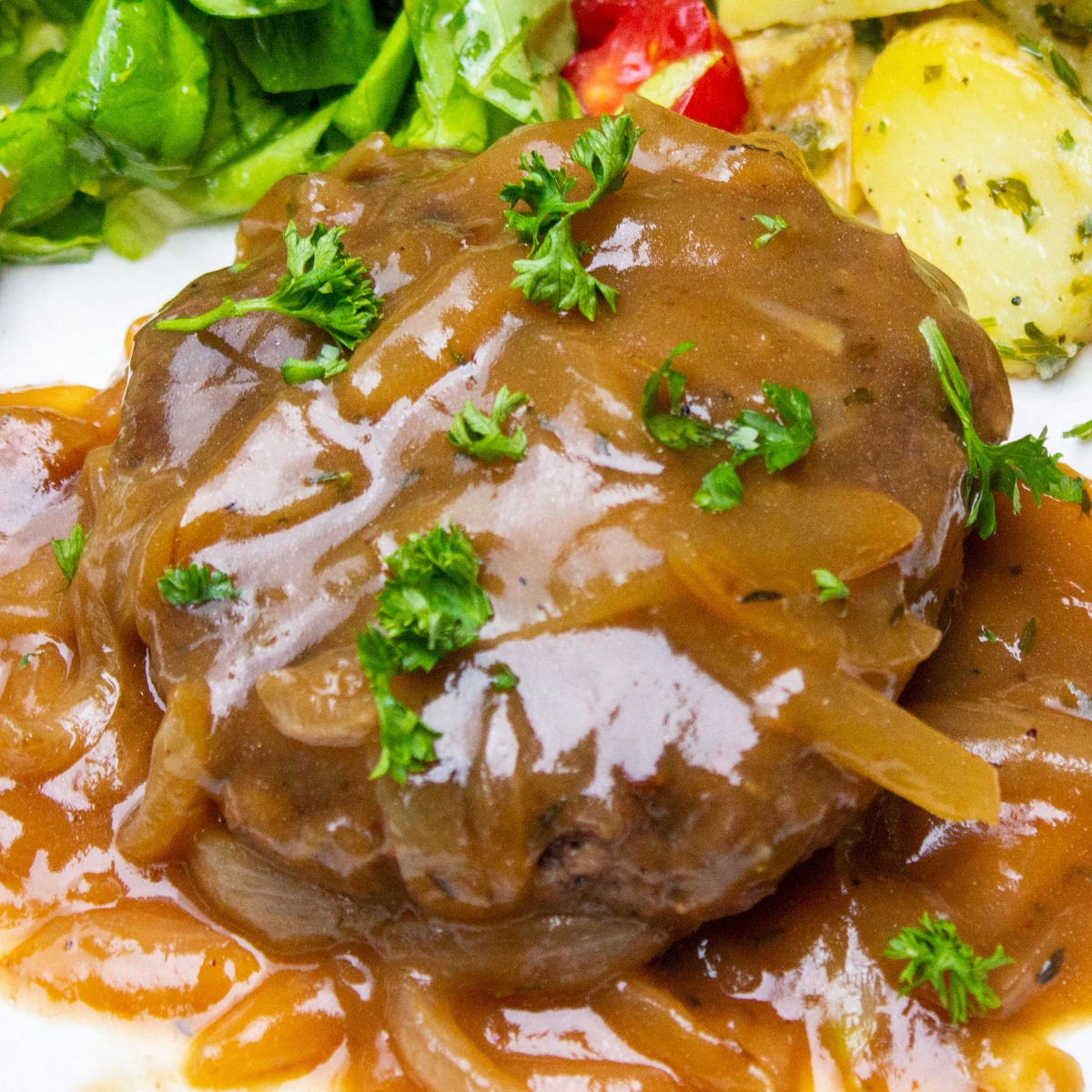 Print Recipe
Pin
Save Recipe
Recipe Saved!
Rate this recipe here
Hamburger Steak With Onion Gravy (Sous Vide or Pan Fry)
Sink into a hamburger steak with onion gravy for pure and simple delicious comfort food. Moist and tender with beefy flavor in a rich oniony sauce. Sous Vide or pan fry method.
Equipment
Sous Vide equipment

(sous vide machine or sous vide immersion circulator) and water bath container
Ingredients
Hamburger steaks
2

pounds

(900 kg) lean ground beef

(85:15 Or 90:10 meat-to-fat ratio)

salt, black pepper, garlic powder

1

teaspoon

vegetable oil or grapeseed oil

(for searing)
Onion Gravy
1

large sweet onion or 2 yellow onions, peeled and thinly sliced.

2

tablespoons

-3 olive oil

(or vegetable oil)

3

tablespoons

all purpose flour

1/2

teaspoon

dried thyme

2

cups 

(354ml) beef broth, Note 1 for options and additional seasoning.  if using undiluted full strength broth like Campbell's in a can (recommended), use 1 1/2 cups broth and 1/2 cup water
Instructions
HEAT SOUS VIDE WATER BATH to:° 134F/56.7C – 136F/57.8C for medium-rare -ish (although some would call this medium). I use 136F-138F/58-59C. ° 137F/58C-138F/59C for medium (still warm pink)° 140F/60C for medium well-ish

PREPARE HAMBURGER STEAK PATTIES: Lightly form 6 hamburger meat patties of about 5 1/2 ounces/156g each, 1 inch/2.5cm thick. Don't over handle the meat. Season patties both sides and edges with salt, black pepper and garlic powder. Transfer patties to a large zipper lock bag in a single layer. Or use two bags if needed. Do not use a vacuum sealer or the burgers will become too packed and dense.

SOUS VIDE HAMBURGER STEAKS: (Note 2 for pan sear method). Place bag with burger patties in sous vide bath using the water displacement method: lower unsealed bag into water to an inch above water line. This will push as much air as possible out of bag. Then seal bag and let it sink down. If it floats, try again or weigh it down with a pot lid or butter knife, or clip it to the side of the container. Cook for 40-45 minutes up to a maximum of 90 minutes. I find about 45 minutes to 1 hour results in the best juicy burgers.

SAUTE ONIONS FOR GRAVY: While meat is cooking, heat 1 tablespoon oil in a large skillet to medium-high heat. Add sliced onions and lower heat to medium. Sauté about 15-20 minutes, stirring occasionally, until warm brown and caramelized. To speed up the process, add a pinch of baking soda or sugar. Season with salt. At this point, you can finish the onion gravy in the pan. I do because it's quicker this way but you will have to use a separate pan to sear the burgers. If you don't want to use a second pan to sear the hamburger steaks, you can finish the gravy after searing the patties.

FINISH GRAVY: Add remaining tablespoon oil and flour to sautéed onions with the skillet still on medium heat. You may have to add a touch more oil. Stir for 2 minutes until flour is starting to turn light brown. Add half of broth. Whisk until smooth. Add rest of broth and thyme. Whisk. Cook about 3 minutes until gravy has thickened. Taste and adjust seasonings (salt, pepper, more thyme) Note 1. If too thick, add extra broth or water.

BROWN HAMBURGER STEAKS: Remove burgers from water bath and plastic bag. Pat dry well with paper towels. Rest for 10 minutes while you prepare other skillet for a quick sear. Heat another skillet to high (8-9/10). Add a tsp of vegetable or grapeseed oil. Sear burgers for 1 minute per side to brown top surface.

FINISH DISH: Transfer finished hamburger steaks to pan with onion gravy and spoon rich gravy on top. Warm through if needed. Serve with your favorite sides.
Recipe Notes
Broth and gravy seasoning

If you don't have liquid broth, use a broth/stock powder, base or cubes with water according to the directions on the package. My favorite is Better Than Bouillon Beef Base.
To enhance gravy seasonings:

add more salt, try fresh thyme or rosemary leaves (add at the end), a teaspoon of Worcestershire sauce or soy sauce, a splash of wine or sherry and/or 1 tablespoon cold butter stirred in at the end for a velvety finish.

To pan sear hamburger steaks (instead of cooking sous vide): 

Heat pan to very hot with a bit of oil. Place patties in pan (don't overcrowd and don't press down on them). When a nice crust forms in 3-4 minutes, flip the burgers and cook another 3 minutes or until temp reaches 145F/ 63C for medium.

Shortcuts

Skip the caramelizing of the onions and either quick pan fry them (much quicker) or eliminate them altogether. You can use a tablespoon or so of onion soup base from a soup package for onion flavor (or a teaspoon of onion powder) if you like.
Skip pan frying the cooked sous vide patties since they are being smothered in the onion gravy anyways. You will lose a bit of flavor though.
Also as noted, pan searing the patties is quicker than sous vide. 

Make Ahead

Make ahead sous vide hamburger steaks: You can sous vide the burgers, cool them in an ice bath (half ice, half water) for 10 minutes, then transfer to a sealed container or bag to freeze for up to 3 months. They will also keep in the fridge for several days. When ready to eat, warm them up from frozen in the sous vide at 125F/51.7C for about an hour. Or defrost them to room temperature and continue with the recipe.
Make the whole recipe ahead

: and store leftovers in an airtight container. Warm on the stovetop or in the microwave for a few minutes on medium heat.

Make gravy ahead: the gravy can be made hours ahead of a few days (store in fridge). It can also be frozen for up to 4 months). 
Nutrition values are estimates 
Nutrition
Calories:
292
kcal
|
Carbohydrates:
7
g
|
Protein:
34
g
|
Fat:
13
g
|
Saturated Fat:
4
g
|
Polyunsaturated Fat:
1
g
|
Monounsaturated Fat:
7
g
|
Trans Fat:
1
g
|
Cholesterol:
94
mg
|
Sodium:
495
mg
|
Potassium:
636
mg
|
Fiber:
1
g
|
Sugar:
3
g
|
Vitamin A:
4
IU
|
Vitamin C:
3
mg
|
Calcium:
32
mg
|
Iron:
4
mg
Tried this recipe?
We'd love you to rate it above under 'rate this recipe' or in the comment section below. Thanks!