Sous Vide Prime Rib (for 3-4)
This sous vide prime rib recipe achieves perfect melt-in-your-mouth medium rare beef with no guessing and no constant temperature checking. Zero stress!
You simply can't miss with a good cut of meat, the right temperature (for how you like it) and good seasonings. A big splurge – and worth it for special occasions.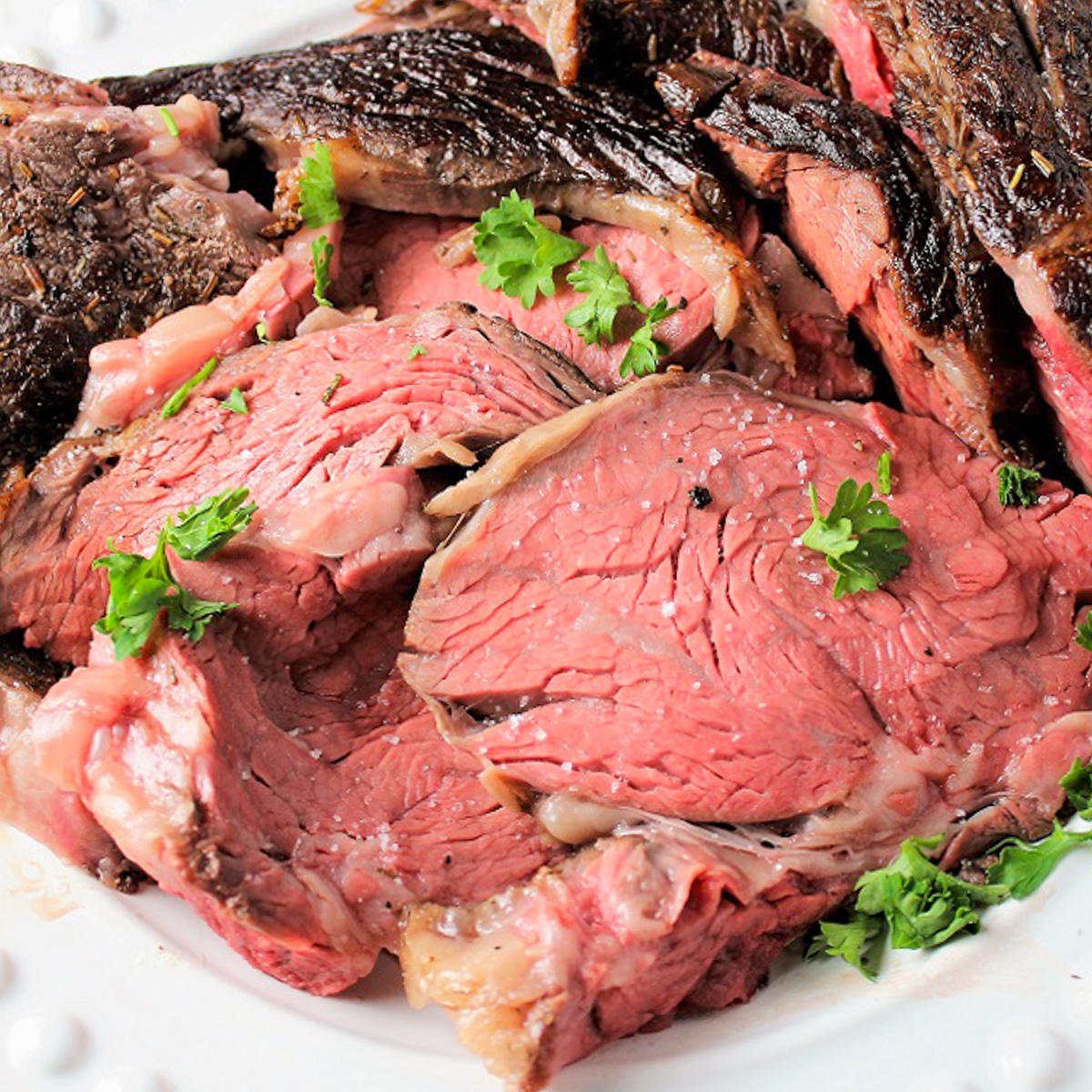 Prime rib is very expensive so it needs to be done right. The sous vide method cooks the food to the exact temperature (e.g. medium rare) that you choose with amazing tender results. Need an extra hour before serving? No problem.
I've been using the sous vide method for this prime rib roast recipe and many other sous vide recipes for years, learning a great deal along the way. This recipe has been updated. 
Pros and cons of sous vide prime rib roast
Pros
Precise 'doneness'
The sous vide rib roast cooks to the precise temperature you choose – medium rare, medium, etc. Here's a chart I use to set the temperature and estimate timing. As with all sous vide cooking, you will have to experiment a bit to find your sweet spot, but the temps provided are a good start. You won't be disappointed.
Minimal hands-on time
The total hands on time is about 5-10 minutes start to finish, similar to an oven roasted prime rib. The big advantage is that you're not doing that constant checking toward the end to make sure it doesn't get over cooked.
No last minute stress
You get a window of 1-2 extra hours (!) for the perfect prime rib where the meat will still be the exact medium rare and tender. No overcooking. How amazing is that, especially when serving company. Not having to check the meat constantly toward the end of roasting to ensure the proper done-ness is a huge plus.
Bonus
The oven is free to use for side dishes like roasted potatoes, vegetables, etc.
Cons
Extra step: There is an extra step of searing the meat at the end to make it presentable. Since it only takes a few minutes, no big deal.
No drippings for gravy: There is no beef grease to collect at the bottom of the pan which I often use to make gravy or Yorkshire pudding 🙂 You can, however, add the juices collected in the bag to make a gravy. Or use our 5-minute beef gravy recipe without drippings.
Longer cook time: The meat takes longer to cook sous vide compared to conventional oven cooking methods. More time to make sides I say!
Ingredients – tailored to your taste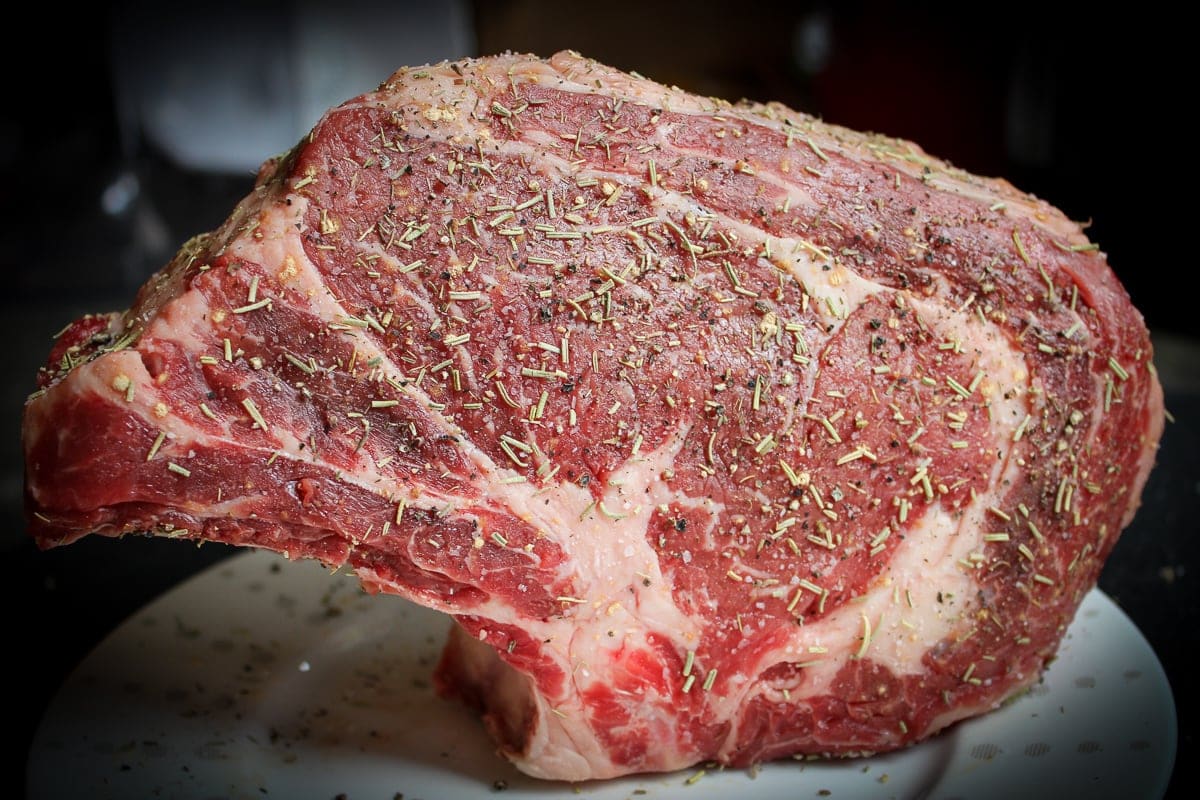 Small prime rib roast: Prime rib is an expensive cut of meat. If you're going to splurge, I suggest getting the best you can afford – and look for sales. For the most flavorful and tender cut, look for a well marbled Prime rib such as USDA Prime, AAA, Certified Angus Beef. USDA Choice is not as good as Prime, but still good – I would add 2 hours to cook time though.
Seasonings: I use kosher salt, black pepper, garlic powder and dried thyme and rosemary (or a sprig of fresh herbs). You can also sprinkle on a bit of sea salt on the sliced meat when serving to amplify the flavor of the meat.
Step by step instructions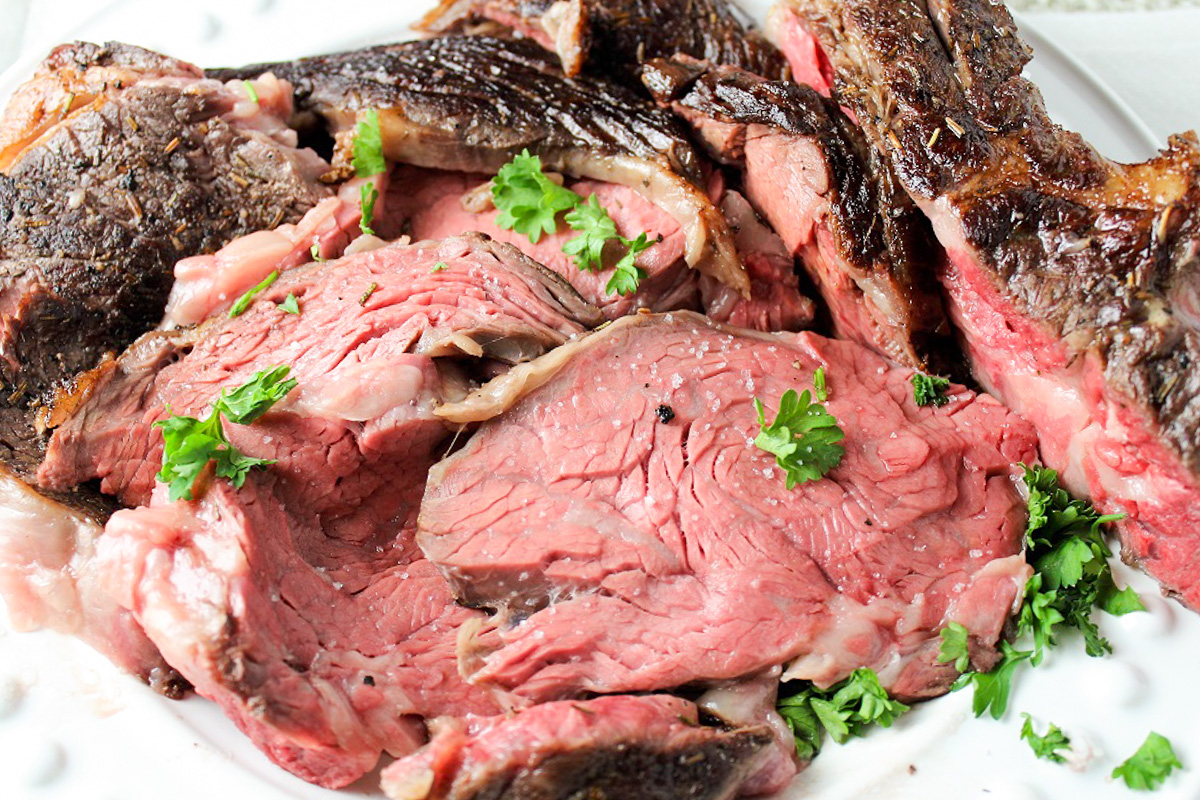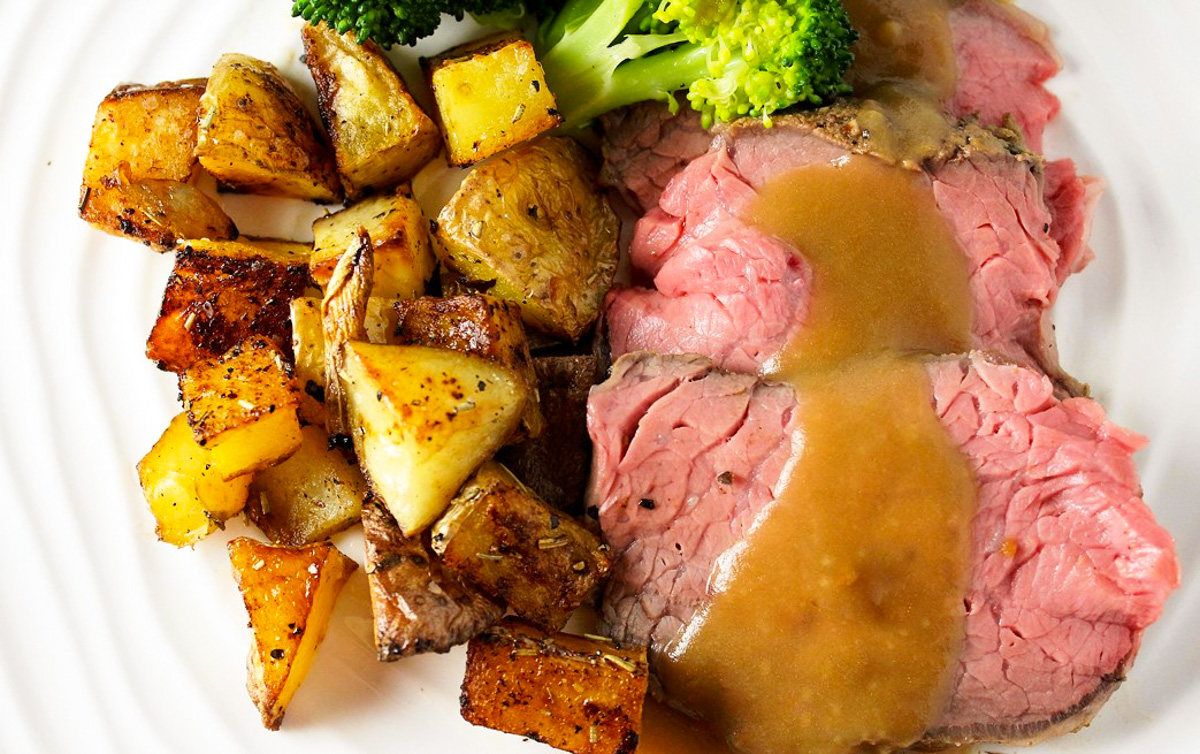 Recipe Tips
Season well before sous vide cooking: This helps infuse the flavors of the herbs and spices as it cooks.
Don't skip the sear: Though it is an extra step, searing the meat in a heavy or cast iron skillet gives it a flavorful exterior and much nicer appearance. Meat straight from the water bath is not pretty!
Use a high smoke-point oil for searing: Here is an article on best oils for various cooking needs.
Give it a rest: Although technically not required for sous vide cooking, I like to rest the meat for 10 minutes to allow the juices to redistribute throughout the meat.
Recipe FAQs
What is sous vide?
The sous vide method of cooking is a technique in which food is sealed in a bag, immersed in a container of water and cooked at a consistent, precise temperature. This cooks the food to the exact internal temperature (e.g. medium rare) that you choose. No worries about overcooking. Meats are amazingly tender. And the whole process is pretty much stress free.
How many pounds of prime rib roast do I need per person?
If the prime rib has only one bone, figure 3/4 lb (0.34kg) per person. If the meat has 2 or more bones, figure 1 lb (0.45kg) per person for a generous portion.
Do I need to sous vide the prime rib longer if it's a larger 4-5 lb (1.8-2.3kg) roast?
Yes, you will need to sous vide the roast for longer assuming the prime rib is thicker. Timing depends on thickness, not weight. A thick prime rib will take from 5-10 hours.
Are there other options to searing the meat in a pan?
For a smaller portion of beef as used in this recipe (2.2 lbs/1kg), I suggest sticking to searing. If the meat is larger, you can consider blasting it in a 500F/260C oven for 5 minutes or on the grill for a minute per side.
Can I use raw garlic when cooking sous vide?
I (and many chefs) use garlic powder instead of raw garlic for seasoning meat before sous vide cooking. Fresh garlic can have safety issues at certain temperatures and a harsh unpleasant taste. 
What are some good condiments to serve with a prime rib roast?
Although the flavor and tenderness of a quality prime rib shine through, sous vide meat can use an extra flavor boost. Sea salt, a herb crust, creamy horseradish sauce, garlic herb butter, horseradish cream and beef gravy (my fave) are a few good condiment options. 
Can I freeze leftover prime rib?
When properly stored in the freezer, cooked prime rib can last for several months. Make sure to double wrap it in plastic wrap then with a layer of foil. Label the wrap with the date it was cooked.
Make Ahead 
See recipes notes for:
Making the roast 1-2 hours ahead of serving
Storing leftover prime rib
Freezing and reheating prime rib.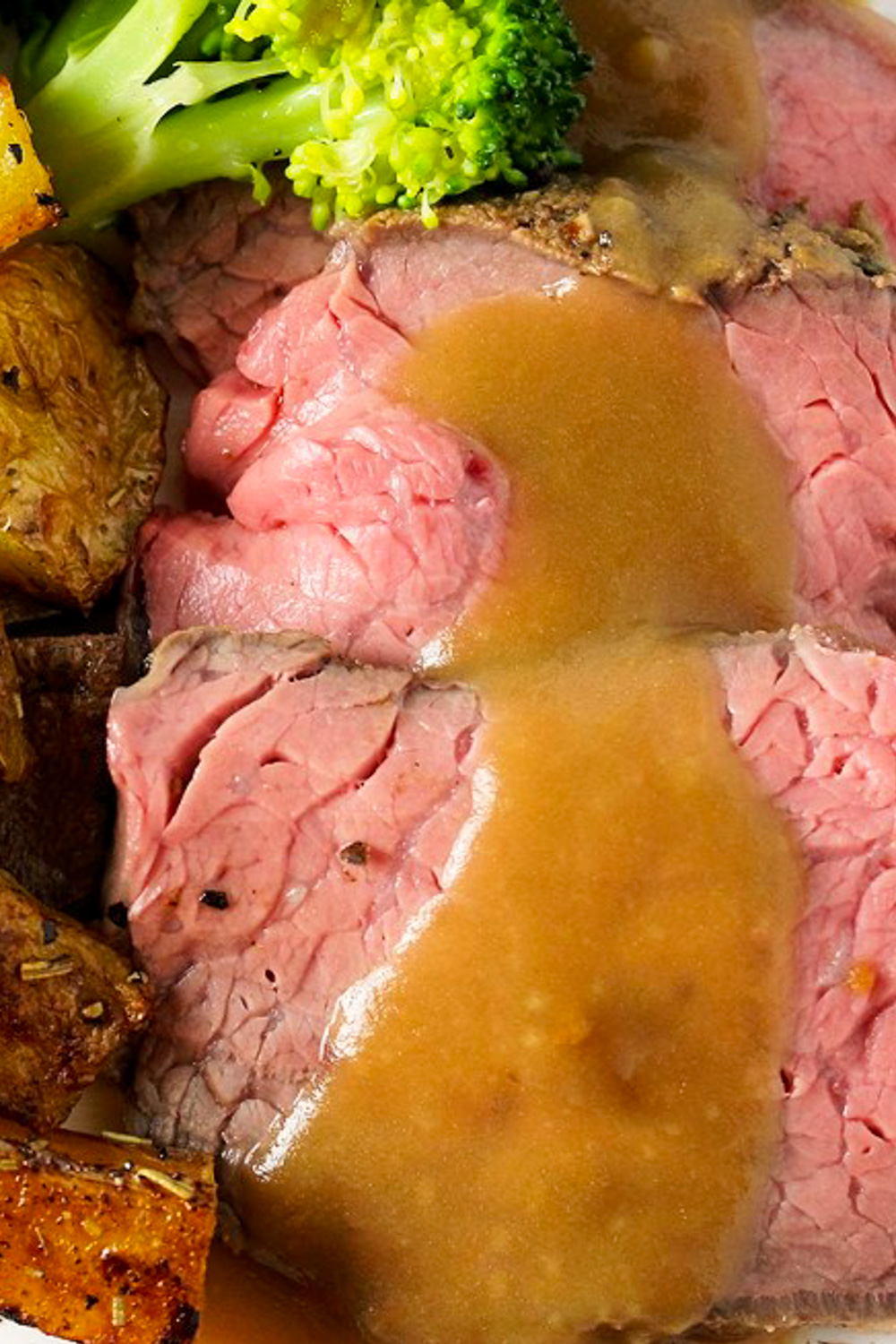 Other sous vide steak and beef recipes (less expensive)
If you don't have sous vide equipment, check out our classic prime rib (reverse sear) recipe – another fabulous way to make a prime rib roast.
If you like this recipe, please leave a 5 star rating 🌟🌟🌟🌟🌟in the recipe card below. And if you REALLY like it, consider a review in the comments. Thanks very much!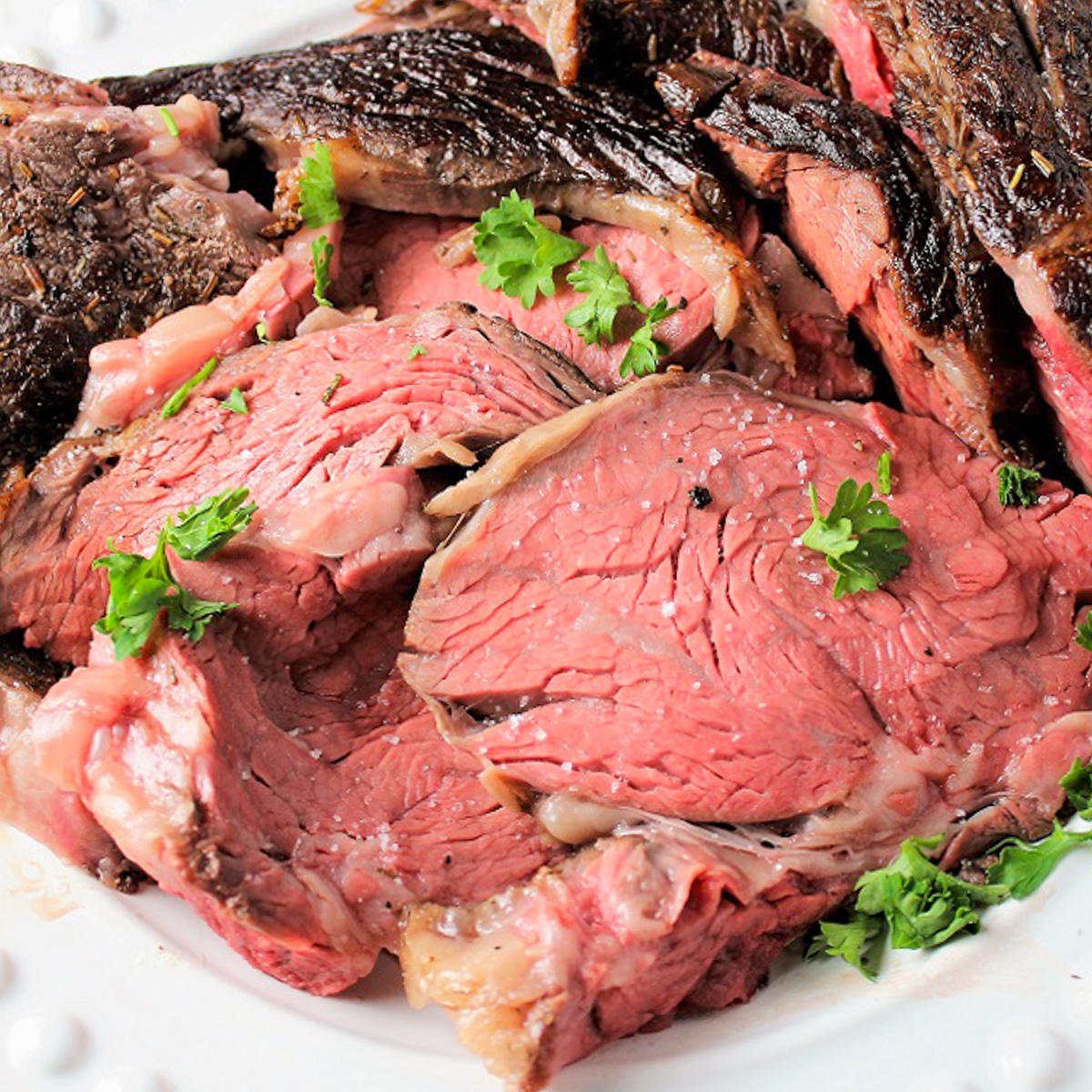 Print Recipe
Pin
Save Recipe
Recipe Saved!
Rate this recipe here
Sous Vide Prime Rib (for 3-4)
Sous vide prime rib achieves a perfect melt-in-your-mouth medium rare with no guessing and no constant temperature checking. Zero stress!
Servings:
3
generous servings (or 4 smaller ones)
Equipment
Sous Vide equipment

(immersion circulator or oven-type sous vide machine)
Ingredients
1

kg

or 2.2 lbs prime rib of beef, 1 bone, well marbled

(2 inches or 50 mm thick)

seasonings: salt, pepper, garlic powder, rosemary, thyme

canola or avocado oil

(or any high smoke point oil for final sear)

sea salt flakes for finishing (optional)
Instructions
HEAT WATER IN SOUS VIDE MACHINE/OVEN: Fill the sous vide container about 3/4 full with water. For medium rare cook, set the temperature to 132-134F/132-134F/55-56.7C . For medium cook, set to 140F/60C. The water will take about 15 minutes to reach the correct temperature (or less if you start with warm water and a smaller container).

SEASON MEAT: Generously sprinkle the roast with kosher salt, black pepper, thyme, dried rosemary and garlic powder on all sides. Feel free to use a sprig or two fresh herbs, but don't overdo the rosemary – it's quite powerful.

PREPARE MEAT FOR SOUS VIDE: If using a vacuum sealer, fold over a flap on one 1-quart vacuum seal bag. Place meat inside the bag and unfold the flap. Seal the bag (and vacuum out the air) as per machine instructions. (Note 1 for displacement method with ziploc bag).

SOUS VIDE MEAT: Plunge the bag into the pre-heated sous vide bath. It will sink to the bottom (or use water displacement method). Sous vide prime rib for 3 1/2 hours or maximum 6 hours if meat is 2-3 inches/5-7.6 cm. If meat is lesser quality e.g. choice or select, sous vide for 6-8 hours (the lower the quality, the longer the cook time needed). Note 2

SEAR OUTSIDE OF BEEF TO FINISH ROAST: Remove meat from sealed bag, reserving the juices accumulated in the bag for gravy if desired. Pat dry well with paper towels. Rub oil over meat and sprinkle again with kosher salt, pepper and garlic powder. Let rest for 10 minutes while you prepare your skillet (cast iron is best but any skillet will do). Heat skillet to high (9/10) with a teaspoon of oil. Open windows for smoke clearance. Sear beef about 1 minute on each side (including the edges) to achieve a deep brown color – maillard reaction. Remove from skillet and keep warm while you prepare a quick gravy if desired, Note 3. Slice the beef and serve with horseradish, horseradish cream or gravy. Sprinkle lightly with finishing sea salt if desired.
Recipe Notes
For displacement method using a ziploc bag: Instead of using a vacuum sealer with a vacuum sealer bag, you can insert the meat into a regular freezer ziploc bag. Lower bag with meat into sous vide water bath just until the seal is above the water line (this will push out the air). Then seal the bag. It should sink to the bottom if all the air is pushed out which you want. 
Timing for sous vide for larger roast: If you are doubling the recipe and using a 4-5 lb/1.8-2.27kg roast, you will need to increase the cook time to 5 – 10 hours as it will be much thicker. Time will depend on thickness, not weight.
Make gravy: Make gravy with the reserved juices from the bag used to sous vide the prime rib if you like. Or simply use the au jus from the bag. Here a recipe for a 5-minute beef gravy with no drippings. 
Make ahead: 

Make it 1-2 hours before serving

Since you have a large 1-2 hour window beyond the cooking time, there is plenty of time to make the prime rib ahead of serving time.
You can remove the beef from the water bath, pat it dry very well and re-season the meat, then let it sit there until you're ready to serve (within 60 minutes or so)
The last step of browning the meat should be done right before serving. This takes only a few minutes.

Storing leftovers: in the refrigerator for up to 3 days. Wrap meat tightly in plastic wrap then place it in an airtight container or ziplock bag.
To freeze – wrap properly then freeze for up to 3 months. Defrost in the fridge overnight.
To reheat: place the meat in an oven-proof dish, cover well and heat at a low temperature (325F/163C) for 10-15 minutes or until heated through. I sometimes add leftover gravy to the meat when reheating.
Nutrition values are estimates for very generous servings. 
Nutrition
Calories:
1021
kcal
|
Protein:
45
g
|
Fat:
92
g
|
Saturated Fat:
37
g
|
Cholesterol:
202
mg
|
Sodium:
924
mg
|
Potassium:
736
mg
|
Calcium:
25
mg
|
Iron:
5
mg
Tried this recipe?
We'd love you to rate it above under 'rate this recipe' or in the comment section below. Thanks!