Sous Vide Prime Rib (for 3-4)
Sous vide prime rib achieves a perfect melt-in-your-mouth medium rare with no guessing and no constant temperature checking. Zero stress!
If you're new to sous vide cooking:
Sous vide is a technique in which food is sealed in a bag, immersed in a water bath and cooked at a precise, consistent temperature. This cooks the food to the exact temperature (e.g. medium rare) that you choose. No worries about overcooking. Meats are amazingly tender. And the whole process is pretty much stress free.
As one of our first experiments with the sous vide method, I tried a sous vide prime rib. Cedarlane Culinary had loaned us a SousVide Supreme (an oven type sous vide). We have no affiliation with them, but we are grateful. I've been using it for years to make some amazing recipes, learning a great deal along the way. This recipe has been updated.
If you are interested in sous vide, check out our Best Sous Vide Recipes and Tips. It has a basic summary of sous vide tips, especially good for beginners. If you don't have sous vide equipment, check out our classic prime rib (reverse sear) recipe – another fabulous way to make a prime rib roast.
So do the results match the hype?
The upside of cooking prime rib sous vide
Prep
The prep is extremely easy. Just season the meat, vacuum seal it or place it in a ziploc bag, heat the water bath and plunge in the meat. For this recipe, I seared the meat for a few minutes in a hot pan to finish it off. Total hands on time is about 10 minutes start to finish.
Temperature
The sous vide rib roast cooks to the exact temperature you choose. Here's a chart I use to set the temperature and estimate timing.
Timing
You get a window of a 2-3 extra hours (!) for the prime rib where the meat will still be the exact medium rare and tender. No overcooking. How amazing is that. Honestly, this is a really nice stress reducer. Not having to check the meat constantly toward the end of roasting to ensure the proper done-ness is a huge plus.
Taste
The sous vide prime rib is delicious and melt in your mouth, not surprising with a top cut of beef. I used a simple salt, pepper, garlic powder, thyme and rosemary sprinkling for seasoning. It is important to be pretty aggressive with seasonings as they become diluted during the cooking process. I don't use raw garlic prior to the sous vide cooking which as I normally would when roasting. Some experts, not all, think it results in a harsh taste.
Bonus
The oven is free to use for side dishes like crispy oven roasted potatoes , oven roasted vegetables or roasted honey-thyme carrots. Needless to say, mashed potatoes or root vegetable mash are perfect sides for a prime rib roast too. And of course a delicious beef gravy without drippings.
The downside of sous vide prime rib
As noted, there is an extra step of searing the meat at the end to make it presentable. Since it only takes 2 minutes, no big deal.
There is no beef grease to collect at the bottom of the pan which I often use to make gravy or Yorkshire pudding 🙂 You can, however, add the juices collected in the bag to make a gravy.
The meat takes longer to cook sous vide. More time to make sides I say!
FAQ
Which type of meat should I buy?
Prime rib is an expensive cut of meat. If you're going to splurge, I suggest getting the best you can afford – and look for sales. Look for a well marbled Prime rib such as USDA Prime, AAA or Certified Angus Beef. USDA Choice is not quite as good as Prime, but it's still good, especially with this cooking method. All these cuts are more expensive, but worth it.
How many pounds do I need per person?
If the prime rib has only one bone, figure 3/4 lb (0.34kg) per person. If the meat has 2 or more bones, figure 1 lb (0.45kg) per person. These are good size portions.
Do I need to sous vide the prime rib longer if it's a larger 4-5 lb (1.8-2.3kg) roast?
Yes, most likely. It's not the weight that counts, it is the thickness. Assuming a 4-5 lb roast will be much thicker than a 2 lb/1kg roast, you will need to sous vide the roast for 5-10 hours.
Are there other options to searing the meat in a pan?
For a smaller portion of beef as used in this recipe (2.2 lbs/1kg), I suggest you stick to searing in a pan. If the meat is larger, you can instead blast it in a 475F/246C oven for 5 minutes or on the grill for a minute per side.
What are some good flavor accompaniments to the prime rib roast?
Although the flavor and tenderness of a quality prime rib shine through, sous vide meat can use an extra flavor boost. Sea salt, a herb crust, horseradish, horseradish cream and beef gravy (my fave) are a couple of good options.
Make Ahead
Since you have a large 2+ hour window beyond the cooking time, there is plenty of time to make the prime rib ahead of serving time. The last step of browning the meat should be done right before serving.
How to make sous vide prime rib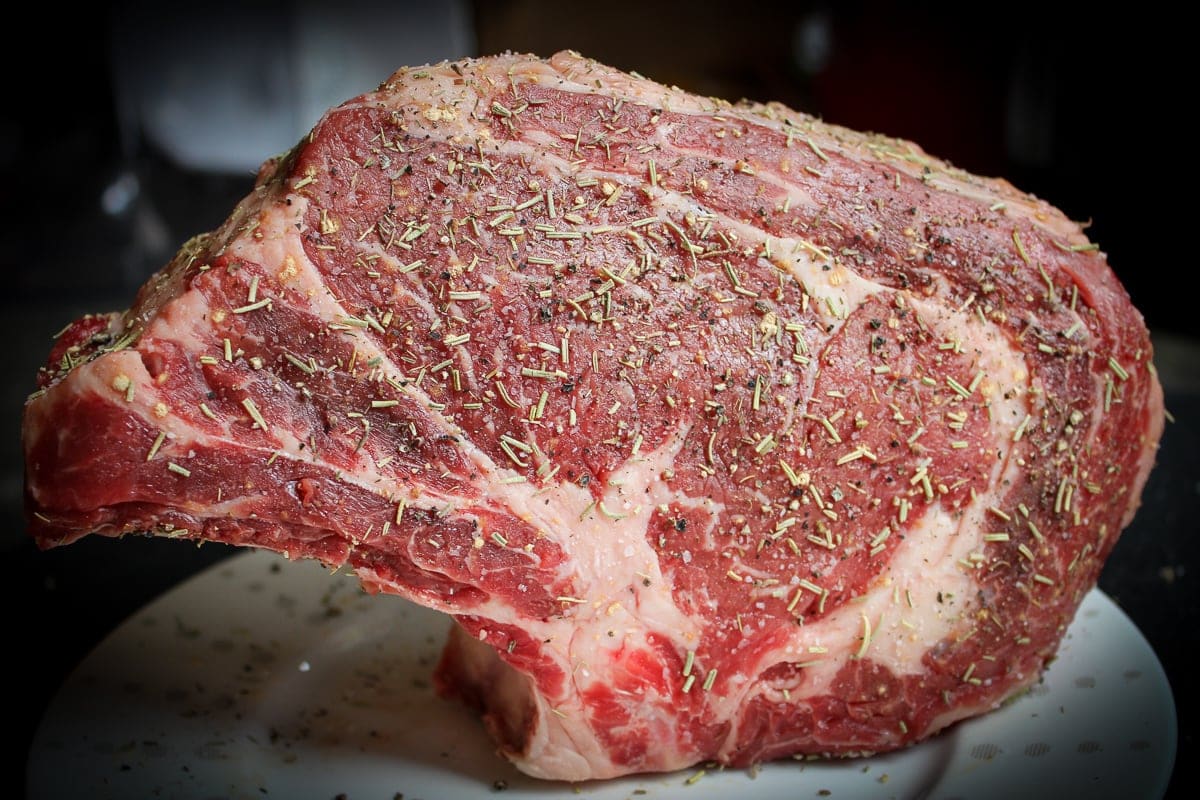 Sous Vide Prime Rib (for 3-4)
Sous vide prime rib achieves a perfect melt-in-your-mouth medium rare with no guessing and no constant temperature checking. Zero stress!
Servings:
3
generous servings (or 4 smaller ones)
Equipment
Sous vide equipment (immersion circulator or oven-type)
Ingredients
1

kg

or 2.2 lbs prime rib of beef, 1 bone, well marbled

(2 inches or 50 mm thick)

seasonings: salt, pepper, garlic powder, rosemary, thyme

canola or avocado oil

for brushing on meat and final sear

sea salt flakes for finishing (optional)
Instructions
HEAT WATER IN SOUS VIDE MACHINE/OVEN: Fill the sous vide container about 3/4 full with water. Set the temperature to 132-134F for medium rare or according to your manufacturer's temperature suggestions. For medium cook, set to 140F/60C. The water will take about 15 minutes to reach the correct temperature (or less if you start with warm water).

SEASON MEAT: Brush with oil. Generously sprinkle the roast with kosher salt, pepper, thyme, rosemary and garlic powder on all sides.

PREPARE MEAT FOR SOUS VIDE: If using a vacuum seal, fold over a flap on one 1-quart vacuum seal bag. Place meat inside the bag and unfold the flap. Plug in the vacuum sealer machine. Seal the bag (and vacuum out the air) as per machine instructions. (Note 1 for displacement method with ziploc).

SOUS VIDE MEAT: Plunge the bag into the pre-heated water bath. It will sink to the bottom. Cover the sous vide container. Walk away. Remove the bag of meat in 3 1/2 hours (or maximum 6 hours). If meat is lesser quality, sous vide for 4 – 4 1/2 hours. Note 2

SEAR OUTSIDE OF BEEF TO FINISH ROAST: Remove meat from sealed bag, reserving the juices accumulated in the bag for gravy if desired. Pat dry well with paper towels. Rub oil over meat and sprinkle again lightly with kosher salt. Let it sit for 10 minutes while you prepare your skillet (cast iron is best but any skillet will do). Heat skillet to high (8/10) with a teaspoon of oil. Sear beef about 1 minute on each side (and the top) to achieve a deep brown color.

Remove from skillet and keep warm while you prepare a quick gravy if desired, adding the reserved juices from the bag used to sous vide the prime rib. Slice the beef and serve with horseradish, horseradish cream or gravy. Sprinkle lightly with finishing sea salt if desired.
Recipe Notes
For displacement method using a ziploc bag: Instead of vacuum sealing, you can insert the meat into a ziploc bag. Lower bag with meat into sous vide water bath just until the seal is above the water line (this will push out the air). Then seal the bag. It should sink to the bottom if all the air is pushed out which you want. 
Timing for sous vide: If you are doubling the recipe and using a 4-5 lb/1.8-2.27kg roast, you will need to increase the cook time to 5 – 10 hours as it will be much thicker. 
Make ahead: Since you have a large 2+ hour window beyond the cooking time, there is plenty of time to make the prime rib ahead of serving time. The last step of browning the meat should be done right before serving. No need to rest the meat after the browning.
Nutrition values are estimates for very generous servings. 
Nutrition
Calories:
1021
kcal
|
Protein:
45
g
|
Fat:
92
g
|
Saturated Fat:
37
g
|
Cholesterol:
202
mg
|
Sodium:
924
mg
|
Potassium:
736
mg
|
Calcium:
25
mg
|
Iron:
5
mg
Tried this recipe?
We'd love you to rate it above under 'rate this recipe' or in the comment section below. Thanks!
Sous vide prime rib, originally published in Jan 2017, has been updated with new information and images.