Homemade Spaghetti Meat Sauce (the best)
I've been making this homemade spaghetti meat sauce for 40 years. No one will let me change a thing. It's thick, rich and delicious. And freezes perfectly, making it an easy weeknight meal.
This easy meat sauce was a regular in my home, then and now, and I love it. I know I'm biased, but whenever I serve it to company, it gets rave reviews.
The meat sauce is not fancy. It's hearty with a nice balance of meat and tomato sauce. Comfort food at its best.
Tips for Success
Just follow the recipe and I promise you'll be successful. The reason I think this spaghetti and meat sauce recipe works so well is because I use tomato sauce ( instead of diced tomatoes) and tomato paste. These two things help create a thicker richer sauce in less time. No thin-tasting watery sauce here.
One other tip. I often add a dab of yellow mustard. Anyone from Montreal out there who loved Piazza Tomasso's spaghetti as a kid will recognize the taste. Optional and delish!
FAQ
Is there a difference between meat sauce and bolognese?
For many, the terms meat sauce and bolognese are interchangeable, but there are subtle differences. They are both meat based. Bolognese has less tomatoes and typically includes wine and milk (in authentic versions).
Bolognese is most often served with a flatter wider pasta or in lasagna. Meat sauce is most often served over spaghetti.
Can I make a vegetarian version?
Yes. We have a wonderful vegetarian bolognese – a plant based version with Beyond Meat you can try. You will not be able to tell the difference between a traditional steaming bowl of pasta with meat sauce and our quicker Vegetarian Bolognese sauce made with plant-based meat in an Instant Pot (or stove top). Same taste, texture and deliciousness.
Can I use a pressure cooker or instant pot for this recipe?
Absolutely. The instructions are in the recipe notes.
Should I add meatballs?
You certainly can. Instructions are in the recipe notes. Alternatively, make a batch of our All-Purpose Italian Meatballs. This will stretch the amount of people you can serve with this recipe.
By the way, you will never find meatballs served with spaghetti and meat sauce in Italy. It's an American invention 🙂
How else can I use this simple meat sauce recipe?
Other than over spaghetti, you can use it to make make lasagna, sloppy Joe's, stuffed pasta shells and a meat version of our stove top tomato spinach pasta.
How much spaghetti do I need per serving?
A typical portion of spaghetti is 2 ounces (56 g) per person. A common box of spaghetti in North America will hold 375 g or 10-12 ounces. This will serve 4-5 portions.
What should I serve with spaghetti and meat sauce?
I stick to cliche. Caesar salad (or regular salad) with garlic bread on the side. And don't forget to pass the freshly grated Parmesan cheese.
If you are looking for a lighter dessert after this filling meal, try our no bake berry crumble, moist lemon blueberry loaf or a tropical fruit salad.
Tailor To Your Taste
Vegetables

: I keep the meat sauce easy and simple with just onions, but feel free to add chopped peppers, mushrooms, carrots and/or celery. The carrots and celery are typical in a bolognese.
Seasoning: Vary the amount of oregano, chili powder, chili flakes, salt and pepper to your liking. I suggest that you check the ingredients of the tomato sauce for added onions, garlic, basil, etc and adjust accordingly. You can also add a half cup wine after sauteeing the meat and onions.

Tomato Sauce

:

I prefer to use plain basic tomato sauce and add my own seasonings, but use what suits you or what you have on hand. Sometimes I use the White Linen Marinara sauce from Costco. A great basic tomato sauce.
Or if you're feeling energetic, try out our homemade San Marzano Tomato Sauce. Even better.
If you don't have tomato sauce, use diced tomatoes as a substitute. Omit the water or use just half. Alternatively, cook the sauce for an extra 30-50 minutes.
Shortcuts
If you are making a double batch (or even a single one) and too lazy to chop onions, use a food processor.
Many recipes simmer the sauce for 2-3 hours. For this one, an hour is plenty to achieve a thick robust meat sauce.
To cut the time in about half, make the meat sauce in an Instant Pot (instructions in recipe)
Make Ahead
This sauce will keep in the fridge for 5-6 days.
Freeze it in freezer ziplocs in portions or in a freezer friendly container for up to 4 months. The sauce can also be frozen mixed with cooked spaghetti.
How to make homemade spaghetti meat sauce
Gather your ingredients: ground beef, onions, garlic, tomato sauce, tomato paste, bay leaves, oregano, chili powder, salt, pepper, pinch of sugar. (Yellow mustard is optional).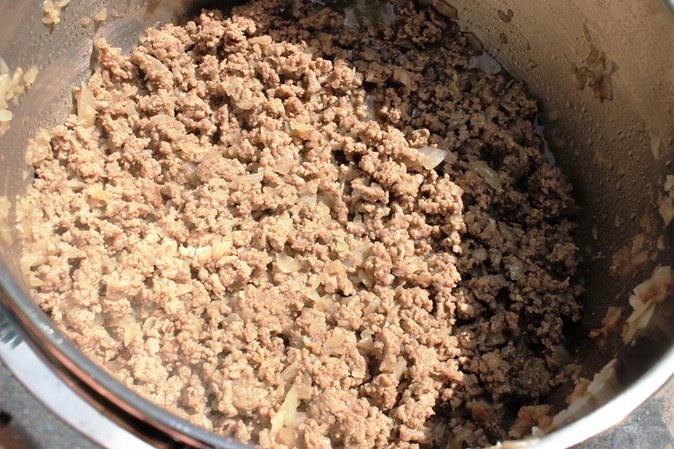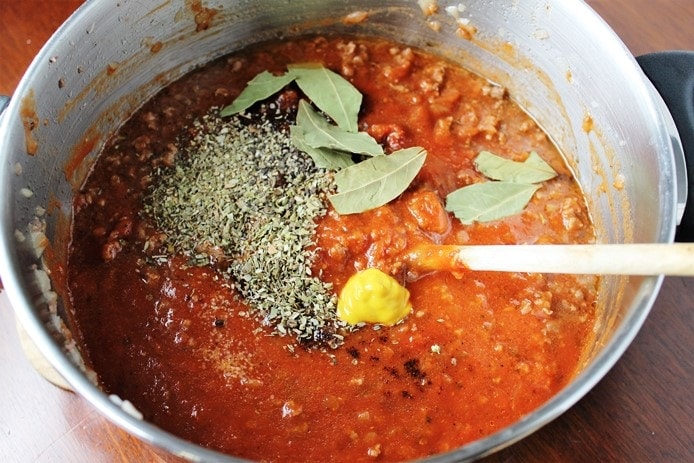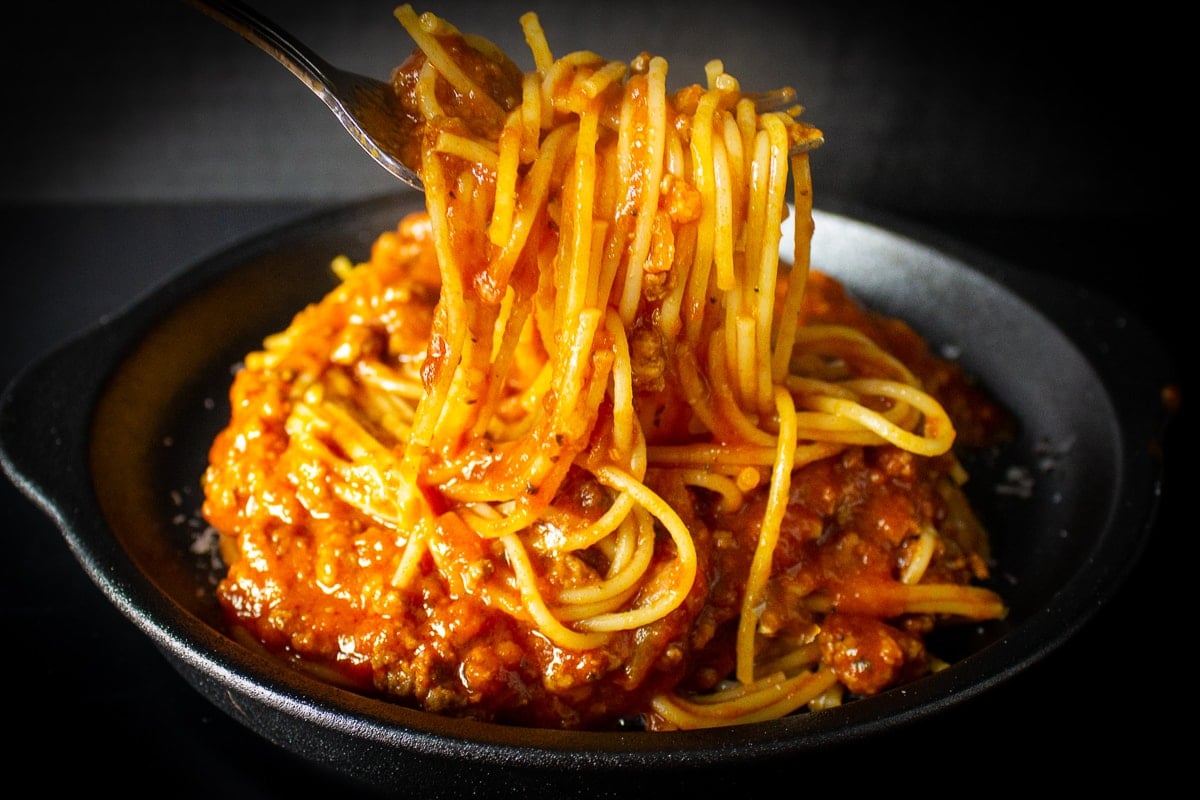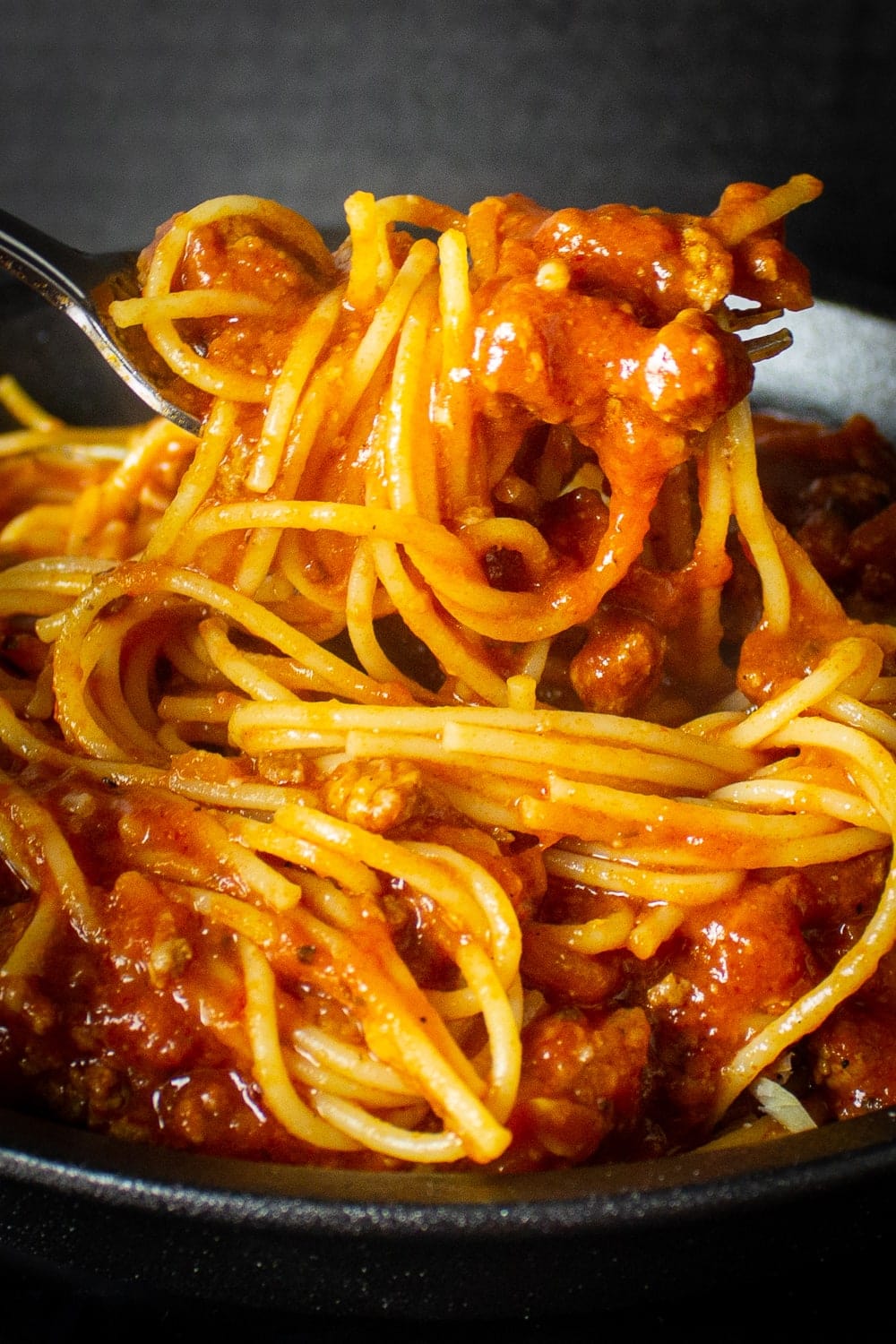 Homemade Spaghetti Meat Sauce (The Best)
I've been making this homemade spaghetti meat sauce for 40 years. No one will let me change a thing. It's thick, rich and delicious. And freezes perfectly, making it an easy weeknight meal. 
Servings:
5
(or 6 smaller portions)
Ingredients
2

teaspoon

oil

1

pound

ground beef

I use lean

1

medium onion, finely chopped

4

garlic cloves, chopped

(4 teaspoons)

1

28-ounce can (835 ml) or jar of plain tomato sauce

(regular or thick)

1

6-ounce can tomato paste

(12 tbsp or 3/4 cup)

1/2

teaspoon

prepared mustard (optional)

1 1/2

cups

water

Garnish: Fresh grated Parmesan cheese

optional
seasonings
1 1/2

tablespoon

oregano

1

teaspoon

chili powder

(or 1/2 tsp chili flakes)

1

teaspoon

sugar

(or more to taste)

1

teaspoon

each, salt and pepper

3

bay leaves
Instructions
SAUTE GROUND BEEF AND ONIONS: Heat oil on medium high in a medium-large pot and saute onions for 3 minutes until translucent. Add ground beef and separate with a wooden spoon. Saute meat for 3-4 minutes until all pink is gone. Add garlic and saute 1 minute.

SIMMER MEAT SAUCE: Add tomato sauce, tomato paste, mustard (if using) and all seasonings. Add 1 1/2 cups water. Stir to combine. Simmer over low heat (about 3 out of 10) for 1 hour partially covered, with the lid slightly ajar. Stir half way through to make sure sauce is not burning on bottom of pot. Taste and adjust seasonings. If sauce is too thick, add a splash of water.

TO SERVE WITH SPAGHETTI: Boil spaghetti in salted water according to package directions. A typical box of 375 g (10-12 oz) will serve 4-6 people. Drain. Place portions of spaghetti on plates or bowls and generously ladle on the sauce. Or toss spaghetti with meat sauce and serve in a large family-sized bowl. Pass freshly grated Parmesan cheese as a topping.
Notes
To add meatballs when making the sauce: Buy an extra half pound of ground beef and mix it with 1/2 an egg, 1/4 cup bread crumbs, salt, pepper and a bit of onion powder.  I form the mixture into little 1 1/2 inch meatballs and drop them into the simmering sauce.  Then I stir and let them cook along with the sauce.
How to make meat sauce in an instant pot: Saute beef in oil until browned, then add onions and saute until translucent (another 3 minutes). Turn off. Add in the rest of the ingredients. Set Pressure to 15 minutes on high. When finished, do a quick release. If not thick enough, turn on saute and cook it uncovered for 5-10 minutes. 
To Make Ahead or Freeze: The sauce will keep in the fridge for 5-6 days. Freeze it in freezer ziploc bags in portions or in a freezer friendly container for up to 4 months. The sauce can also be frozen combined with the spaghetti. 
Nutrition values are estimates and do not include the spaghetti or optional Parmesan cheese. The sauce and spaghetti combined will be approximately 560 calories. The sauce alone is about 280 calories. 
Nutrition
Nutrition Facts
Homemade Spaghetti Meat Sauce (The Best)
Amount Per Serving
Calories 281
Calories from Fat 162
% Daily Value*
Fat 18g28%
Cholesterol 64mg21%
Sodium 848mg37%
Potassium 696mg20%
Carbohydrates 12g4%
Protein 18g36%
Vitamin A 723IU14%
Vitamin C 11mg13%
Calcium 57mg6%
Iron 3mg17%
* Percent Daily Values are based on a 2000 calorie diet.
Tried this recipe?
We'd love you to rate it above under 'rate this recipe' or in the comment section below. Thanks!
This spaghetti meat sauce recipe, originally published in 2017 as been updated with new information, picture edits and instant pot instructions.