Parmesan Roasted Cauliflower
Weeknight or company fare, Parmesan Roasted Cauliflower is just a simple, delicious vegetable side dish with lots of crispy caramelized bits.
You can even turn it into a one pan dinner.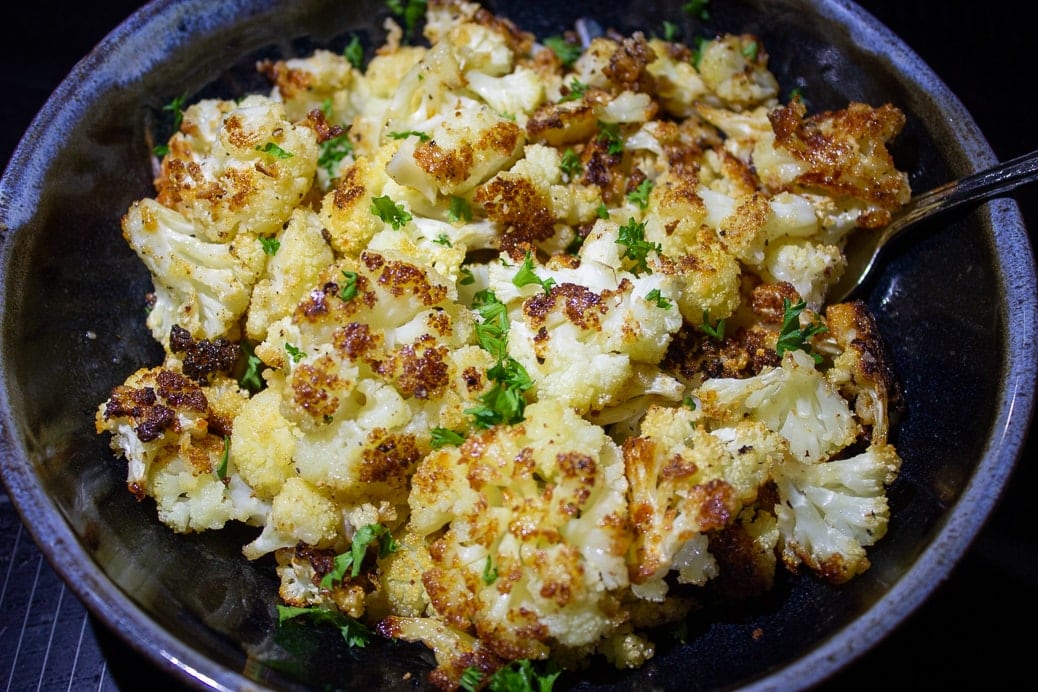 How is this recipe different from all the other Parmesan roasted cauliflower recipes?
Firstly, I combine all the ingredients and roast everything together in one shot. Some recipes have you roasting the cauliflower in two parts - initially without the cheese, then with it.
Secondly, I use a hot 425F/218C oven to make things go faster and hasten the browning.
And thirdly, I cut the florets fairly small to get more crispy browned edges.
That's pretty much it. Otherwise most of the recipes are pretty similar with a few variations on the amount of cheese used.
Not a cauliflower fan? Then check out our recipe on how to roast zucchini which uses a similar preparation.
Serving suggestions
If you want to turn this easy cauliflower recipe into a one pan dinner, try combining it with one of our roasted salmon recipes cooked at the same temperature. Using a large pan, give the cauliflower a 15-20 minute head start in the oven. Then add the salmon to the pan in the last 10-12 minutes to complete your meal.
If you like the idea of a one pan salmon and Parmesan roasted cauliflower, here are a few suggestions for salmon recipes that will pair really well: Maple Balsamic Pecan-Crusted Salmon, Maple Lime Salmon, Sweet and Spicy Salmon, and Salmon Stuffed With Lemon Ricotta.
Needless to say, the Parmesan cauliflower also goes well with chicken, pork, beef and veggie burgers.
Tailor To Your Taste
Try one of these variations:
Sprinkle lemon zest on the cauliflower just before serving.
Add a handful of fresh chopped herbs after roasting. Good options are thyme, chives, parsley and/or basil.
Try Brussel sprouts instead of cauliflower. Cut them in half (except for small ones), shed the outer leaves, then toss with the cheese mixture and roast.
Shortcuts
Substitute minced garlic in a jar or frozen cubes for the fresh garlic. Or, use ¼ teaspoon garlic powder.
Use pre-grated Parmesan cheese.
Smaller florets will cook faster.
Make Ahead
Make the whole dish and warm it before serving or
Under cook the cauliflower then complete the roasting just before serving.
Other cauliflower recipes you might like
Parmesan Roasted Cauliflower
Weeknight or company fare, Parmesan Roasted Cauliflower is just a simple delicious vegetable side dish with lots of crispy caramelized bits. 
Ingredients
1

medium head cauliflower

¼

cup

good olive oil

(see tips on "how to buy" in Cooking Oils: The Bare Essentials)

⅓

cup

grated Parmesan cheese (about 1 ounce)

or use ½ cup if you like

2

cloves garlic, minced

(2 teaspoons)

½

teaspoon

kosher salt

or more to taste

¼

teaspoon

freshly ground pepper

or more to taste

Garnish: 2-3 tablespoon chopped parsley; extra Parmesan (optional)
Instructions
HEAT OVEN to 425F. Line a pan with foil (for easy clean up) and spray with oil.

CUT CAULIFLOWER: Remove leaves, core and larger stems. Cut cauliflower into florets, If you cut them a bit smaller, they will cook faster, but don't cut them too small or they will dry out before they get nicely caramelized. Rinse florets in a colander under cool water. Pat dry with paper or cloth towel. Set aside.

SEASON CAULIFLOWER: In a medium bowl, mix together oil, Parmesan, garlic, salt and pepper. Add florets and toss to coat evenly.

ROAST AND SERVE: Lay cauliflower florets on pan. Spread them out in a single layer. Roast for 20-30 minutes (depending on size of florets), flipping them once or twice to caramelize/brown all over. Transfer to serving bowl. Garnish with parsley and serve immediately with extra Parmesan if desired.
Notes
Make Ahead: Two options: make the whole dish and warm it in a 350F oven for 5-6 minutes; or under-roast the cauliflower by 10 minutes, then finish roasting for the last 10 minutes before serving.
Nutrition
Calories:
194
kcal
|
Carbohydrates:
8
g
|
Protein:
6
g
|
Fat:
16
g
|
Saturated Fat:
3
g
|
Cholesterol:
7
mg
|
Sodium:
462
mg
|
Potassium:
440
mg
|
Fiber:
3
g
|
Sugar:
3
g
|
Vitamin A:
72
IU
|
Vitamin C:
70
mg
|
Calcium:
127
mg
|
Iron:
1
mg
Tried this recipe?
We'd love you to rate it above under 'rate this recipe' or in the comment section below. Thanks!