Best Seasoned Cauliflower Rice with Lemon & Herbs
Light, fluffy seasoned cauliflower rice with lemon and herbs is a delicious, quick and healthy side dish with WAY less calories, carbs and cooking time than traditional sides.
I often throw in some butternut squash for added nutrition and an extra pop of color.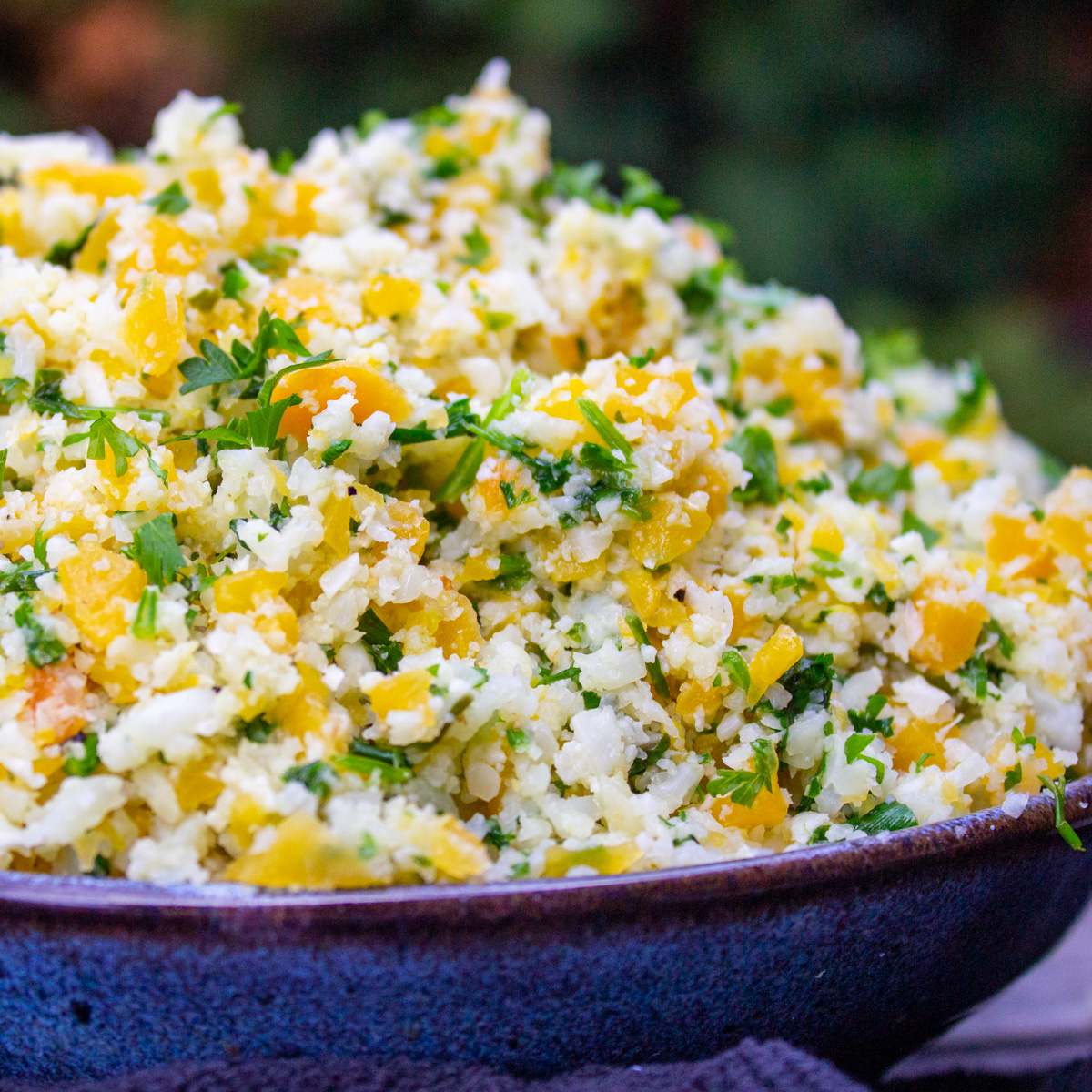 I love beautiful colors on a plate and this cauliflower rice recipe hits the mark.
You can certainly leave out the squash if you don't have any on hand. I go the lazy route and buy the squash peeled and cubed – a very convenient splurge.
A food processor is ideal to turn whole cauliflower into tiny 'rice' pellets. Some use the grater blade attachment. I just use the regular chopping blade. If you don't have a processor, a box grater will work fine, although it does take a bit more elbow grease.
Consider the simple ingredients used in the recipe as a guideline. A bit more or less of an ingredient won't matter and there are lots of variations and substitutions to try. Everything can be found in your local grocery store.
What you can expect…
A healthy alternative to traditional rice. Cauliflower is a powerhouse of nutrients which makes it a healthier option than white rice or brown rice.
A versatile side dish that you can tweak using the herbs, veggies and spices you prefer. And ready in just 15 minutes (or less with shortcuts).
Ingredients – tailored to your taste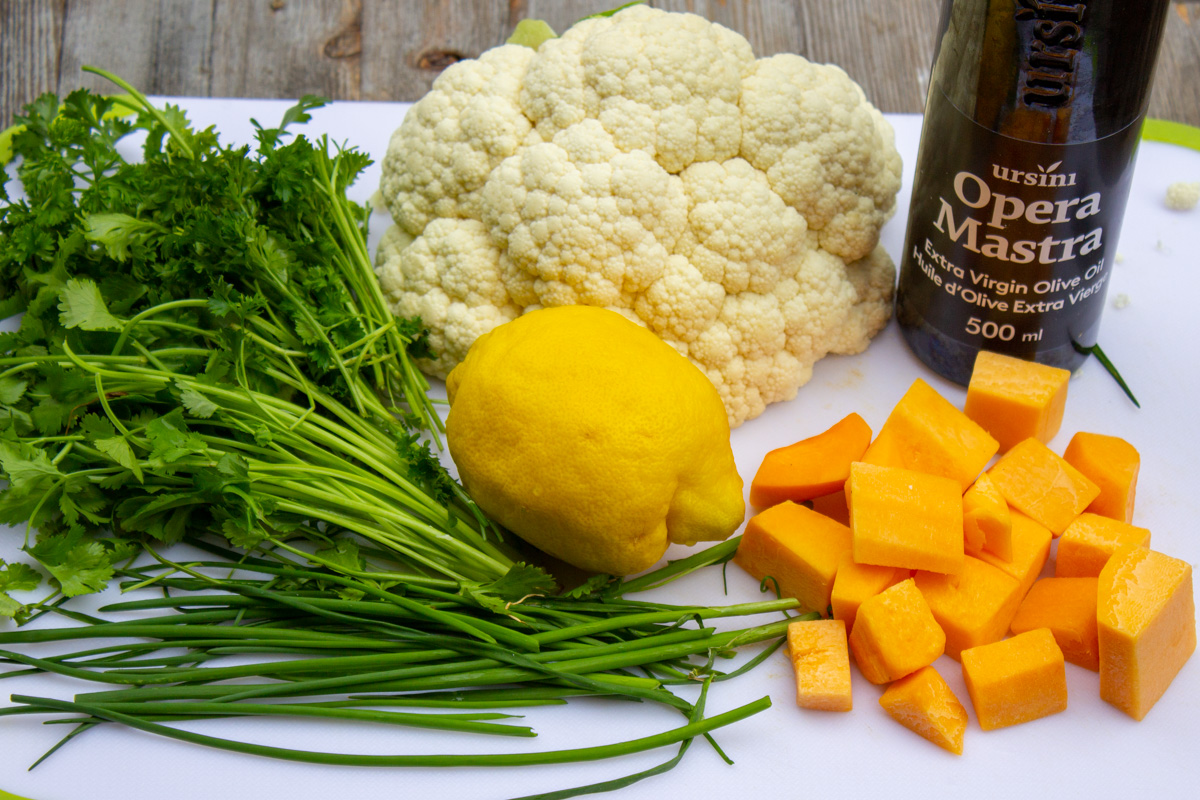 Cauliflower: Use a medium fresh head of cauliflower. You can use a large head if you're feeding a crowd – just increase the other ingredients a bit. Check out the great shortcut below.
Butternut squash: I like to add butternut squash for the earthy flavor, color and extra nutrition, but it's optional.
Variations: Instead of squash, try peas, corn, matchstick carrots, finely diced bell peppers or chopped baby spinach.
Seasonings: Lemon, herbs, salt and pepper give the cauliflower a simple, yet delicious flavor. I also add a little butter for richness, but oil is fine too.
Variations: Play around with the seasonings and aromatics by adding minced garlic, chopped spring onions, ginger, chili powder, curry powder or red pepper flakes for heat. You can replace the lemon with lime juice and lime zest.
Herbs: I typically use fresh parsley, fresh cilantro and chives.
Substitutes: Other good herb options are basil, oregano and dill. Here's an article on how to use and store herbs to last weeks. You can substitute the fresh herbs with about 1/3 the amount of dried herbs. Or use frozen herb cubes (best invention ever).
Optional toppings: This easy recipe is great on its own, but feel free to experiment with a topping or two. Here are a couple of suggestions.
spicy sweet chili sauce
parmesan cheese
chopped tomatoes
olive oil and olives
toasted chopped nuts
a drizzle of BBQ sauce
peanut sauce
Step by step instructions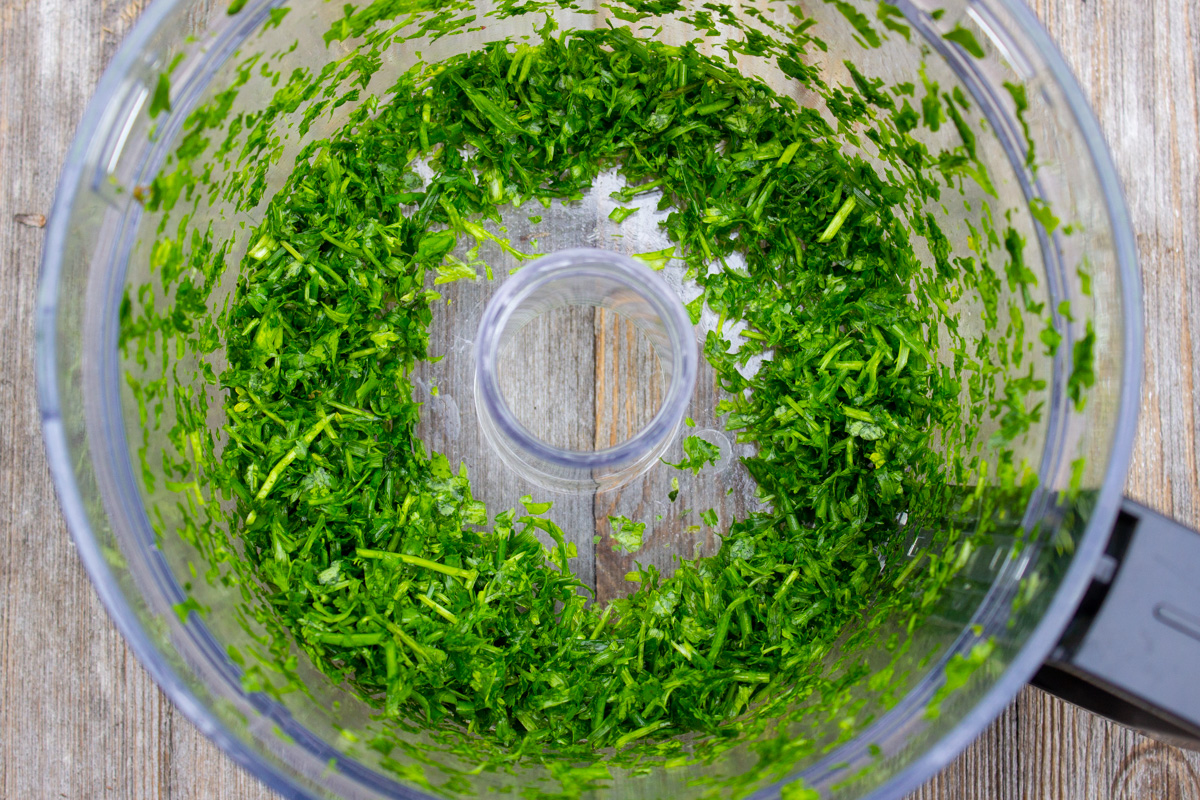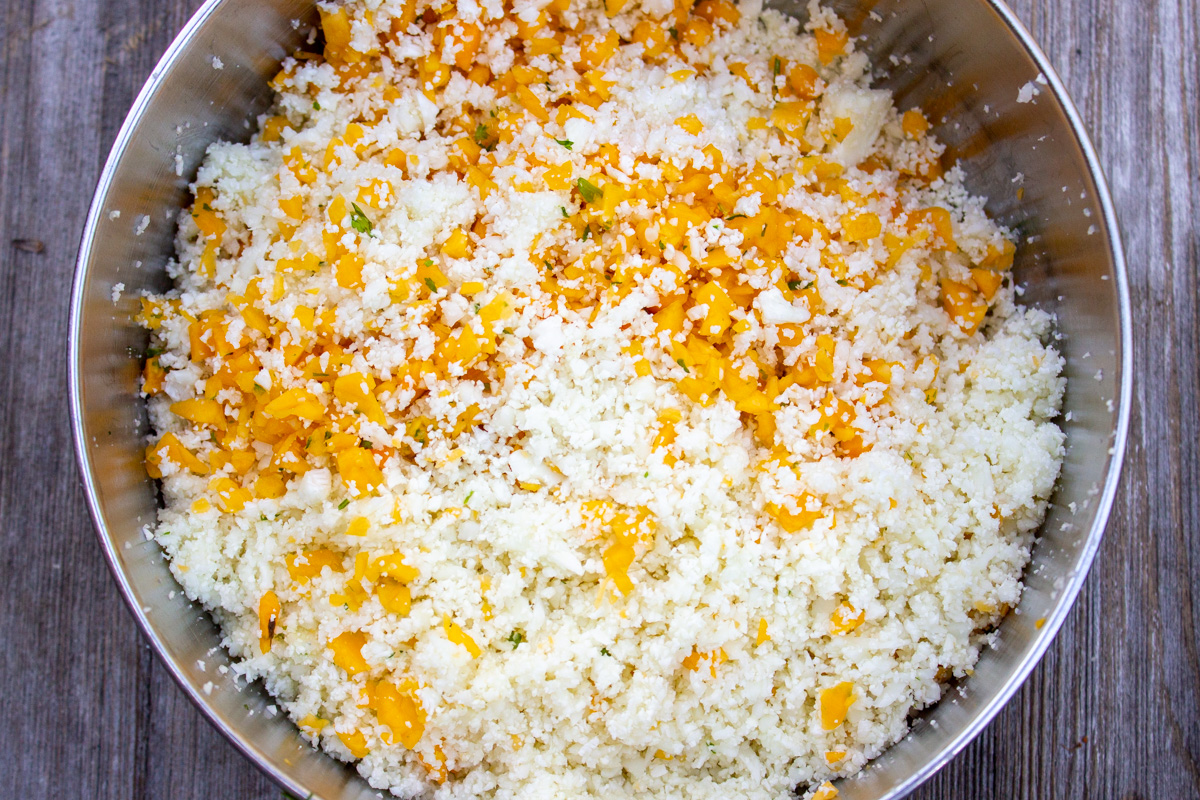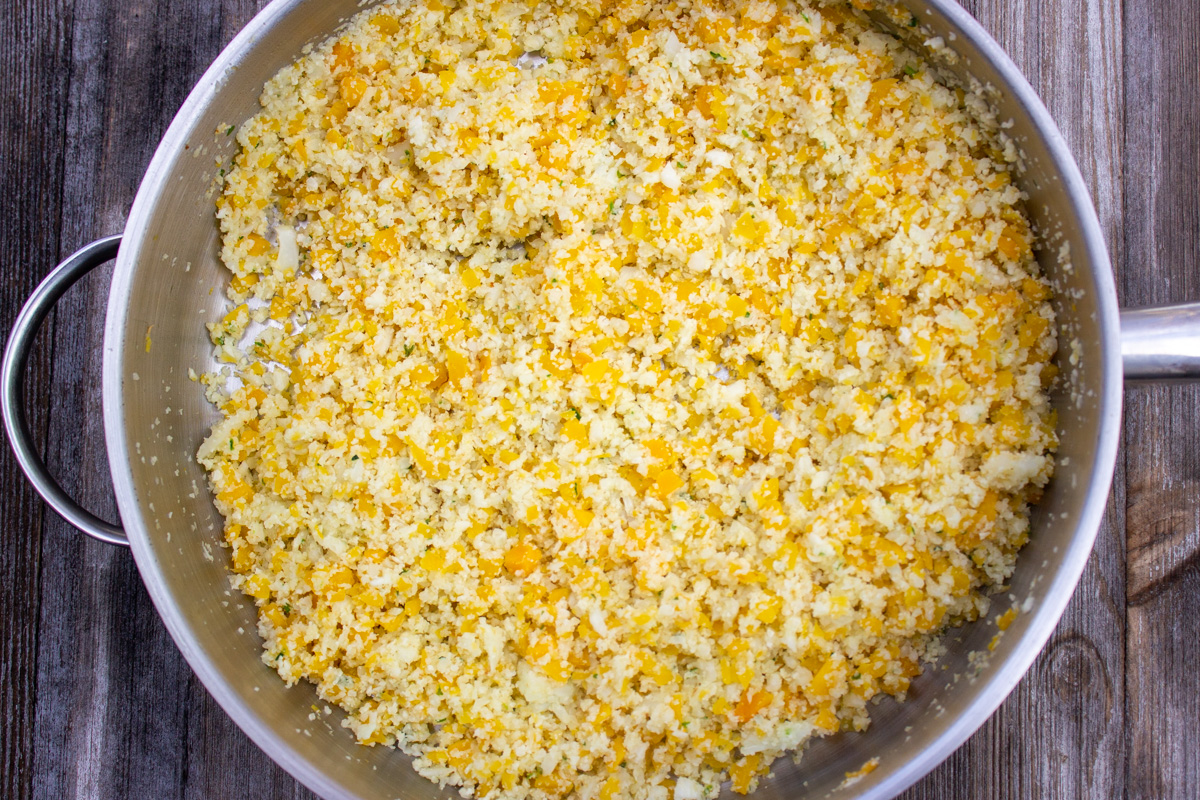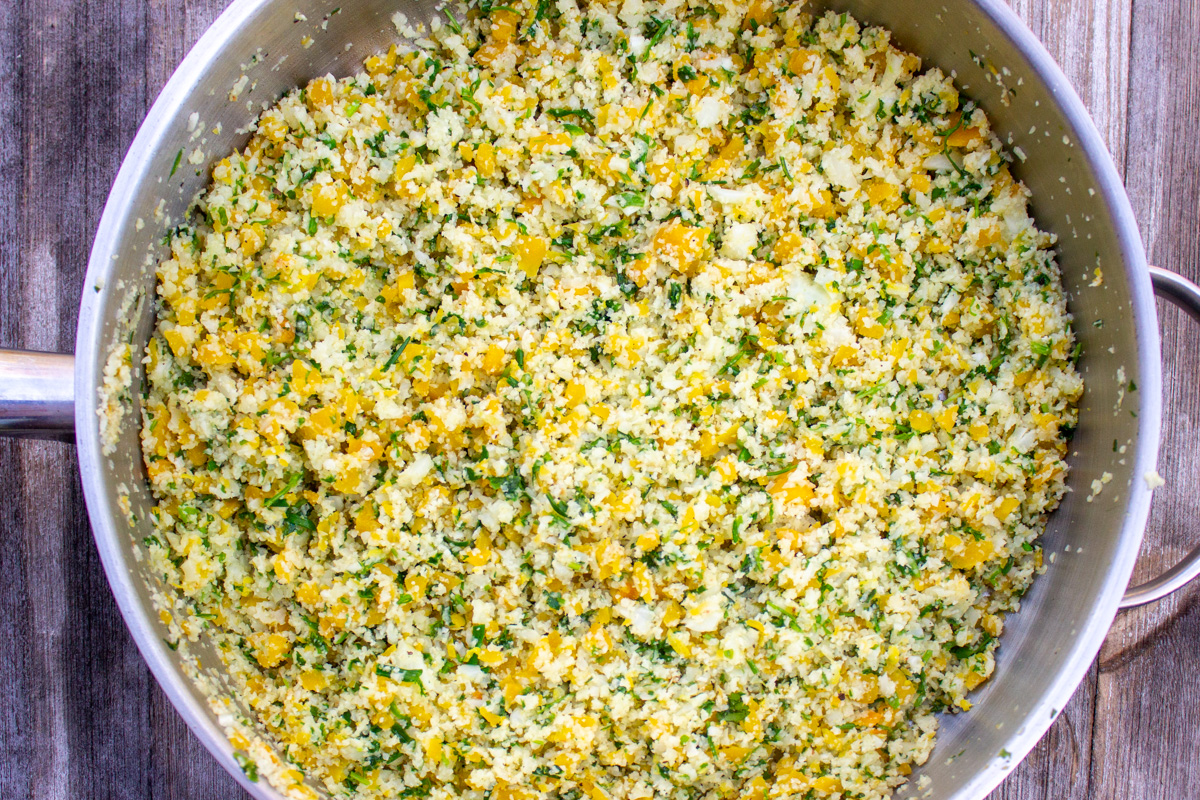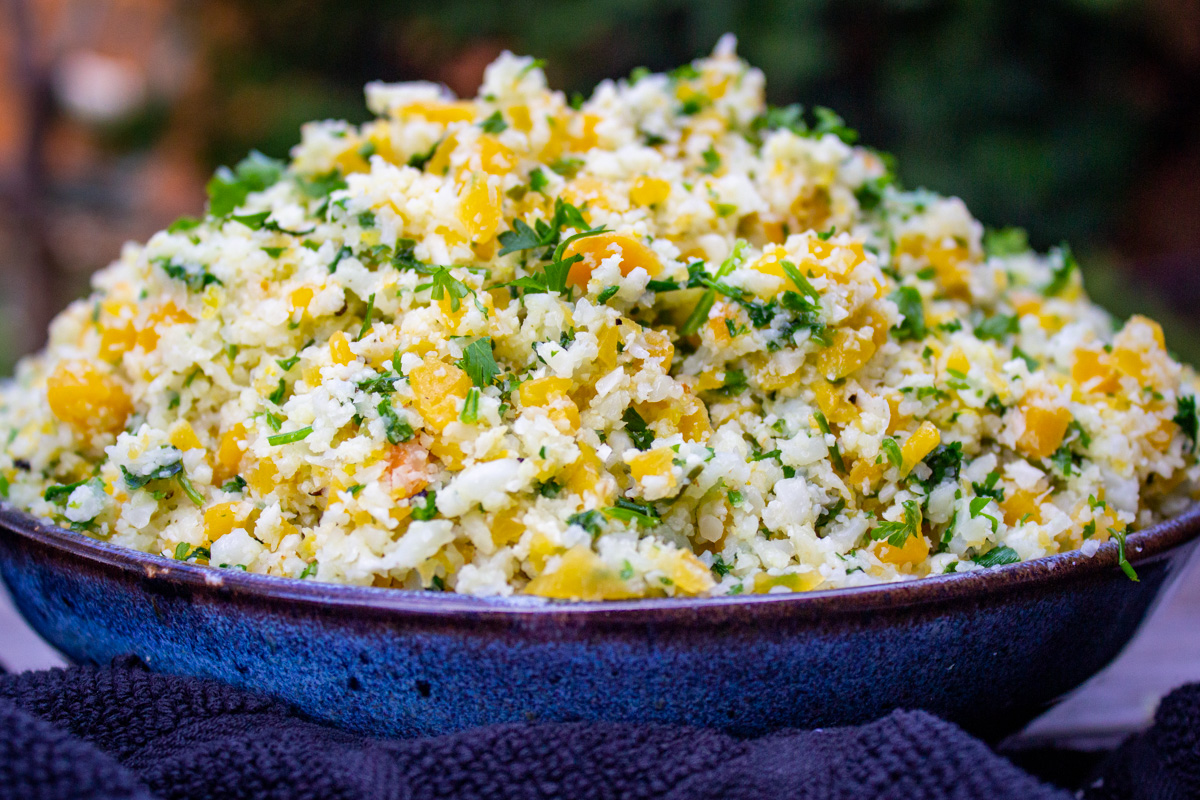 Tip
The only part of the recipe that is not forgiving is the cook time. If you cook the cauliflower rice too long, it will turn mushy. In fact, it's best to err on the side of under cooking. Tender with a bite is what you're looking for.
Recipe FAQs
How does cauliflower rice taste?
Though it's often used as a rice substitute for a low carb or keto diet, cauliflower doesn't actually taste like real rice. It has a neutral, slightly nutty, veggie flavor that takes on the flavors of the seasonings added.
Can I use frozen cauliflower rice?
Freshly grated or pre-riced cauliflower works best, but frozen will work too. For best results, thaw it, then squeeze out the excess moisture before adding it to your skillet.
Is cauliflower healthy?
Yes, cauliflower is very healthy. According to Healthline, it's a good source of fiber, vitamins, antioxidants, and minerals. It contains vitamin C, vitamin K, folate, and potassium. And it's low in calories, carbohydrates and fat.
Shortcuts
This seasoned cauliflower rice recipe only takes 15 minutes, but you can cut the time and effort down even further (no judging – I often do both).
Buy pre-riced cauliflower. Many grocery stores sell cauliflower that has already be processed into 'rice' pellets – fresh or frozen. You'll need about 22 ounces (or about 16 ounces of cauliflower rice and 6-8 ounces butternut squash).
Buy pre-peeled cubed butternut squash iff you're combining the cauliflower with butternut squash. You can, of course leave out the squash altogether.
Make Ahead
Uncooked riced cauliflower can be frozen for up to a month.
Cooked cauliflower can be kept in the fridge for 2-3 days.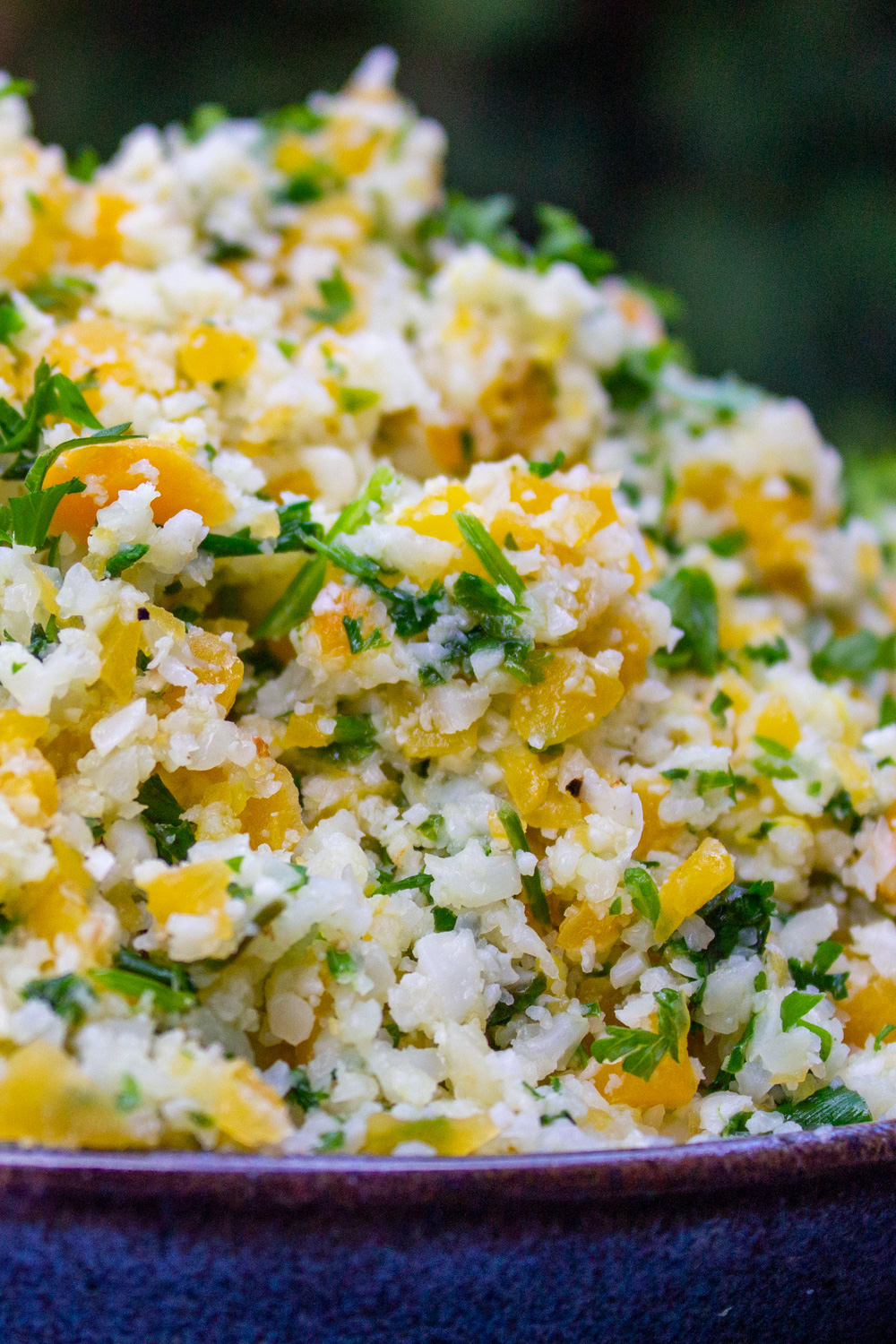 More cauliflower recipes
If you like this recipe, please leave a 5 star rating 🌟🌟🌟🌟🌟in the recipe card below. And if you REALLY like it, consider a review in the comments. Thanks very much!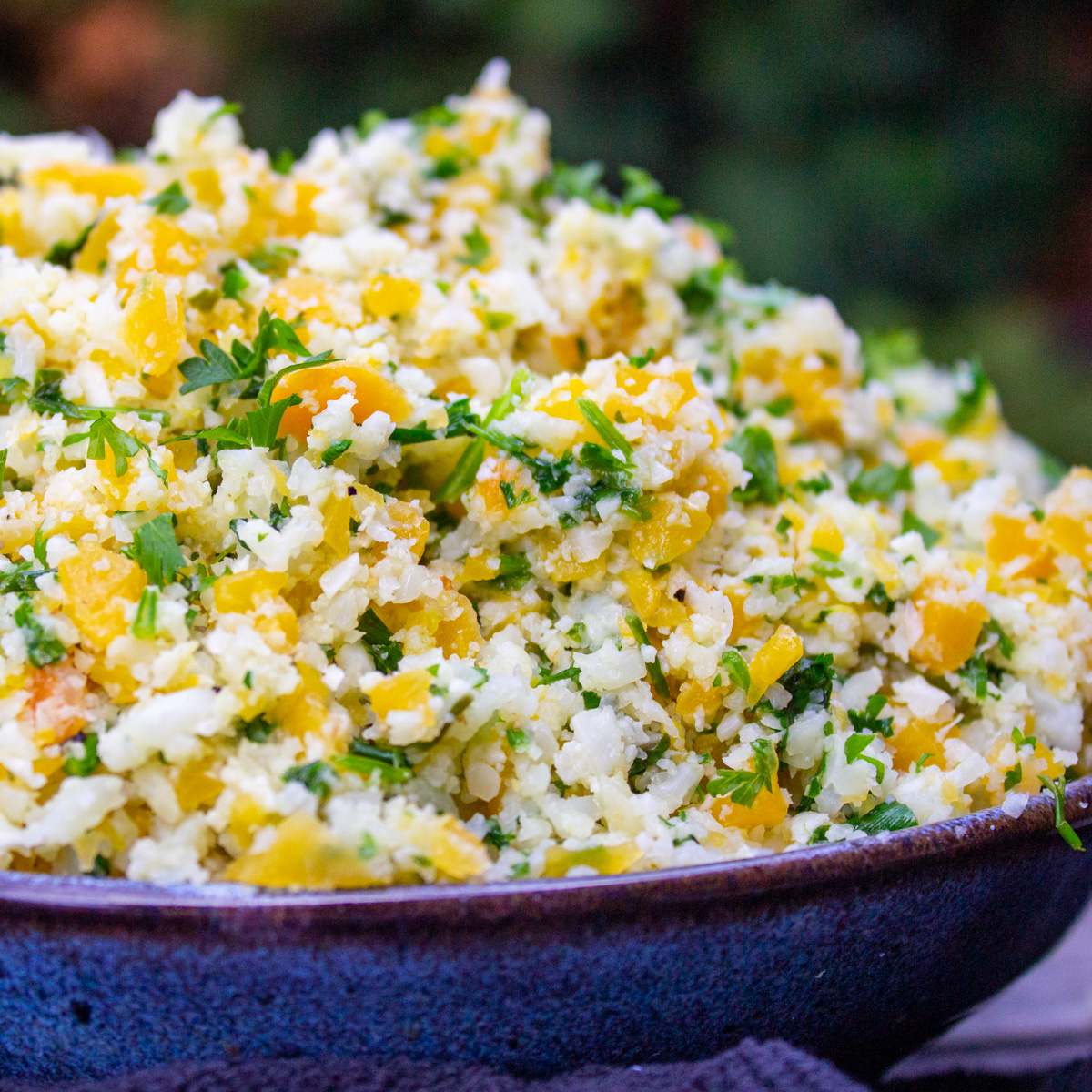 Print Recipe
Pin
Save Recipe
Recipe Saved!
Rate this recipe here
Seasoned Cauliflower Rice With Lemon and Herbs
Light, fluffy seasoned cauliflower rice with lemon and herbs is a delicious, quick and healthy side dish with WAY less calories, carbs and cooking time than traditional sides.
Servings:
4
(one cup portions)
Equipment
food processor

(or box grater)
Ingredients
2

tablespoon

butter or olive oil

2

pounds

cauliflower (1 medium) Note 1

this will make ~ 5 1/2 cups riced cauliflower

1

cup

chopped fresh herbs Note 2

any combination of chives, parsley, basil, cilantro, dill, green onion

1

lemon

zest plus 2 tbsp lemon juice

1

tablespoon

butter

(optional)

1

teaspoon

kosher salt

or to taste

1/2

teaspoon

ground black pepper

or to taste
Instructions
RICE CAULIFLOWER (and BUTTERNUT SQUASH if using): Wash cauliflower and pat dry well. Cut into 2 inch/5 cm chunks. You will need to process cauliflower (and squash) in 2-3 batches. Place chunks in bowl with regular chopping blade. Pulse until cauliflower is small rice size. Repeat until all cauliflower (and butternut squash) is riced. Note 3. If riced cauliflower feels moist, pat dry with paper towels to remove as much water as possible. I almost never have to do this.

COOK CAULIFLOWER/SQUASH RICE: Heat butter or oil in large skillet to medium heat. Add cauliflower (and squash) 'rice'. Stir for 1 minute. Cover and cook for 4 minutes, stirring occasionally, or until veggies are tender but not mushy.

FINISH 'RICE': Add herbs, lemon zest, lemon juice, salt, pepper and butter (if using). Stir to combine well for 1 minute. Taste and adjust seasonings to your liking. Serve immediately. Drizzle a topping of your choice if desired. Note 4.
Recipe Notes
For a combo of cauliflower and butternut squash 'rice': For great color and additional fiber, vitamin A and C, you can replace 1/2 lb/230 kg of the cauliflower with 1/2 lb/230 kg (~2 cups) peeled cubed butternut squash. Rice it in food processor as you would the cauliflower. 

Variations:

Instead of squash, try peas, corn, matchstick carrots, finely diced bell peppers or chopped baby spinach

Herbs: Fresh is best, but dried will work well. Or partly fresh, partly dried. Figure about 1/3 the amount of dried herbs to replace fresh. Add, taste, then add some more to achieve the seasoning you like. Frozen herb cubes are an excellent substitution here. Typically 1 cube = 1 teaspoon fresh. Chop the herbs in a food processor or by hand. 
If you don't have a processor: use a box cheese grater. G

rate large chunks of cauliflower on medium holes of the grater.

Toppings: Serve the cauliflower rice as you would any rice or drizzle on a topping such as: spicy sweet chili sauce; chopped tomatoes, olive oil and olives; toasted chopped nuts; peanut sauce.
Make Ahead:

Uncooked riced cauliflower can be frozen for up to a month in a sealed ziploc or container. (Don't rice it and keep it in the fridge – it gets funky).
Cooked cauliflower can be kept in the fridge in a sealed container for 2-3 days. It doesn't freeze well once cooked. 
Nutrition value estimates are for one portion – approximately 1 cup/110 grams of seasoned cauliflower rice.  
Nutrition
Calories:
132
kcal
|
Carbohydrates:
15
g
|
Protein:
5
g
|
Fat:
8
g
|
Saturated Fat:
1
g
|
Sodium:
659
mg
|
Potassium:
798
mg
|
Fiber:
6
g
|
Sugar:
5
g
|
Vitamin A:
1264
IU
|
Vitamin C:
144
mg
|
Calcium:
78
mg
|
Iron:
2
mg
Tried this recipe?
We'd love you to rate it above under 'rate this recipe' or in the comment section below. Thanks!