Avocado Appetizers on Crostini with Pizzazz
Tasty, popular avocado appetizers on crostini will be a great addition to your repertoire. We top them with fresh tomatoes and a balsamic drizzle to boost flavor and pizzazz.
You will love the perfect combination of avocado, lime, tomatoes and balsamic. Simple low-fuss vegetarian appetizers or brunch fare in just 12 minutes.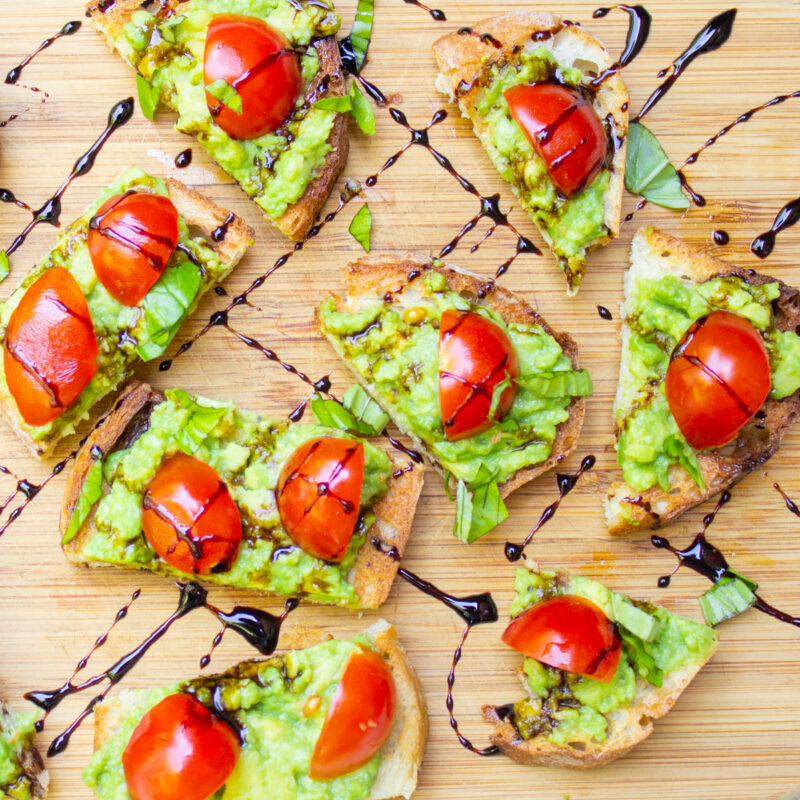 Crostini – "little toasts" in Italian – are a great base for these appetizers. They are semi-crisp with a hint of garlic and easy to manage in one or two bites.
Mash the fresh avocado with lime, salt and pepper to make a basic guacamole. Spread the mixture on crostini, then add your tomatoes and drizzle. Serve them on a cutting board, rustic style as a perfect appetizer for your next party or gathering. Nothing fancy, but very tasty.
What to expect
An easy recipe for avocado crostini that uses a just a few simple ingredients and takes less then 15 minutes to prepare.
Great appetizer or a light lunch when you're short on time.
Basically another awesome avocado toast idea but with lots of delicious variations to make it your own.
Ingredients – tailored to your taste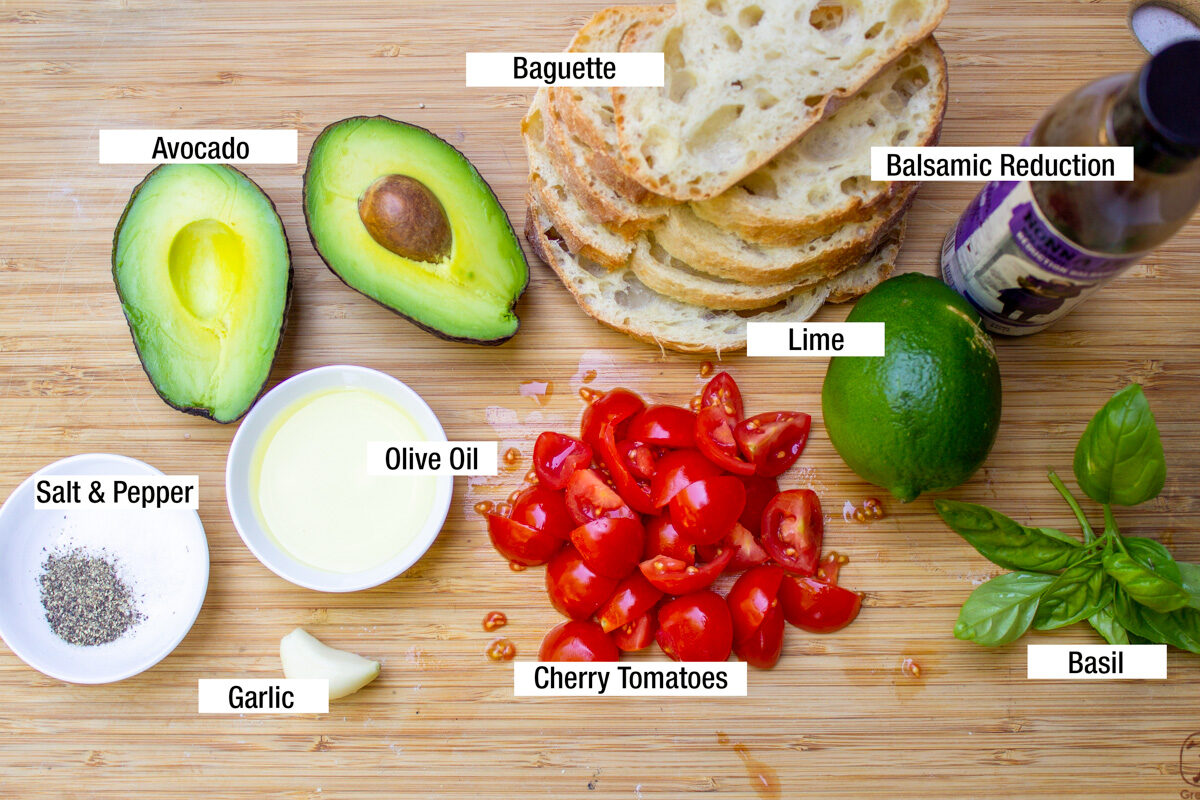 Crostini: Use toasted sliced bread that's about 1/4-1/2 inch-thick and holds up well with the avocado spread.
Bread options: Any sturdy bread such as multigrain, artisan bread, French baguette or ciabatta will work. Or for a different twist, skip the crunchy bread and use your favorite cracker, pita chips or tortilla chips.
Avocados: Ripe avocados mas mashed to create a quick and simple guacamole spread.
Alternatives: Avocados give the appetizers a smooth buttery texture but if you're not a fan of guacamole, you can replace it with this simple egg salad, ricotta or a slice of soft, fresh mozzarella cheese.
Tomatoes: We use cherry or grape tomatoes.
Substitutes: Diced roma or other tomatoes will work too. If you don't like tomatoes, you can substitute them with chopped roasted red peppers, prosciutto, chopped hardboiled egg, small cooked shrimp or radish slices.
Balsamic reduction: I typically use store-bought balsamic reduction/glaze. Or make your own – instructions are in the recipe card.
Substitute: Try a sweet chili sauce instead of the glaze.
Garnishes:
Fresh herbs: Top with chopped fresh basil, fresh cilantro, green onions or chives. Or mash the herbs into the guacamole avocado mixture.
Cheese: Sprinkle with crumbled creamy goat cheese, feta cheese or ricotta.
Sprinkles: Top the avocado bites with a light sprinkle of flaky sea, red pepper flakes or paprika. A pinch of fresh lemon zest adds a nice pop of extra flavor.
Step by step instructions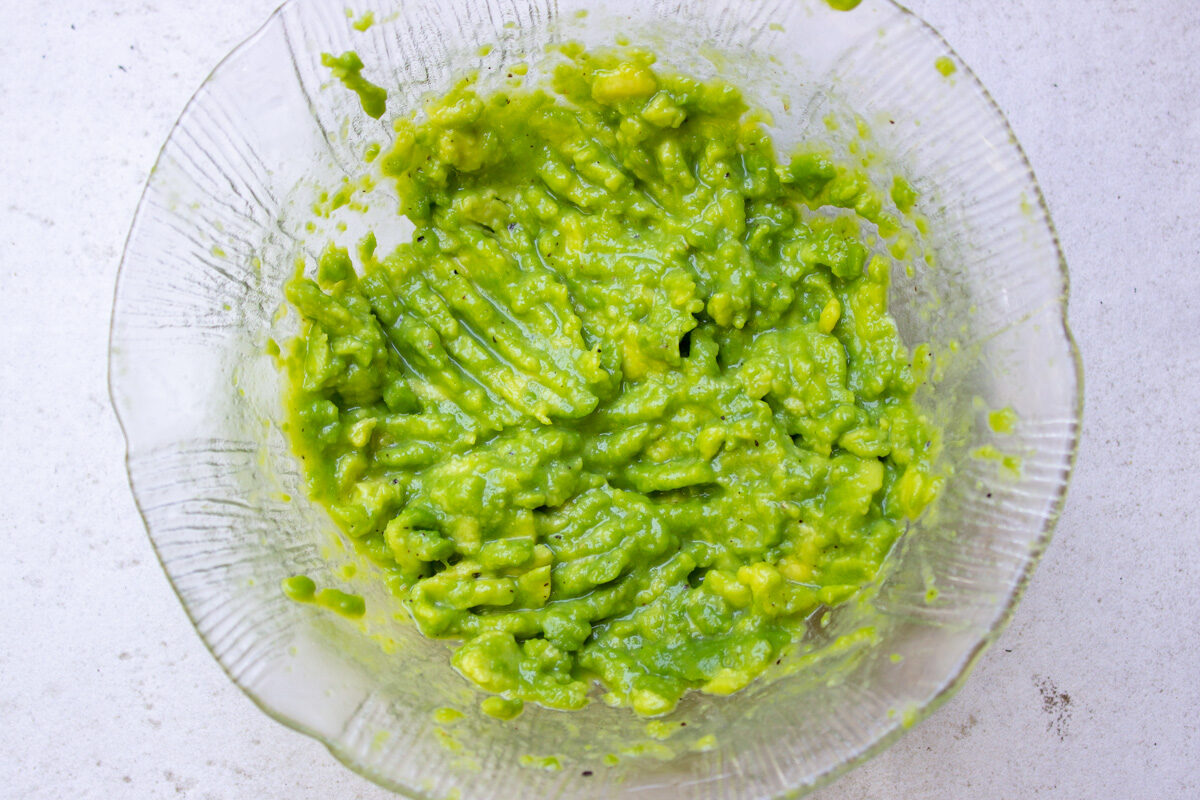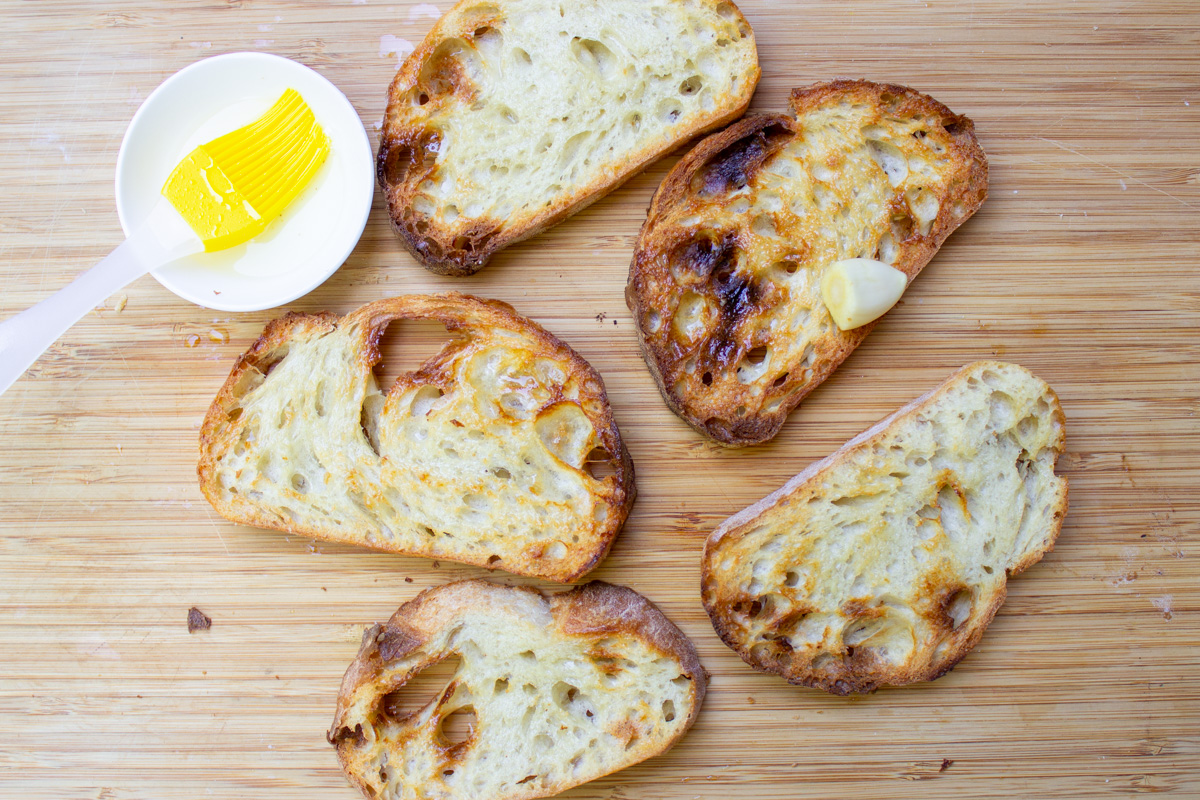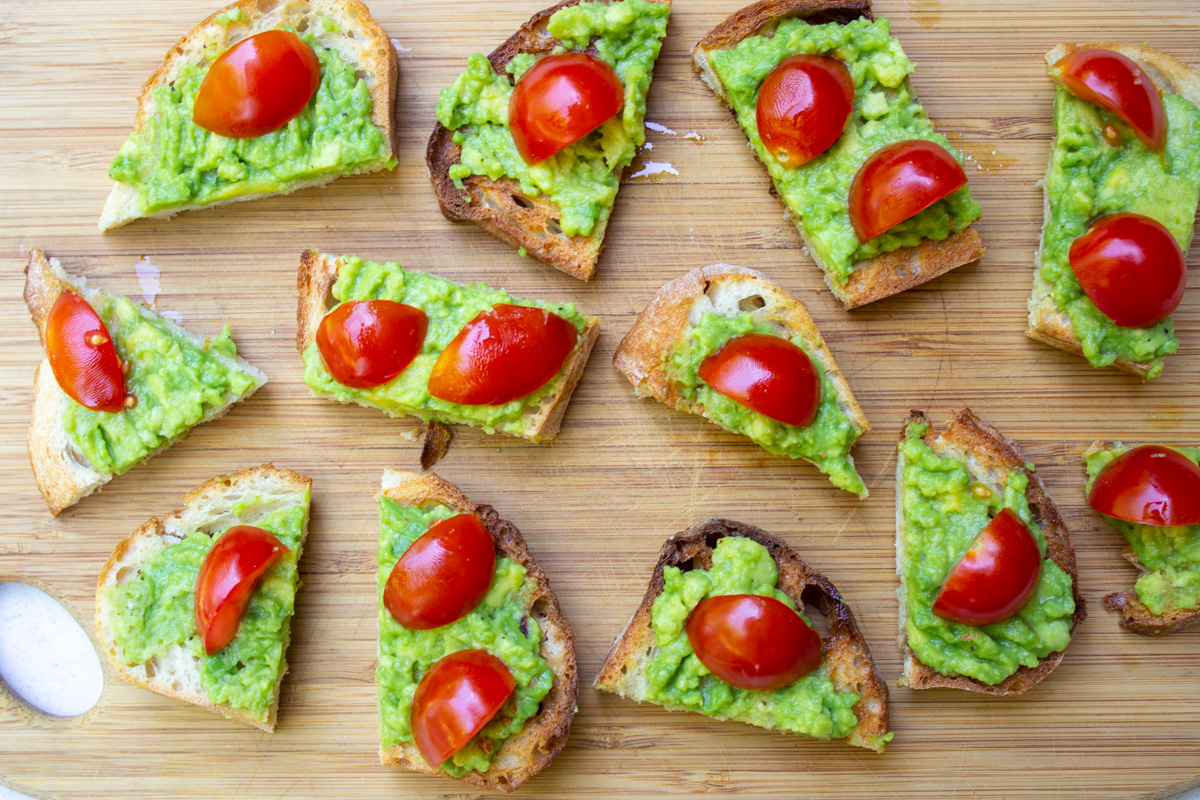 3 Tips
Buy ripe avocados (or wait until they ripen) to get a nice creamy avocado mash.
Use a sturdy bread that will hold up well and stay semi crisp.
Only drizzle the balsamic reduction just before serving as it tends to "bleed".
FAQ for Avocados
How can you tell if an avocado is ripe?
Firstly, check the color. Typically, brown avocados are ripe IF they yield to gentle pressure when squeezed. Bright green avocados are not ripe. Secondly, if there is a nubby stem on the avocado, it will easily break off if it's ripe – and show a greenish or yellowish color under the stem. 
How can I ripen an avocado at home?
Leave the avocados on the counter at room temperature for 2-3 days. To speed up the ripening process, place them in a paper bag. Do not put whole avocados in the fridge as they won't ripen. Cut avocados, however, should be stored in the fridge. 
How do I keep my cut avocado from turning brown?
Basically, you have to keep the oxygen from reaching the cut avocado surface. You can do this in one of 3 ways: by squeezing fresh lemon juice over the cut surface; by placing the cut surface face down on a flat plate; or by submerging the cut avocado in an airtight container full of clean water. 
For more information about avocados, check out this video on nutrition benefits, tips and preparation.
Shortcuts
Buy ready made guacamole.
Skip making the crostini and use a crunchy cracker.
Buy the Balsamic reduction/glaze. It's available in most any local grocery store and last forever in the cupboard.
Make ahead
You can make the avocado mixture several hours in advance and store it in the fridge in an airtight container. For best results place a piece of plastic wrap directly on avocado mixture/guacamole inside the container to prevent the surface from turning brown.
Assemble the avocado appetizers up to 30-60 minutes ahead without the balsamic drizzle. Drizzle the Balsamic reduction just before serving as it tends to bleed into the avocado if it's not thick enough.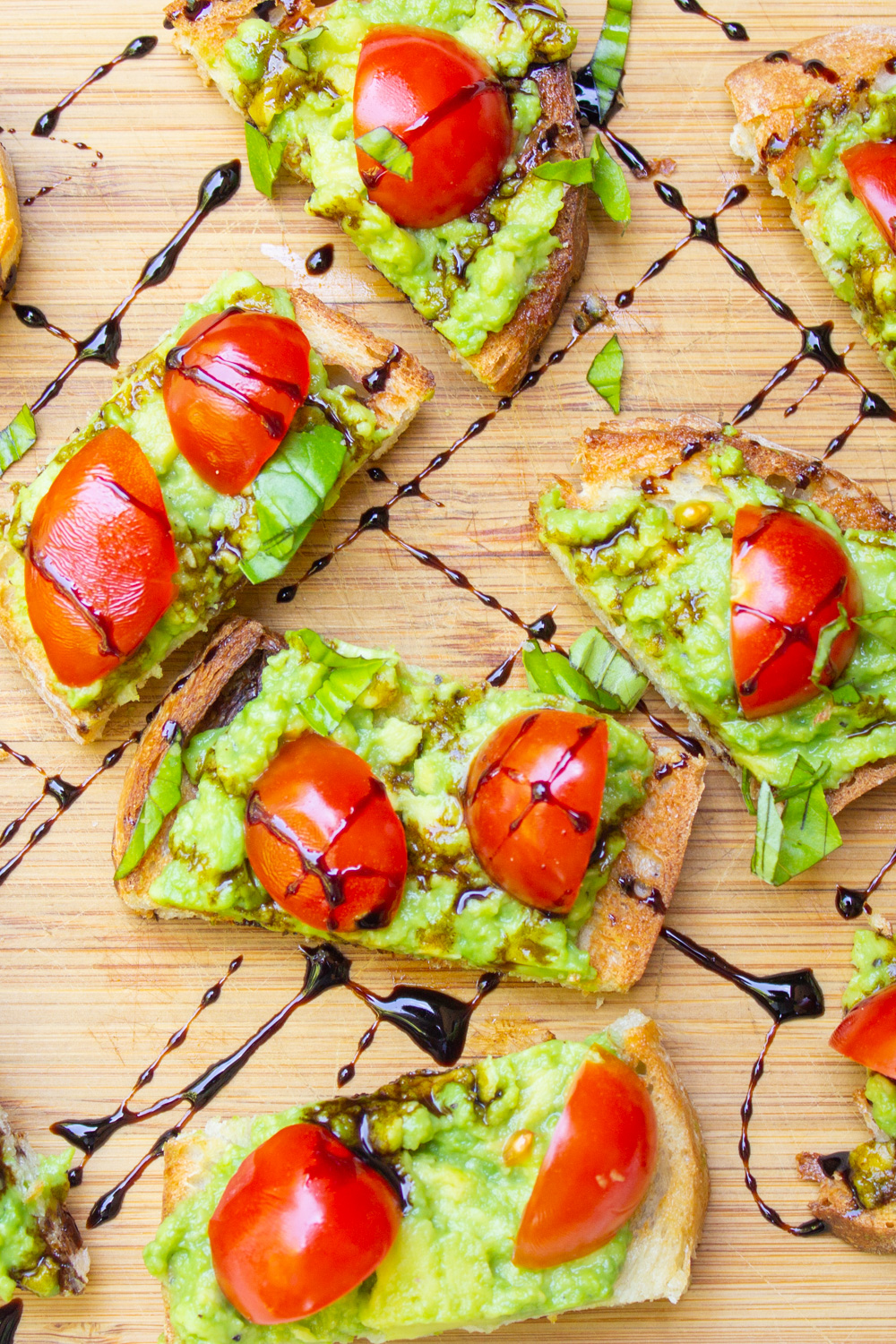 If you like this recipe, please leave a 5 star rating 🌟🌟🌟🌟🌟in the recipe card below. And if you REALLY like it, consider a review in the comments. Thanks very much!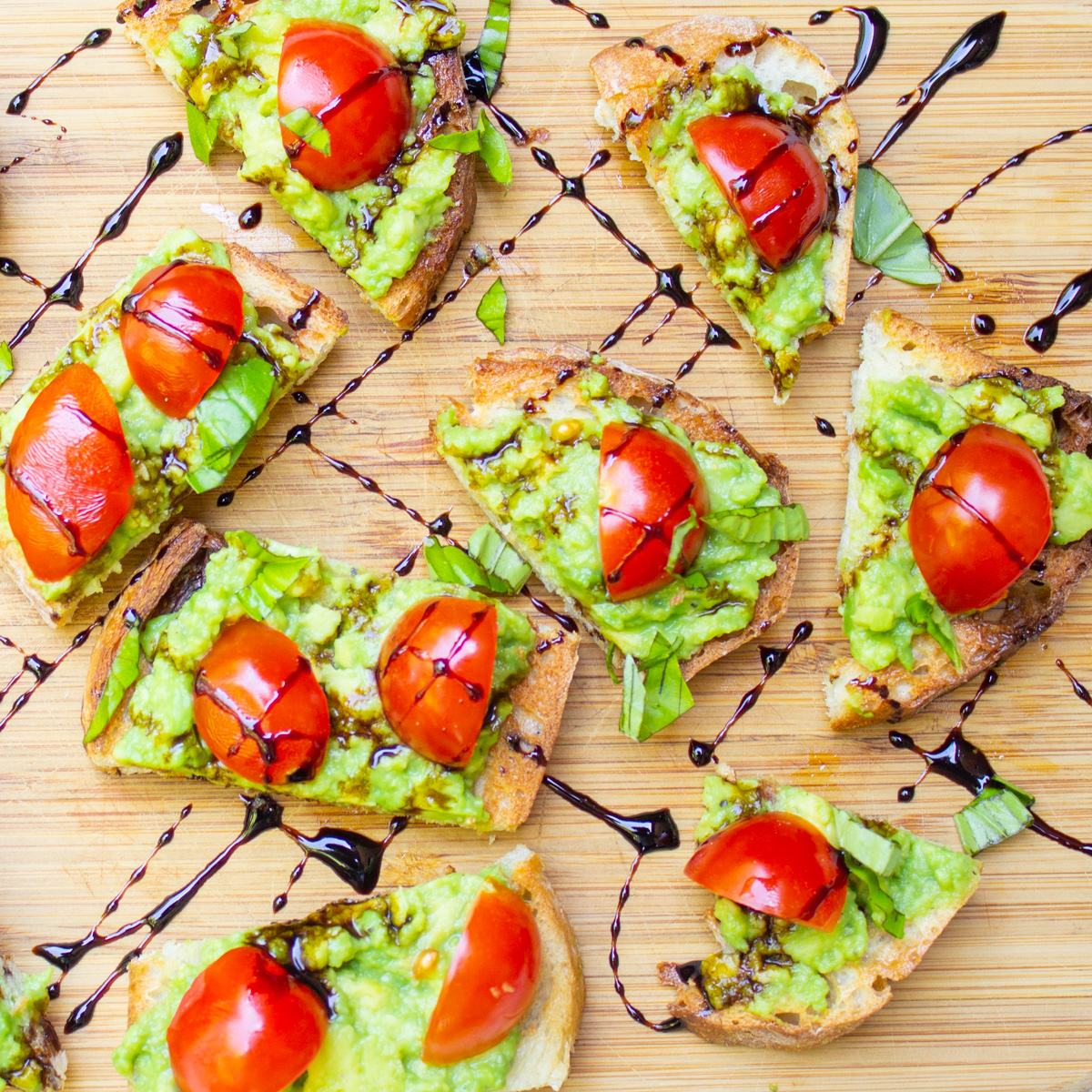 Print Recipe
Pin
Save Recipe
Recipe Saved!
Rate this recipe here
Avocado Appetizers on Crostini With Pizzazz
Tasty, popular avocado appetizers on crostini will be a great addition to your repertoire. We top them with tomatoes and a balsamic drizzle to boost flavor and pizzazz. Just 12 minutes.
Ingredients
1/2

baguette, Note 1

1-2 tablespoons olive oil

1

garlic clove, cut in half

1

medium-large ripe avocado

(or 2 small ones)

1

lime

kosher salt and pepper to taste

12

cherry tomatoes, cut in 4 (or heirloom chopped)

balsamic reduction/glaze (store bought), Note 4
Garnish options (optional)
chopped fresh basil or other herbs, crumbled goat cheese, sprinkle of sea salt or lime/lemon zest.
Instructions
MAKE THE CROSTINI: Cut 16 slices of baguette sized bread about 1/4-1/2 inch (0.7-1.2cm) thick (or 4-5 slices of larger bread that you will cut in thirds or quarters). Toast slices in toaster or toaster oven until golden brown. (Alternatively grill bread for a minute per side or bake at 375F/190C for about 8 minutes). Bread should be fairly crisp. Brush with olive oil on both sides using pastry brush. Then rub one side of bread with the cut half of a garlic clove.

MAKE THE AVOCADO MASH (Guacamole): Cut avocado in half. Remove the pit. Scoop out the avocado into a small bowl with a spoon, discarding the skin. Squeeze in juice of half or three-quarters of a lime and sprinkle with 1/4 teaspoon kosher salt. Mash, taste and add more lime, salt and pepper as needed.

ASSEMBLE: Place crostini on a wooden cutting board. Divide avocado evenly over crostini and spread. Place a few cherry tomato halves on top. Cut toast slices into bite size pieces if you used larger bread slices. Serve on cutting board or transfer to a platter. Just before serving, drizzle with Balsamic reduction/glaze. Make a zig zag pattern, drizzling balsamic over crostini and onto platter for a nice presentation.
Recipe Notes
Bread options: Use a sturdy bread such as multigrain, artisan bread, French baguette or ciabatta.
Shortcuts: buy ready made guacamole and Balsamic reduction/glaze. Use crackers instead of making crostini. 
Variations: 

If you don't like tomatoes, substitute with chopped roasted red peppers, prosciutto, chopped hard boiled egg, shrimp or radishes.
Instead of balsamic reduction, try a sweet Thai chili sauce or sweet-tart salad dressing drizzle. 
To make your own Balsamic glaze/reduction. I usually buy it, but it's easy to make your own if you prefer. Bring to boil a half cup of balsamic vinegar and two tablespoons honey or brown sugar. Reduce heat to a simmer and simmer for about 15 minutes until it reduces by half to a syrup consistency (thick enough to coat the back of a spoon).

Make Ahead: Prepare all the components ahead. Assembly can be done up to 30-60 minutes ahead, but I suggest drizzling the Balsamic reduction just before serving as it tends to bleed into the avocado.
Nutrition values are estimates. 
Nutrition
Calories:
53
kcal
|
Carbohydrates:
6
g
|
Protein:
1
g
|
Fat:
3
g
|
Saturated Fat:
1
g
|
Sodium:
123
mg
|
Potassium:
102
mg
|
Fiber:
1
g
|
Sugar:
1
g
|
Vitamin A:
94
IU
|
Vitamin C:
5
mg
|
Calcium:
10
mg
|
Iron:
1
mg
Tried this recipe?
We'd love you to rate it above under 'rate this recipe' or in the comment section below. Thanks!