Make this vibrant tropical fruit salad as a gorgeous, refreshing ending to a meal or as an appetizer served in mini cups. Just 15 minutes prep time.
I just love the colors. For me, that alone is worth making this fruit salad. But it's really the combination of sweet, silky mango, kiwi and papaya with a little chopped mint and freshly squeezed orange juice to kick it up a notch that make it a winner dessert.
Health conscious eaters will also love this no-guilt healthy dessert. Each serving has more than 100% of your Vitamin C daily value (perfect for anyone with a cold) and it's definitely low calorie. A medium kiwi is only 42 calories, a mango 99 calories and a small papaya 68 calories.
Serve this fruit salad as a dessert, on any brunch menu or as an appetizer in espresso cups. Refreshing, simple and only 5 ingredients. I adapted this recipe from one I saw in Food TV Magazine by Aaron Sanchez.
For a bit of decadence, try serving this tropical fruit salad with lace cookies or a our microwave brownie recipe in 8 minutes.
How to Choose Ripe Mangoes, Papayas, Kiwis
Mango: Choose a ripe mango by its feel, not its color. The softer it is, the riper and sweeter it is. You don't want the mango to be too soft or mushy though. It should be slightly soft to the touch and smell sweet and fruity near the stem. Mangoes can be ripened naturally at room temperature. Place them in a brown bag for a couple of days to speed up ripening. Avoid mangoes with black and white patches as they may have been artificially ripened.
Papaya: A ripe papaya should be mostly yellow or orange-red. Some green is fine and will easily ripen on the counter at room temperature in a day or two. When pressing the fruit with your fingers, there should be a bit of give. It shouldn't be hard to the touch. Ideally, the papaya should have a sweet smell near the stem.
Kiwi: A ripe kiwi will be slightly soft to the touch (not mushy). Hard kiwis will ripen on the counter in 3-5 days. Size doesn't matter. Small and large kiwis taste the same.
Tailor To Your Taste
Not everyone likes mint, although it adds a real burst of flavor to the fruit in this fruit salad. You can leave it out or replace it with basil if you prefer.
For an extra splash of color, add 1/4 cup pomegranate seeds.
Try adding other tropical fruits like diced pineapple, bananas (just before serving) or toasted coconut for some crunch.
My mother served fruit salad with orange juice all my life. It keeps the fruit from turning brown and is so refreshing. You can, however, leave it out.
Make Ahead Tropical Fruit Salad
Combine fruit in a serving bowl and refrigerate covered. When ready to serve, add mint to taste and orange juice. The fruit salad will keep in the fridge for a day or so.
Print Recipe
Pin
Save Recipe
Recipe Saved!
Rate this recipe here
Tropical Fruit Salad
Make this vibrant tropical fruit salad as a gorgeous, refreshing ending to a meal or as an appetizer served in mini cups. Just 15 minutes prep time.
Ingredients
4

kiwis

2

mangoes

I love the smaller Ataulfo mangoes (pictured)

1

papaya

Optional: 2-4 tbsp chopped fresh mint

fresh orange juice (1/2-3/4 cup)

(2 large oranges)
Instructions
DICE FRUIT INTO 1/2 INCH CUBES: Papaya: cut in half, scoop out seeds, cut flesh off skin and dice. Kiwi: Peel with sharp knife, cut in half, cut out white core in middle, dice green flesh. Mango: Slice down lengthwise on both sides of large pit, scoop out flesh with soup spoon and dice.

ASSEMBLE: Combine diced fruit and mint (if using) in a serving bowl. Pour over orange juice and gently mix. Tip: As not everyone likes mint, I just add 1-2 tablespoons into the fruit salad and put the rest on the side for people to sprinkle on their own serving if they like.
Notes
Make Ahead: Combine fruit and mint (if using) in a serving bowl. Refrigerate covered. Add juice right before serving. The fruit salad will keep in the fridge for a day or so. 
Nutrition
Nutrition Facts
Tropical Fruit Salad
Amount Per Serving
Calories 90
* Percent Daily Values are based on a 2000 calorie diet.
Tried this recipe?
We'd love you to rate it above under 'rate this recipe' or in the comment section below. Thanks!
Here are other tropical fruit-based recipes you might like:
Simple Thai Mango Salad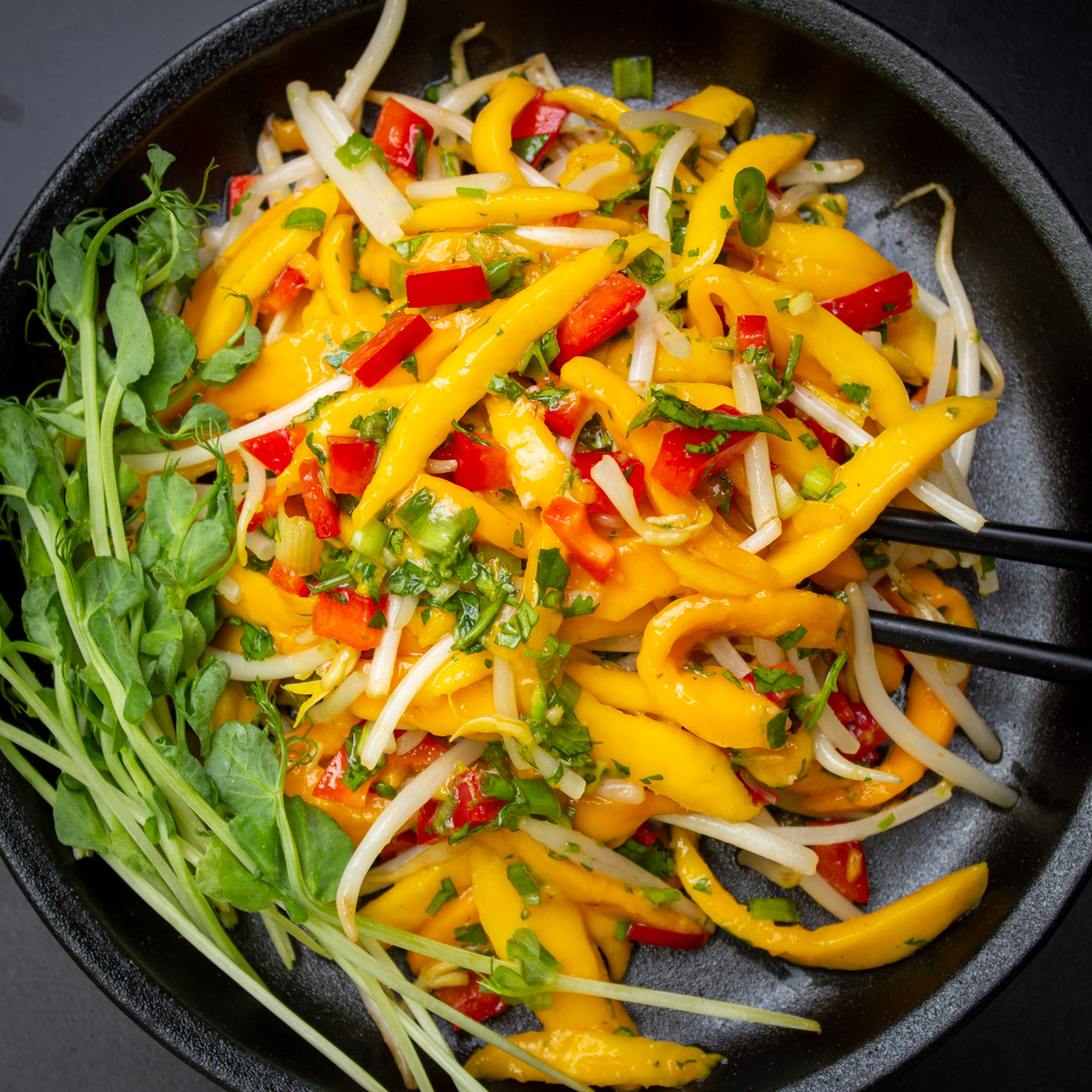 Prepare for an explosion of fresh flavors and textures with this simple Thai mango salad. Silky ripe mango, crisp bean sprouts, green onions and peppers in a sweet, spicy, tangy, umami dressing. Ready in 10 minutes.
Get the recipe
Shrimp Lettuce Wrap with Mango Slaw Recipe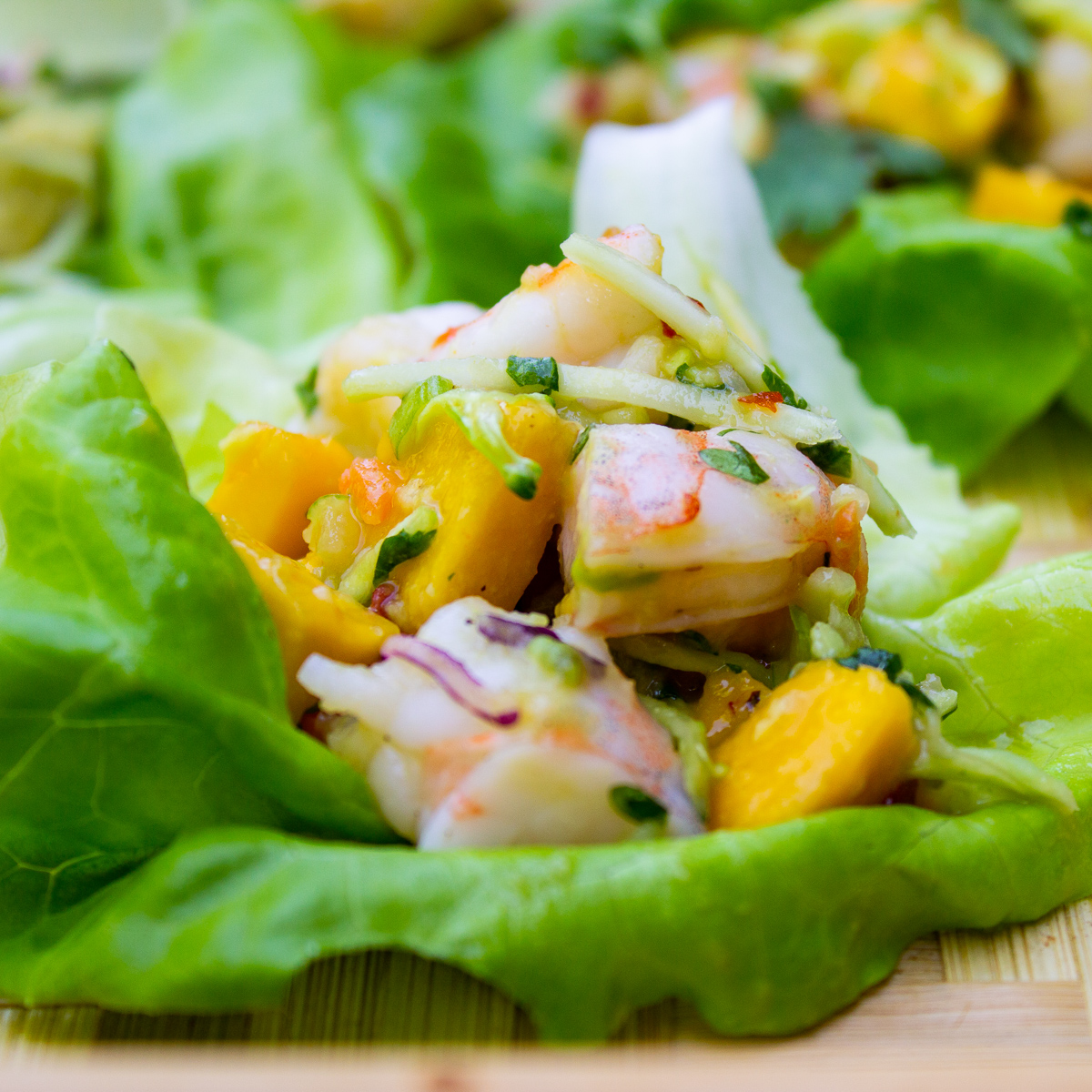 If you believe that a low calorie, low carb, healthy, gluten-free and low fat dish can't be absolutely delicious,  Shrimp Lettuce Wraps with Mango Slaw will prove you wrong.
Get the recipe
Old Fashioned Carrot Cake Recipe with Pineapple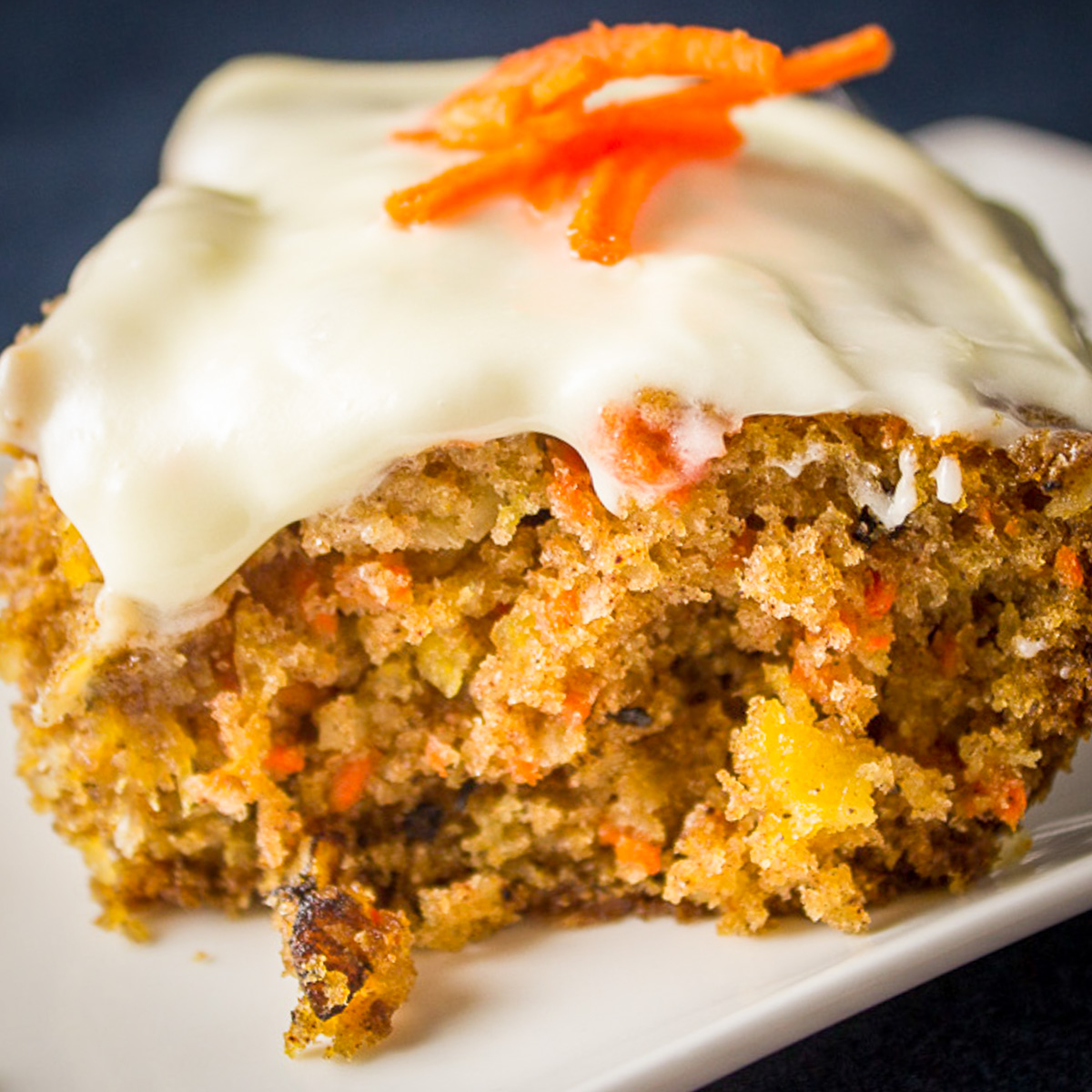 This is a crowd-pleasing, super moist carrot cake recipe with pineapple, packed with extra flavor from walnuts, coconut and a classic cream cheese icing. And no stand mixer needed - the whole cake is mixed with a wooden spoon!
Get the recipe