Puff Pastry Tart With Apples (30 minutes)
Whip up this puff pastry tart with apples for an impressive but simple dessert. Easy, quick and delicious. All you need are apples, puff pastry, butter and brown sugar (ok, ice cream too).
Just 4 ingredients (plus a sprinkle of flour), 7 minutes of prep time and 23 minutes to bake.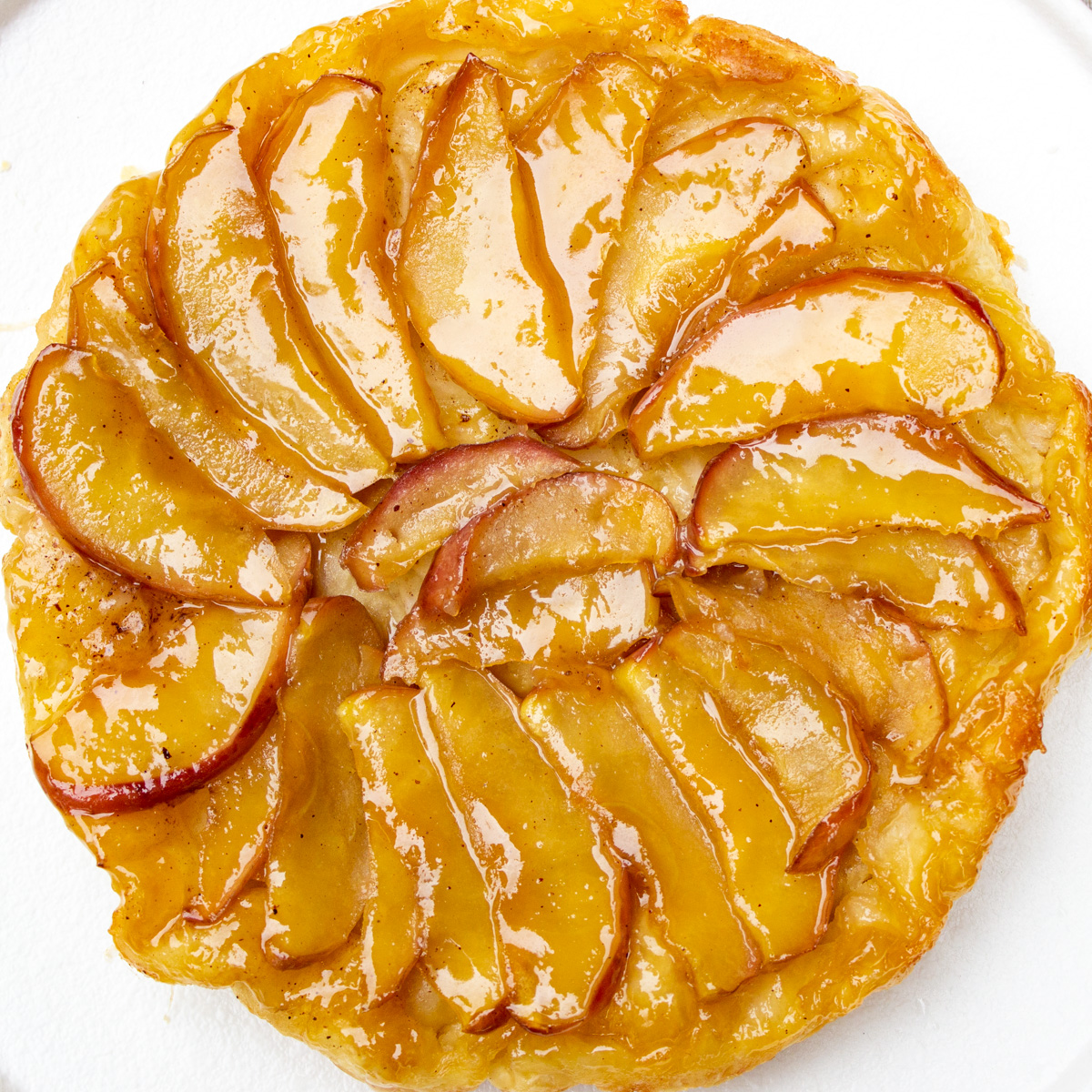 In about 30 minutes, you're sitting down to a warm buttery, flaky, rich pastry with caramelized apples – as if you've been baking for hours.
I adapted a Banana Tarte Tatin recipe from Epicurious originally made as individual servings. Instead, I used apples and made one larger tart in an 8 inch/20 cm pie plate.
By the way, I tried a banana tart, too, and it was excellent.
The puff pastry tart with apples is basically an upside down French apple tart. The crust is baked on top of the apples then the whole thing is flipped upside down, exposing a beautiful apple dessert.
If you're looking for another easy recipe with puff pastry that tastes like cinnamon rolls, you might want to give our mini cinnamon puff pastry rolls a try- also made in 30 minutes.
What's to love about this apple tart
It's a super easy dessert, it's pretty and it takes only 30 minutes to make with 4 ingredients and a sprinkle of flour. You can't go wrong with a rustic apple tart – buttery, flaky crust and deliciously caramelized apples.
By comparison, a similar classic French apple tart by Ina Garten takes 2 hours and 15 minutes! It's also way easier than making an apple pie.
True, we're not making our own dough, but the store-bought puff pastry dough is a fantastic shortcut. No need to make homemade puff pastry.
Ingredients – tailored to your taste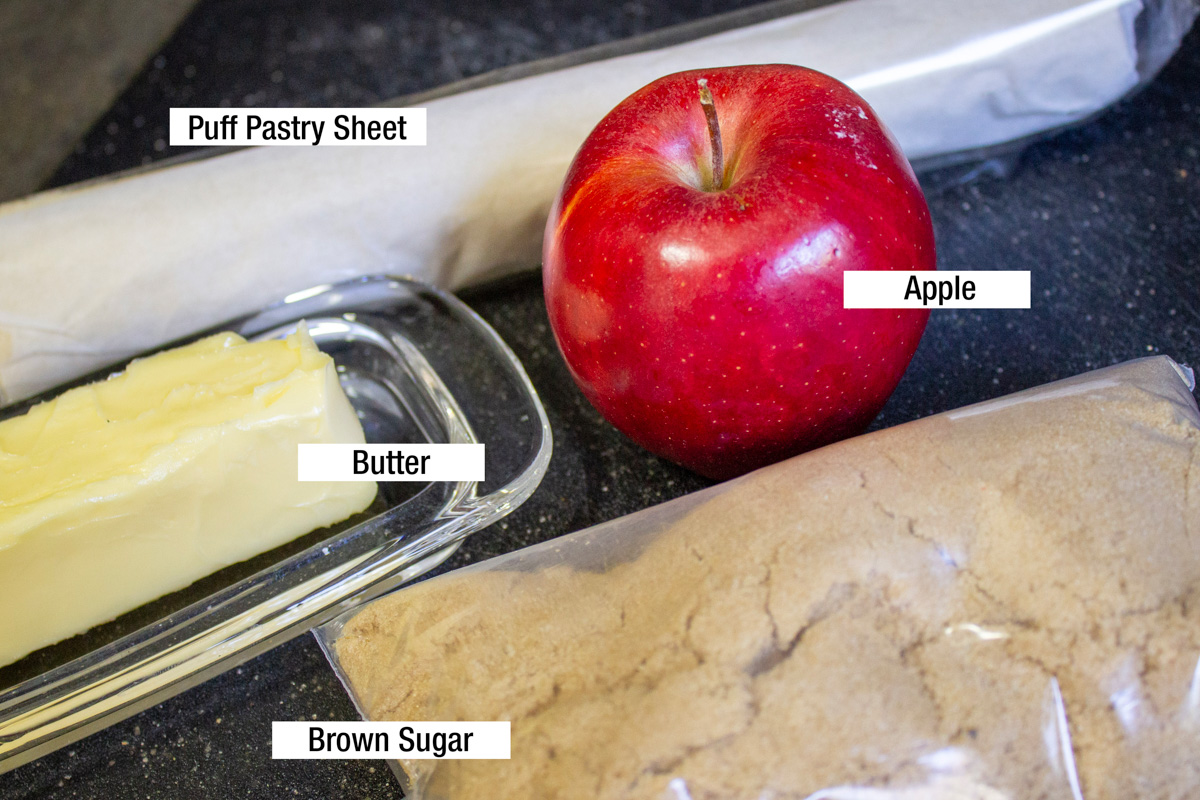 Apples: Use any fresh apples that will hold up well like honeycrisp apples, gala apples, cortland apples, golden delicious, braeburn, jonagold or fuji. If you like tart apples to offset the brown sugar, try granny smith apples.
Puff pastry: If you can, get a package of puff pastry that is pre-rolled into two separate sheets (then you don't have to roll it) and one that says "made with butter" on the package.
Lower calorie version: you can reduce the butter to 1 – 1 1/2 tablespoons and the sugar to 3 tablespoons if you want to save a few calories. I don't want to mislead you though – this is not a low cal dessert!
Fresh fruit Substitutes: Try other fruits like bananas, peaches, pears. To make a Banana Tart, follow the same instructions as in the recipe, using 2 bananas sliced on the diagonal instead of the apple. There is no need to add any flour. A peach tart will definitely need flour.
Serving option: Make individual mini apple tarts in smaller 5 inch ramekins.
Flavor: I definitely suggest a sprinkle of cinnamon or nutmeg before or even after baking. You can also sprinkle grated orange zest over the apples after baking for some added zip.
How to make this simple apple tart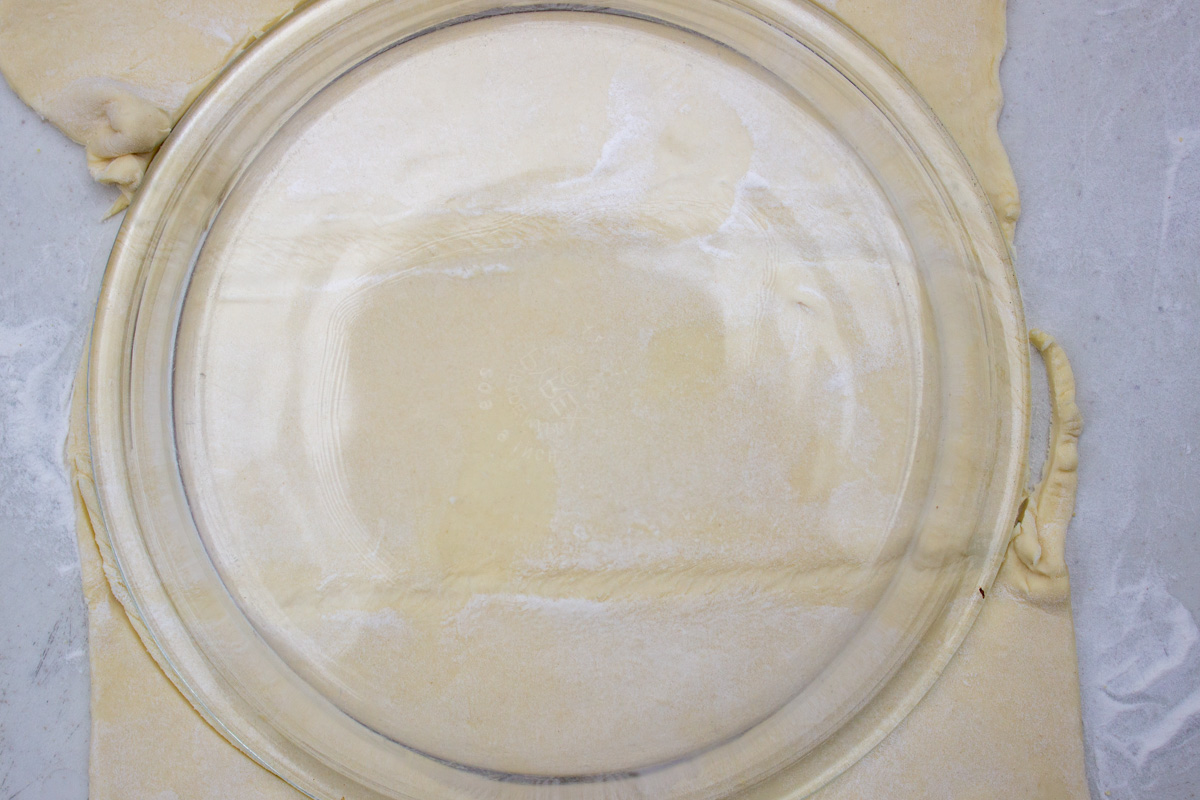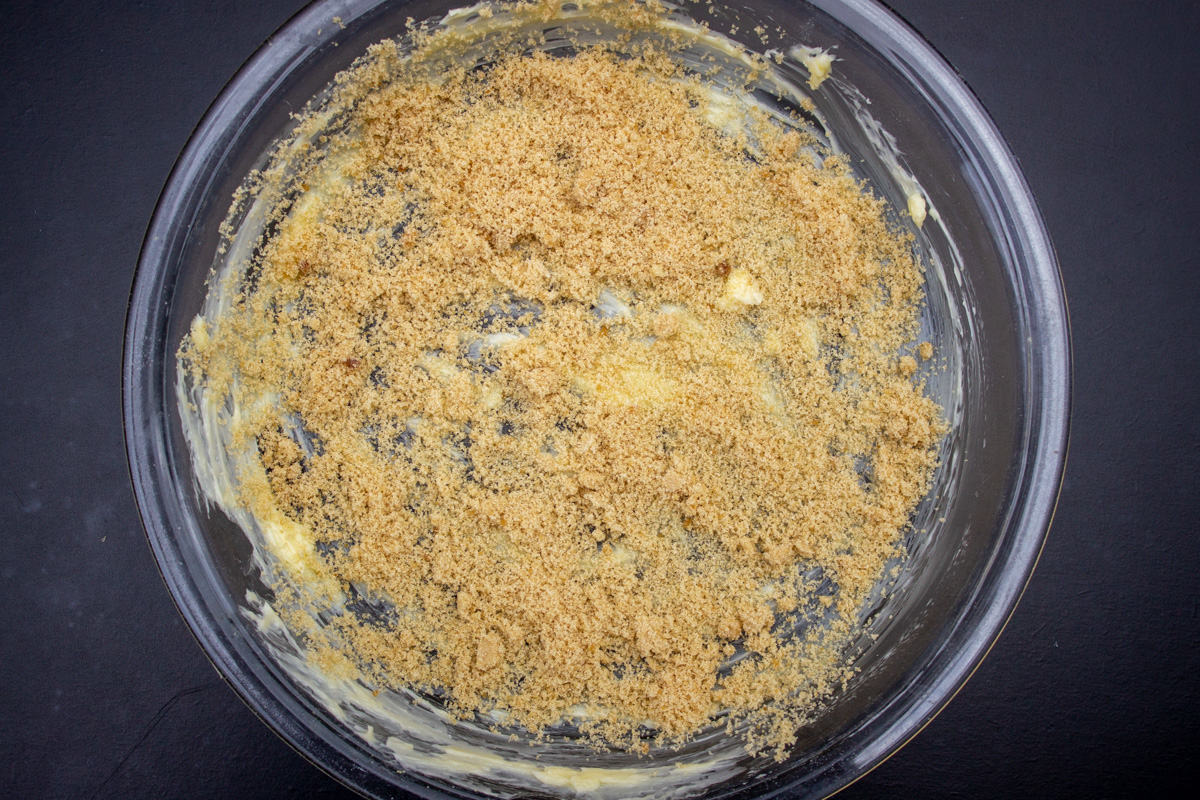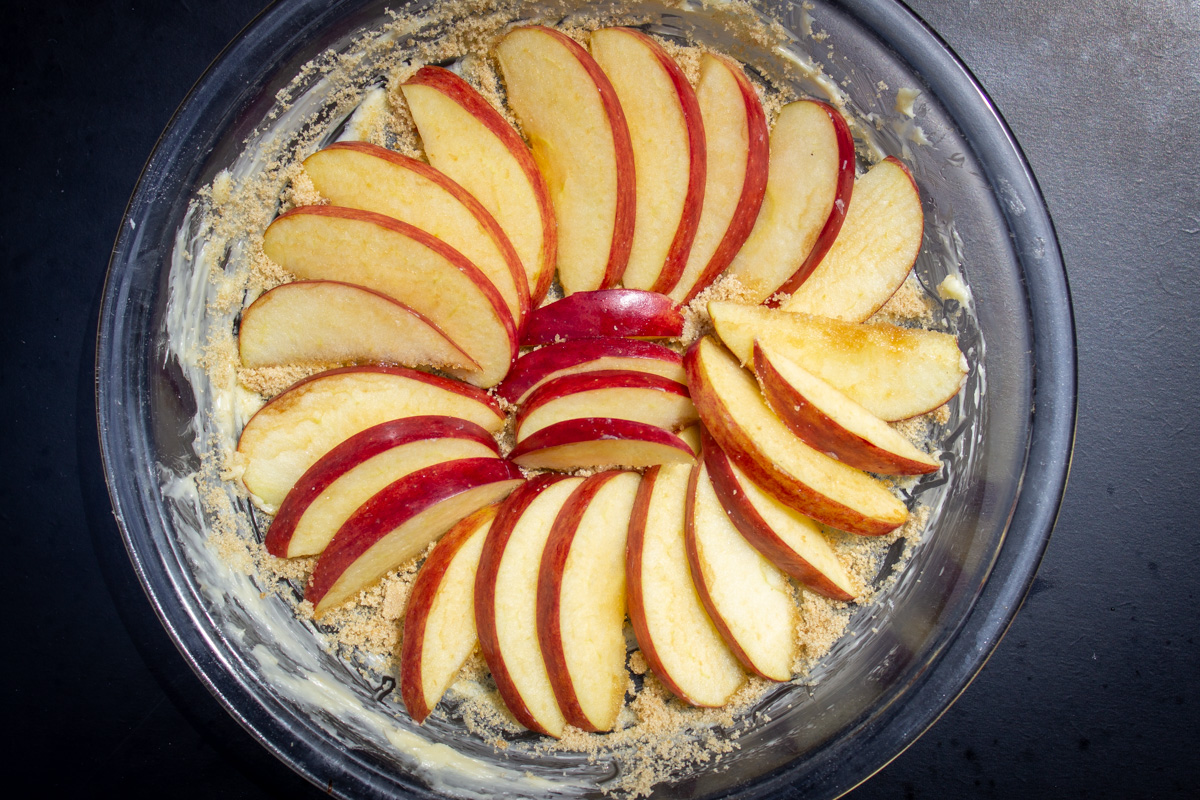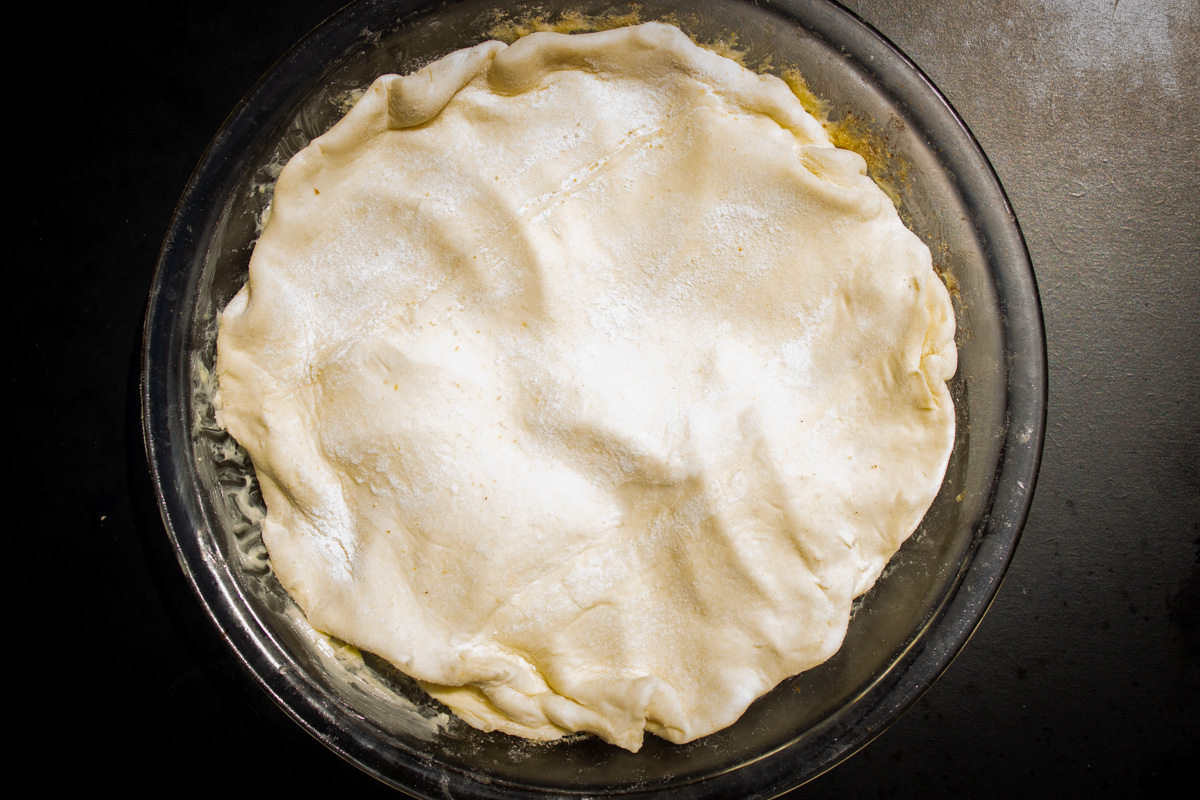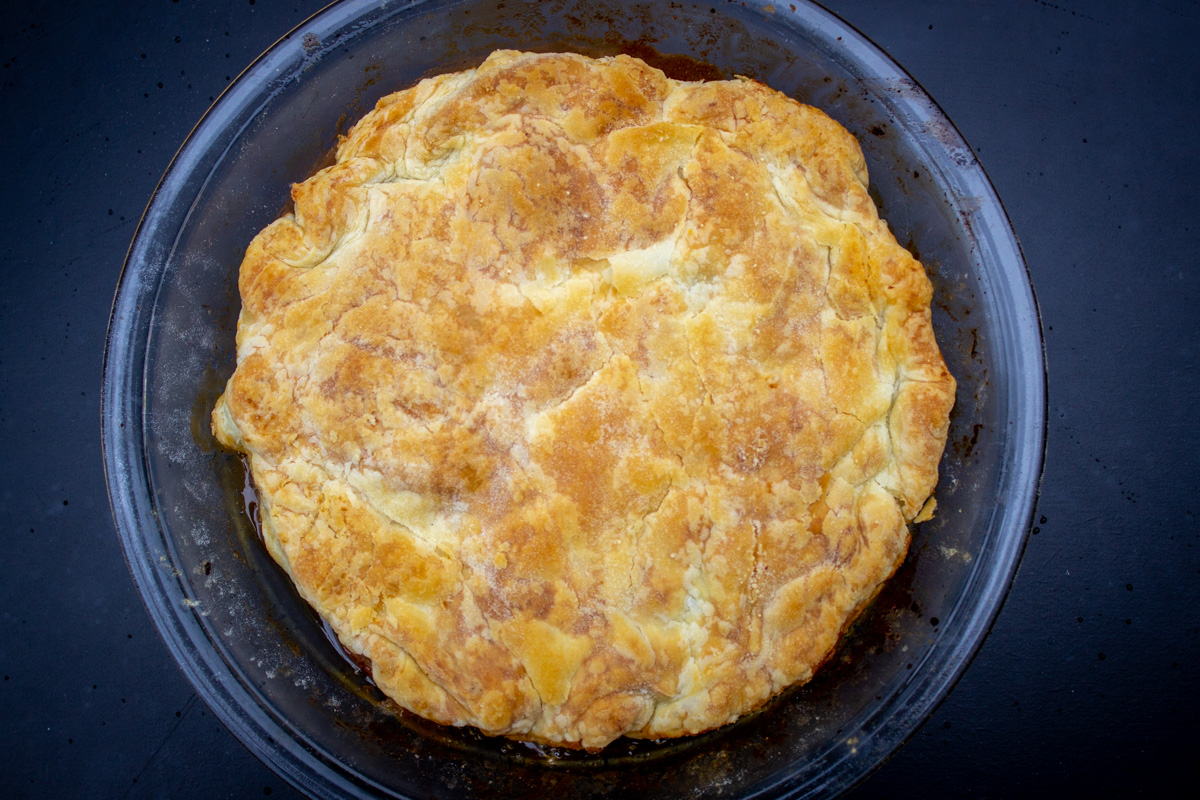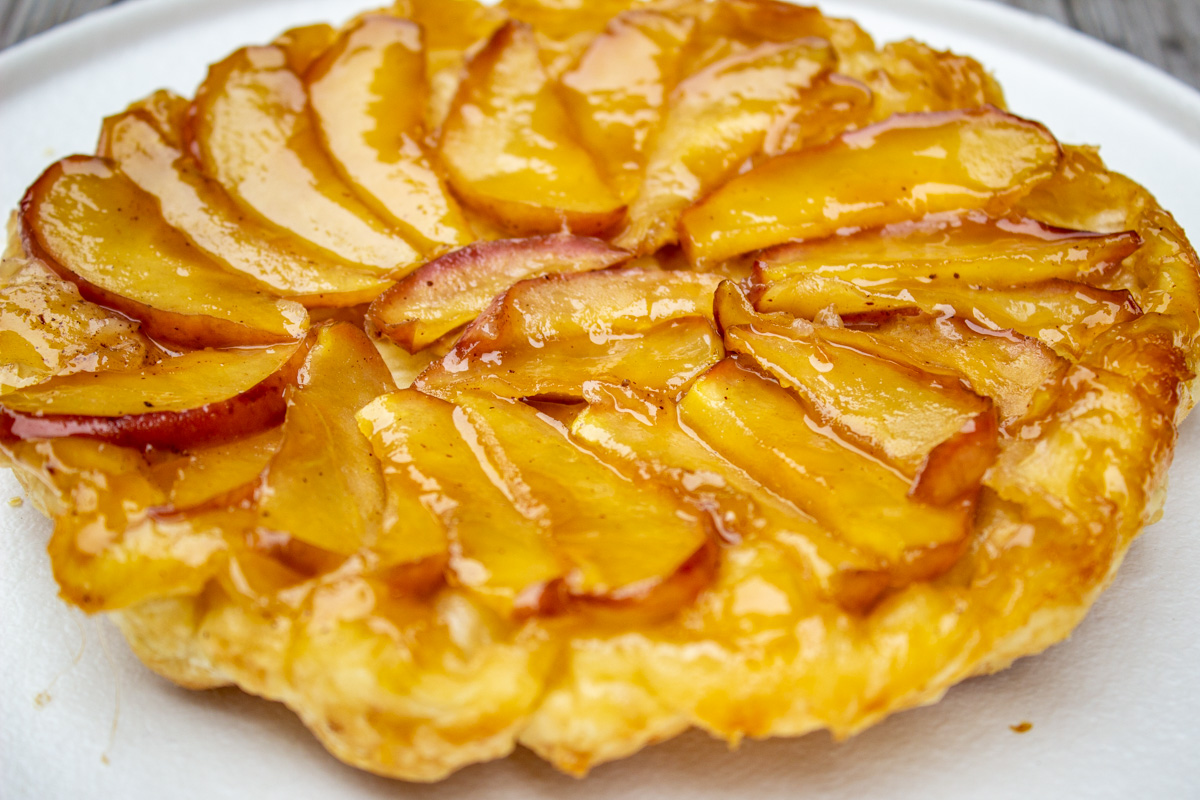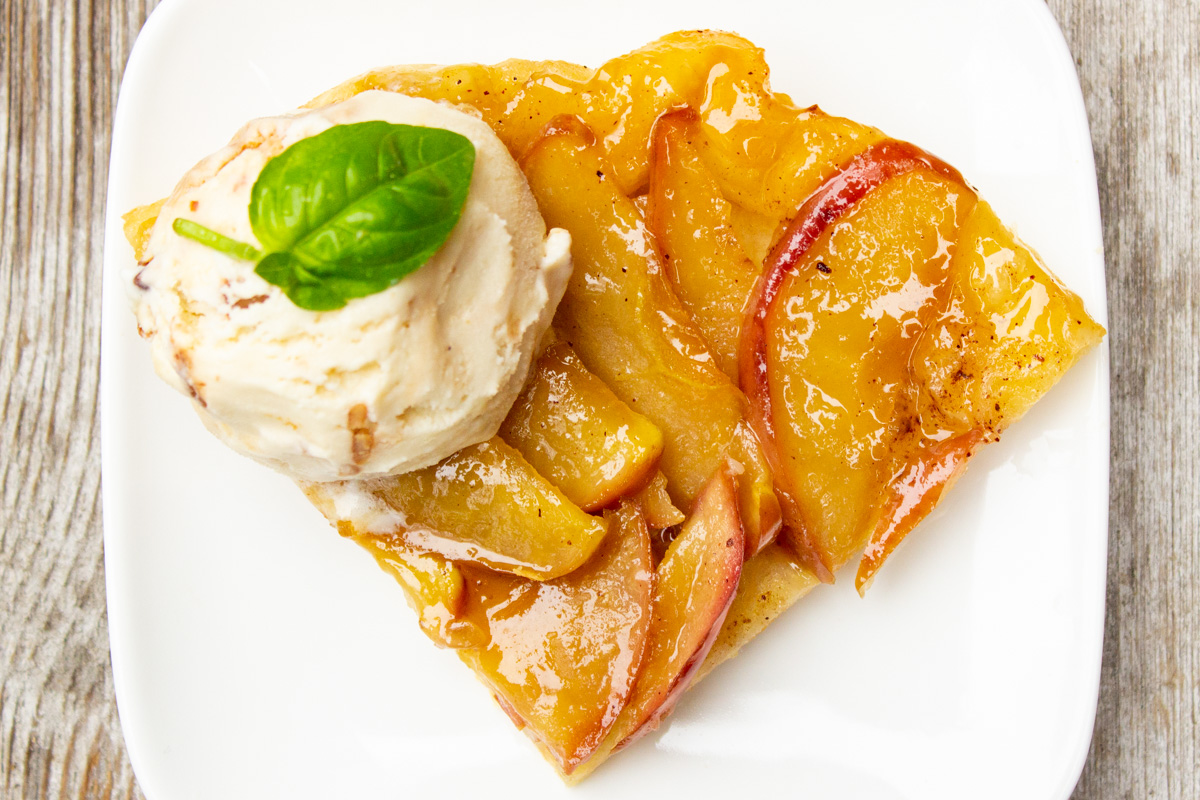 Tips
Buy the right dough: Puff pastry dough is not the same thing as phyllo dough. Make sure you are buying puff pastry dough!
Make 2 tarts or a larger one: Since the apple tart is small, in just a few extra minutes, you can male two tarts with the extra pastry sheet. Another option is to use a larger pie plate and a little more of each ingredient. No need to measure carefully.
Use cold dough: It's much easier to work with cold dough. Don't let it sit on the counter for too long. If the dough sticks, sprinkle a little flour on the work surface.
FAQ about puff pastry
What is puff pastry?
Puff pastry is a light and flaky pastry make from butter, salt, water and flour. It alternates layers of butter and dough (which is why it tastes so good). Several brands use butter alternatives. Find puff pastry in the frozen section in grocery stores.
Can I defrost puff pastry at room temperature?
Yes, it will take about 40-50 minutes to defrost the frozen puff pastry on the counter but don't let it sit there too long. Working with cold dough is much easier. It's best to thaw the pastry dough overnight in the fridge if you can. The dough can be kept in the fridge for a day. If it does become too soft, sprinkle some flour on your work surface to prevent sticking.
Make Ahead
One good option is to assemble the puff pasty apple tart, then pop it into the oven while you're eating dinner.
Alternatively, bake the tart and invert it onto an oven safe plate. It can sit on the counter until you need it. Warm it in a 350F oven for 5 minutes before serving.
What to serve with it
Don't skip the ice cream or whipped cream with the puff pastry apple tart. Perfect pairing with a tart served warm or at room temperature. If you want to get really decadent, try a drizzle of caramel sauce or maple syrup on the ice cream.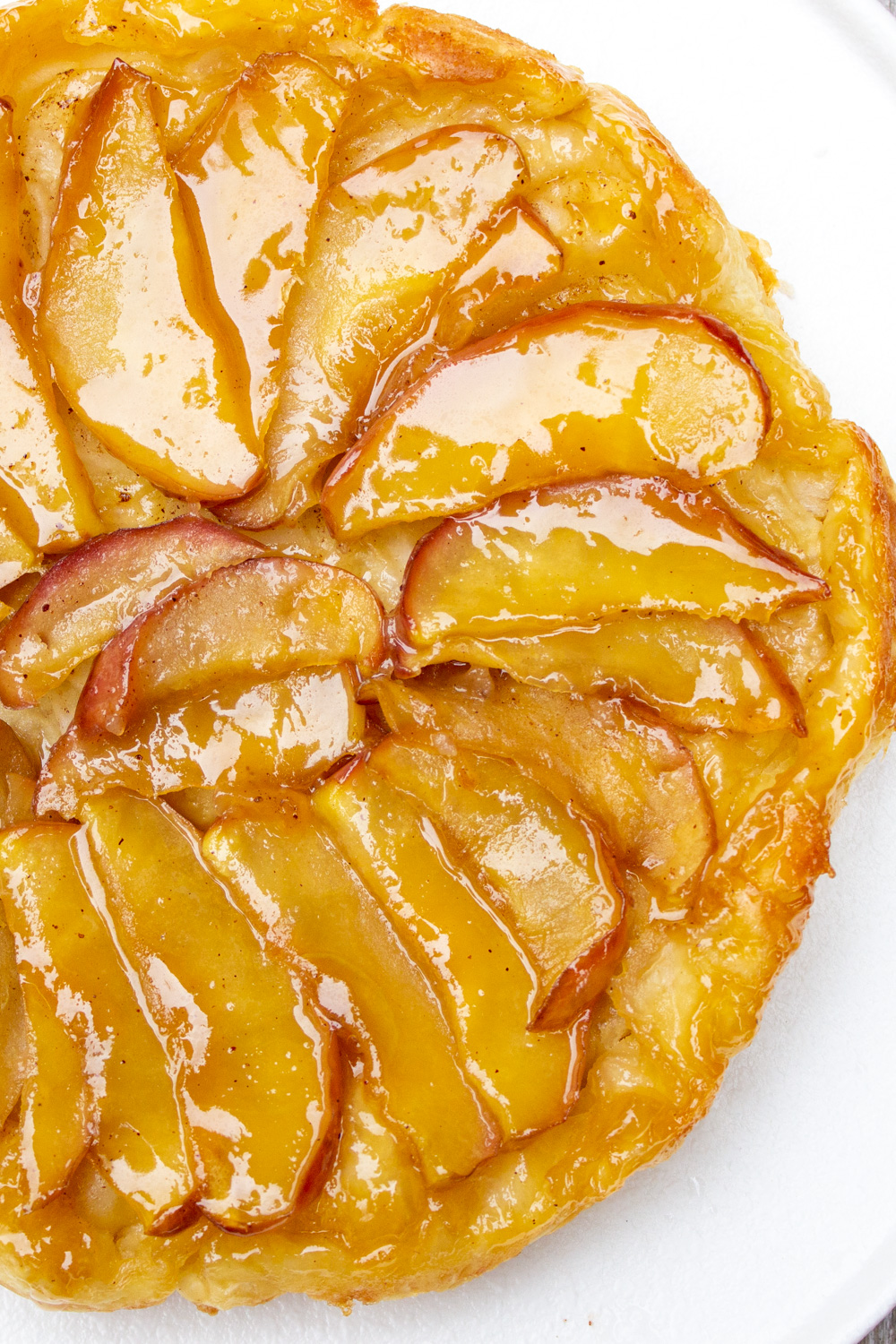 More puff pastry recipes
If you like this recipe, please leave a 5 star rating 🌟🌟🌟🌟🌟in the recipe card below. And if you REALLY like it, consider a review in the comments. Thanks very much!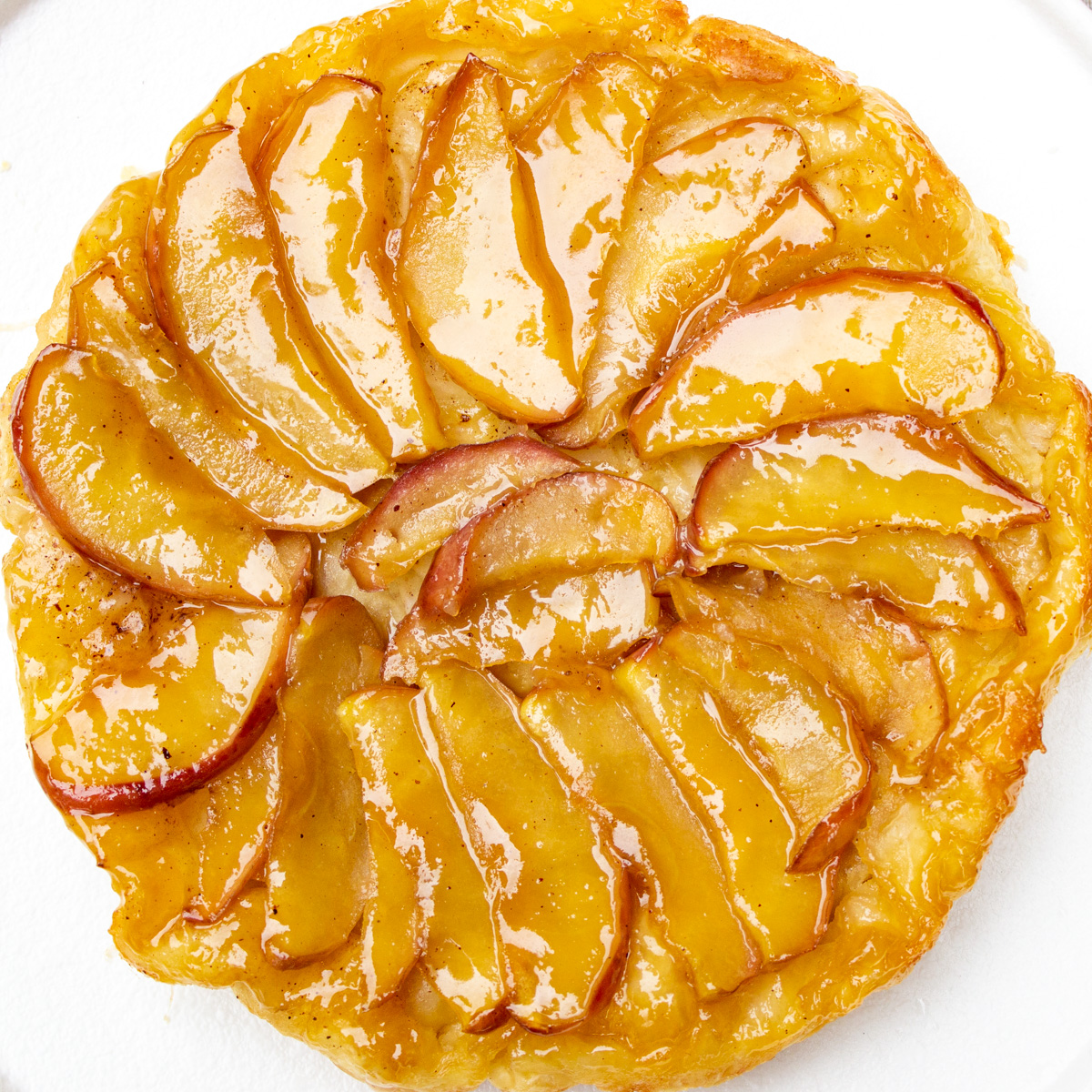 Print Recipe
Pin
Save Recipe
Recipe Saved!
Rate this recipe here
Puff Pastry Apple Tart (30 minutes)
Whip up this puff pastry tart with apples for an impressive but simple dessert. Easy, quick and delicious. Just apples, puff pastry, butter and brown sugar (ok, ice cream too).
Servings:
4
(or 6 smaller slices)
Ingredients
1

large apple, cored and thinly sliced, Note 1

(about 1/4 inch/63 mm thick)

2

tablespoons

butter, softened

1/4

cup

brown sugar

2

teaspoons

all purpose flour

cinnamon for light sprinkling (optional)

1/2

pound

dough (one sheet of puff pastry), thawed
Instructions
HEAT OVEN to 400F/204C.

PREPARE TART: See step-by-step photos in post. Spread softened butter on the bottom and sides of an 8 inch/20 cm pie dish. Sprinkle brown sugar over butter to cover the bottom. Arrange apples, overlapping, around the outer edge, then the inner edge, covering the entire bottom of the pie plate. Sprinkle 2 teaspoons flour over apples to help absorb the juices (and avoid a soggy crust). Sprinkle with cinnamon if desired (good!)

PREPARE PUFF PASTRY CRUST: The crust will start on the top and end up on the bottom when tart is inverted onto a plate. Unfold dough or roll to 1/8 inch/3 mm. Cut out round piece of dough to fit pie dish. (I lay inverted pie dish on top of dough and cut around it with a sharp knife). You will have leftover dough. Don't fuss – you can trim it after. Lay dough on top of apples and tuck the edges downward all around inside edge of pie plate.

BAKE AND SERVE: Place unbaked tart on a sheet pan if you're worried about leaking (which shouldn't happen). Bake tart for 23 minutes or until crispy and deep golden brown. Remove from oven. Invert tart: Place upside down plate that is larger than pie dish on top of baked tart, then Invert tart onto a plate using oven mitts (it will be hot). Serve warm tart with ice cream or whipped cream.
Recipe Notes
Best apples: use apples that hold up well during baking such as granny smith, golden delicious, honeycrisp, gala, braeburn, jonagold, fuji. 
Number of Servings: The recipe is for one small 8 inch tart that would serve 4 people (or 6 smaller slices). If you use a full package of puff pastry (2 sheets/rolls), you can make 3 full 8-inch tarts. Use the left over puff pastry from two tarts to make the third. 
Make Ahead: Assemble the puff pasty apple tart, then pop it into the oven while you're eating dinner. Alternatively, bake the tart and invert it onto an oven safe plate. It can sit on the counter until you need it. Warm it in a 350F/176C oven for 5 minutes before serving. Store leftovers in an airtight container at room temperature for a day or two. Crisp up in the oven before serving. 
Nutrition values are estimates for 1/4 of apple tart. Calories and other values will be less if you cut the tart into 6 slices instead of 4. 
Nutrition
Calories:
442
kcal
|
Carbohydrates:
46
g
|
Protein:
4
g
|
Fat:
27
g
|
Saturated Fat:
9
g
|
Cholesterol:
15
mg
|
Sodium:
195
mg
|
Potassium:
102
mg
|
Fiber:
2
g
|
Sugar:
18
g
|
Vitamin A:
200
IU
|
Vitamin C:
2
mg
|
Calcium:
20
mg
|
Iron:
2
mg
Tried this recipe?
We'd love you to rate it above under 'rate this recipe' or in the comment section below. Thanks!