Crispy Baked Fish (20 min)
A buttery golden brown panko crust crowns this crispy baked fish for a quick and easy weeknight dinner. A perfect fish recipe for people who don't like fish. And for those who do too.
Choose any mild white fish and a sauce or condiment you like best – we have lots of suggestions below.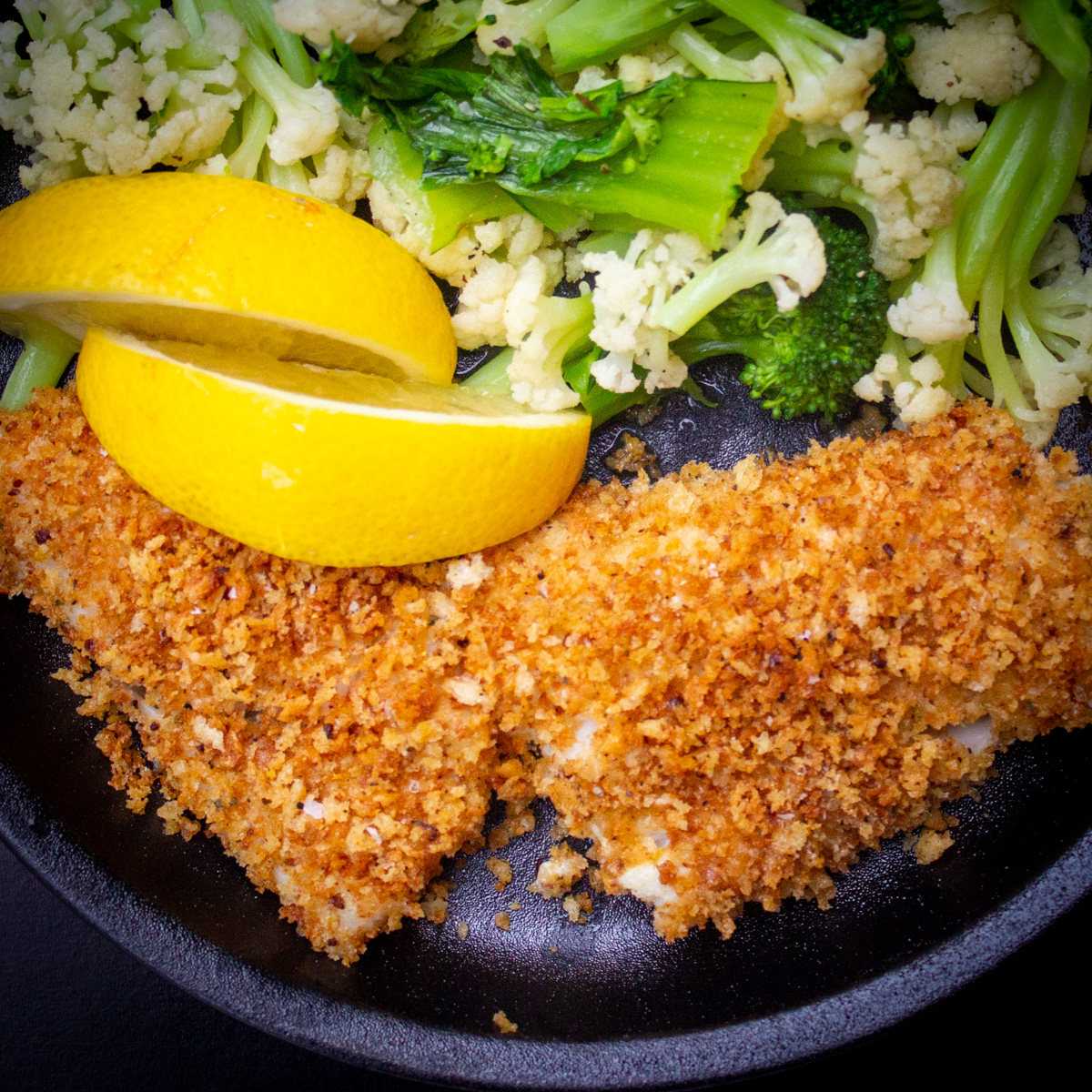 Panko crumbs are very crunchy, making them a great option for the breaded baked fish. There is one problem though. They remain pale even when baked. This is because fish takes so little time to bake.
So the first trick to this recipe is to toast the bread crumbs before coating the fish. I like to toast them in a pan on the stove. The oven toasting method is fine too. Both will help create a golden brown crispy topping for the fish.
The second trick is the thin layer of mayonnaise mixture that seals is moisture, adds flavor and helps the panko crumbs stick to the fish.
I love to make this recipe when I'm craving fried food. I hate frying – the smell, the hands-on time and the extra oil used. So I stick to oven 'fried' fish.
The recipe is super easy to make.
Toast the bread crumbs in a pan with a little butter and seasoning
Spread a thin layer of seasoned mayonnaise over the fish fillets
Coat the fish with the toasted crumbs
Pop the fish into the oven for 7-10 minutes. Serve with lemon wedges or your favorite dipping sauce.
This easy baked fish recipe is completely versatile with respect to the type of fish used, the seasoning and dipping sauce. You can even make it into homemade fish sticks.
Ingredients – tailored to your taste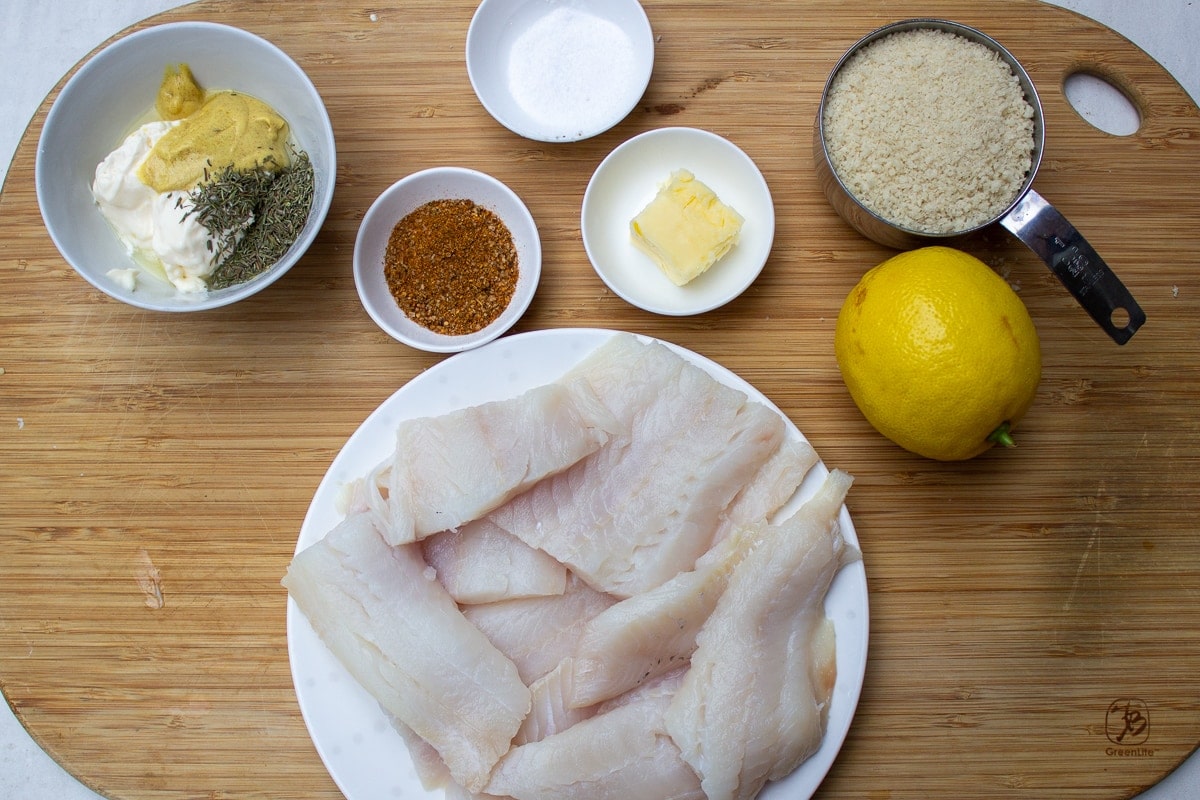 Here are some tips variations and substitutions you can use.
What type of fish can I use for this recipe?
Any sturdy white fish will work. I used haddock in the pictures, but I've also used sole and cod for this recipe. Other good options are tilapia, flounder, grouper, snapper, artic char, halibut and walleye.
What seasoning can I use with panko crumbs?
I use cajun or old bay seasoning. If you don't have these, try a mix of onion powder, garlic powder, smoked paprika and oregano or thyme. You can also add some Parmesan cheese to the crumb mixture.
What dipping sauces would go well with breaded baked fish?
Classic tarter sauce, shrimp cocktail sauce, Thai sweet chili sauce, honey mustard, mayo with lemon and garlic, fresh herb sauce, dill sauce, plum sauce or red pepper sauce.
If I don't have Panko crumbs, what can I use instead?
Finely crushed Ritz crackers or corn flakes can be substituted.
Is there a way to lower the calories for this baked fish recipe?
Yes. Use half the panko mixture (including half the butter – or even skip the butter). Coat the fish on one side only with Panko, then place the fish directly on a pan lined with parchment. You can also use light mayonnaise.
How to make crispy baked fish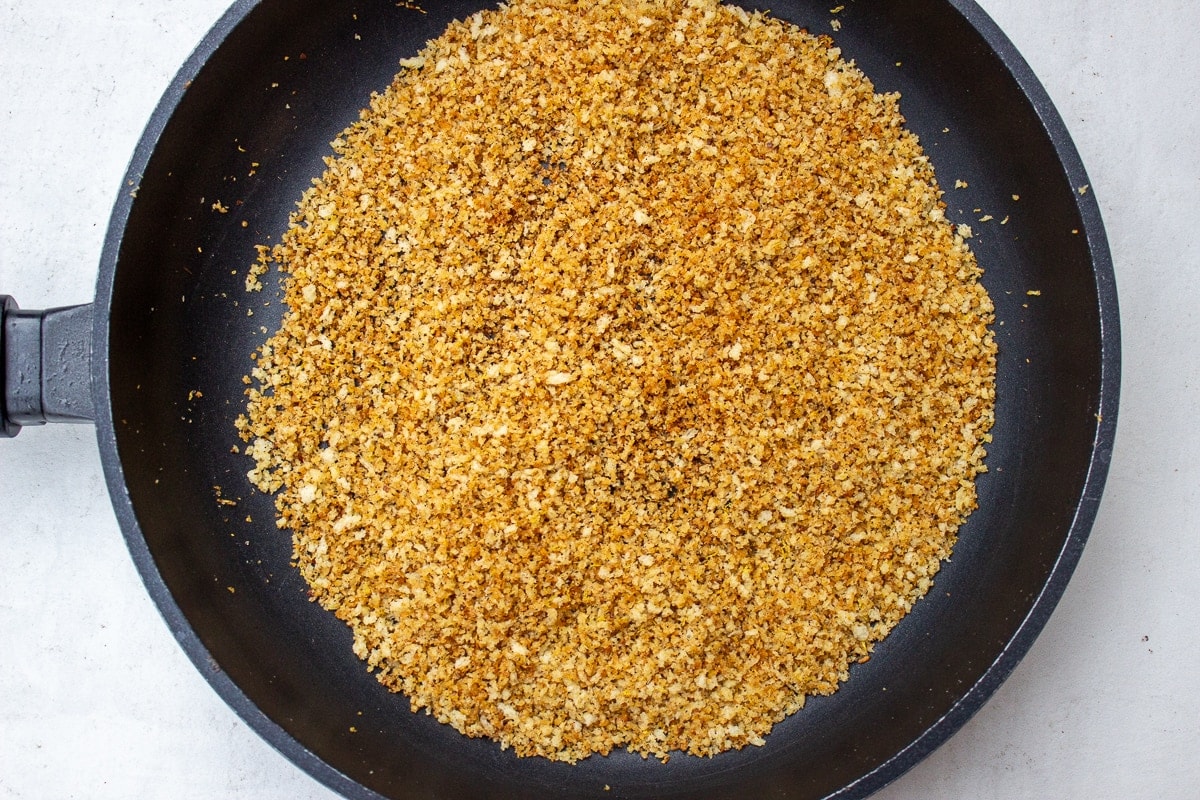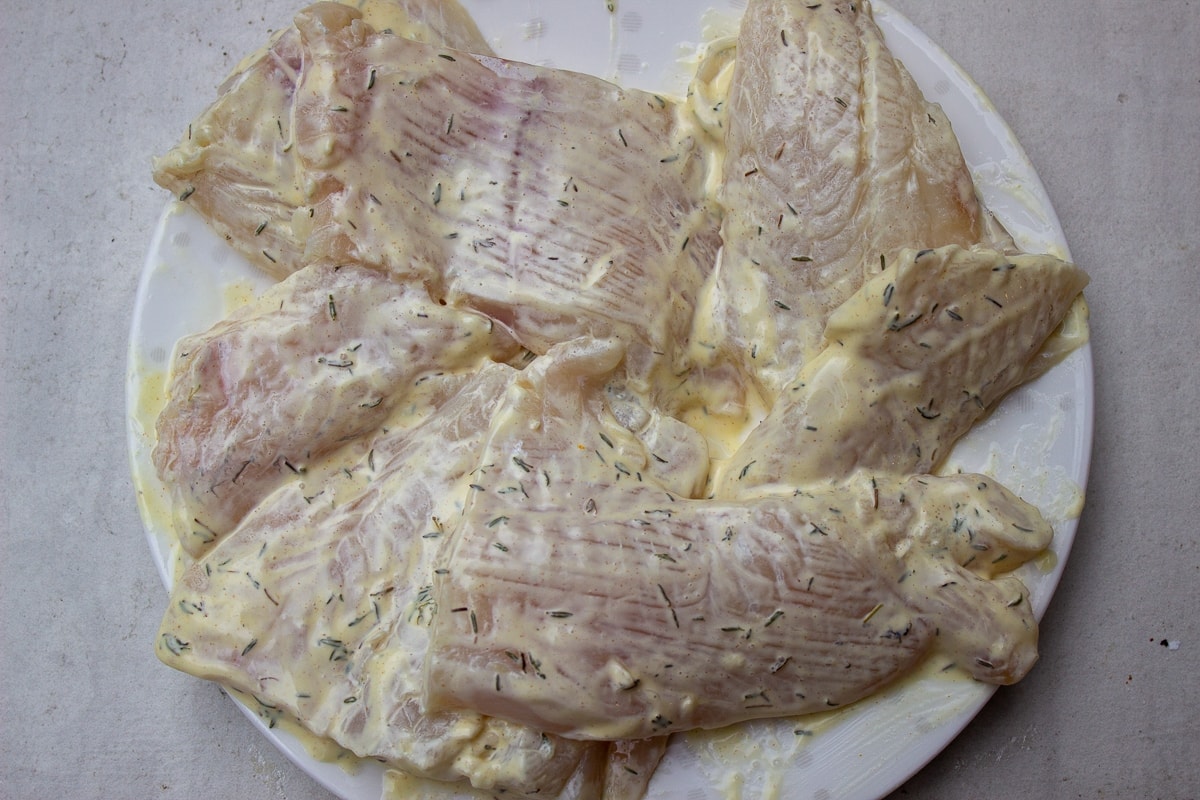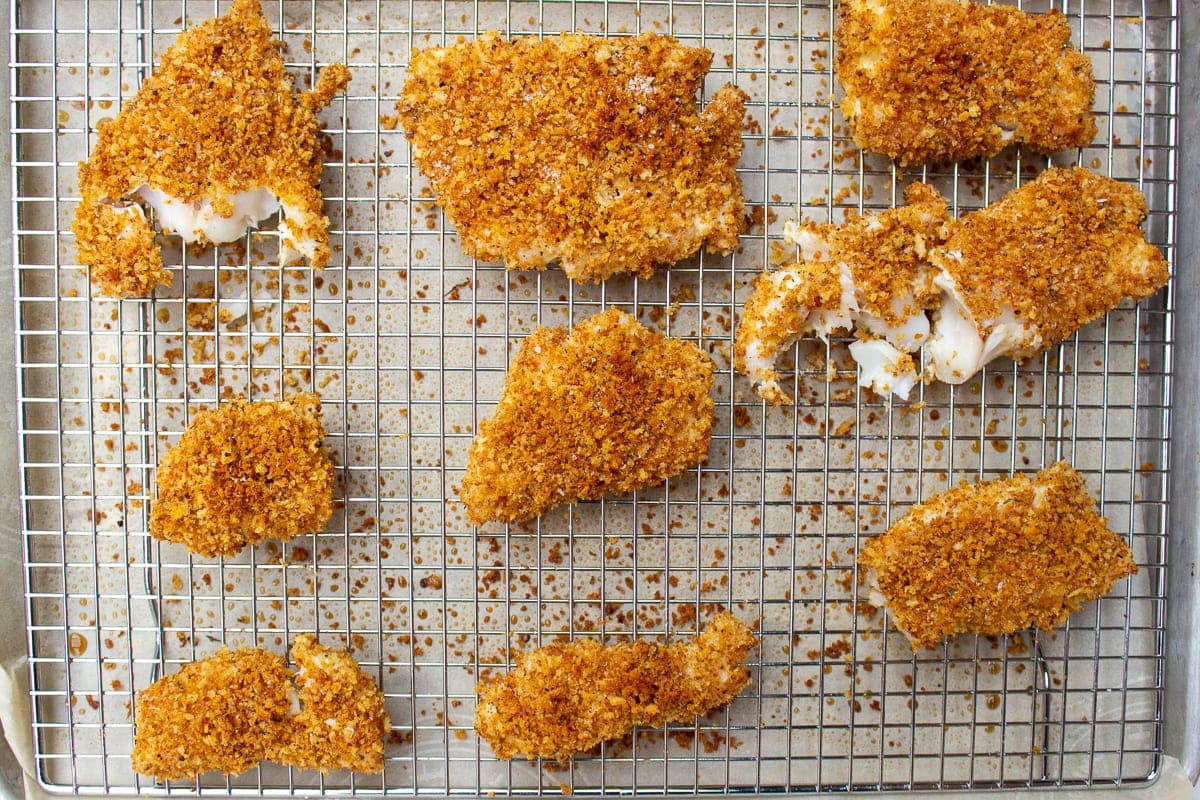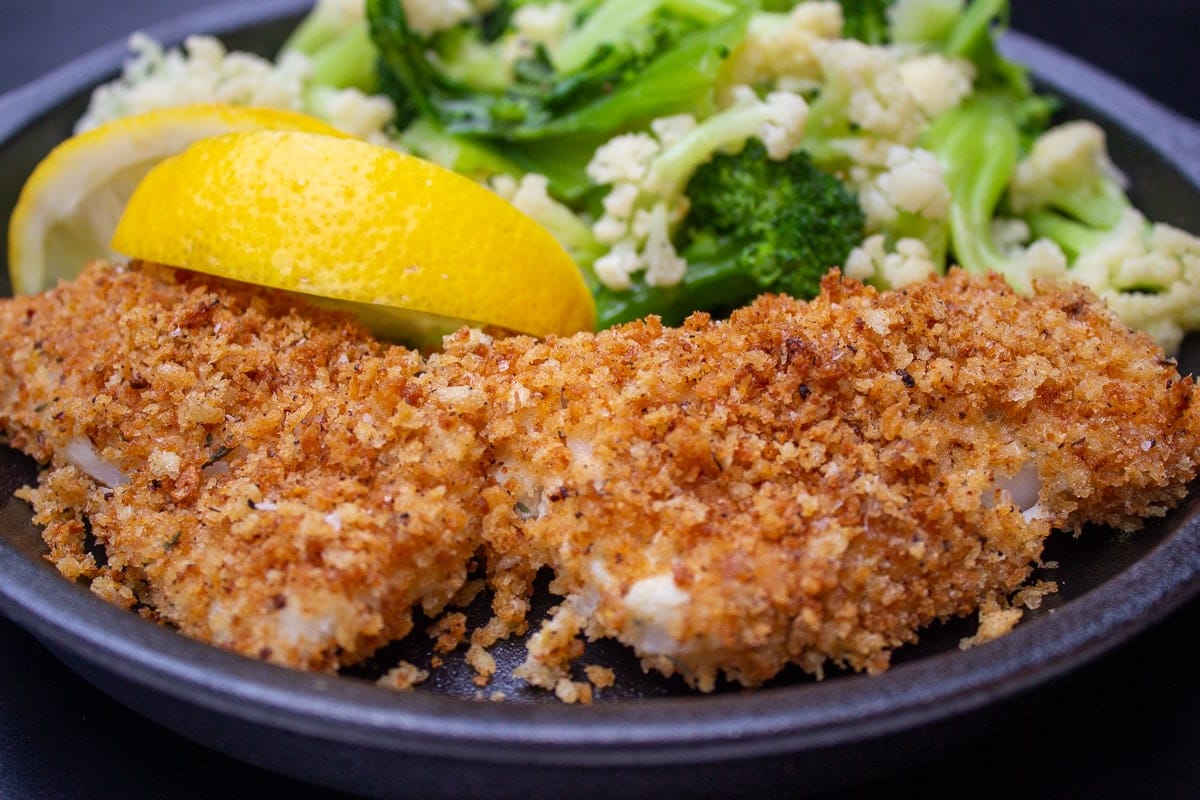 Make Ahead
Make the toasted bread crumbs a few days ahead if you like. Keep them at room temperature in an airtight container. I would not suggest making the full recipe ahead. Any reheating of the fish is likely to over cook it.
What to serve with the crispy oven baked fish
Serve the fish with fries and coleslaw for a more classic fish and chips type meal. But honestly, almost anything goes. Here are a few options.
Tips on fish recipes for people who don't like fish
Some fish haters can never be turned. But don't give up. If you're a first time fish eater, this would be a good recipe to start with. Here are some tips that might help non fish eaters turn into fish eaters.
Use breading: This often masks the fish. Try frying fish or, better yet, make oven fried fish (like this recipe)
Buy a non-fishy tasting fish: Tilapia, artic char, haddock, flounder, sole, halibut and walleye are good options.
Get rid of any fishy smell: All fish will have some smell soon after it's caught. To get rid of the smell, squeeze lemon juice on the fish just before cooking. Or, soak the fillets in milk for 15 minutes. Pat dry and continue with the recipe.
Buy fresh fish or good frozen fish: Frozen fish can be just as good as fresh as it's typically frozen right after it's caught. Just make sure there is no freezer burn or ice crystals (a sign of thawing and refreezing) and try to get frozen fish that has been vacuum sealed in a bag.
Add your favorite spices: Fish absorbs spices well.
Don't over cook the fish: This is my biggest pet peeve. Dry over cooked fish is, well, yuck. Aim for 130-135F/57C with an instant read thermometer. It can make all the difference.
Use a great dipping sauce: You've heard of people who only like shrimp because of the cocktail sauce, right? Same idea. In fact, don't knock cocktail sauce with the crispy baked fish. Or check out other suggestions below.
Other easy baked fish recipes you might like
If you like this recipe, please leave a 5 star rating 🌟🌟🌟🌟🌟in the recipe card below. And if you REALLY like it, consider a review in the comments. Thanks very much!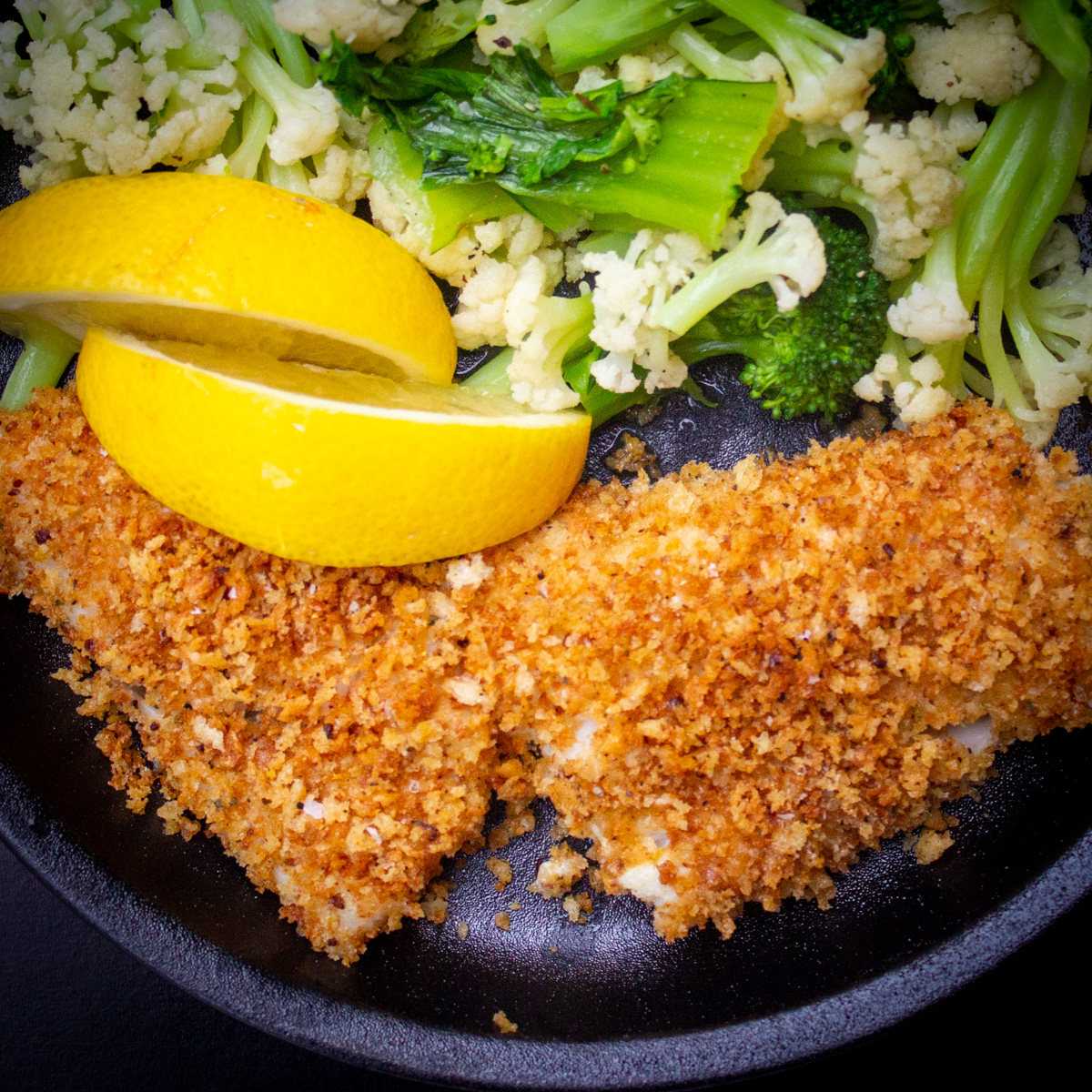 Print Recipe
Pin
Save Recipe
Recipe Saved!
Rate this recipe here
Crispy Baked Fish (20 minutes)
A buttery golden brown panko crust crowns this crispy baked fish for a quick and easy weeknight dinner. A perfect fish recipe for people who don't like fish. And for those who do too. Choose any mild white fish and a sauce or condiment you like best (we have lots of suggestions).
Servings:
2
(or 3 smaller portions)
Ingredients
Fish
1

pound

(450g) white fish, skinned, cut in even(ish) pieces, Note 1

salt and pepper to taste
Panko breadcrumb coating
1

cup

(119g) Panko breadcrumbs

(or finely crushed Ritz cracker/cornflakes)

1

tablespoon

butter

use 1 1/2 tbsp for extra buttery crumbs

1

tablespoon

Cajun seasoning, Note 2

or Old Bay

zest of 1 lemon
Mayonnaise coating
3

tablespoon

mayonnaise

light is fine

1

tablespoon

Dijon mustard

1

teaspoon

lemon juice

1

teaspoon

thyme
Garnish and dipping sauce
lemon wedges

dipping sauce options, Note 3
Instructions
HEAT OVEN TO 425F/217C. Line a rimmed baking sheet with parchment paper and place a grill/rack on top. Spray rack with cooking spray for easy clean up.

TOAST BREADCRUMBS: Pan fry Panko crumbs with butter, lemon zest and Cajun seasoning over medium heat in a large pan for about 5 minutes or until golden brown, stirring occasionally. Be careful not to burn them. To toast crumbs in oven instead: place crumbs on pan and bake in heated oven for 5-7 minutes, shaking half way through, until golden brown.

COAT FISH WITH MAYO, THEN PANKO: Stir mayo mixture ingredients together in a shallow dish and brush on fish in a thin layer on both sides. Sprinkle one side lightly with salt and pepper (skip if cajun seasoning is salty). Then dip pieces of fish in crumbs, patting to help adhere crumbs to fish. Place fish on the rack on top of baking sheet in a single layer. Sprinkle any remaining crumbs over fish.

BAKE: Bake fish in middle rack of oven for 7-10 minutes, depending on thickness of fish. One inch (2.5cm) thick fish will take about 10 minutes. Half inch, about 7-8 minutes. An instant thermometer will read 135F/57C. The fish should flake easily and be slightly translucent (not dry). Serve with lemon wedges and your preferred dipping sauce (note 3).
Recipe Notes
Fish options: haddock (pictured), sole, cod, tilapia, flounder, grouper, snapper, artic char, halibut, walleye. 
Cajun seasoning alternative: if you don't have Cajun seasoning, use Old Bay or Jerk seasoning. Or try: 1 tsp smoked/regular paprika, 1/2 tsp salt, 1/4 tsp each garlic powder, thyme, cayenne. 
Dipping sauce options (~1/4 cup/60ml): 

Tartar sauce (classic): 1/4 cup/60ml mayonnaise, 1/2 tbsp chopped capers, 1 tsp Dijon, 1 tsp lemon juice. 
Seafood cocktail sauce: 1/4 cup/60ml ketchup, 1 tbsp prepared horseradish. optional: squeeze of lemon juice and dash or Worcestershire. 
Plum sauce
Honey mustard
Sriracha mayo – add 2 tsp sriracha to 1/4 cup mayo.
Lemon garlic mayo – add 1/2 tsp minced garlic and 2 tsp lemon juice to 1/4 cup/60ml mayonnaise. 
Nutrition values are estimates for two large portions and include light mayonnaise and lemon wedges (no dipping sauce). 
Nutrition
Calories:
395
kcal
|
Carbohydrates:
26
g
|
Protein:
42
g
|
Fat:
13
g
|
Saturated Fat:
5
g
|
Trans Fat:
1
g
|
Cholesterol:
140
mg
|
Sodium:
2133
mg
|
Potassium:
814
mg
|
Fiber:
3
g
|
Sugar:
3
g
|
Vitamin A:
2093
IU
|
Vitamin C:
3
mg
|
Calcium:
100
mg
|
Iron:
3
mg
Tried this recipe?
We'd love you to rate it above under 'rate this recipe' or in the comment section below. Thanks!