Easy Roasted Bok Choy Recipe
This tender crisp roasted bok choy recipe makes an easy and healthy 12 minute, low calorie delicious side dish. Amp up the flavor with a drizzle of balsamic reduction and sprinkle of sesame seeds.
You can't get much easier than this, especially with a couple of shortcuts. The baby bok choy – a beautiful vegetable – is soft, slightly charred and crisp.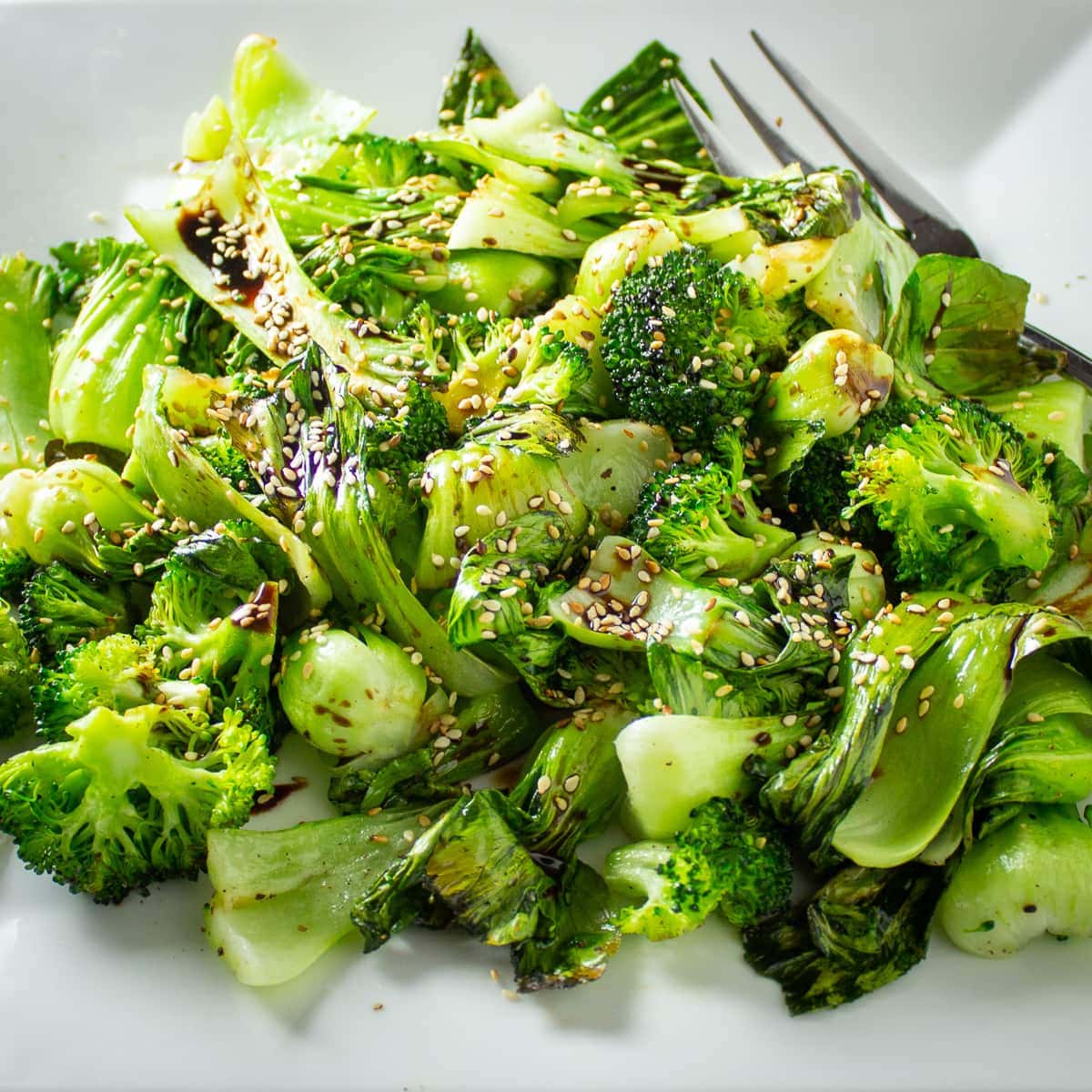 The balsamic reduction drizzle and toasted sesame seeds add a touch of earthy sweetness and nuttiness. Add broccoli if you like or another quick cooking veggie.
I love that I can have everything prepped and just pop the tray into the oven a few minutes before serving.
What is Bok Choy?
Bok choy is a type of Chinese cabbage. It comes in different sizes. For this recipe, I like to use baby bok choy. 
Both the dark green leaves and the crunchy white or pale green stems (the bulb) can be eaten.
Here are 10 fun facts about boy choy if you're interested. 
What does boy choy taste like?
It is crunchy (unless over cooked) and has a mild, slightly sweet, slightly peppery taste. Some say it's a cross between spinach and water chestnuts. Hmm.
The leaves can be a bit bitter, but a touch of maple syrup or balsamic reduction can fix that. Or cut off the top part of the leafy greens if you prefer.
Is bok choy healthy?
Yes, bok choy makes a healthy side dish option. It's a great source of antioxidants, vitamin C and vitamin A.
Bok choy can also be sautéed, but the advantage of roasting is that you can make larger quantities at the same time. I love it in soup too, like our vegetable wonton soup.
Diners watching their calories can eat a LOT of bok choy without guilt.
What to serve with roasted bok choy
Because bok choy cooks so quickly, it's a perfect vegetable for a complete meal in one pan. I like to nestle a piece of salmon on a corner of the pan with the vegetables and roast it all at the same time. Dinner in 20 minutes!
I usually roast the bok choy in a very hot oven, but if I make a sheet pan dinner with everything in one roasting pan, I lower the oven temperature to a medium-high heat and cook it a little longer. For example, salmon and bok choy together would cook at 425F/218C in 10-12 minutes, depending on the thickness of the fish. 
This tasty side dish really goes with any fish, chicken, pork, beef or tofu. Try serving it with Maple Balsamic Pecan-Crusted Salmon, Teriyaki Salmon, Instant Pot Whole Roast Chicken and Gravy steak or Grilled Pork Chops.
How to make this baby bok choy recipe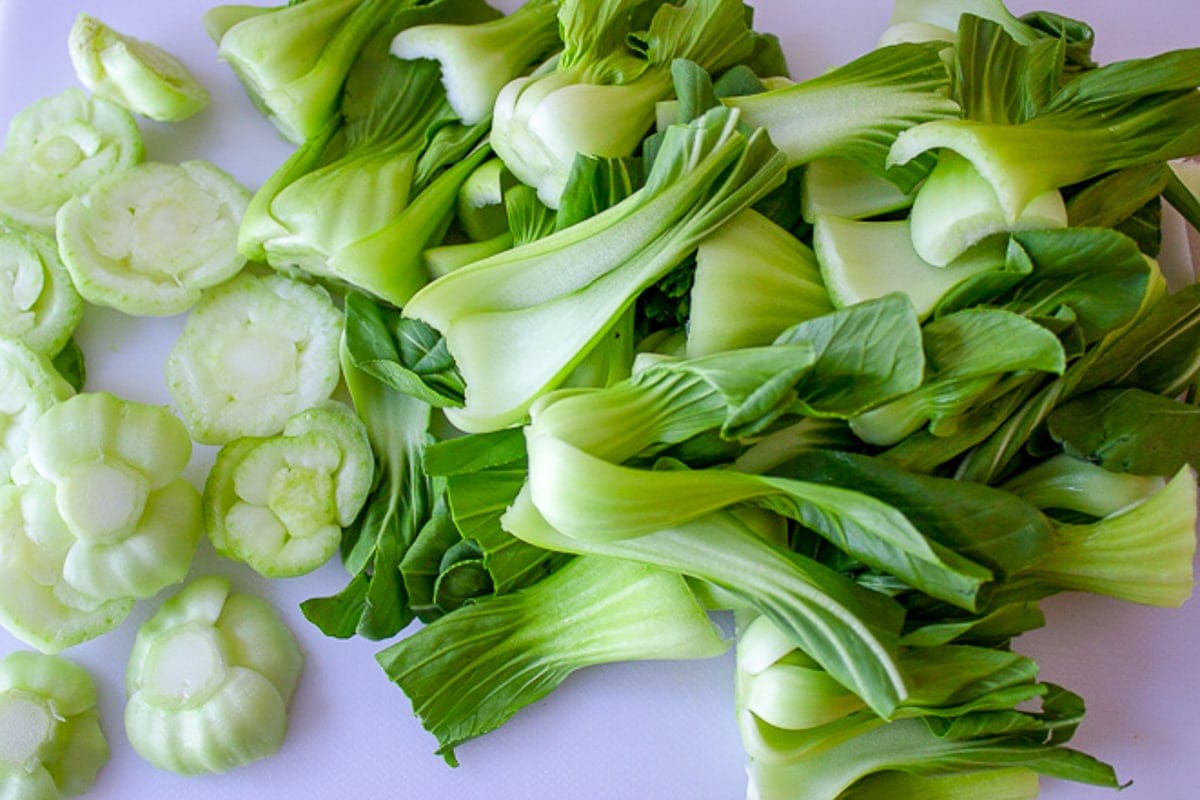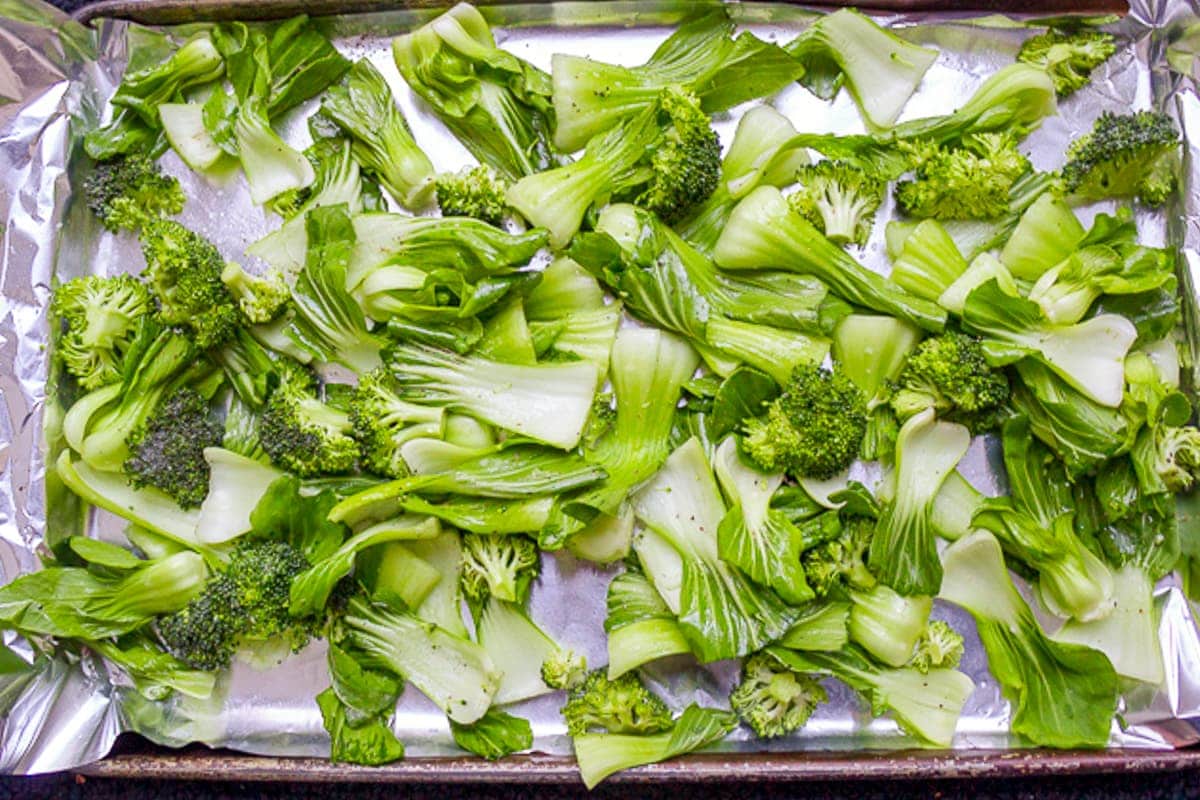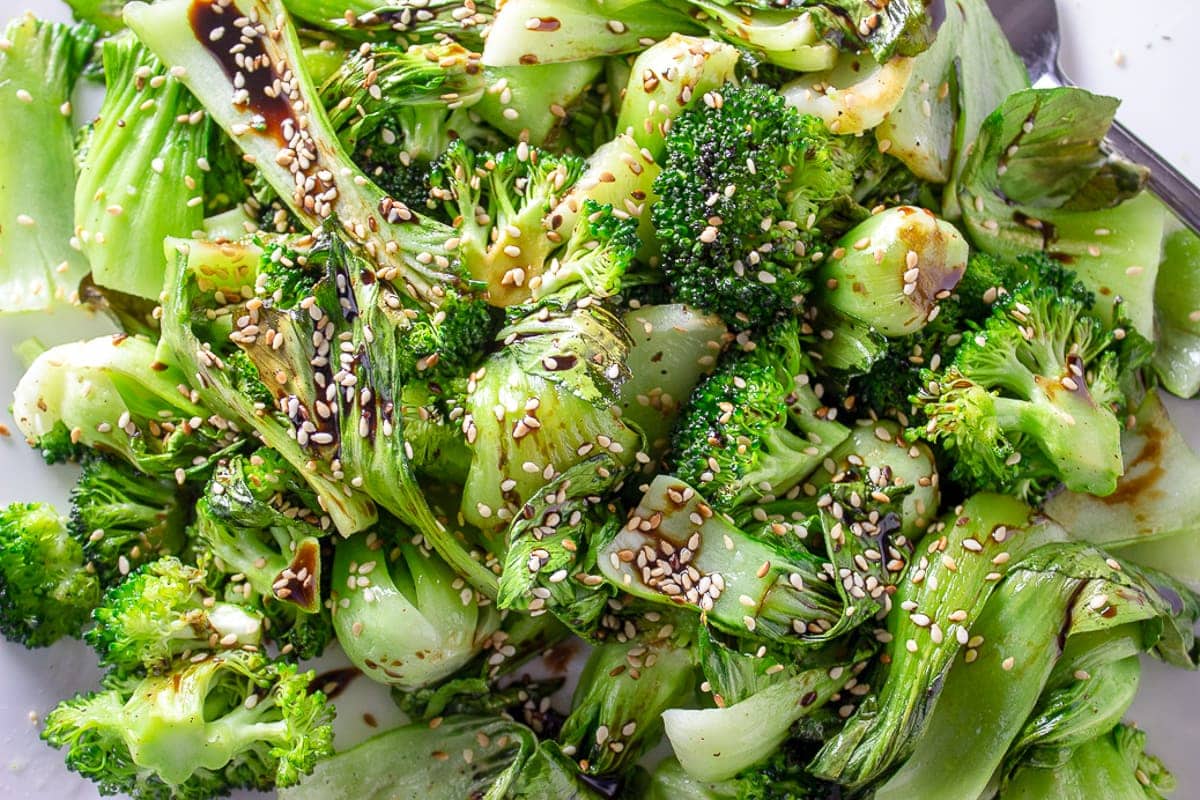 Tailor To Your Taste
As always, people's tastes and needs are different. Here are a few variations you can try.
Add another vegetable: I usually make this roasted bok choy with broccoli (as pictured). Other good options are asparagus and small cauliflower florets because they take a similar roasting time. I sometimes add a few handfuls of fresh baby spinach to roast as well.
Substitute for baby bok choy: Use regular bok choy (which is longer and thicker). Cut it into smaller pieces. Roast for about 10 minutes instead of 6.
Flavor and garnish variations:

Add red pepper flakes if you like some heat.
My favorite way to serve the bok choy is with a drizzle of balsamic reduction 
If balsamic reduction is not your thing (or you don't like it), try lemon zest or lemon juice. 
Or a splash of soy sauce (low sodium is fine) and a few drops of sesame oil.
You can also substitute sesame seeds with other toasted chopped nuts or seeds.
Add a light sprinkle of sea salt if you like.
Shortcuts
I use a balsamic reduction/glaze I buy at the store for the drizzle. If you prefer to make your own, I have included instructions to make your own in the recipe.
You can buy toasted sesame seeds, but again, instructions for toasting are in the recipe below. It just takes a few minutes.
Make Ahead
Get everything washed, seasoned and laid out on the pan(s). Roast for 6 minutes just before serving. If you have too many other things to do at that time, you can complete the dish and warm it in a hot oven for a few minutes before serving – or in the microwave for 1 minute.
Other roasted vegetable recipes to love
Easy Roasted Bok Choy Recipe
This tender crisp roasted bok choy recipe makes an easy and healthy 12 minute, low calorie side dish. Amp up the flavor with a drizzle of balsamic reduction and sprinkle of sesame seeds.
Ingredients
1

pound

baby or sprout bok choy

(about 14 pieces)

1/2

pound

broccoli

(1/2 head)

2

tablespoon

olive oil

(or vegetable oil)

1/4

teaspoon

garlic powder

(or 1 clove finely minced)

1/4

teaspoon

salt

1/4

teaspoon

pepper

optional: 1/2 tsp red chili flakes or red pepper flakes
Garnish
drizzle

Balsamic reduction (bottled), Note 1

1

tablespoon

or more, toasted sesame seeds, Note 2
optional: 1 teaspoon lemon zest or a squeeze of lemon juice. Note 3
Instructions
Heat oven to 450F/232C. Line a large baking sheet with foil and spray with cooking spray/oil. Parchment paper is fine too if it can withstand a very high heat.

PREPARE BOK CHOY AND BROCCOLI: Cut 1/2 inch/1.27 cm off white bult ends of boy choy. Separate stems (or cut baby bok choy in half lengthwise if using regular bok choy). Tear off any partial leaves that are wilted or brown. If adding broccoli, cut stems off and cut florets in half or into smaller pieces.

MIX WITH SEASONINGS: Lay bok choy and broccoli in a single layer on pan. Drizzle with oil. Sprinkle with garlic powder, salt and pepper and red pepper flakes (if using). Toss with hands to coat veggies evenly and spread out in single layer. 

ROAST, DRIZZLE AND SERVE: Roast for 6 minutes or until slightly browning. If you prefer more char or caramelization, continue roasting another 4-5 minutes, but vegetables will be softer. Remove from oven. Transfer to platter. Drizzle with balsamic reduction and sprinkle with toasted sesame seeds. Garnish with lemon juice or zest if desired. 
Recipe Notes
To Make Balsamic Reduction: If you can't find a bottle of Balsamic Glaze/Reduction at the store, you can make it. Bring to boil a 1/2 cup of balsamic vinegar and 2 tablespoons honey or brown sugar in a small saucepan. Reduce heat to a rolling simmer and simmer for about 15 minutes until it reduces by half to a syrup consistency (thick enough to coat the back of a spoon).
To Toast Sesame Seeds: Put seeds into dry pan and shake or stir occasionally over medium heat for 3-5 minutes until light brown. 
Bok Choy: If you can't find baby bok choy, you can use the regular size. Cut off 1/2-2 inches off the bottom, separate stems and cut into smaller pieces. 
Oil: I don't suggest you use extra virgin olive oil because of the lower smoke point and high roasting temperature. Here's a 101 article on cooking oils. 
To make ahead: I prepare everything ahead, leave the pan with the bok choy on the counter, then pop it in the oven to roast 6 minutes before serving. 
Nutrition values are estimates that include boy choy and broccoli.  
Nutrition
Calories:
150
kcal
|
Carbohydrates:
11
g
|
Protein:
4
g
|
Fat:
11
g
|
Saturated Fat:
2
g
|
Sodium:
318
mg
|
Potassium:
251
mg
|
Fiber:
4
g
|
Sugar:
3
g
|
Vitamin A:
7199
IU
|
Vitamin C:
135
mg
|
Calcium:
228
mg
|
Iron:
2
mg
Tried this recipe?
We'd love you to rate it above under 'rate this recipe' or in the comment section below. Thanks!