French fries? No. These are are honey roasted parsnips, a delicious side dish flaunting a natural sweetness and an earthy nutty flavor.
Although parsnips are part of the carrot family, they look and taste quite different. In this recipe, we roast them at a high heat with olive oil,  a drizzle of honey and a sprinkle of salt and pepper. The end result is a soft interior, a beautifully caramelized exterior and enhanced sweetness. Wonderful flavor.
These parsnips are delicious served with roasts, chicken or other vegetables. And you can tweak them with the many suggestions below based on your preferences and what else you're serving.
From a nutrition perspective, parsnips claim a lower calorie and much higher fiber content compared to a potato. For instance, one cup of cooked parsnips has 5.6 g of fiber, almost 25% of the daily recommended value.
Tips for Honey Roasted Parsnips
How to choose them: Choose white firm parsnips that are not shriveled with brown spots. Smaller parsnips are better because the larger ones have a larger bitter core.
How to cut them: The key is to cut the parsnips into pieces the same thickness so they will roast evenly.
How much to serve: Estimate about 1/2 pound of raw parsnips per person. (The weight will be lower after cooking).
 Tailor To Your Taste
Add carrots, cut to the same size, for a nice color combination. Or use half carrots, half parsnips.
Try different types of honey such as lime-honey or honey mustard.
Experiment with other seasonings that go well with parsnips such as cumin, coriander and cinnamon.
Jazz them up with different garnishes after roasting:

chopped herbs like thyme, dill, parsley or basil.
lemon or orange zest on the parsnips.
a drizzle of balsamic vinegar reduction.
Make Ahead
Roast ahead, then rewarm in a 350F oven for 8-10 minutes. The parsnips are also good served at room temperature.
Here are a few suggestions for pairing proteins with the honey roasted parsnips: Cedar Planked Chicken, Chicken Meatloaf, Roast Turkey Breast or  Classic Prime Rib Roast.  Of course, roasting them with other root vegetables like sweet potatoes, carrots, turnips and onions is a great option too.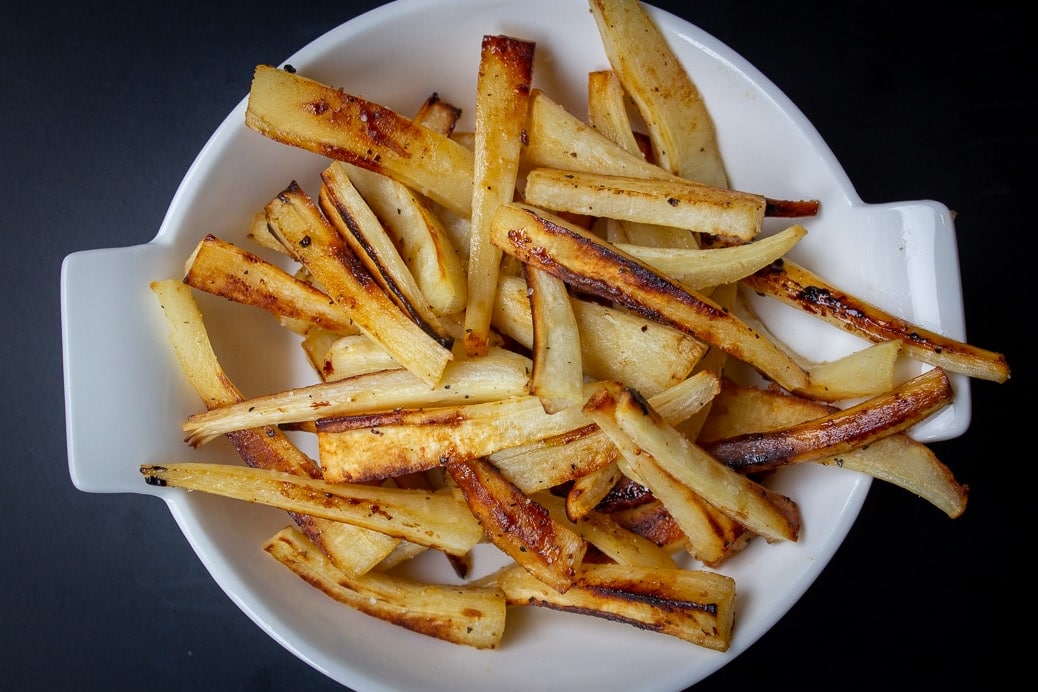 Print Recipe
Pin
Rate this recipe here
Honey Roasted Parsnips
French fries? No. These are are honey roasted parsnips, a delicious side dish flaunting a natural sweetness and an earthy nutty flavor.
Ingredients
1

lb

parsnips

1 1/2

tbsp

olive oil

(or 1 tbsp olive oil + 1/2 tbsp melted butter)

1 1/2

tbsp

honey

kosher salt and pepper

Optional garnish: drizzle of Balsamic reduction
Instructions
PREHEAT OVEN to 425F. Line a pan with foil and spray with oil.

PREPARE PARSNIPS: Peel parsnips with vegetable peeler. Cut into even sticks, about 1/2 inch thick. By cutting them the same thickness, you will ensure they will finish cooking at the same time. In a medium bowl, toss parsnips with oil and honey. Sprinkle with salt and pepper. Toss to coat evenly.

ROAST PARSNIPS AND SERVE: Place parsnips on lined pan in a single layer (no overlapping). Roast for 22-30 minutes, turning half way through, until soft when pierced with a fork and caramelized on the edges. Transfer to serving bowl and serve. If desired, drizzle with balsamic reduction before serving.
Notes
Make Ahead: Roast parsnips and set aside. Reheat in a 350F oven for about 8-10 minutes. 
160
kcal
Here are some other roasted vegetable recipes you might like:
Roasted Honey-Thyme Carrots Recipe
Fresh carrots roasted with some oil, honey and thyme, then sprinkled with grated orange zest make these Roasted Honey-Thyme Carrots a treat.
Get the recipe
Print
Easy Roasted Bok Choy and Broccoli Recipe
Tender crisp Roasted Bok Choy and Broccoli makes an easy and healthy 12 minute low calorie side dish. Delicious with a drizzle of balsamic reduction and sprinkle of sesame seeds.
Get the recipe
Print
Roasted Cauliflower With Orange-Balsamic Drizzle Recipe
Roasted cauliflower with orange-balsamic drizzle is an easy, jazzed-up side dish with a touch of rich, earthy tangy-sweetness. Yum!
Get the recipe
Print
Roasted Glazed Carrot Tzimmes Recipe
A perfect side for Rosh Hashanah or any feast, Roasted Glazed Carrot Tzimmes fuses the delicious, rich flavours of balsamic, maple, orange & cinnamon.
Get the recipe
Print