Bone-In Turkey Breast with Pear Chutney
A simple succulent, roasted bone-in turkey breast with pear chutney makes for a surprisingly no-fuss, healthy and delicious family or holiday dinner.
This turkey recipe is simple to make yet looks and tastes elegant. It can stand on its own with a couple of sides or you can marry it with the typical turkey fare like stuffing and gravy. The actual hands-on cooking time is less than 30 minutes.
It also makes a lovely centerpiece for Thanksgiving dinner, Easter dinner or a dinner with friends and family.
If you are wrestling with what kind of turkey to make, here are a couple of thoughts.
I much prefer cooking a turkey breast instead of a whole turkey because it is much more manageable and there is a lot less waste. Yes, it's a bit more expensive per weight, but with little waste, the cost is pretty close.
I also prefer a bone-in turkey breast instead of a boneless turkey breast because it the bone adds flavor and the half breast is pretty easy to bone after it's roasted for uniform slicing.
The pear chutney enhances the turkey with sweetness from the pears and raisins (or cranberries), tang from the cider vinegar and lemon, and depth from the cinnamon, garlic and onion. It can be made several days ahead.
Ingredient notes – tailored to your taste
Turkey ingredients: half bone-in turkey breast, olive oil, garlic powder, salt, black pepper and fresh rosemary (plus onions not shown).
Chutney ingredients: pears, lemon, dried cranberries (or raisins), garlic, green onion, apple cider vinegar, maple syrup.
Here are some variations and substitutions you can try:
Turkey
Buy a half bone-in breast that weighs 2-3 pounds/0.9-1.4 kg.
For maximum moistness and flavor, I suggest brining the turkey breast if you have the time. Even an hour of brining at room temperature makes a difference. It's easy and the instructions are in the recipe notes.
Alternatively, use a shortcut and buy a kosher turkey breast or butterball turkey breast which is already brined.
If you can't find turkey, substitute a full bone-in chicken breast (both halves).
You can also use a boneless turkey breast, but you will have to adjust the cooking time which may be a bit longer. Cook it to the same temperature as the recipe states.
Pear chutney
You can use apples instead of pears in the chutney or try our peach chutney
Replace dried cranberries with raisins or chopped prunes.
If you don't have maple syrup, use honey or brown sugar.
Gravy
I have to admit that I still love gravy on my turkey no matter what, so I included a quick gravy recipe using the turkey drippings.
Tip
Don't over cook the turkey. Over cooked turkey is dry and stringy. One of my essential kitchen tools is a good instant meat thermometer. It's worth the investment if you cook a lot and, in this case, are hoping for a juicy turkey. Or, use a probe thermometer if you have one.
Step by step instructions
Season the turkey breast. Lay it on sliced onions in a shallow roasting pan. Roast until the internal temperature reaches 155F/68C. It will rise further on resting.
Make the pear chutney while the turkey is roasting. Sauté onions, then cranberries. Add remaining ingredients and simmer until most of the juices are absorbed.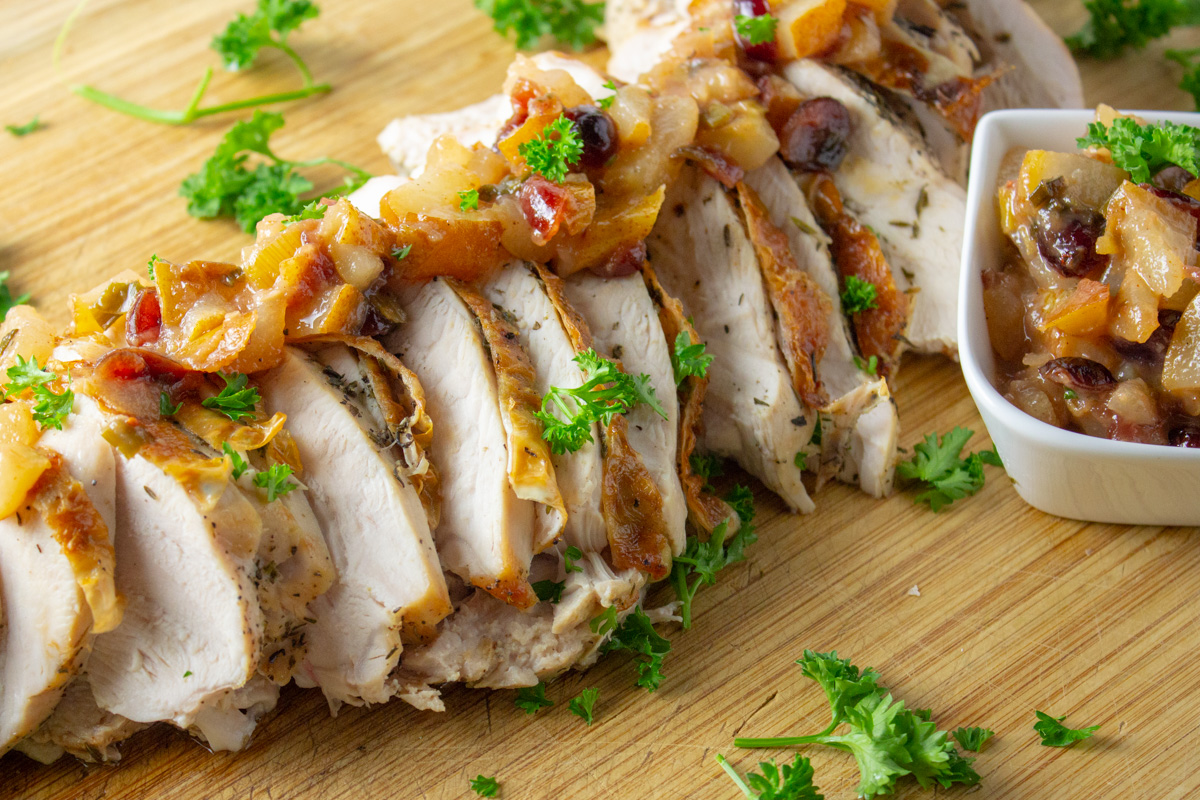 Shortcut
Buy pear, mango or peach chutney from your local farmer's market or specialty food store.
Or just serve the turkey with cranberry sauce or our fresh 5 minute cranberry-orange relish.
Make Ahead
Roast turkey up to 40 minutes ahead and cover with aluminum foil to keep warm. Slice before serving.
Recipe FAQ
How do you make a moist juicy turkey?
Don't overcook the turkey. Brine the turkey. Leave the skin on while roasting. Let it rest before carving (very important).
Is a butterball turkey breast pre-brined?
According the Butterball, a butterball turkey is pre-brined to produce a moist, juicy turkey breast.
What is the difference between chutney, salsa and relish?
Chutneys are almost always cooked fruits and vegetables. They are often sweet and tangy and contain spices like cinnamon and cloves as well as herbs and chili peppers. And can be served chunky or smooth. Salsas are typically uncooked vegetables and/or fruit. Salsa is the Spanish word for sauce. The most common ones are tomato Mexican salsas. Relish is typically finally chopped raw vegetables, often with a preserved or pickled component.
What to serve with roast turkey breast
The options are really endless, but here's a few that go really well with turkey.
Or check out our 44 Thanksgiving side dishes which include the above and many others.
More turkey recipes
Salt is king when it comes to flavor enhancers. Check out our article on what experts say about the best salt for cooking (and what you should know).
If you like this recipe, please leave a 5 star rating 🌟🌟🌟🌟🌟in the recipe card below. And if you REALLY like it, consider a review in the comments. Thanks very much!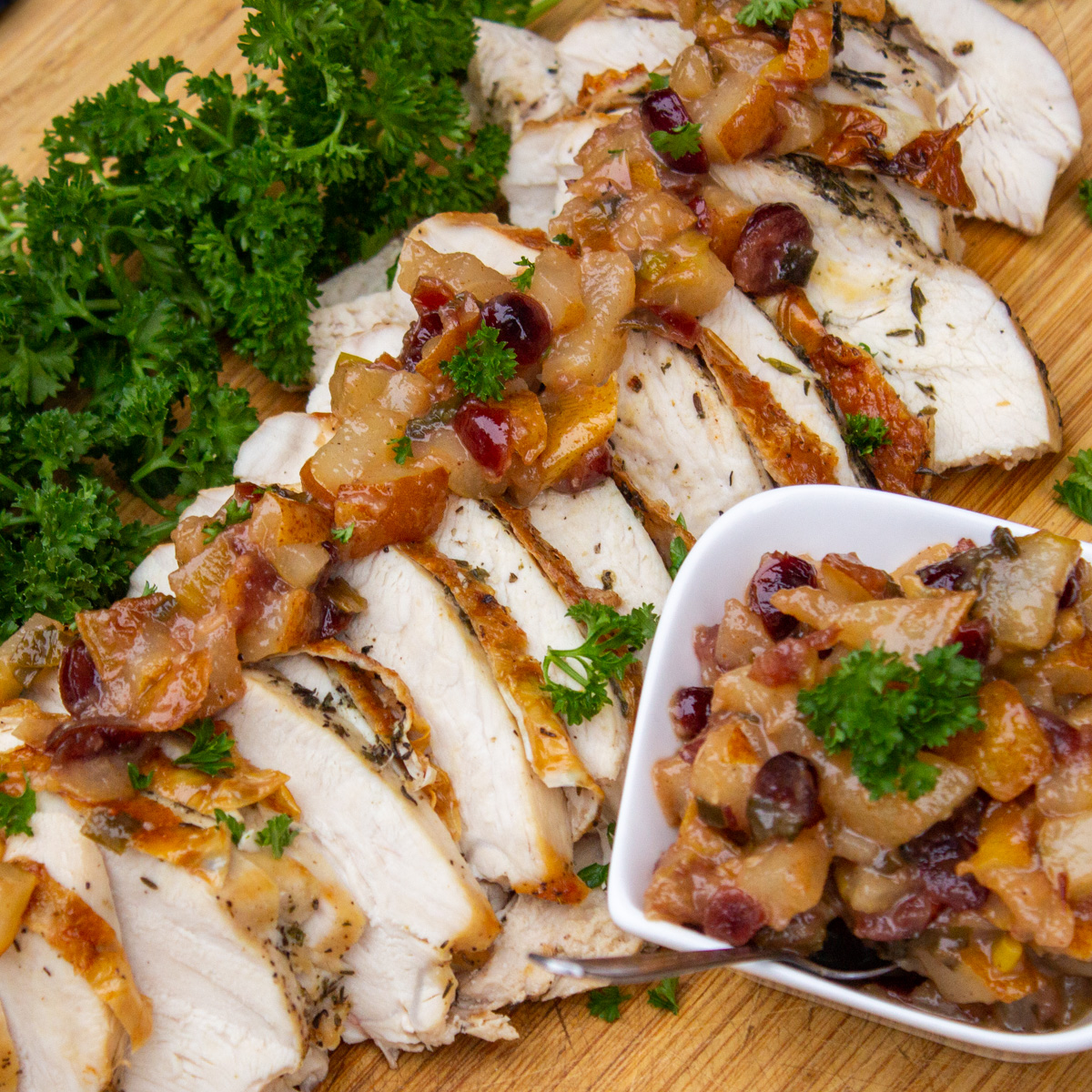 Print Recipe
Pin
Save Recipe
Recipe Saved!
Rate this recipe here
Bone-In Turkey Breast with Pear Chutney
A simple roasted bone-in turkey breast with pear chutney makes for a surprisingly no-fuss, healthy and delicious family or company dinner.
Ingredients
1

half turkey breast, bone in, skin on (about 2.5-3.0 lbs)

preferably brined (Note 1) or kosher (which is already brined)

1

tablespoon

olive oil or softened butter

1/2

teaspoon

thyme

1/4

teaspoon

each, salt and black pepper

(use more salt if turkey is not brined)

1/2

small onion, sliced
Pear Chutney
1

teaspoon

olive oil

1/3

cup

(17 grams) chopped green onion (or onions)

1/2

cup

(72 grams) dried cranberries

(or raisins)

3

pears, diced

(about 1/3-1/2 inch/1 cm cubes)

1 1/2

tablespoons

lemon juice

(about 1/2 lemon)

1

tablespoon

apple cider vinegar

1

tablespoon

honey or sugar

1

teaspoon

minced garlic

(1 clove or 1/4 tsp garlic powder)

1/4

teaspoon

EACH of cinnamon, sea salt, pepper and paprika

1/2

teaspoon

orange zest (optional)
Instructions
PREHEAT OVEN TEMPERATURE TO 450F/212.8C. Line a roasting pan with tin foil and spray with oil for easy clean up.

PREPARE AND ROAST TURKEY: Put onions in center of pan. Mix oil (or butter), thyme, salt and pepper in small bowl. Brush turkey breast all over with seasoning mixture, including under skin. Place turkey on top of onions. Place pan in oven. Immediately reduce temperature to 325F/162.8C. Roast for about 60-65 minutes until instant thermometer or oven probe reads 155F/68.3C. Temperature will rise to 160F.  Loosely cover with foil and let it rest for 15-20 minutes before slicing. This is important to maintain moist, juicy meat. If you are making a gravy, pour 3 tablespoons of grease from the pan into a small saucepan. See Note 2 to make gravy.

MAKE CRANBERRY-PEAR CHUTNEY: While turkey is roasting, heat oil on medium-high heat in medium saucepan. Add onions and sauté for 3 minutes until translucent. Add raisins and cook for another 2 minutes. Add rest of chutney ingredients. Stir to combine. Bring to boil, then cover and lower heat to medium-low heat. Simmer for 15 minutes or until pears are tender. Uncover, increase heat to medium high and let cook, stirring occasionally, for about 3-5 minutes until juices absorb. Taste and adjust seasonings if needed (lemon, sugar, salt, cinnamon). Grate some orange zest in if desired.

FINISH AND SERVE:  Remove turkey meat from bone in more-or-less one piece, slice breast meat horizontally and transfer to serving platter. Serve with gravy (if using) and pear chutney on top or on the side.
Recipe Notes
To brine the turkey: Place 3 cups room temperature water in a ziploc bag or container along with 3 tablespoons kosher salt, 1 tablespoon sugar, a clove of garlic, 5-6 peppercorns and some rosemary (if desired). Seal and squish around until salt is dissolved. Add turkey and seal bag/container. Brine for 2-3 hours in fridge or, if short on time, for 40-50 minutes at room temperature. When ready to use, rinse turkey and pat dry with paper towels. Proceed from there. 
To make gravy: Heat 3 tablespoons grease drippings from turkey (or oil if there isn't enough) in a saucepan to medium heat. Stir in 3 tablespoons flour and cook for 3-4 minutes, stirring intermittently. Add 2 cups chicken or turkey broth (including any broth from pan if there is any). Cook for a few minutes whisking until gravy thickens and becomes smooth. Season with thyme, salt and pepper to taste.
Make Ahead:

Roast turkey up to 40 minutes ahead and cover with tin foil to keep warm. Slice before serving.
To make turkey breast a day ahead, follow the instructions for reheating in our Tips for Keeping Foods Warm.
Pear chutney can be made several days ahead and stored in the fridge in a sealed container. 
Nutrition Values include the pear chutney and the skin on the turkey (take it off  to reduce calories and fat).
Nutrition
Calories:
581
kcal
|
Carbohydrates:
44
g
|
Protein:
63
g
|
Fat:
20
g
|
Saturated Fat:
6
g
|
Cholesterol:
166
mg
|
Sodium:
863
mg
|
Potassium:
347
mg
|
Fiber:
6
g
|
Sugar:
18
g
|
Vitamin A:
116
IU
|
Vitamin C:
12
mg
|
Calcium:
26
mg
|
Iron:
1
mg
Tried this recipe?
We'd love you to rate it above under 'rate this recipe' or in the comment section below. Thanks!
The pear chutney part of the recipe was adapted from Lexi's Clean Kitchen.