Try this tried and true classic make ahead stuffing and you'll be sure to have a hit at your next Thanksgiving day or holiday dinner. Best Thanksgiving dish on the table – no contest!
I've been making this stuffing recipe for over 30 years – the same one my mother made with a few tweaks.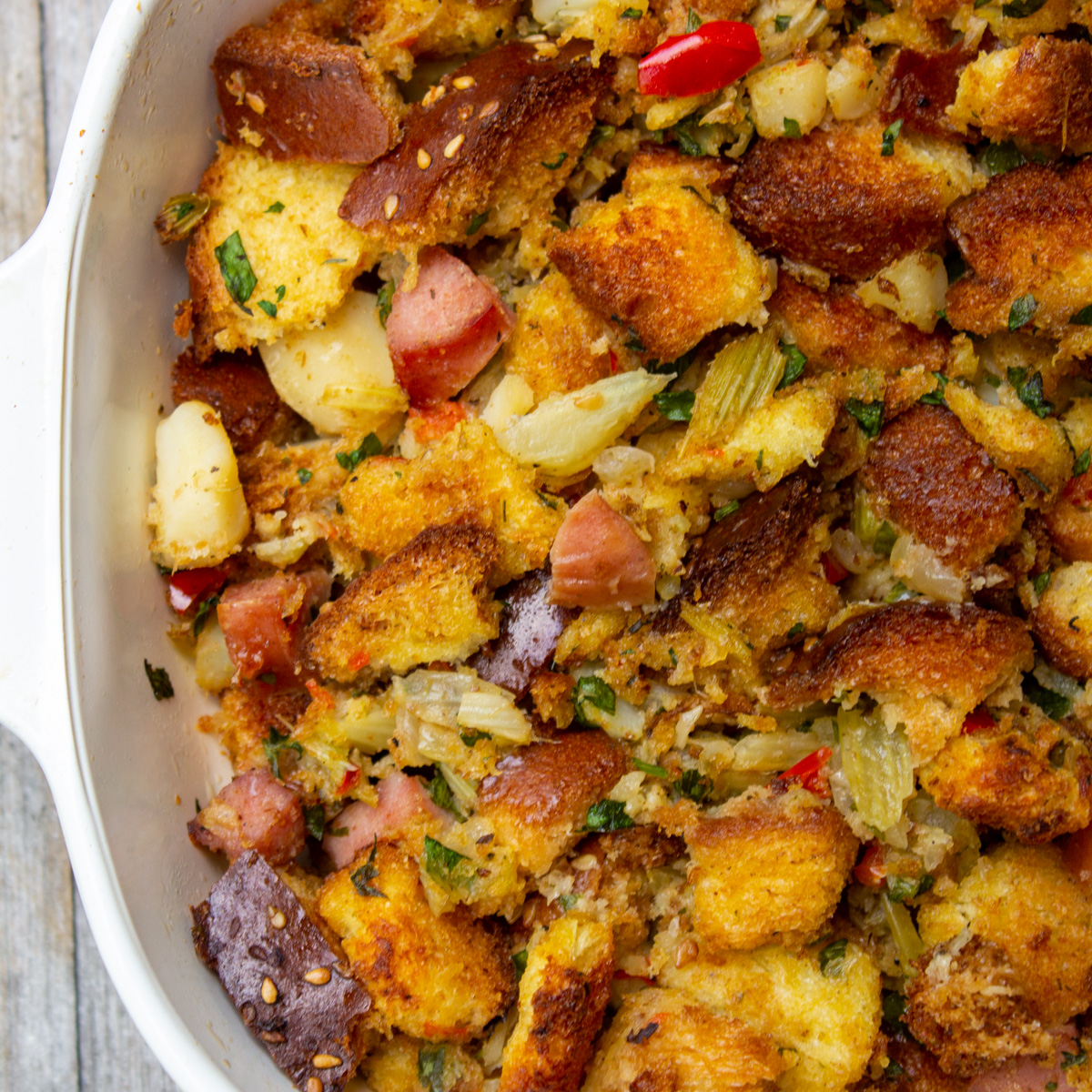 A basic homemade stuffing – or dressing – is a crucial part of Thanksgiving prep. It includes bread, onions, broth and savory seasonings like sage and thyme. We add add celery and some optional ingredients such as chopped water chestnuts for crunch and chopped hot dogs for smokiness.
Play around with the ingredients to your taste, adding and subtracting what you and your family like best. I've made several suggestions below. 
Ingredient notes – tailored to your taste
Basic ingredients: toasted bread (Challah), onion, celery, seasonings, garlic, broth, butter, parsley. Optional: apples, water chestnuts, hotdogs, peppers.
Here are a few suggestions of variations and substitutes you can try.
Bread: I like to use Challah (egg bread), but almost any type of bread will work – white, whole grain, French bread, Italian bread. There is no need to use stale bread as you'll be drying and toasting it in the oven.
Veggie add-ins: I love to add water chestnuts for crunch and red bell peppers and parsley for color. Chopped mushrooms would also be great.
Hot dogs: I know this sounds weird, but it's what my mother used to add a smoky taste. And it works. Use any hotdogs or cooked sausage you like. Leave them out for vegetarians or use veggie hot dogs.
Broth: This is used to moisten the stuffing. Chicken broth, turkey broth and vegetable broth – or stock – will all work well.
Fruits: I often add a diced, unpeeled apple just before baking for a hint of sweetness. Another option is 1/2 cup raisins or dried cranberries.
Seasonings: To me, Thanksgiving stuffing flavors mean poultry seasoning which is made of a combination of herbs and spices like sage, thyme, marjoram, rosemary, nutmeg and black pepper. Add red chili flakes for heat if you like. See the recipe notes for a substitute if you don't have any poultry seasoning.
Butter: Butter adds extra richness and flavor, but you can replace it with a neutral oil if you like.
(Eggs): Eggs are often used as a binder. I don't use them. I add a bit of extra broth for moistness instead.
Tips
Dry/toast the bread in the oven first as per the recipe
Add broth a little bit at a time, giving it a change to absorb into the bread. This way you won't make the stuffing too soggy (it will get drier, though, when baking in the oven)
I like to add a splash of turkey juices (and drippings) before baking the stuffing. Or dot with butter. This creates a lovely browned crispy top.
It's best not to stuff the bird with the stuffing. Timing is tricky and the meat can easily overcook by the time the stuffing reaches a safe temperature.
C

ook add-ins before baking (except apples)
How to make this homemade stuffing recipe
Toast bread slices in the oven on a large baking sheet or two, then cut or rip them into small pieces. Or buy bread cubes for a shortcut.
Chop extras like parley, water chestnuts and hotdogs to add later if you like.
Sauté onions, celery, peppers and seasonings in butter (or oil) until soft and moisture is almost gone.
Combine bread cubes and the sautéed onion mixture in a bowl. Moisten with broth. Add the extras if using e.g. hotdogs, water chestnuts, parsley.
Spoon the stuffing mixture into a greased or buttered baking dish and bake until golden brown. Drizzle with turkey juices or butter before baking if desired.
Shortcuts
You can eliminate the step of cutting, toasting and ripping up the bread by buying plain toasted bread cubes, often available in grocery stores during holiday periods.
I use a food processor to chop the vegetables in a few seconds.
Using hot dogs instead of sausage is a time saver because they are fully cooked. You save the extra step and still add that smoky flavor.
As always, feel free to use minced garlic in frozen cubes or from a jar.
Make Ahead
The stuffing can be prepared a couple of days ahead, kept well covered in the fridge, then baked the day you need it. Tip: I often put the unbaked stuffing in zipper lock bags to save room in the fridge. Just dump it into a greased casserole dish before baking.
I bake the stuffing while the turkey is resting before carving.
Leftover stuffing will keep in the fridge for a couple of days. Reheat in the microwave or 325F oven covered.
Other stuffing recipes (in 30 minutes)
Check out these other delicious Thanksgiving side dishes – traditional, nontraditional, under 30 minutes or vegetarian.
Recipe FAQ
What is the difference between stuffing and dressing?
Apparently, what you call it depends on where you live. In the southern US, dressing is the term of choice. In the north, most of the rest of the US  and Canada (where I come from), it's called stuffing. Mostly the terms are interchangeable, but technically, dressing is cooked inside the turkey and stuffing is cooked outside the turkey in a separate dish. 
Should you stuff the turkey or cook it separately?
I always prefer to cook my stuffing separately. It gets nicely browned on top and the turkey doesn't take as long to cook. It's easy to overcook the turkey if you stuff it as the stuffing needs to be a certain temperature to be safe. If you do want to stuff your turkey, though, here is a great video from Fine Cooking on how to stuff a turkey.  Do not stuff a turkey ahead of time. 
How do I fix my stuffing if it's too dry or wet?
If it's too dry, add a little more broth, allowing it to absorb before you add more. If too wet, you can add more bread cubes to absorb the moisture and adjust the seasonings to your taste. All this would be done before baking the stuffing. If you find yourself with soggy stuffing after baking, bake it longer, uncovered, to dry it out a bit.
If you like this recipe, please leave a 5 star rating 🌟🌟🌟🌟🌟in the recipe card below. And if you REALLY like it, consider a review in the comments. Thanks very much!
Recipe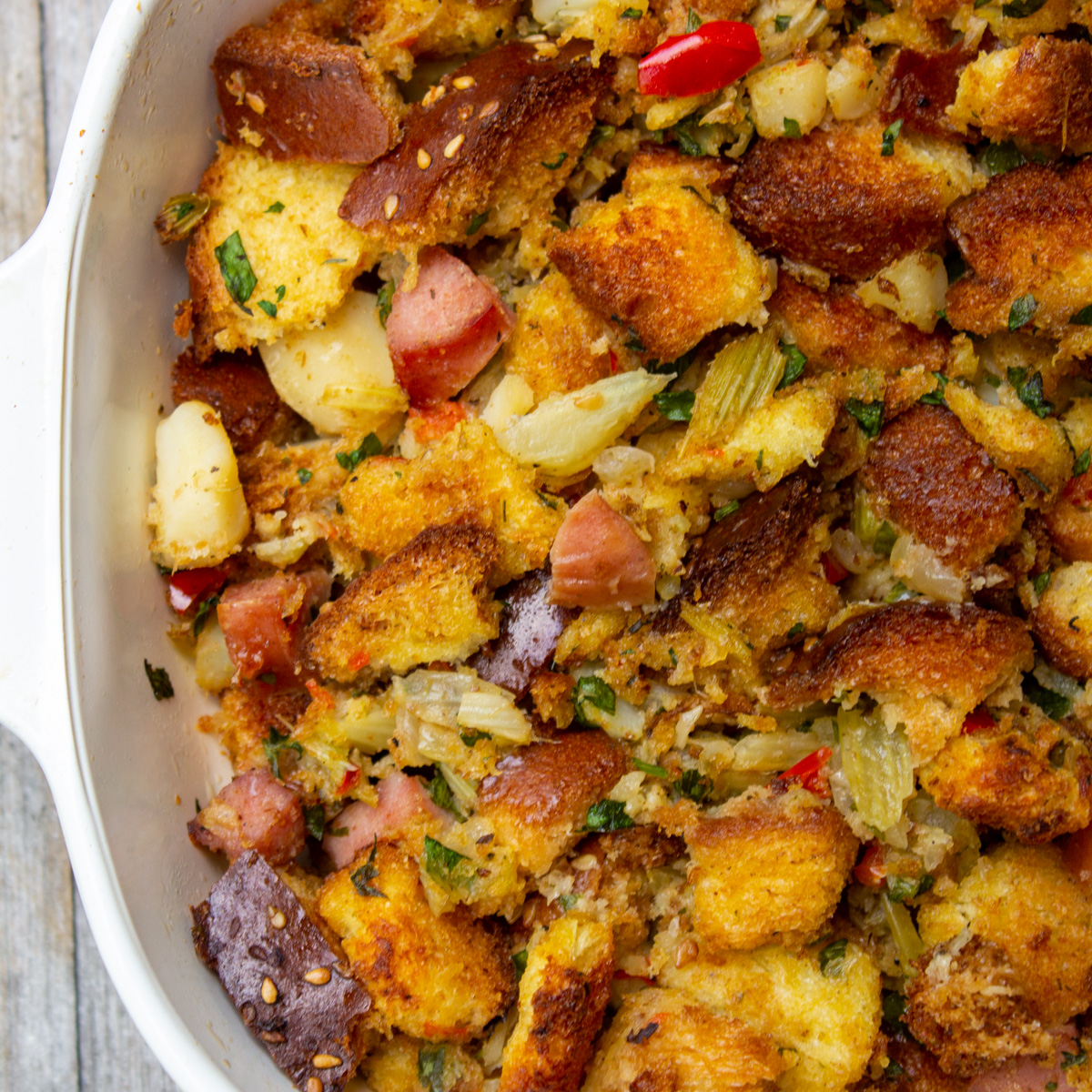 Print Recipe
Pin
Save Recipe
Recipe Saved!
Rate this recipe here
Best Make Ahead Stuffing
Try this tried and true classic make ahead stuffing and you'll be sure to have a hit at your next Thanksgiving or holiday dinner. Best dish at Thanksgiving – no contest!
Ingredients
The Basics
16

slices

bread, Note 1

1

cup

(230 ml) chicken stock or broth, Note 2

(or more if needed)
Vegetable Mixture
1/2

cup

(113 g) butter – 1 stick

(or neutral olive oil /canola oil)

1

large sweet onion

(or 2 medium)

3

cloves garlic, finely chopped

3

stalks of celery

1

cup

chopped red peppers and/or mushrooms (optional)
Seasonings
1

teaspoon

dried thyme

1 1/2

teaspoon

poultry seasoning or sage

(or more to taste)

1/2

teaspoon

black pepper

1

teaspoon

salt or to taste (or more)

depends on saltiness of broth used
Great optional add-ins (I use all)
8

ounces

one small can water chestnuts, drained and chopped

2

hot dogs of cooked sausage any kind, cut into 1/2 inch/1.27 cm pieces

adds a nice smoky flavor

1

apple, cored and chopped, skin on

1/2

cup

chopped parsley

3

tablespoons

extra butter or drippings from turkey

or less if you prefer
Instructions
PREPARE BREAD CUBES: Toast bread slices in 350F/177C oven for 5 minutes on each side until nicely toasted. Rip or cut dry bread into 1/2 inch/1.27 cm pieces.

PREPARE VEGETABLE MIXTURE: While bread is toasting, cut celery, onions and any other vegetables you are using into large chunks and place in food processor. You might need to do this in two batches. Process until finely chopped. (Alternatively, chop vegetables finely with a knife). Melt butter in large skillet on medium-high heat. Add vegetables, garlic and seasonings. Sauté until tender and most of the liquid from the veggies has evaporated, about 8-10 minutes.

ASSEMBLE: Place bread cubes in large bowl. Add vegetable mixture, chestnuts, hot dogs (if using) and parsley. Add enough broth a bit at a time (allow time for bread to absorb broth) to moisten well. Stuffing should be quite moist but not mushy. Mix until well combined. Taste and adjust seasonings. (I often add more poultry seasoning). If you're baking right away, mix in diced apple now. Note 3 to make ahead.

BAKE: Heat oven to 350F/177C. Grease/spray with oil a large casserole dish or 9 x 13 pyrex dish. Spoon stuffing into prepared baking dish. Cover and bake for 25 minutes. Uncover, drizzle with turkey drippings or dot with butter if desired. Bake uncovered for another 10-15 minutes until lightly browned on top. Sprinkle baked stuffing with fresh herbs before serving. Alternative: add stuffing loosely into the turkey cavity before roasting turkey (not ahead of time). Here's a video on how to stuff a turkey. I think doing a separate stuffing casserole is the better option.
Recipe Notes
Bread options

: Any kind of bread will work although I don't like multigrain as much. Challah (my preferred choice), French bread, Italian bread, plain white, etc). Shortcut:

Buy store bought toasted bread cubes, about 5-6 cups/~200 g)

Vegetarian stuffing: Use vegetable broth and either leave out the hot dogs or substitute them with a veggie hot dog. 

Make Ahead

:

If not making the stuffing immediately, cover and place in fridge until needed in the next day or two. Or freeze it unbaked for up to 3 months. I put the stuffing in a ziploc bag to save room in the fridge. Mix in diced apples (if using) just before you bake the stuffing.
Leftover stuffing will keep in the fridge for a couple of days. Reheat in microwave or 325F/163C oven covered. 
Nutrition values are estimates and include optional add-ins of hotdogs, apples and water chestnuts. 
Nutrition
Calories:
289
kcal
|
Carbohydrates:
32
g
|
Protein:
6
g
|
Fat:
16
g
|
Saturated Fat:
9
g
|
Polyunsaturated Fat:
1
g
|
Monounsaturated Fat:
4
g
|
Trans Fat:
1
g
|
Cholesterol:
39
mg
|
Sodium:
646
mg
|
Potassium:
242
mg
|
Fiber:
3
g
|
Sugar:
7
g
|
Vitamin A:
1129
IU
|
Vitamin C:
26
mg
|
Calcium:
66
mg
|
Iron:
2
mg
Tried this recipe?
We'd love you to rate it above under 'rate this recipe' or in the comment section below. Thanks!