A healthy, quick, light vegetarian or meat meal-in-a-bowl, this build-your-own Asian Vegetable Wonton Soup is super versatile.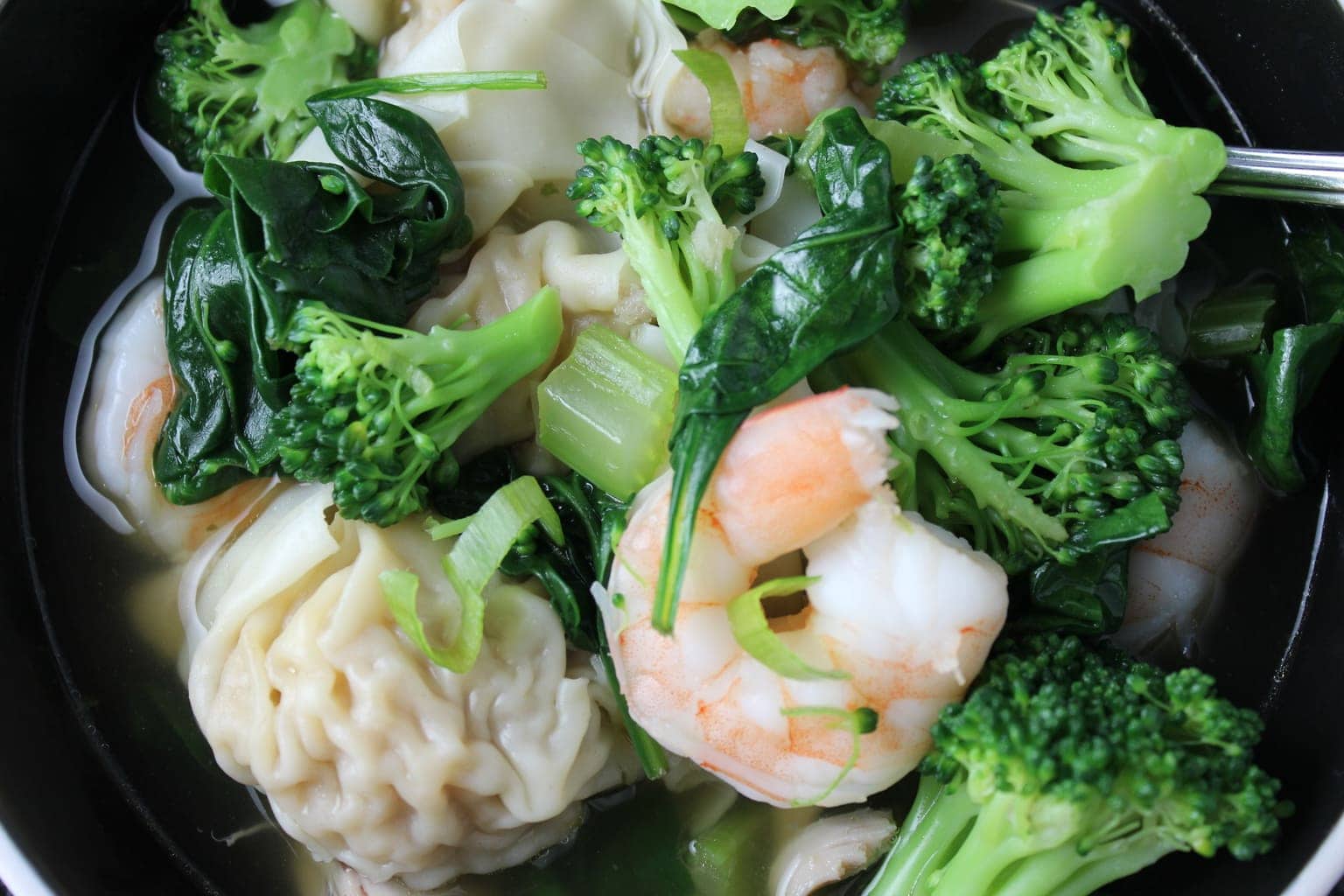 I love making this soup when I want something light and healthy in the fall or winter.  And, admittedly, when I'm feeling lazy and want to whip up dinner in 20 minutes or so.  Virtually everything in this soup is optional or 'to your taste' except the broth. The soup can be vegetarian or meat based.
I use whatever I have on hand  – typically broccoli, asparagus and green onion – as well as a few purchased items I almost always have in my freezer such as frozen wontons or dumplings, chopped loose spinach and various types of herb cubes if I don't have the fresh versions on hand.
Other great additions are left over chicken, shrimp, rice noodles, bok choy, carrots, snow peas, bean sprouts or whatever else you have or like.
Just select your favourite items, add some flavours (soy sauce, hot sauce, fresh cilantro, basil, sesame oil, lemon/lime) and start creating your soup.  Serve alone or with some take-out spring rolls or sushi.
Tailor To Your Taste
Frozen wontons and dumplings (shrimp, chicken, pork, vegetable) are widely available now in Asian or large mainstream grocery stores.  You can, of course make your own.
Instead of fresh spinach, you can use loose chopped frozen spinach.  I add a couple of handfuls to the first step (boiling wontons) about 2 minutes before they are done.  This saves an extra pot and step.
If you don't have fresh herbs, the frozen herb cubes (basil, cilantro, etc) are great in a pinch.
Instead of fresh broth, you can use broth in the carton or can (if using undiluted Campbell's, for example, add a can of water for every can of broth).
Make Vegetable Wonton Soup vegetarian
Use vegetable broth, vegetable dumplings and omit chicken and shrimp.
Add tofu cubes if desired.
Print Recipe
Pin
Rate this recipe
Asian Vegetable Wonton Soup Recipe
A healthy, quick, light vegetarian or meat meal-in-a-bowl, this build-your-own Asian Vegetable Wonton Soup is super versatile.
Ingredients
24

wontons or dumplings (frozen package),

found in Asian or larger mainstream grocery stores

8

cup

broth/stock

(chicken or vegetable)

1/2

lb

medium raw, peeled, deveined shrimp (optional)

1

head of broccoli, cut up into smaller florets

4

cup

other vegetables cut up as needed

(e.g. asparagus , carrots (very thin discs or strips), chopped nappa (chinese lettuce), bok choy, snow peas)

2

cup

cooked chicken, cut into bite size pieces (optional)

3

cups

fresh baby spinach

Seasonings/herbs to taste e.g. soy sauce, sesame oil, fresh basil or cilantro, lime juice, chili flakes

Garnish: bean sprouts, 1-2 green onions, chopped
Instructions
BOIL WONTONS and SHRIMP (IF USING): In a large pot of boiling water, cook frozen wontons or dumplings as per package directions. When wontons are 3-4 minutes from being done, add shrimp if using. Cook remaining 3-4 minutes. Drain and set aside.

MAKE SOUP: Heat broth in the same pot to medium high until broth comes to boil. Add broccoli and other vegetables. Cook for 3-5 minutes until tender. Add fresh baby spinach and cook, stirring, another minute until wilted. Add chicken (if using), wontons and shrimp (if using).

SEASON AND SERVE: Add additional herbs and seasonings to taste such as: splash of soy sauce, a 1/2 teaspoon of sesame oil; fresh chopped basil or cilantro, a squeeze of lime, a few drops of hot sauce or some chili pepper flakes. Add bean sprouts and chopped green onion. Serve immediately right from the pot.
Other Asian appetizer recipes you might like:
Vegetable Summer Rolls (with how-to tips) get the recipe
Dumpling Lettuce Wraps with Peanut Sauce (shortcut) get the recipe