A healthy, quick, light vegetarian or meat meal-in-a-bowl, this build-your-own vegetable wonton soup is super versatile. And a perfect weeknight meal.
I love making this soup when when I'm feeling lazy and want to whip up dinner in 20 minutes or so. Virtually everything in this soup is optional or 'to your taste' except the broth. The soup can be vegetarian or meat based.
I like to pack it with vegetables and other goodies, typically broccoli, asparagus and green onion. I also add a few purchased items I usually have in my freezer like frozen wontons or dumplings, chopped loose spinach and various types of herb cubes if I don't have the fresh versions on hand.
Just select your favorite items, add some flavors and start creating your soup. Go big and serve the vegetable wonton soup with some take-out spring rolls, sushi, our best Pad Thai recipe or our Vegetable Summer Rolls.
Tailor To Your Taste
Wontons
Use any type of wontons or dumplings (shrimp, chicken, pork, vegetable) – frozen or homemade. These are widely available now in Asian or large mainstream grocery stores.
Add-ins
In addition to wontons, try adding leftover chicken, cooked shrimp, rice noodles, bok choy, carrots, snow peas, bean sprouts or whatever else you have or like.
I often use fresh baby spinach instead of loose chopped frozen spinach. For frozen spinach, add a couple of handfuls to the first step of the recipe (boiling wontons) for about 2 minutes before they are done. This saves an extra pot and step. Fresh spinach can be added directly to the broth.
Flavorings
Some great flavor options are soy sauce, hot sauce, fresh cilantro, basil, sesame oil, lemon/lime and freshly grated ginger.
If you don't have fresh herbs, the frozen herb cubes (basil, cilantro, red chilis, etc) are great in a pinch.
Make it Vegetarian
Use vegetable broth or mushroom broth, vegetable dumplings and omit chicken and shrimp.
Add tofu cubes if desired.
Make Ahead
I prefer the vegetable wonton soup fresh for dinner but it's also delicious as leftovers the next day. Store in a covered container in the fridge.
Other Asian food recipes you might like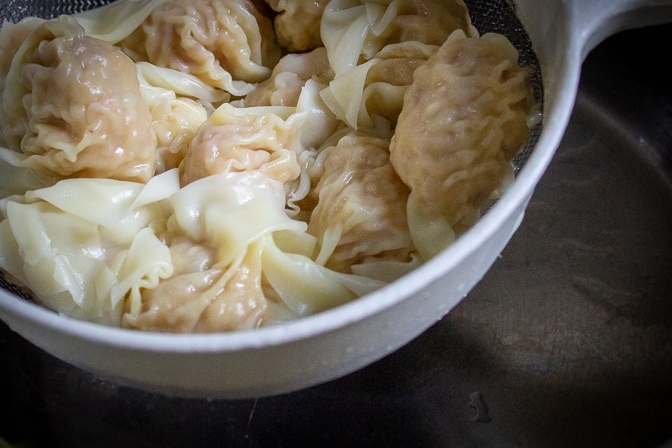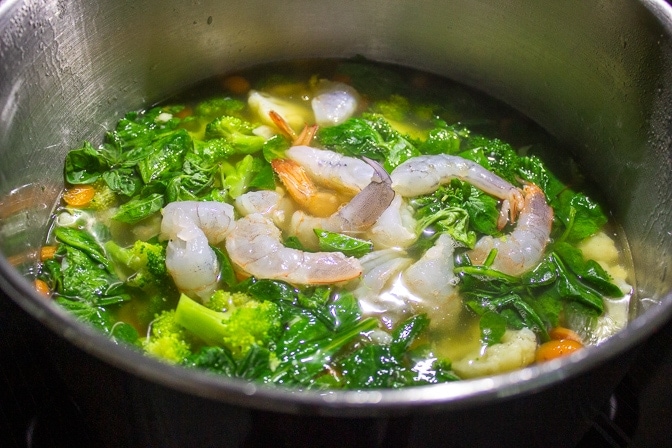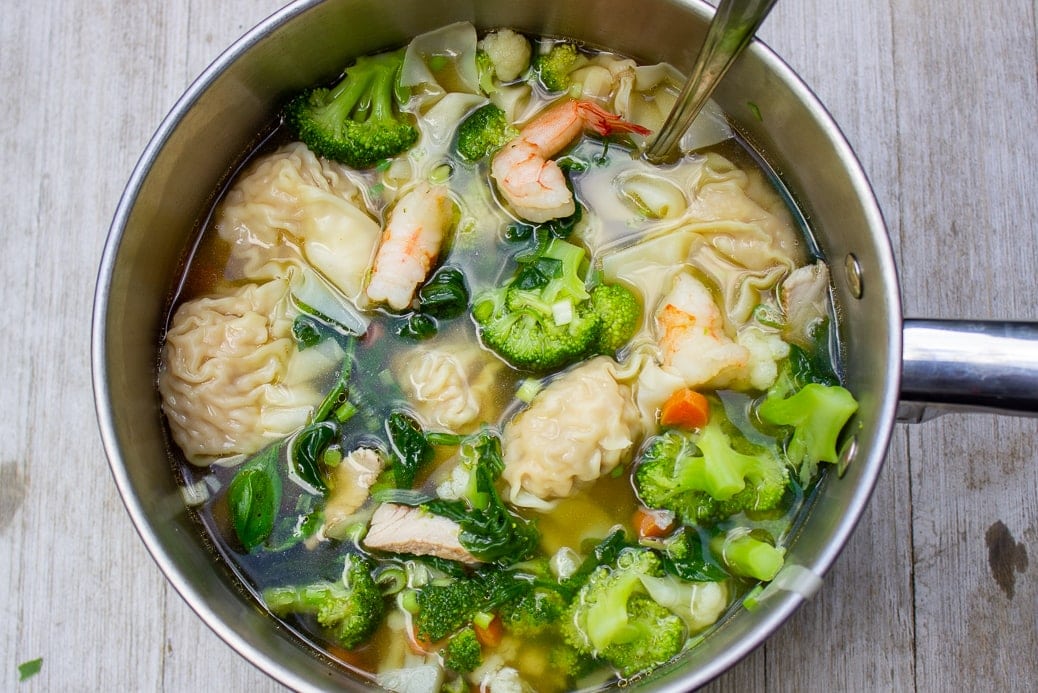 Vegetable Wonton Soup
A healthy, quick, light vegetarian or meat meal-in-a-bowl, this build-your-own Asian Vegetable Wonton Soup is super versatile. A perfect weeknight meal.
Ingredients
24

wontons or dumplings (frozen package),

found in Asian or larger mainstream grocery stores

8

cups

broth/stock Note 1

(chicken or vegetable)

1/2

pound

medium raw, peeled, deveined shrimp (optional)

1

head of broccoli, cut up into smaller florets

4

cups

other vegetables cut up as needed

(e.g. asparagus , carrots (very thin discs or strips), chopped nappa (chinese lettuce), bok choy, snow peas, broccoli, cauliflower, snow peas, etc)

2

cups

cooked chicken, cut into bite size pieces (optional)

4

cups

fresh baby spinach

(loose frozen is fine too - add when boiling the wontons instead of at the end)
Seasoning/Garnish
soy sauce, sesame oil, fresh basil or cilantro, lime juice, chili flakes and/or fresh grated ginger

(use frozen cubes of cilantro, basil, ginger, chili if you don't have fresh)

Garnish: bean sprouts, 1-2 green onions, chopped
Instructions
BOIL WONTONS: In a large pot of boiling water, cook frozen wontons or dumplings (as well as spinach if you're using frozen chopped spinach) as per package directions. Drain in a strainer and set aside.

MAKE SOUP: Heat broth in the same pot to medium high until broth comes to boil. Add broccoli and other vegetables. Lower heat to Medium and cook for 3 minutes until tender. Add fresh baby spinach and shrimp if using and cook for 3 minutes until shrimp just become opaque.. Add chicken (if using), and cooked wontons.

SEASON AND SERVE: Add additional herbs and seasonings to taste such as: splash of soy sauce, a 1/2 teaspoon of sesame oil; fresh chopped basil or cilantro, a squeeze of lime, 1-2 tsp grated fresh ginger, a few drops of hot sauce or some chili pepper flakes. Garnish with bean sprouts and chopped green onion if desired. Serve immediately right from the pot.
Notes
Broth: Use the best chicken (or vegetable) broth you can find. I like to use Campbell's concentrated chicken broth (lower salt kind is ok too) and add my own water. I add a bit less than a full can of water for every can of undiluted broth. Adjust seasonings and salt based on taste and intensity of broth used. 
Make Ahead: I prefer the vegetable wonton soup fresh but it's also delicious as leftovers the next day. Store in a covered container in the fridge. 
Nutrition
Nutrition Facts
Vegetable Wonton Soup
Amount Per Serving
Calories 382
Calories from Fat 63
% Daily Value*
Fat 7g11%
Cholesterol 205mg68%
Sodium 775mg34%
Potassium 1184mg34%
Carbohydrates 33g11%
Protein 50g100%
Vitamin A 12087IU242%
Vitamin C 32mg39%
Calcium 187mg19%
Iron 5mg28%
* Percent Daily Values are based on a 2000 calorie diet.
Tried this recipe?
We'd love you to rate it above under 'rate this recipe' or in the comment section below. Thanks!
This recipe has been updated from March 2016 with new pictures.