This Thai mango salad, made with silky mango and crunchy bean sprouts, is bursting with bright tangy, sweet and spicy flavors. Ready in 10 minutes.
I love the freshness of this salad, the contrast in textures and the contrast in flavors. And the fact that it only takes a few minutes to make. I typically use this mango salad as a side dish or an accompaniment to chicken, beef or fish, but it can also be used as a starter to a meal or as part of a brunch or other buffet.
This Thai style mango salad is basic and easy.  My only tip is to add the dressing right before serving or perhaps 10-15 minutes ahead.  I find if you let it sit around, dressed, for several hours, the salad tends to gets watery.  It still tastes good but the textures aren't as robust. So if you need to, do the chopping and make the dressing a couple of hours ahead, but don't add the dressing until just before serving.
Try serving the salad with Thai Curried Shrimp and Vegetables.
Shortcuts For Thai Mango Salad
(keeping in mind the recipe only takes 10 minutes to begin with!)
I use bottled sweet chili sauce.  If I don't have any on hand, I add a bit of honey and chili flakes instead.
Use powdered garlic and ginger if you like (but fresh is the best!).  I keep a piece of fresh ginger in the freezer and grate it when I need it.
Cutting the mango in cubes instead of julienne strips will save a minute or two.
Leave out the red pepper (less chopping).
Tailor To Your Taste
I did some research online and checked out many other similar recipes.  Here are a few options mentioned. Play around until you get the combination you like.
Add some chopped fresh mint or cilantro.
For extra crunch, add chopped, seeded cucumber.
Add a teaspoon or two of fish sauce.
Toss the whole salad with lettuce greens.
Leave out the sweet chili sauce and add more lime if you prefer tart over sweet.
The recipe, of course, can be doubled or tripled.





Print Recipe
Pin
Save Recipe
Recipe Saved!
Rate this recipe here
Thai Mango Salad
This Thai mango salad, made with silky mango and crunchy bean sprouts, is bursting with bright tangy, sweet and spicy flavors. Ready in 10 minutes.
Ingredients
1

large mango, peeled and sliced into thin strips

1

green onion, finely chopped

0.25

cup

sweet red pepper chopped

1

cup

fresh bean sprouts (NOTE 1)

salt and pepper, to taste

garnish: 1-2 tablespoons chopped parsley
Dressing
0.5

tsp

lime zest

0.5

lime

0.5

grated fresh ginger

(or 1/8 tsp ground powder ginger)

0.5

tsp

minced garlic

2

tbsp

bottled sweet chili sauce
Instructions
MAKE DRESSING: Mix all dressing ingredients in a small bowl.

MAKE THAI MANGO SALAD: Put mango, bean sprouts, pepper and green onion in a serving bowl. Just before serving (or 10-15 minutes before), add dressing and toss well to combine. Add salt and pepper to taste. Garnish with parsley if desired. Serve.
Notes
Caution about Bean Sprouts: When eating fresh, uncooked bean sprouts (or mung beans), it's safest to use a package that says "ready to eat" to avoid E. coli and Salmonella, particularly for pregnant women and those with compromised immune systems.
Tried this recipe?
We'd love you to rate it above under 'rate this recipe' or in the comment section below. Thanks!
Other mango recipes you might like: 
Thai Grilled Chicken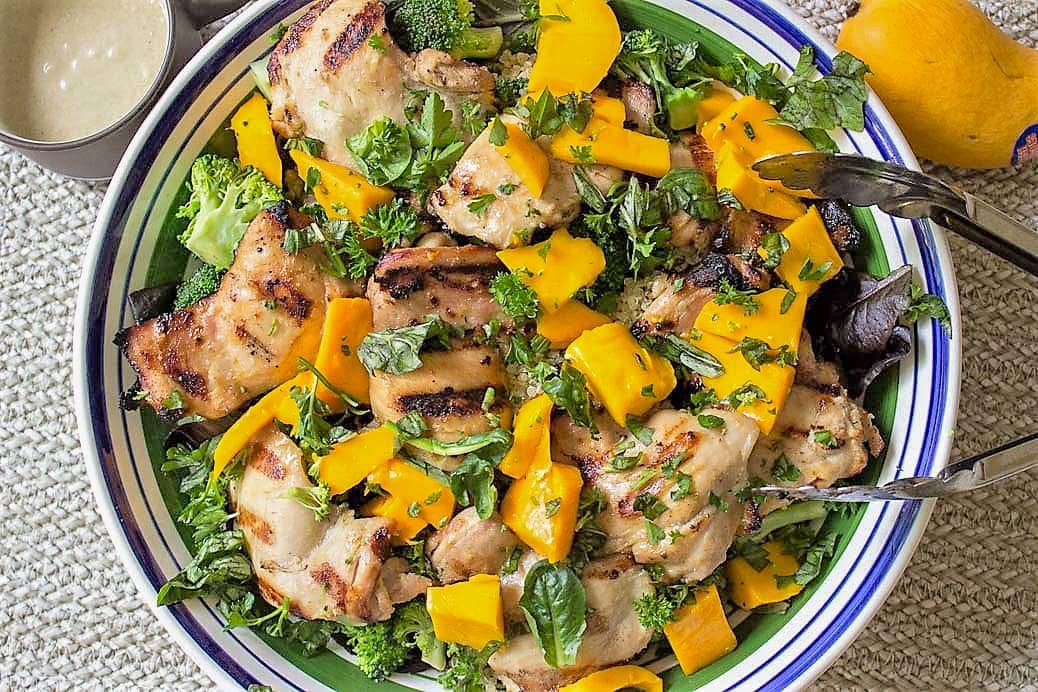 Thai-inspired marinated grilled chicken is packed with flavors of coconut milk, curry paste, soy, garlic and maple syrup - and it's super versatile.
Get the recipe
Mango Salad Dressing Recipe
Mango Salad Dressing has a bit of heat, tang and natural sweetness and a lot of sunshine. Silky smooth, lots of flavor.
Get the recipe
Grilled Chicken Burgers with Mango Salsa
I've recently become a convert from beef to chicken for my burgers because I found a way to make them juicy, flavorful and delicious. Grilled Chicken Burgers with Mango-Avocado Salsa are great weeknight family fare.
Get the recipe
Shrimp Lettuce Wrap with Mango Slaw Recipe
If you believe that a low calorie, low carb, healthy, gluten-free and low fat dish can't be absolutely delicious,  Shrimp Lettuce Wraps with Mango Slaw will prove you wrong.
Get the recipe