This fresh mango salad, made with silky mango and crunchy bean sprouts, is bursting with bright tangy, sweet and spicy flavours. Ready in 10 minutes.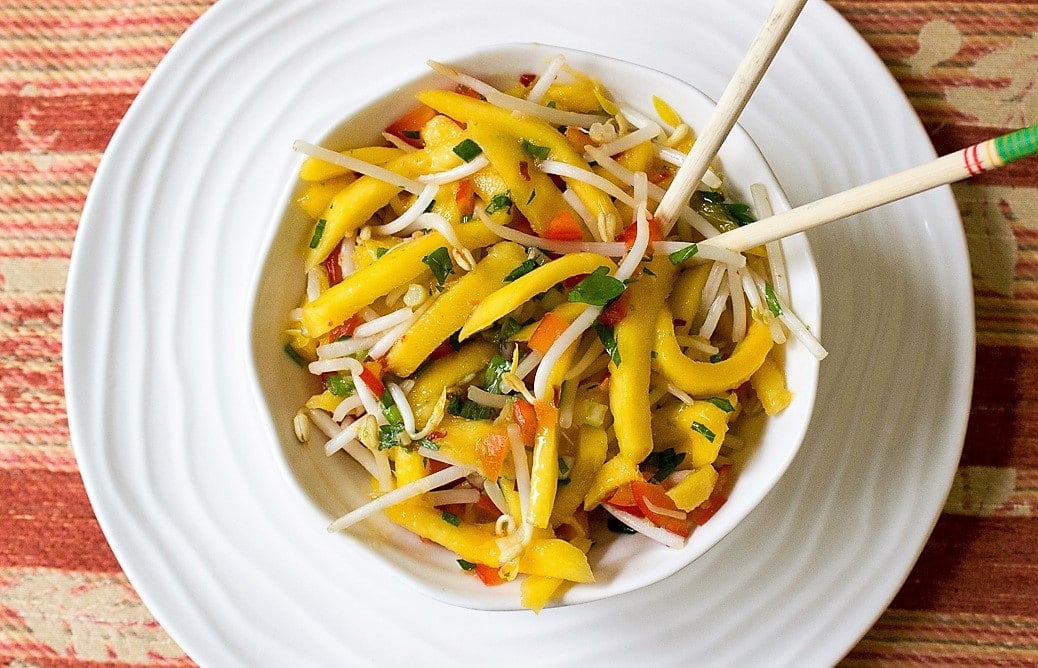 I love the freshness of this salad, the contrast in textures and the contrast in flavours. Oh, and the fact that it only takes a few minutes to make. I typically use this mango salad as a side dish or an accompaniment to chicken, beef or fish, but it can also be used as a starter to a meal or as part of a brunch or other buffet.
This mango salad is basic and easy to make.  My only tip is to add the dressing right before serving or perhaps 10-15 minutes ahead.  I find if you let it sit around, dressed, for several hours, the salad tends to gets watery.  It still tastes good but the textures aren't as robust. So if you need to, do the chopping and make the dressing a couple of hours ahead, but don't add the dressing until just before serving.
Shortcuts
(keeping in mind the recipe only takes 10 minutes to begin with!)
I use bottled sweet chili sauce.  If I don't have any on hand, I add a bit of honey and chili flakes instead.
Use powdered garlic and ginger if you like (but fresh is the best!).  I keep a piece of fresh ginger in the freezer and grate it when I need it.
Cutting the mango in cubes instead of julienne strips will save a minute or two.
Leave out the red pepper (less chopping).
Tailor To Your Taste
I did some research online and checked out many other similar recipes.  Here are a few options mentioned. Play around until you get the combination you like.
Add some chopped fresh mint or cilantro.
Add some chopped, seeded cucumber.
Add diced avocado.
Add a teaspoon or two of fish sauce.
Toss the whole salad with lettuce.
Leave out the sweet chili sauce and add more lime if you prefer tart over sweet.
The recipe, of course, can be doubled or tripled.
Here are some other great salads you might like: