Prepare for an explosion of fresh flavors and textures with this simple Thai mango salad recipe. Silky ripe mango, crisp bean sprouts, green onions and peppers in a sweet, spicy, tangy, umami dressing.
I love that it only takes 10 minutes to make and the few ingredients are easily found in most grocery stores.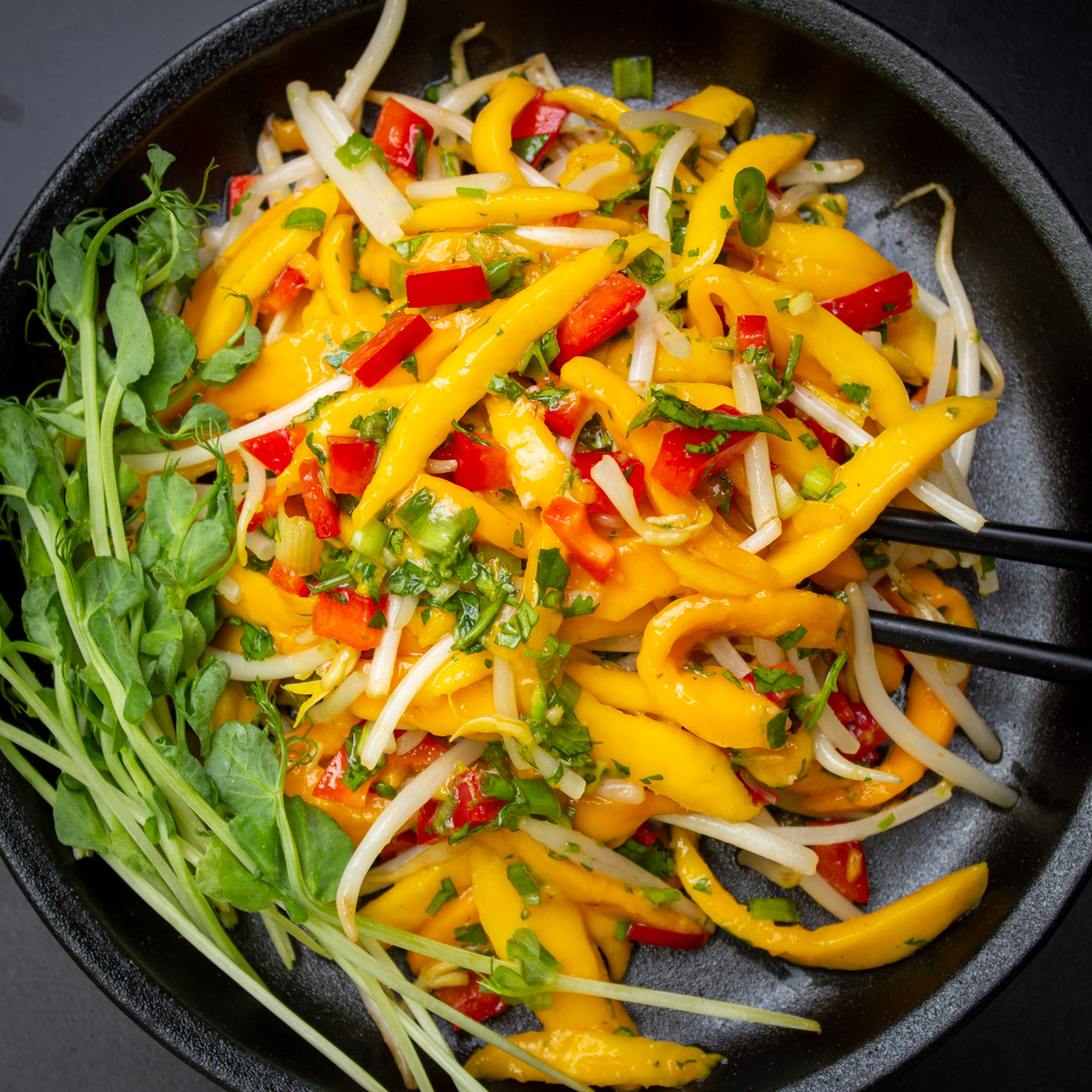 Mangos are healthy – low in calories and fat, high in vitamins and antioxidants. And they are super versatile. I use them in salads, salsas, toppings, dressings and sides.
There are several substitutions or variations you can try with this mango salad recipe if you don't like or have one of the ingredients on hand. Feel free to use ripe mangos (my preference) or unripe mangos (more traditional in Thai cuisine).
What to serve with Thai mango salad
I typically use this mango salad as a side dish or a condiment for chicken, beef, burgers or fish. But it can also be used as an appetizer, a light lunch or as part of a buffet.
Serve it as a side dish with:
Or as a topping for:
How to make a Thai mango salad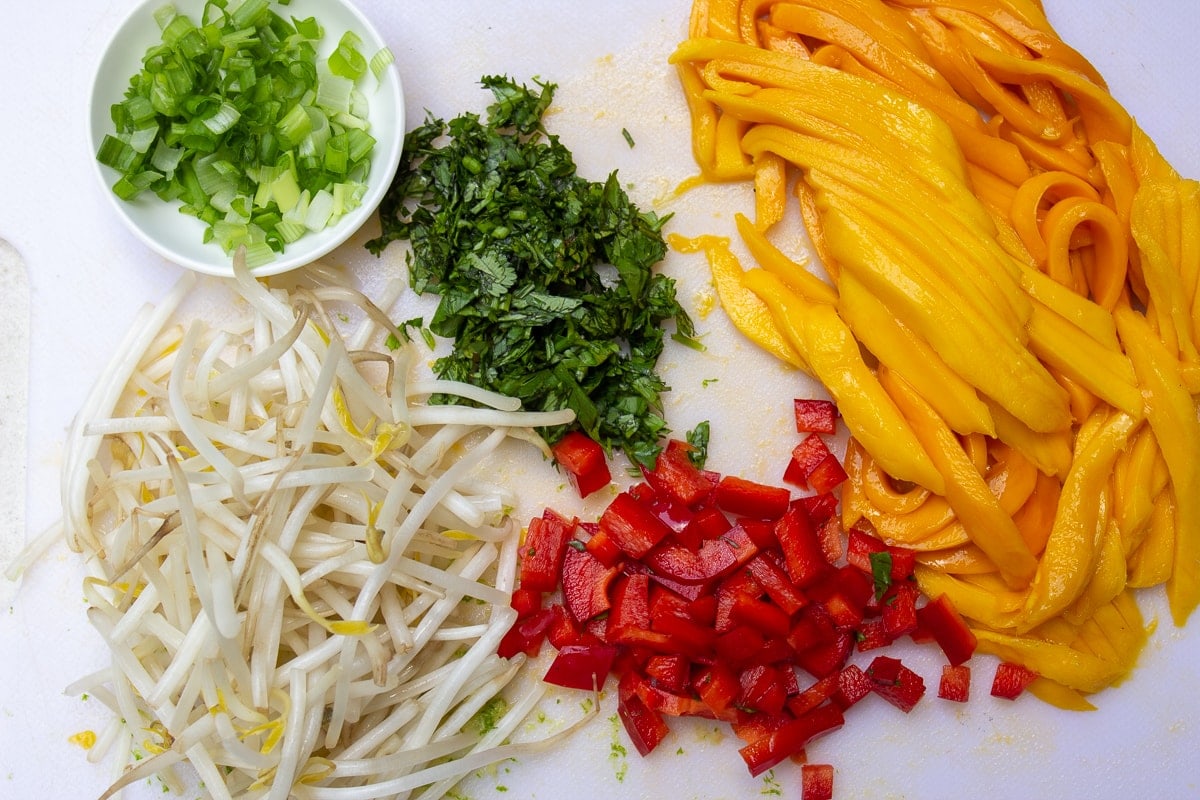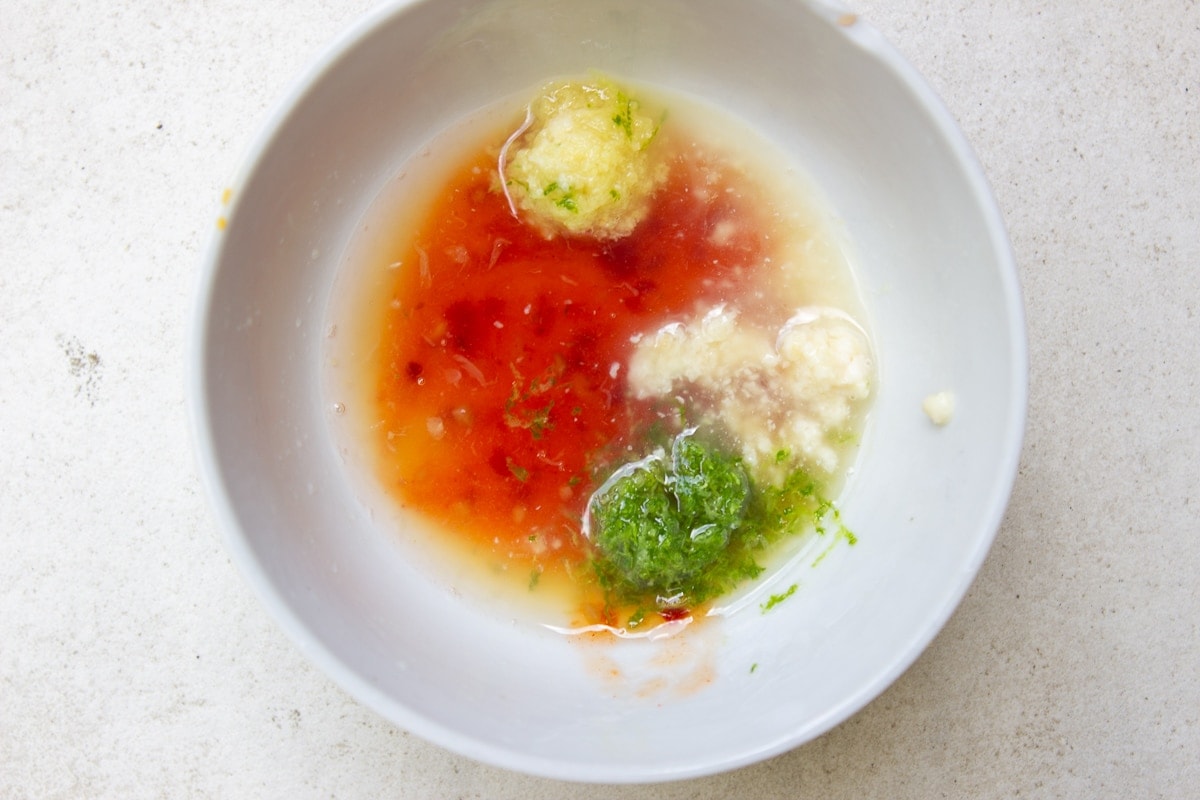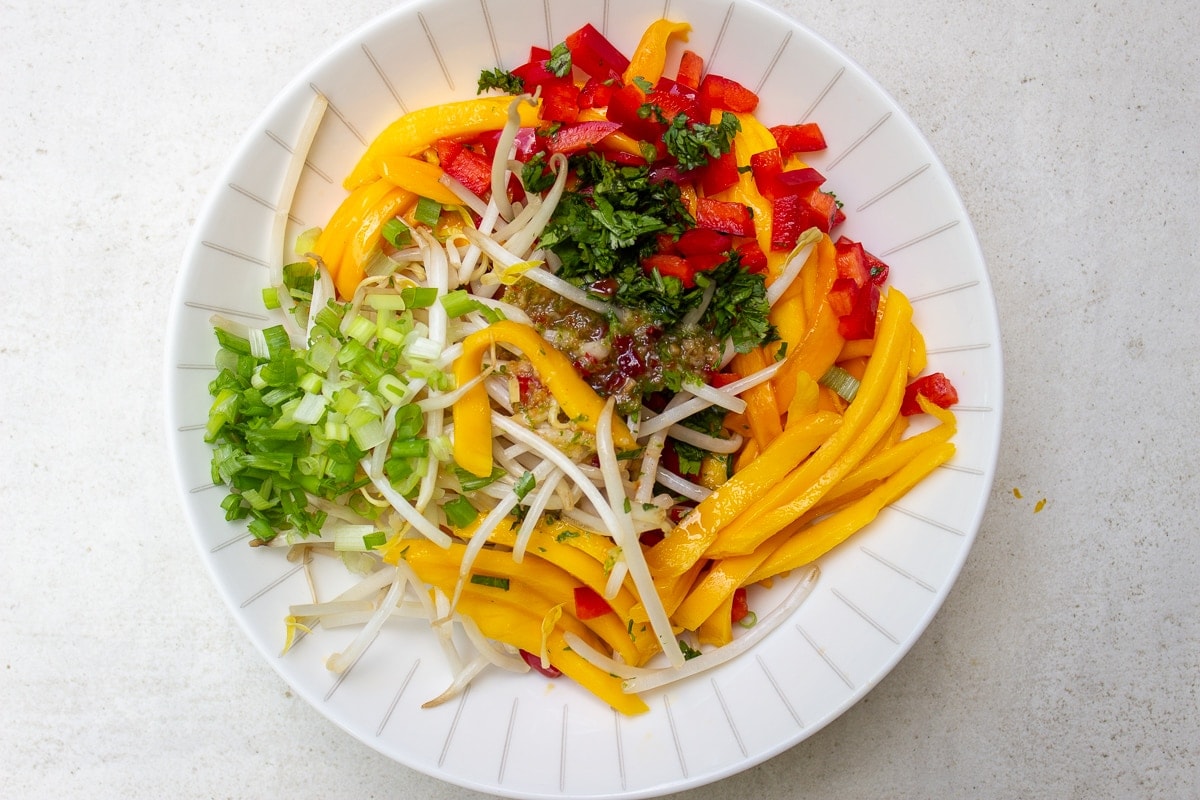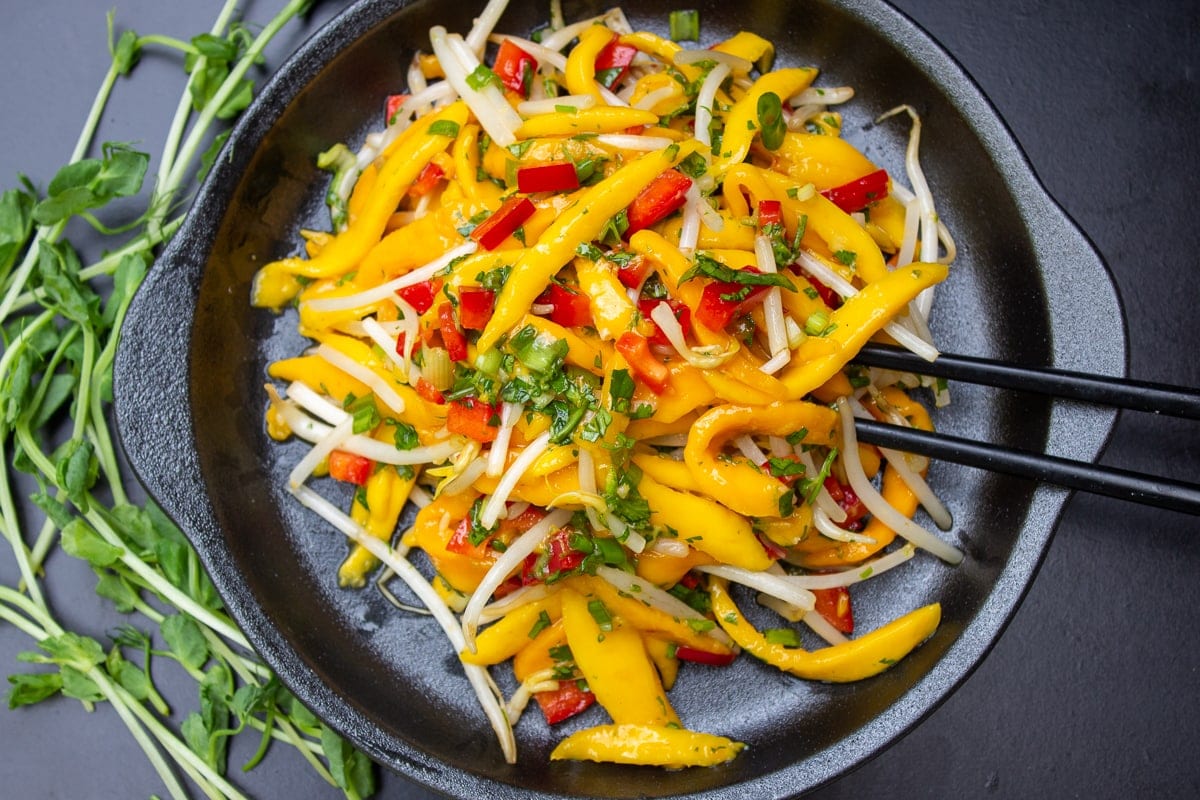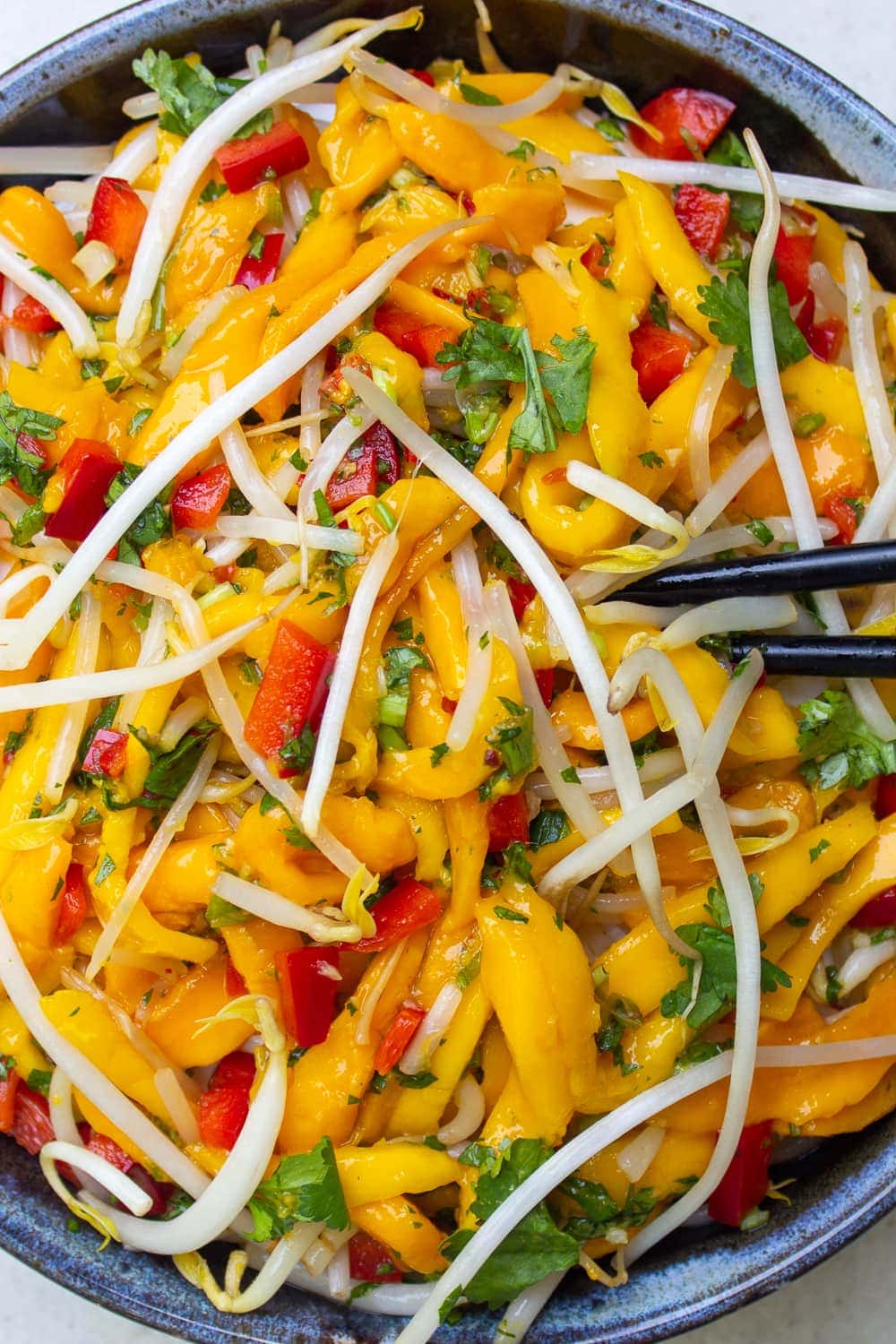 FAQ about mangos
Can you buy ripe mangos any time of the year?
Yes, different varieties of mangos are pretty much available throughout the year (perhaps a little less so in November and December). There are about 500 varieties of mangos so you'll have to experiment.

My favorite are Ataulfo (or honey mango) which are available March to the end of June. They are yellow in color, smaller, silky and less fibrous. Alphonso mangos are also very popular – sweet and juicy.
How can you tell if a mango is ripe?
A ripe mango will give a little when you apply pressure with your thumb. The softer it is, the sweeter it will taste. Even if the skin is starting to wrinkle.

The color of the skin is not always a sign of how ripe the mango is. Generally, however, ripe mangos are yellow or red (depending on the type of mango), especially the small area around the stem. And there will be a fragrant aroma around the stem area. Green hard mangos are not ripe.
How do you ripen a mango at home?
If your mango is not quite ripe enough, keep it on the counter for a few days to soften and ripen naturally. You can speed up this process by putting the mango in a paper bag.
What is the best way to peel and cut a mango?
There are several ways to do this, but here's a good video on how to peel and cut a mango.
Shortcuts
Keep in mind this mango salad only takes 10 minutes to make. You can, however, shave off a couple of minutes with one or more of these shortcuts.
Cube the mango instead of slicing it into thin strips
Use frozen cubes of ginger and garlic. These are excellent substitutes that defrost in the microwave (10 seconds on high) or by sitting on the counter.
Leave out the bell peppers (less chopping).
If you're feeling lazy, just drizzle the mango salad with sweet chili sauce and leave out the other ingredients in the dressing. I would add a squeeze of lime or lemon too.
Tailor To Your Taste
Don't be afraid to use this Asian salad recipe as a guideline and play around until you get the combination and tastes you like.
Substitutes
Instead of sweet chili sauce, use honey (or maple syrup) and red pepper flakes.
Instead of bean sprouts, use seeded chopped cucumber or canned water chestnuts for crunch.
Instead of cilantro, use parsley or basil
Instead of fish sauce, use light soy sauce (or just leave it out).
Garnish
Add chopped fresh mint or basil
Sprinkle on toasted unsweetened coconut, toasted cashews or crushed peanuts
To make a more substantial dish, add diced tofu, chicken or shrimp.
Make Ahead
If you want to make this spicy Thai mango salad recipe ahead, I suggest that you add the dressing right before serving. I find if you let it sit around with the dressing for too long, the salad tends to gets watery. It still tastes good but the crispier bits start to get limp.
Peel and slice the mango several hours or a day ahead and keep it in an airtight container in the fridge. Likewise, the mango salad dressing can be made a few days ahead and kept in the fridge separately. When you are ready to serve, toss all the ingredients and dressing together.
Love mangos?
Then try these other easy recipes with mango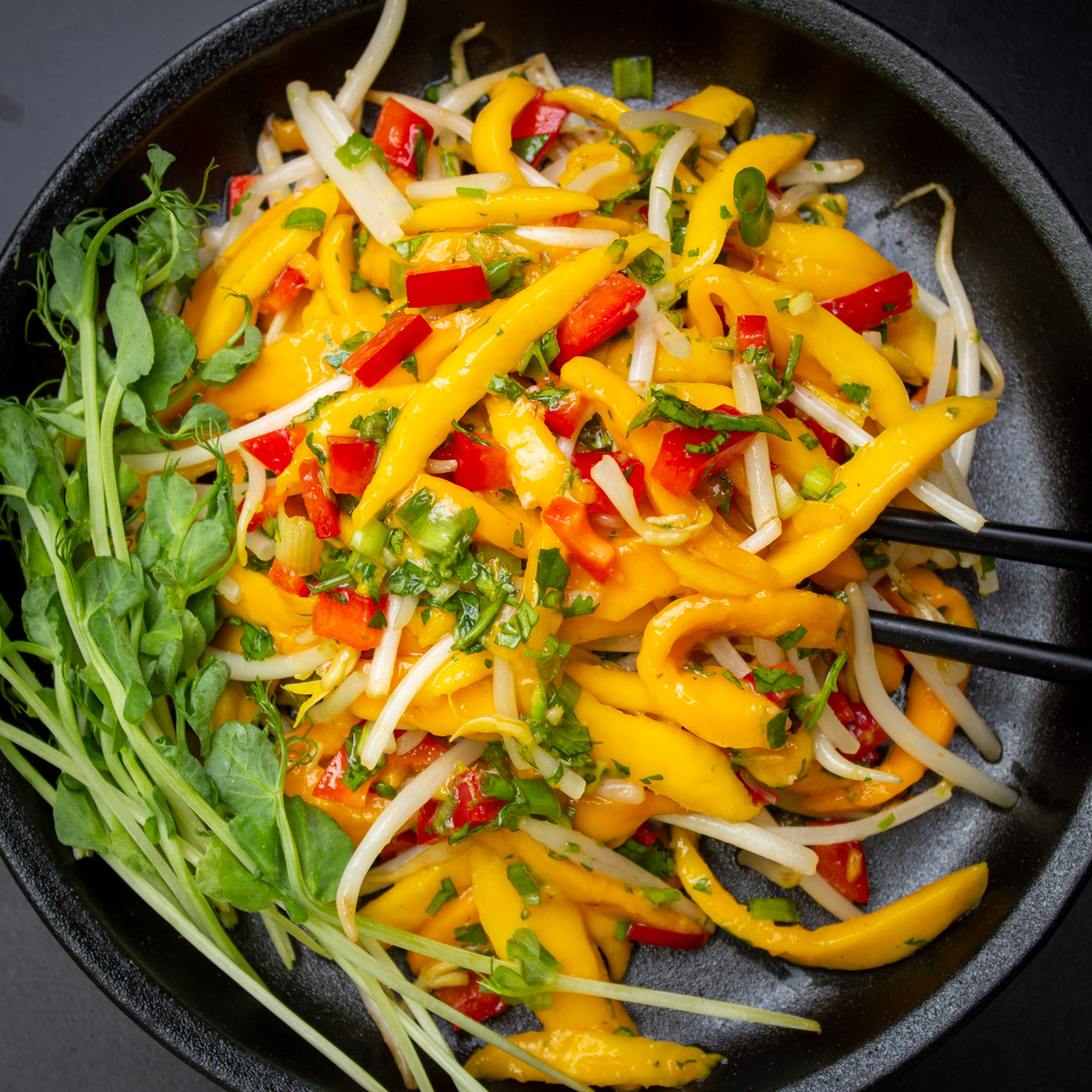 Print Recipe
Pin
Save Recipe
Recipe Saved!
Rate this recipe here
Simple Thai Mango Salad
Prepare for an explosion of fresh flavors and textures with this simple Thai mango salad. Silky ripe mango, crisp bean sprouts, green onions and peppers in a sweet, spicy, tangy, umami dressing. Ready in 10 minutes.
Servings:
3
sides (or 2 larger)
Ingredients
Recipe can be doubled or tripled

1

large ripe mango, peeled and sliced into thin strips, Note 1

(or 2 two smaller ones)

1

green onion, finely chopped

1/4

cup

(38g) sweet bell red pepper, chopped

(1/4 of a red bell pepper)

1

cup

(110g) fresh bean sprouts, Note 2

salt and pepper, to taste

2

tablespoon

chopped fresh cilantro

(or parsley)
Mango salad dressing
2

tablespoon

bottled sweet chili sauce, Note 3

1/2

lime

(lime juice plus zest)

1/2

teaspoon

grated fresh ginger

(or 1/8 tsp ground powder ginger)

1/2

teaspoon

minced garlic

1 small clove

1/2

teaspoon

-1 tsp fish sauce

(or light soy sauce)
Instructions
MAKE DRESSING: Mix together all dressing ingredients in a small bowl.

MAKE THAI MANGO SALAD: Put mango, bean sprouts, red bell pepper, cilantro and green onion in a serving bowl. Just before serving, add dressing and toss gently to combine. Add salt and pepper to taste. If mangos are on the tarter sider, you may want to add a splash of maple syrup, honey, brown sugar or sweet chili sauce. Serve.
Recipe Notes
Mango: I prefer to use sweet ripe mangoes, but Thai restaurants often use the more traditional unripe mangoes for a green mango salad. They will be crunchier and tarter. Grate or slice thinly. 

Caution

about Bean Sprouts: When eating fresh, uncooked bean sprouts (or mung beans), it's safest to use a package that says "ready to eat" to avoid E. coli and Salmonella, particularly for pregnant women and those with compromised immune systems. They add a wonderful crunch to the salad.
Substitutes you can use:

for sweet chili sauce: instead, use 2 tbsp honey or maple syrup and red pepper flakes (start with 1/4 tsp and add more if you like more heat). 
for bean sprouts: try diced, seeded English cucumber or canned water chestnuts. Or just leave them out.
for fish sauce: use light soy or tamari.

Make ahead: the mango dressing can be made several days ahead. The mango can be sliced up to a day ahead and kept separately in the fridge in an airtight container. Combine all the ingredients just before serving (to avoid the salad becoming watery). 
Nutrition values are estimates.
Nutrition
Calories:
85
kcal
|
Carbohydrates:
20
g
|
Protein:
2
g
|
Fat:
1
g
|
Saturated Fat:
1
g
|
Polyunsaturated Fat:
1
g
|
Monounsaturated Fat:
1
g
|
Sodium:
584
mg
|
Potassium:
224
mg
|
Fiber:
2
g
|
Sugar:
17
g
|
Vitamin A:
1206
IU
|
Vitamin C:
50
mg
|
Calcium:
21
mg
|
Iron:
1
mg
Tried this recipe?
We'd love you to rate it above under 'rate this recipe' or in the comment section below. Thanks!
This simple Thai mango salad, originally published in 2017, has been updated with new information, small recipe tweaks and new pictures.