I've recently become a convert from beef to chicken for my burgers because I found a way to make them juicy and flavorful. Grilled Chicken Burgers with mango avocado salsa are great BBQ or weeknight family fare.
I avoided minced chicken completely until recently, remembering it to be dry and tasteless. With several experiments under my belt in the last few months (and of course lots of research), I am now a fan as I've discovered it can be delicious with the right preparation. And a healthier option too.
The moistness comes from a panade or 'bread mush/paste' made from fresh bread mixed with mayonnaise or liquid.  The flavor is boosted with fresh parsley (really good!) and other seasonings which, of course, you can vary to your taste. I also find dark meat minced chicken greatly adds to moist tasty burgers.
The mango-avocado salsa topping adds both a silky texture and sweet tangy flavor. My husband, also not a previous chicken burger fan, loved these burgers. Juicy, moist, delicious. And  bonus – they only take about 22 minutes to make.
Try serving these grilled chicken burgers with fries, Indian potatoes, grilled hasselback sweet potatoes, grilled coleslaw, charred onions, instant pot backed beans or grilled corn salad.
Tailor To Your Taste
Seasonings:

Vary the seasonings in the burgers.  For example, add thyme, a tablespoon or two of ketchup or BBQ sauce, lemon zest or sriracha for heat.
Use chopped basil or cilantro instead of parsley.
Add a dollop of BBQ sauce on the bun when assembling for a nice flavor contrast.

Salsa:

Add a splash of maple syrup or honey (I always do this) and/or a pinch of chili flakes, garlic, ginger.
Instead of the mango-avocado salsa, try peach or pineapple salsa, pesto or spicy guacamole.

Ground Chicken

Use ground beef or pork instead of ground chicken. Or ground salmon.
Use the minced chicken mixture to make meatballs instead of burgers.  See a few of our meatball and minced chicken recipes listed below.
I always prefer to use dark meat chicken because it's juicier and more flavorful than white meat. With the panade, however, white meat should work fine too.
To reduce the calories, make 6 quarter-pound burgers instead of 5 third-of-a-pound burgers.
Shortcuts
Skip the mango-avocado salsa and use a store-bought chutney instead. Or any other of your favorite burger toppings.
Use 1/3 -1/2 cup breadcrumbs such as Panko instead of tearing the bread into tiny pieces.
Make Ahead
Freeze the burgers in their raw form or freeze them after grilling.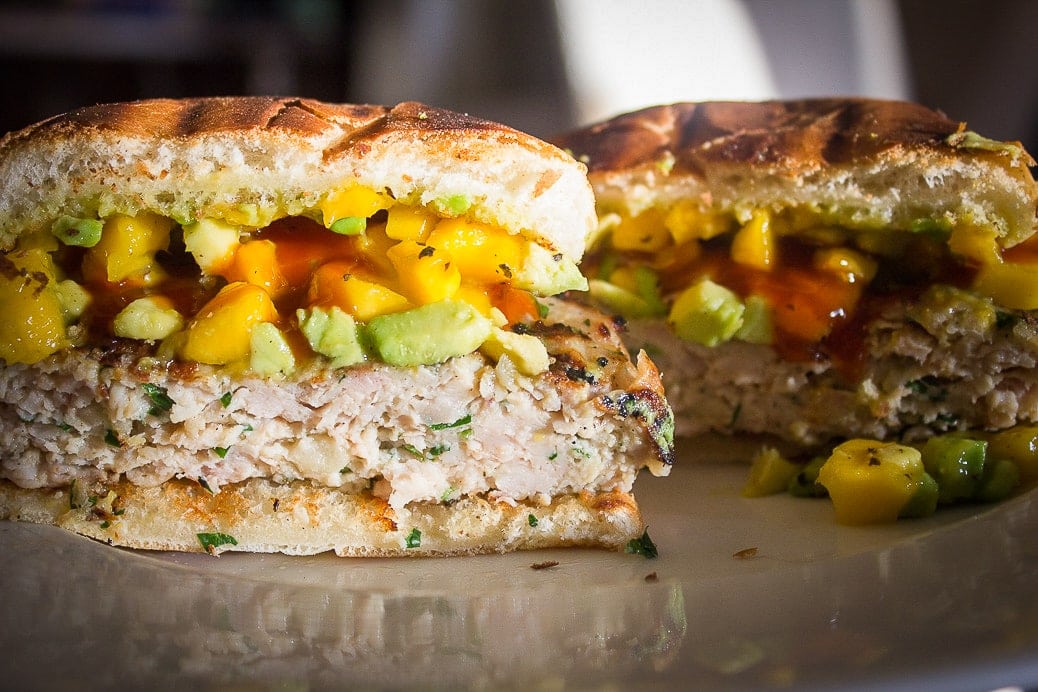 Grilled Chicken Burgers with Mango Salsa
I've recently become a convert from beef to chicken for my burgers because I found a way to make them juicy, flavorful and delicious. Grilled Chicken Burgers with Mango-Avocado Salsa are great weeknight family fare.
Ingredients
1/2

cup

bread, torn into tiny pieces

(I use a bun or 2 slices bread)

3

tbsp

mayonnaise (or milk or broth)

(or milk or broth)

1/3

cup

finely chopped fresh parsley

(about 2 tablespoons dried)

1

tsp

onion powder

1/4

tsp

garlic powder

1/2

tsp

kosher salt

(or more to taste)

1/4

tsp

ground pepper

1

tsp

Worcestershire Sauce

1 1/2

lbs

minced chicken

(white or dark. I use dark - juicier and more flavorful)

5

buns, split in half
Mango Avocado Salsa
1

large mango or 2 small

1

avocado

1

lime

salt and pepper to taste

Optional: splash of honey or maple syrup; pinch of garlic powder, chili flakes and/or ginger
Instructions
Heat BBQ grill to medium high (400-450F).

MAKE SALSA: Peel and dice mango and avocado into small pieces. Place in small bowl. Add lime, salt, pepper and optional ingredients if using. (I add maple syrup). Set aside.

MAKE PANADE (BREAD 'PASTE'): In a medium bowl, mix all ingredients (not including chicken, buns and salsa ingredients). Let stand a few minutes if using milk or broth to allow liquid to absorb.

FORM BURGERS: Add minced chicken. Using your hands, mix lightly with panade to combine. Wet your hands and lightly form mixture into 5 patties (about 1/3 pound each). Try not to overwork the meat. Slightly depress each patty in centre to avoid it puffing up on grill.

GRILL BURGERS: Lightly spray burgers with oil to avoid sticking to grill (I find this works better than spraying grill directly). Grill 2-4 minutes per side until instant thermometer reaches 165F.

SERVE: Grill or toast buns. Place bottom half of toasted buns on platter and add burgers. On each burger, top with some salsa and a dollop of BBQ sauce if desired. Top with other half of bun. Serve.
Notes
Make Ahead: Burgers can be made the day before, refrigerated covered and grilled the next day. You can also freeze the burgers in their raw form or freeze them after grilling, covered well in plastic, a container or foil.
Nutrition Value estimates include a chicken burger (1/3 lb), a bun and mango avocado salsa. 
Nutrition
Nutrition Facts
Grilled Chicken Burgers with Mango Salsa
Amount Per Serving
Calories 496
Calories from Fat 189
% Daily Value*
Fat 21g32%
Cholesterol 118mg39%
Sodium 732mg32%
Potassium 1118mg32%
Carbohydrates 46g15%
Protein 32g64%
Vitamin A 844IU17%
Vitamin C 29mg35%
Calcium 135mg14%
Iron 4mg22%
* Percent Daily Values are based on a 2000 calorie diet.
Tried this recipe?
We'd love you to rate it above under 'rate this recipe' or in the comment section below. Thanks!
Here are other toppings for burgers you might like: 
Sweet & Tangy Grilled Eggplant Recipe
Eggplant lovers will rave about this grilled eggplant recipe with a sweet and tangy glaze. The beautiful bold colors make this an impressive side dish at any BBQ or picnic.
Get the recipe
Marinated Tomato Salad Recipe
This sweet, tangy Marinated Tomato Salad with homemade Catalina dressing creates a colorful side dish even when tomatoes are not at their best.
Get the recipe
Classic Basil Pesto Recipe
Process garlic, basil, oil, walnuts or pine nuts and Parmesan cheese in a processor and voila. Classic basil pesto in 5 minutes. A perfect way to use up that summer garden basil. (makes 1/2 cup)
Get the recipe
Eggplant Dip
This not-your-classic version of eggplant dip (Baba Ghanoush) has an Asian twist with sauteed onions, garlic, ginger, soy and rice wine. It;s super flavorful, luxurious, slightly smoky and very tasty.
Get the recipe
And a few other minced chicken recipes:
Saucy Baked Chicken Meatballs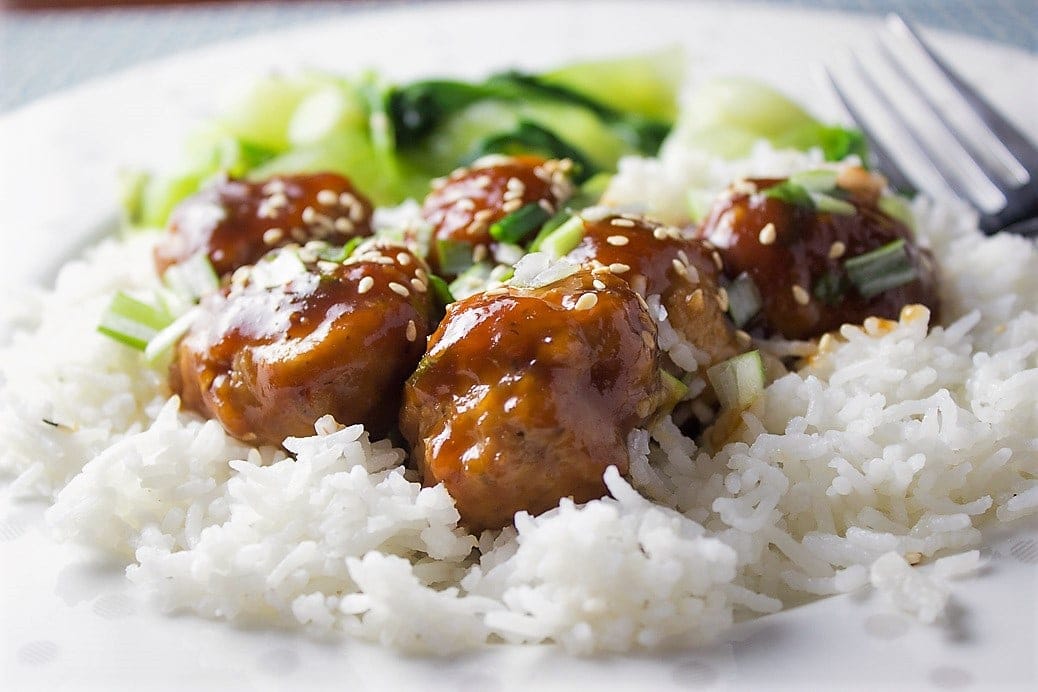 Tender, sticky, sweet, spicy baked chicken meatballs are a perfect appetizer or weeknight meal over fluffy rice. Impressive, but so quick and easy.
Get the recipe
Chicken Meatloaf and Vegetables
This Chicken Meatloaf with Vegetables is NOT dry and boring. It's soft, super moist and tasty with lots of hidden nutrition thanks to the onions, carrots and spinach. Your family will love this one.
Get the recipe
Chicken Paprikash Meatballs Recipe
Hungarian-style chicken paprikash meatballs is a pure comfort dinner with light, tender juicy meatballs in a creamy paprika sauce. Delish over noodles or rice. And only 30 minutes to prepare.
Get the recipe
Meatball Stew
A lighter but still hearty Meatball Stew hits the 'comfort food'  and 'healthy' spot with lots of veggies and tender chicken meatballs in a herby sauce. Only 30 minutes. 
Get the recipe