Grilled Sliced Eggplant (Sweet & Tangy)
Eggplant lovers will rave about this grilled sliced eggplant with a sweet and tangy glaze. The beautiful bold colors make it an impressive side dish for any BBQ or picnic in just 18 minutes.
My mom used to broil the eggplant instead of grilling it, taking even less time.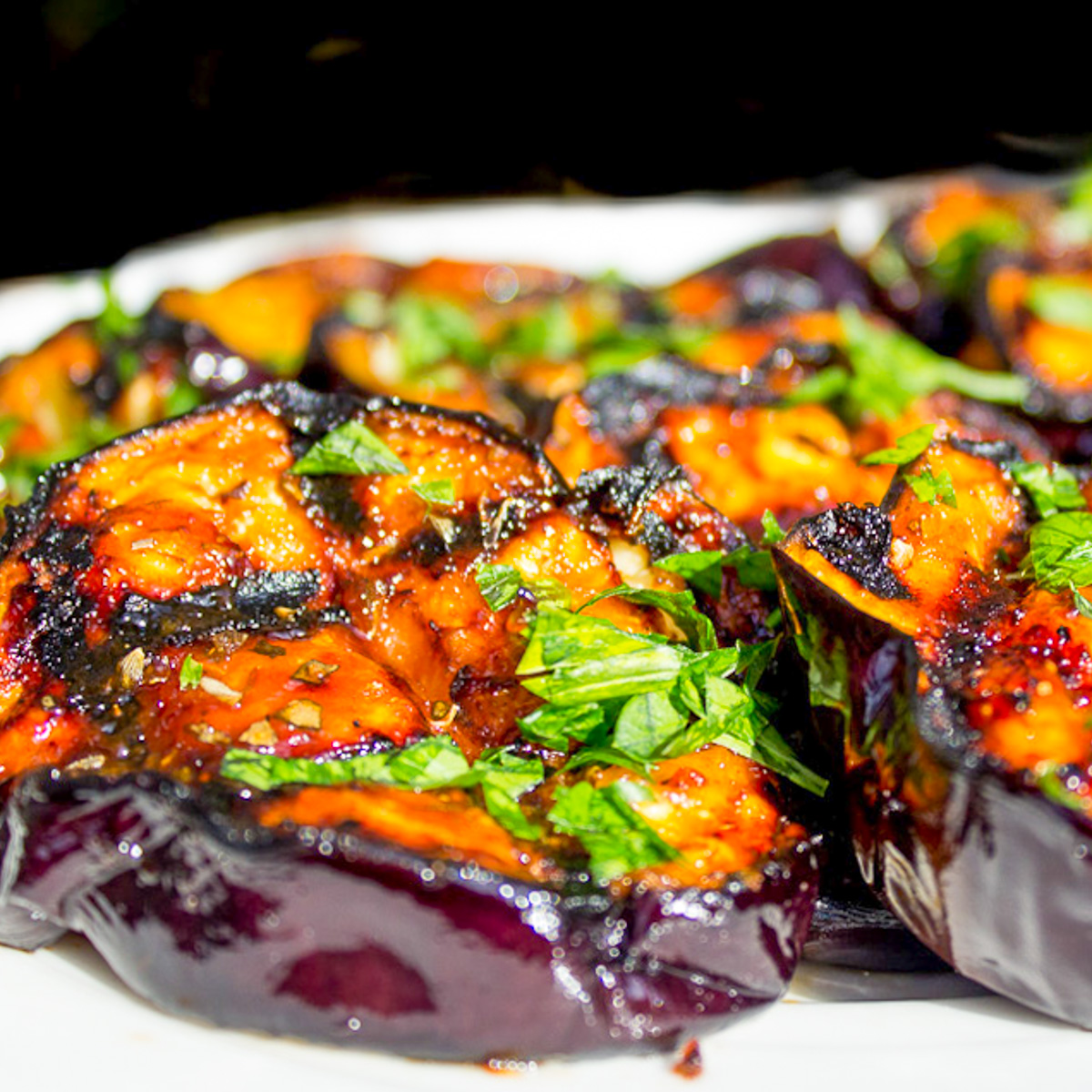 I've been making this eggplant dish all my life. My mother called it candied eggplant and it showed up in many company and family dinners. She used bottled Catalina dressing instead of making it from scratch.
Honestly, the taste is very close, so don't be afraid to use that shortcut. I did until recently when I discovered how easy it was to quasi-replicate Catalina or French dressing with just a few simple ingredients. (And a homemade version doesn't contain all the preservatives of course).
Bottom line: Broiled or grilled, homemade or bottled Catalina dressing – this sliced eggplant, with a sweet tangy glaze, is an easy recipe that looks dramatic and is really tasty.
Ingredients – tailored to your taste
Eggplant: Use a regular eggplant with a green flower stem at the top. It should be firm with a slight give when pressed. You can also use a long thinner Japanese eggplant and slice it in half or thirds lengthwise.
Substitution: Instead of eggplant, make the same recipe with zucchini, sliced lengthwise in halves or thirds.
Catalina dressing: We're using a homemade Catalina dressing for the glaze. It's made with just a few simple ingredients – ketchup, red wine vinegar, maple syrup and oil.
Dressing substitutions: Use white wine vinegar for the red wine vinegar, and honey for the maple syrup. You can buy the bottled version as a shortcut if you like. French dressing can also be substituted, but it's not as sweet – so add a pinch of sugar.
Seasonings: I use a simple kosher salt, pepper and garlic powder mixture along with dried oregano. You can replace the oregano with thyme or rosemary if you prefer.
Seasoning variations: Add some heat with red pepper flakes or garlic chili sauce.
Garnish: Serve the eggplant slices 'as is' or garnish with fresh herbs like flat-leaf parsley, curly parsley, chives or fresh basil.
Step-by-step instructions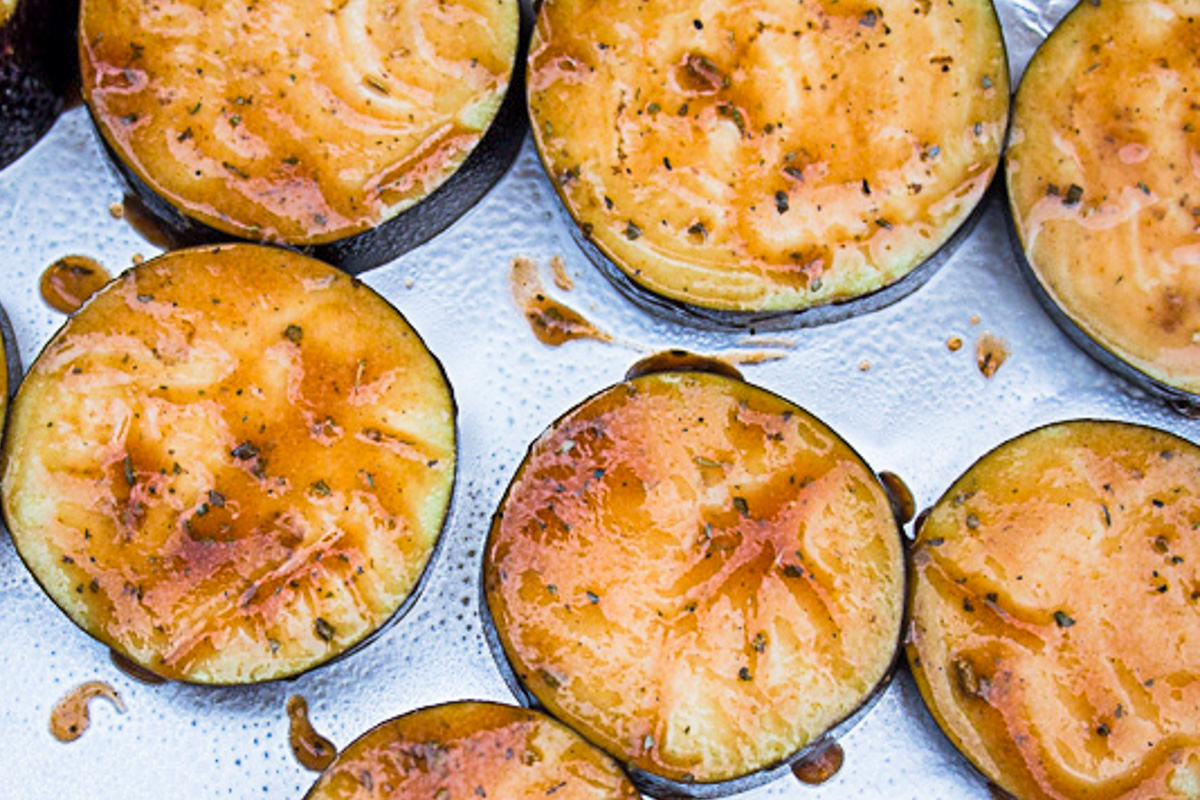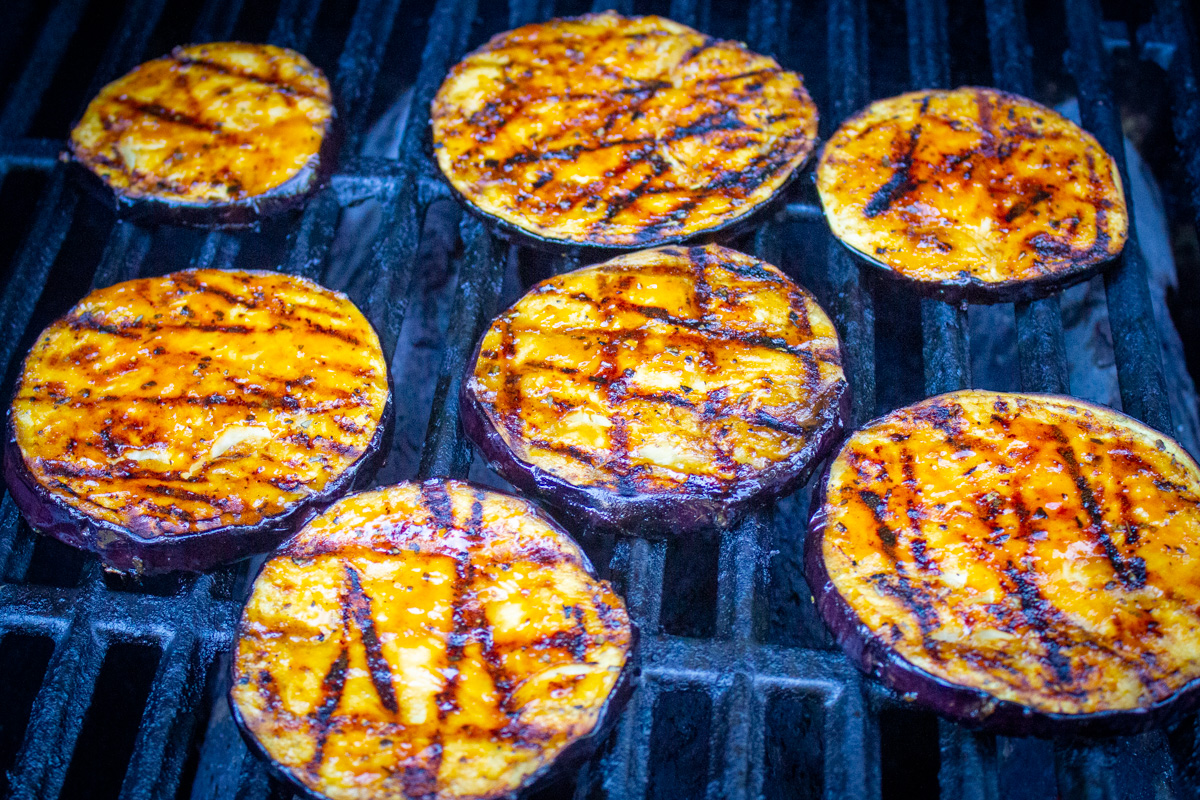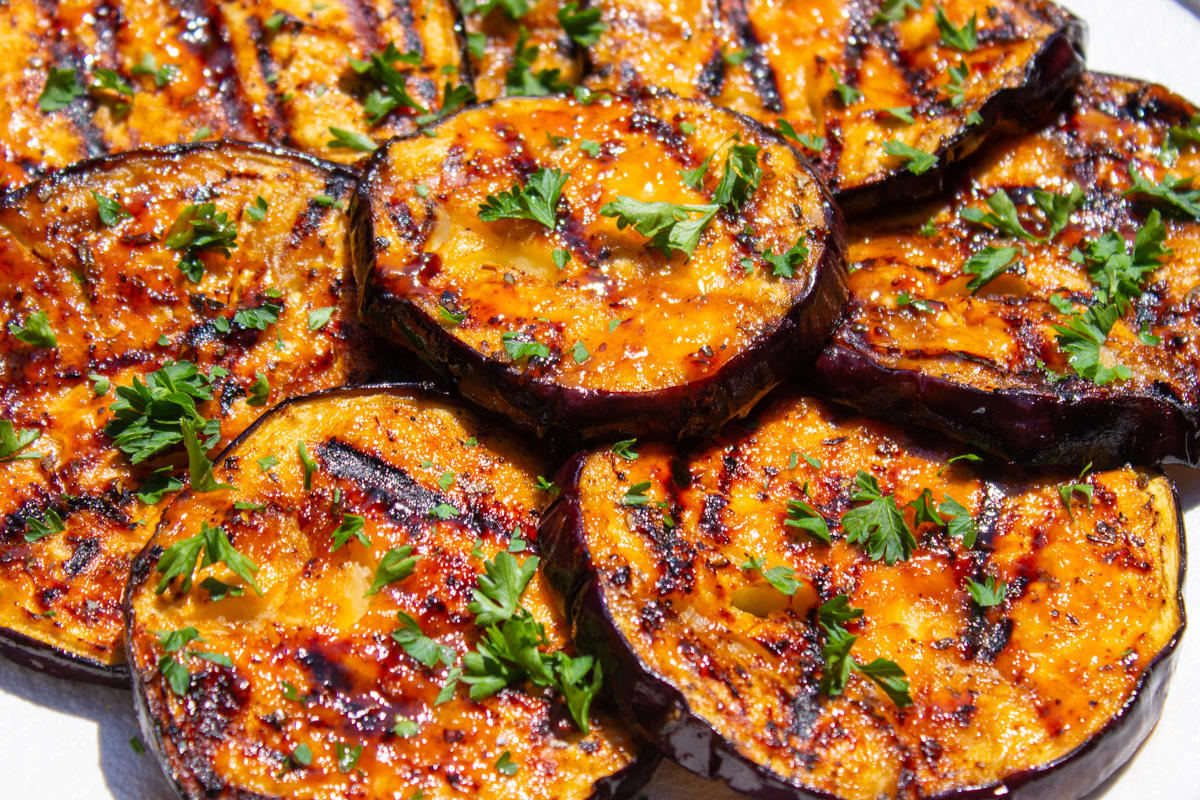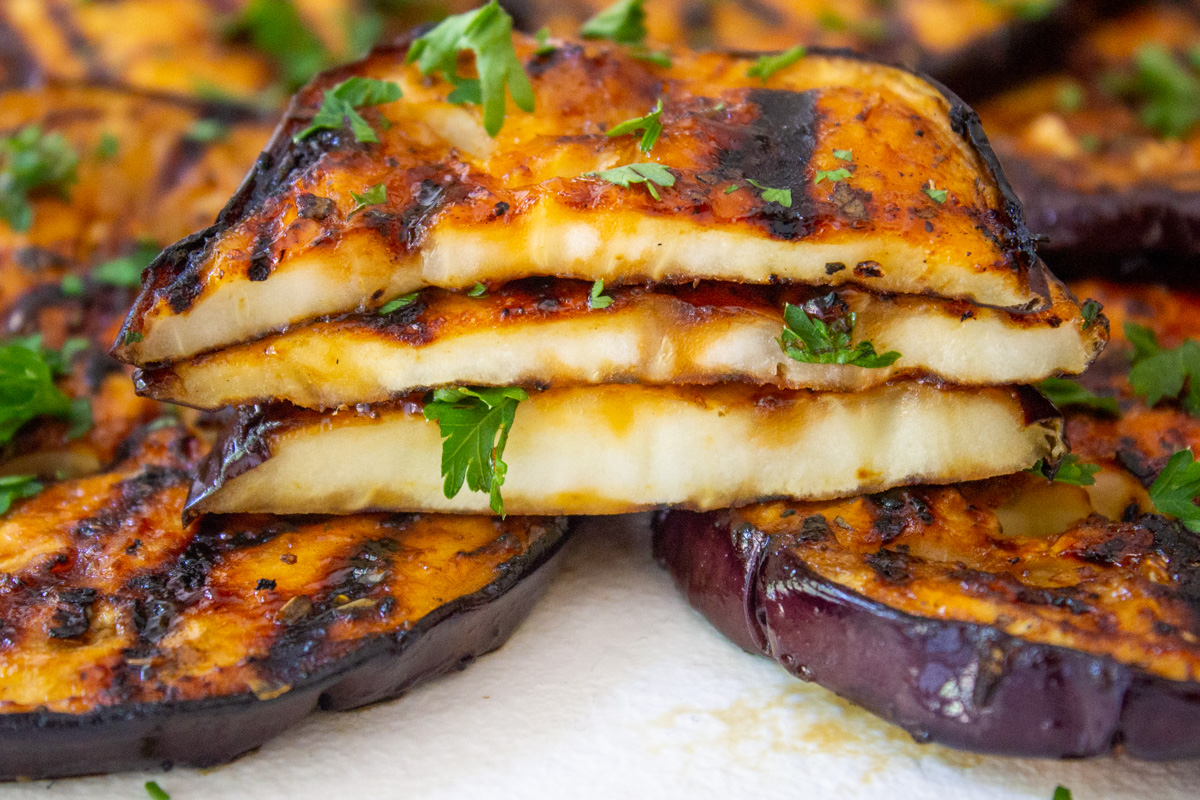 Top tips to select a good eggplant
Choose eggplants with smooth, shiny, and unblemished skin. They should have vibrant and uniform colors. Avoid ones with wrinkled or dull skin that indicate they are old or stored for too long. The eggplant should feel firm and bounce back when gently pressed.
Bigger is not better. Smaller eggplants tend to have a milder flavor and fewer seeds. Larger eggplants may have a more bitter taste and a higher number of seeds.
Choose eggplants that feel heavy for their size. This means they are dense, which is what you want.
The eggplant's stem and cap should be green and fresh-looking. If the stem and cap appear brown or dried out, it could be a sign that the eggplant is not fresh.
Shortcuts
Replace the glaze ingredients with store-bought Catalina or French dressing (with a touch of sugar added to the French dressing). I do this sometimes (shhh).
Instead of grilling, brush both sides with glaze and broil the eggplant on a lined pan, sprayed with oil, for a few minutes on each side.
Make Ahead
I almost always make this ahead for a dinner party. It can sit on the counter for hours and be served at room temperature or warmed in the oven or for a few seconds in the microwave before serving.
Store leftovers in an airtight container in the fridge for up to 4 days.
The eggplant can be frozen after it's cooked for a month or two. Flash freeze it on a pan in a single layer, then transfer it to a sealed bag or container.
What to serve with glazed sliced eggplant
Grilled eggplant makes a great addition to Cedar Planked Chicken, Lemon Panko-Crusted Salmon, Mediterranean-Style Marinated Chicken or a simple grilled steak.
Other ways to use this eggplant recipe
In addition to serving sliced eggplant as a delicious side dish to almost any main course:
Recipe FAQs
Is it necessary to salt eggplant before cooking?
For the most part, it is unnecessary to salt eggplant with today's varieties. Salt helps reduce excess moisture and bitterness in older eggplants. If you want to try it, sprinkle eggplant slices with table salt and place them in a colander. Let them sit for 30-60 minutes. Rinse well and blot dry with paper towels or a clean kitchen towel.
What is the difference between Catalina and French dressing?
Although similar, Catalina dressing is thinner, sweeter and has a tomato base. French dressing tends to be tarter, paler orange and creamier.
What are the 3 most common types of eggplant?
Globe eggplants are the most common type of eggplant found in the grocery store. They have a large, round or oval shape with smooth, dark purple skin.
Italian eggplant is smaller and slimmer than globe. It will have an elongated shape with dark purple skin.
Asian eggplants are also long and slender with deep purple color, but the skin is really thin.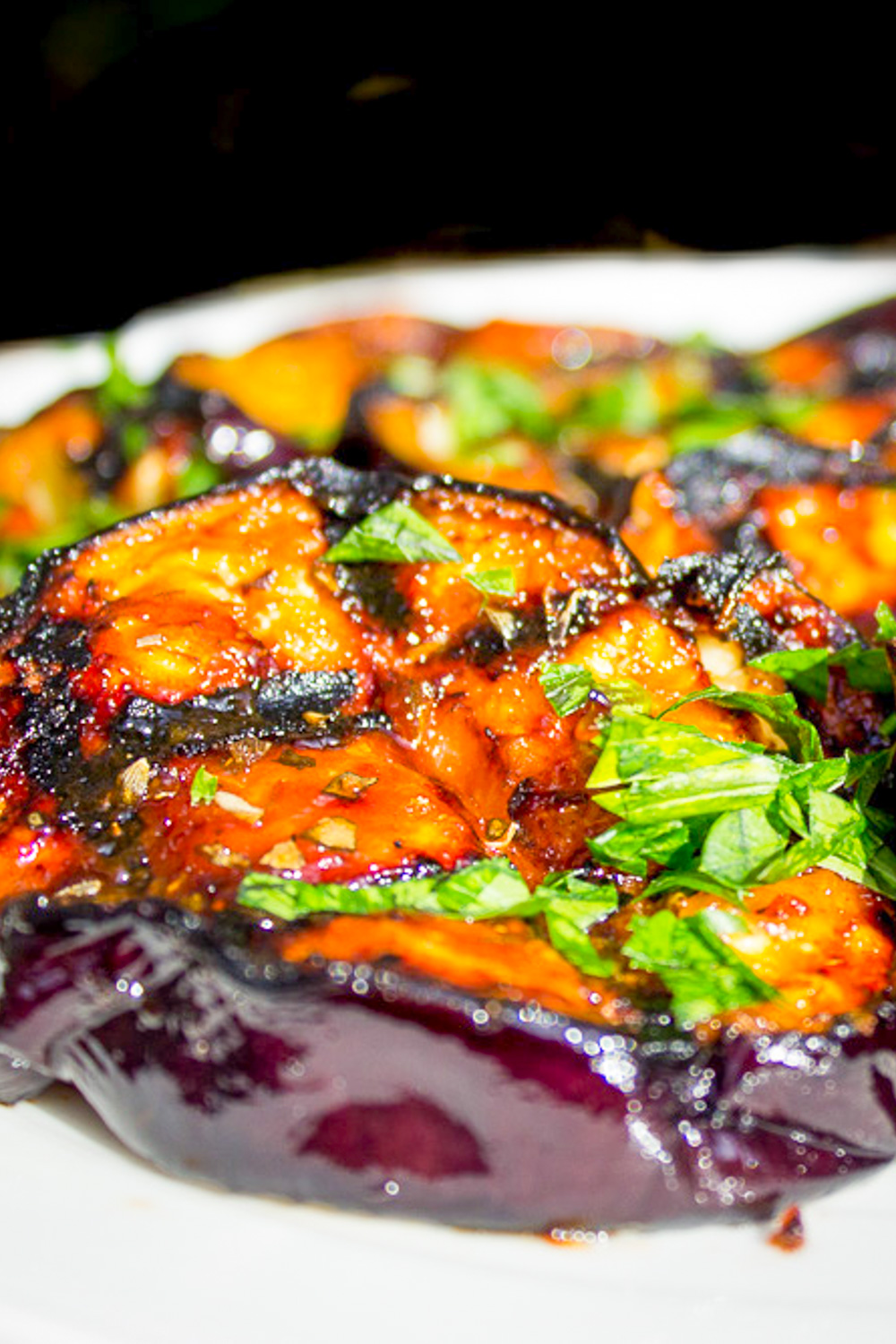 More eggplant dishes
If you're an eggplant lover, be sure and try one of these recipes.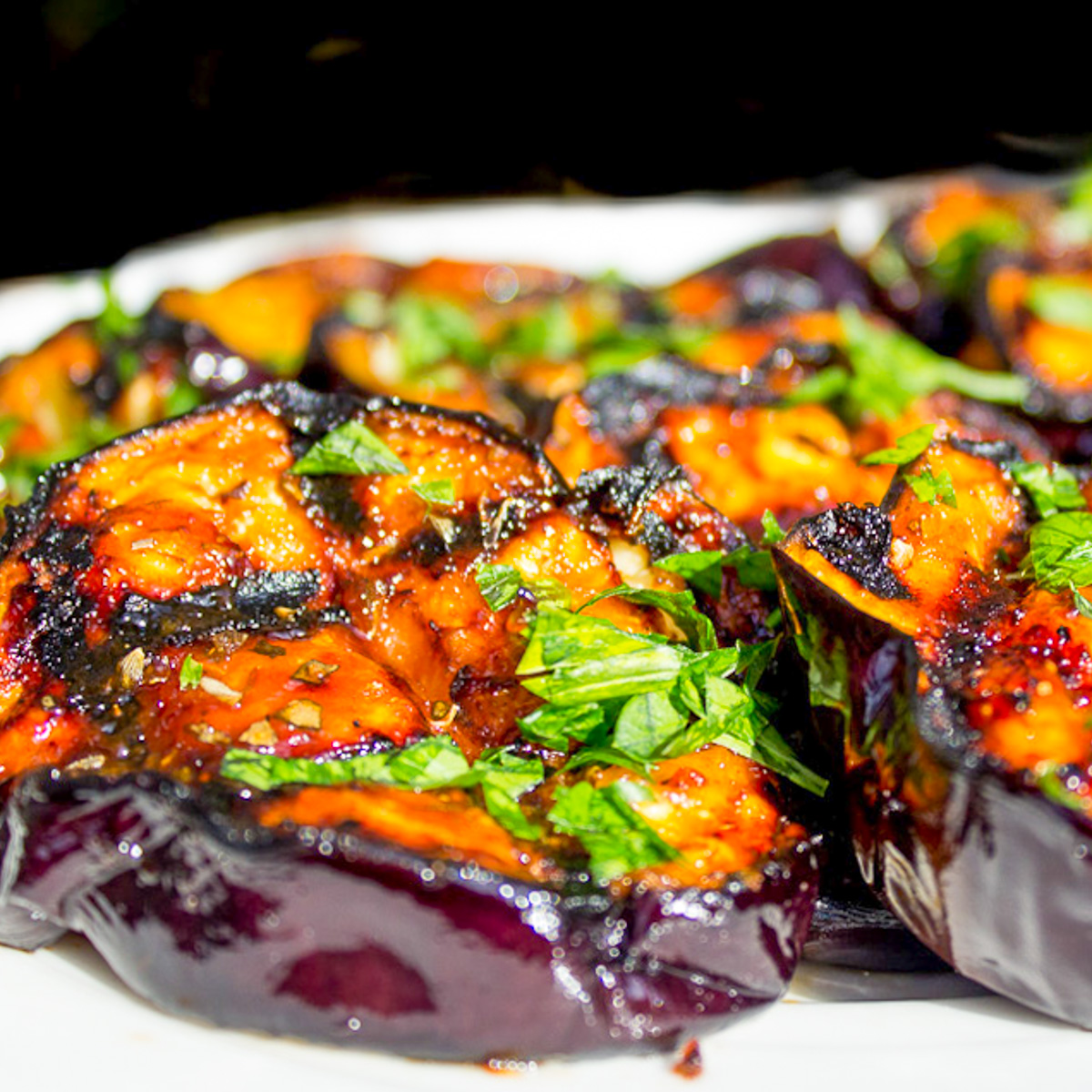 Print Recipe
Pin
Save Recipe
Recipe Saved!
Rate this recipe here
Grilled Sliced Eggplant (Sweet & Tangy)
Eggplant lovers will rave about this grilled sliced eggplant recipe with a sweet and tangy glaze. The beautiful bold colors make this an impressive side dish at any BBQ or picnic.
Ingredients
1

medium eggplant

oil spray

(e.g. Pam)
Glaze (Note 1)
2

tablespoon

olive oil or vegetable oil

2

tablespoon

Ketchup

1 1/2

tablespoon

Red Wine Vinegar

(or white wine vinegar)

1

tablespoon

Maple syrup

(or honey)

1

teaspoon

dried oregano

(or thyme)

pinch

Each: garlic powder, kosher salt, black pepper
Instructions
HEAT GRILL to medium-high heat (425-450F). Clean and oil the grates of your grill.

MAKE GLAZE: Whisk all ingredients for glaze in small bowl or measuring cup. Note 1.

PREPARE EGGPLANT FOR GRILLING: Cut off stem and bottom of eggplant (discard), then cut eggplant horizontally into 1/2 inch/1.27 cm slices. Tip: Don't slice the eggplant too thinly as it shrinks when cooked and may fall apart more easily. Place rounds on pan in single layer. Brush each eggplant round with glaze on side facing up (I use a pastry. brush). Spray well with oil to avoid sticking on grill.

GRILL EGGPLANT: Place eggplant, glaze side down, on grill. Glaze the plain side facing up. Spray with oil. Close lid and grill for 3 minutes. For cross-hatched grill marks, do a quarter turn of each round and continue to grill for another minute. Turn eggplant over. Close lid and grill the other side for 3-4 minutes. (Note 2 – to broil)

SERVE: hot or at room temperature. If you have a bit of glaze left over, brush top side of eggplant again. (This is optional).
Recipe Notes
Shortcut for Glaze: You can substitute the homemade glaze with Catalina or French dressing for a super quick shortcut. 
To broil (instead of grilling): You can broil the eggplant for 3-4 minutes on each side on a pan lined with foil and sprayed with oil (for easy cleanup). 
Variations: Try zucchini or Japanese eggplant instead (sliced lengthwise) instead of the eggplant. Use a pinch of red chili flakes or garlic chili sauce for heat. 
Make Ahead: The grilled eggplant can sit on the counter for hours and be served at room temperature. It can be warmed in the oven (or for a few seconds in the microwave) before serving. Store leftovers in an airtight container in the fridge for up to 4 days. May be frozen – flash freeze on a pan in a single layer for 30 minutes, then transfer to a ziploc or container and freeze for 1-2 months. 
Nutrition values are estimates using a nutrition calculator for 1/4 of an eggplant. 
Nutrition
Calories:
116
kcal
|
Carbohydrates:
13
g
|
Protein:
1
g
|
Fat:
7
g
|
Saturated Fat:
1
g
|
Sodium:
226
mg
|
Potassium:
300
mg
|
Fiber:
4
g
|
Sugar:
9
g
|
Vitamin A:
70
IU
|
Vitamin C:
3
mg
|
Calcium:
22
mg
|
Iron:
1
mg
Tried this recipe?
We'd love you to rate it above under 'rate this recipe' or in the comment section below. Thanks!