Lemony Panko-crusted salmon is easy, light and fresh. The zesty breadcrumb topping adds delicious texture. Perfect for a weeknight or company meal.
If you're looking for a new way to cook salmon (or your favorite fish), you might want to give this Panko-crusted salmon a try. Most salmon recipes are not time consuming and this one is no exception.
The topping of panko breadcrumbs, lemon zest, parsley and a bit of olive oil (or butter) creates a wonderful crunchy texture. The taste is light and zesty. I added some capers for extra zing. The salmon is further flavored with Dijon mustard. Even my husband who is not a mustard fan, likes this salmon. But, if you are really cringing at the thought of mustard, feel free to substitute it with mayonnaise.
This salmon recipe takes under 30 minutes to make. Serve it with Quinoa Sweet Potato Salad or Roasted Bok Choy and Broccoli. It makes a great potluck or holiday buffet dish at room temperature.
Tailor To Your Taste
Add 1/2 teaspoon minced garlic (or a pinch of garlic powder)
Serve with a sweet thai chili sauce or a basil mayo.
Substitute the Dijon mustard with mayonnaise.
Leave out the capers.
Make Ahead Panko Crusted Salmon
You can do the preparations ahead and then bake it in the oven when you're ready.
Or make the recipe ahead and serve it at room temperature.
Panko-Crusted Salmon Recipe
Lemony Panko-crusted salmon is easy, light and fresh. The zesty breadcrumb topping adds delicious texture. Perfect for a weeknight or company meal.
Ingredients
3

salmon fillets ( about 6 ounces each)

1

tablespoon

Dijon mustard

(can substitute mayonnaise if preferred)

salt and pepper to taste

lemon wedges for garnish
Panko Crust
1/2

cup

Panko breadcrumbs

2

tablespoon

parsley, finely chopped

1

teaspoon

lemon zest

(from 1 small lemon)

1/4

teaspoon

each, salt and pepper

1 1/2

tablespoon

olive oil

(or melted butter)

1

tablespoon

capers, rinsed (optional)
Instructions
Preheat over to 425F.

PREPARE PANKO BREADCRUMB TOPPING: Put Panko breadcrumbs in a small skillet and shake the skillet over medium-high heat about 3 minutes until lightly browned. Turn off heat. Add oil, parsley, lemon zest and capers if using. Stir to combine.

PREPARE THE SALMON: Place salmon on a foil-lined pan sprayed with oil (skin side down). Spread Dijon over the top of each salmon fillet. Sprinkle generously with salt and pepper. Divide the Panko breadcrumbs among the fillets. Gently press the crumb mixture on the top of each fillet to help crumbs adhere.

ROAST AND SERVE: Roast the salmon for 9-11 minutes, depending on the thickness of the salmon until almost cooked (salmon should still have a slight deeper pink inside). The rule of thumb is about 10 minutes for each inch of thickness. Remove from oven, cover with foil and let it rest and finish cooking for 5 minutes. Serve hot or at room temperature with lemon wedges.
Tried this recipe?
We'd love you to rate it above under 'rate this recipe' or in the comment section below. Thanks!
This recipe was adapted from on old Ina Garten Panko-crusted salmon recipe.
Other salmon recipes you might like:
Simple Herb Stuffed Salmon Recipe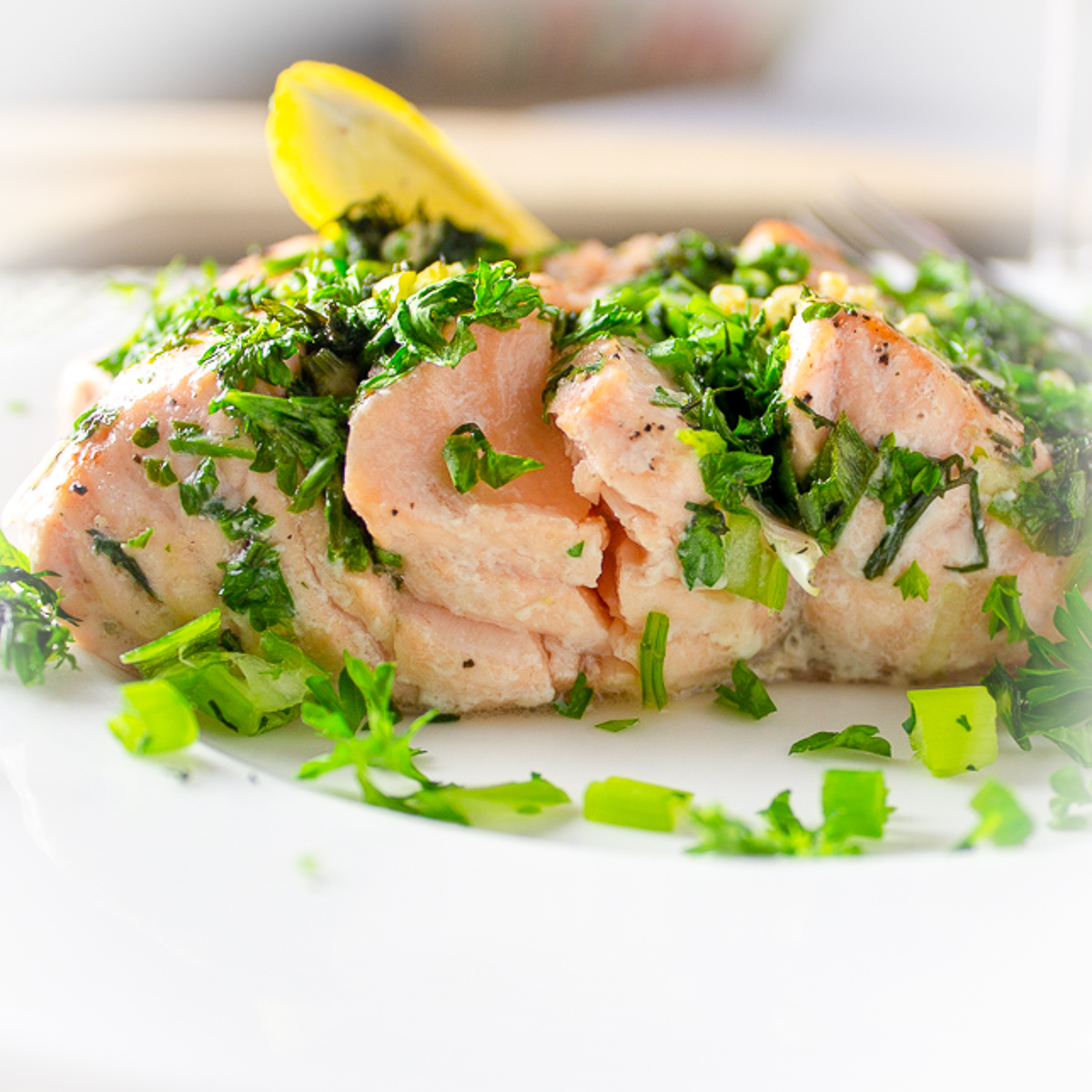 This herb stuffed salmon recipe is infused with green herbs, lemon and wine to create a delicious main dish. Succulent, healthy and ready in 20 minutes.
Get the recipe
Canadian Maple Cedar Plank Salmon
This rich, mildly smoky Canadian Maple Cedar Plank Salmon is glazed with maple syrup, balsamic, grainy mustard, butter & garlic.  Easy and mouthwatering!
Get the recipe
Salmon with Citrus Glaze
Moist and zesty salmon with citrus glaze is an easy weeknight or company meal. The sweet-tart glaze made with orange, lemon, lime, maple syrup and Dijon mustard is simply delicious.
Get the recipe
Pecan Crusted Salmon
Get mouth watering Pecan Crusted Salmon on the table in 20 minutes and enjoy the nutty texture on a rich coating of maple syrup, balsamic vinegar, Dijon mustard and parsley. Simple, good, fast and pretty.
Get the recipe