In the spirit of Fall, we're making slow cooker pumpkin risotto. Rich, creamy and dairy free (unless you add Parmesan). And best of all, it's a very easy risotto to make.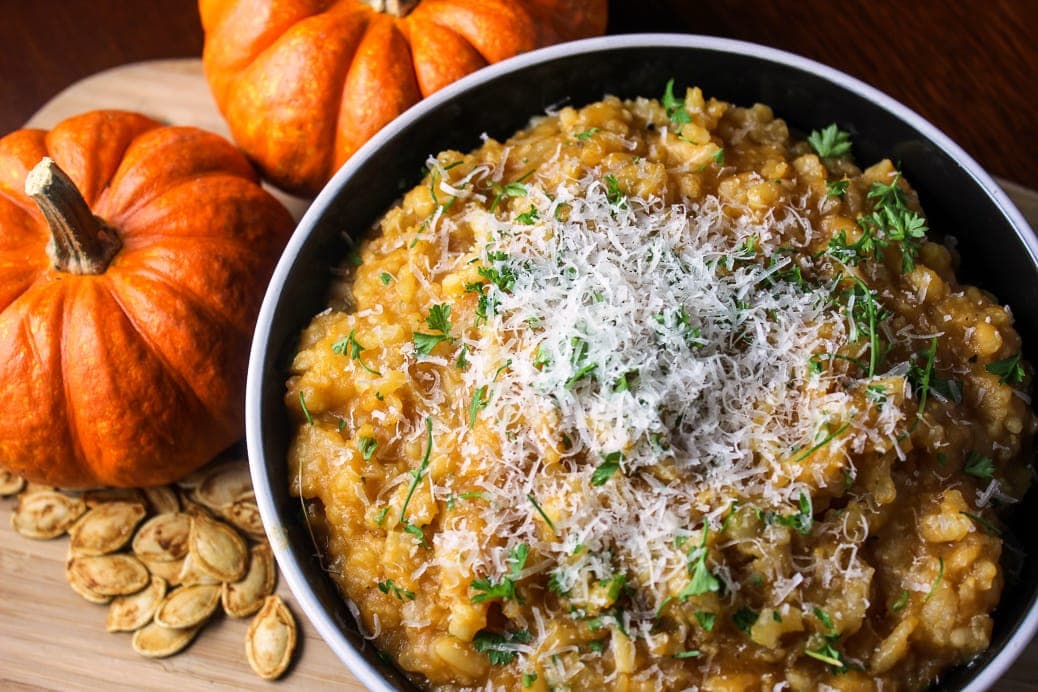 If you have ever made risotto before, you know that it can be pretty labor intensive standing over the stove stirring and slowly adding your liquid in intervals. In this slow cooker recipe from my good friend Mike (aka @omgchampagne), you just dump in your ingredients and walk away.
The pumpkin is the star of the easy risotto. It gives a great hit of orange color to the plate and is perfect for a main or side dish. Pumpkin is also very high in Vitamin A for added nutrition. While the cooking time is 2 1/2-3 1/2 hours (see important note in recipe), the prep work is virtually non-existent. Simply throw everything in the crock pot and let it do its magic.
It's best to serve the slow cooker pumpkin risotto right away as the longer you let it sit around, the less al dente it becomes.  Serve with a salad and some roasted pumpkin seeds on the side. Or as a vegetarian Thanksgiving dish on your buffet table.
Tailor To Your Taste
If you want to get fancy, you can add some sauteed mushrooms and onions to the mixture before turning on the crock pot.
Garnish it with parsley, chives or fried sage
Add Parmesan cheese, stirring it directly into the risotto when complete or sprinkled on top.



Slow Cooker Pumpkin Risotto Recipe
In the spirit of Fall, we're making slow cooker pumpkin risotto. Rich, creamy and dairy free (unless you add Parmesan).  And best of all, so easy to make.
Ingredients
1

can of Pumpkin (398 ml)

1 1/4

cup

Arborio Rice

4

Garlic Cloves, minced

1/4

cup

White Wine

1/4

cup

Olive Oil

pinch

Salt & Pepper

3 1/2

cup

Vegetable Broth

(or chicken broth)

1/3

cup

Parmesan Cheese, grated (optional)

garnish: chopped parsley, chives or fried sage
Instructions
PREPARE TO SLOW BOOK RISOTTO: Put all ingredients (except Parmesan cheese) into slower cooker and give it a stir (put in the vegetable broth last).

COOK RISOTTO: Put the slow cooker on the high setting and let it cook for 2 1/2 to 3 1/2 hours. (Note 1)

FINISH: When finished, stir in your Parmesan cheese if using and serve right away. The longer it sits around, the less al dente it will become.
Notes
Slow Cooker Times:  We've tried this recipe with different slow cookers and the times varied from 2 to 4 hours (the longer time included a couple of peaks under the lid). As with all slow cookers, every time you lift the lid, you add 30 minutes or more of cooking time)
370
kcal
Here are two other easy risotto recipes you might like made in an instant pot. One is with pumpkin, the other with grilled vegetables.
Pumpkin Risotto (Instant Pot) Recipe
Rich, creamy, flavour-packed Instant Pot Pumpkin Risotto is pure comfort food that tastes amazing. It's a knockout vegetarian dinner for Fall or Winter.
Get the recipe
Print
Lemon Risotto with Grilled Vegetables (Instant Pot)
Creamy risotto without the constant hands-on stirring? Yes! This Instant Pot Risotto with Grilled Vegetables takes minimal effort for exceptional results.
Get the recipe
Print