Teriyaki Glazed Salmon (Baked, Grilled, Sous Vide)
Transform mild fish into a delicious teriyaki glazed salmon with a sweet, garlicky, gingery umami homemade teriyaki sauce—an elegant meal in just 20 minutes.
Choose your cooking method – bake, grill or sous vide. And choose your serving style with traditional plating or teriyaki salmon bowls.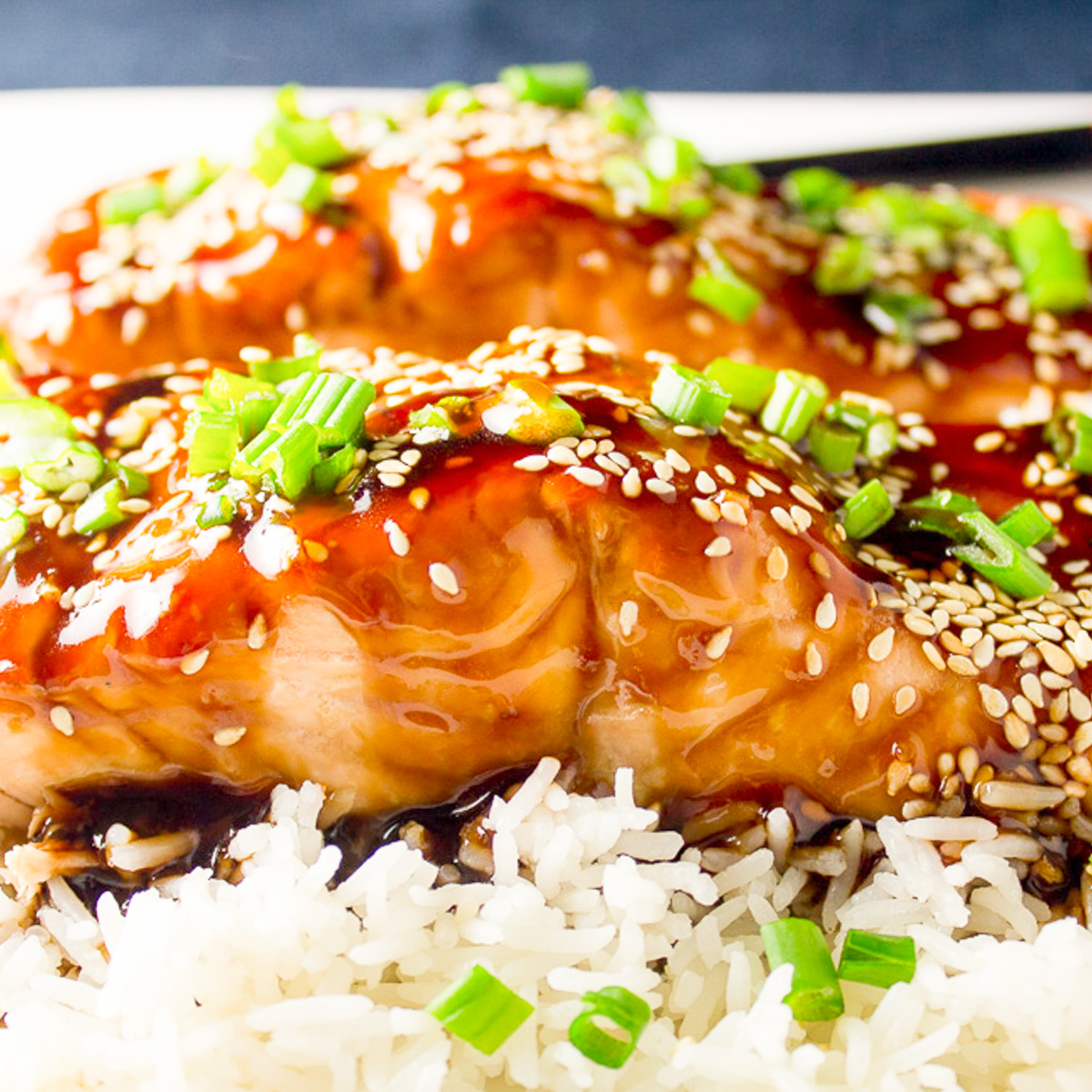 I forgot how good teriyaki sauce can be. Marinating with it takes extra time (worth it I think), but if you're in a rush, you can skip it and make half the quantity.
There's no need to go on and on about this dish. Suffice it to say it's easy, it looks pretty and it tastes great. Leftover teriyaki glazed salmon is amazing cold or at room temperature.
What to expect
Big bold flavors: The bold, savory Asian flavors in the homemade teriyaki salmon work beautifully with the salmon.
Perfect for weeknight dinners: This baked teriyaki salmon recipe cooks in just 15 minutes…prep to plate. It's an easy dinner.
Different cooking options included: The easy teriyaki salmon recipe below calls for roasting the salmon. But we're including two other options in the recipe notes – sous vide and grilling.
Ingredients – tailored to your taste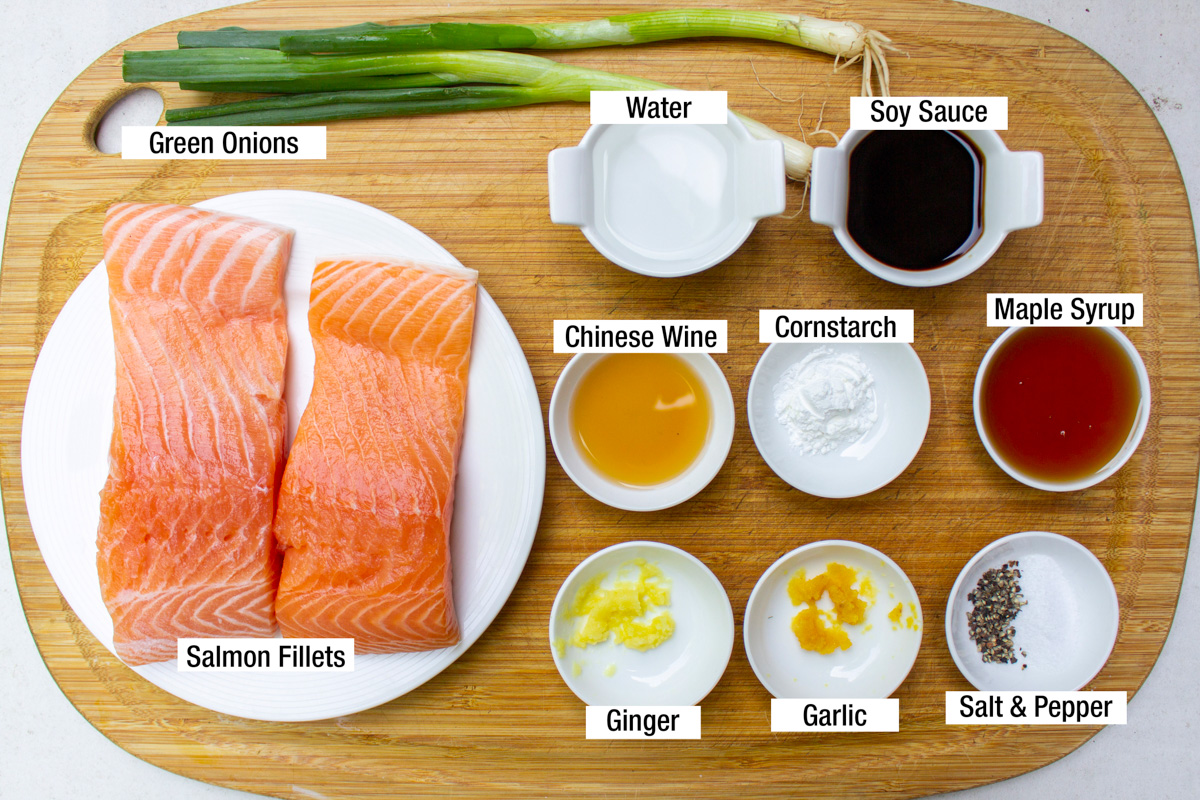 Salmon: Buy skin-on or skin-off salmon filets or a larger side of salmon if serving more people that you can cut up after cooking. See FAQs for the type of salmon to buy.
Teriyaki glaze and marinade: is made with a few simple ingredients of soy sauce, water, ginger, maple syrup, garlic, and Chinese rice wine like Shaoxing.
Garnish: I like chopped green onions and sesame seeds. You can also use chives, thinly shredded nori seaweed or orange zest.
Marinades substitutions and variations:
Replace the rice wine with mirin, sherry or fortified wine.
Use brown sugar or honey instead of maple syrup.
Add a kick of heat with red pepper flakes.
Step-by-step instructions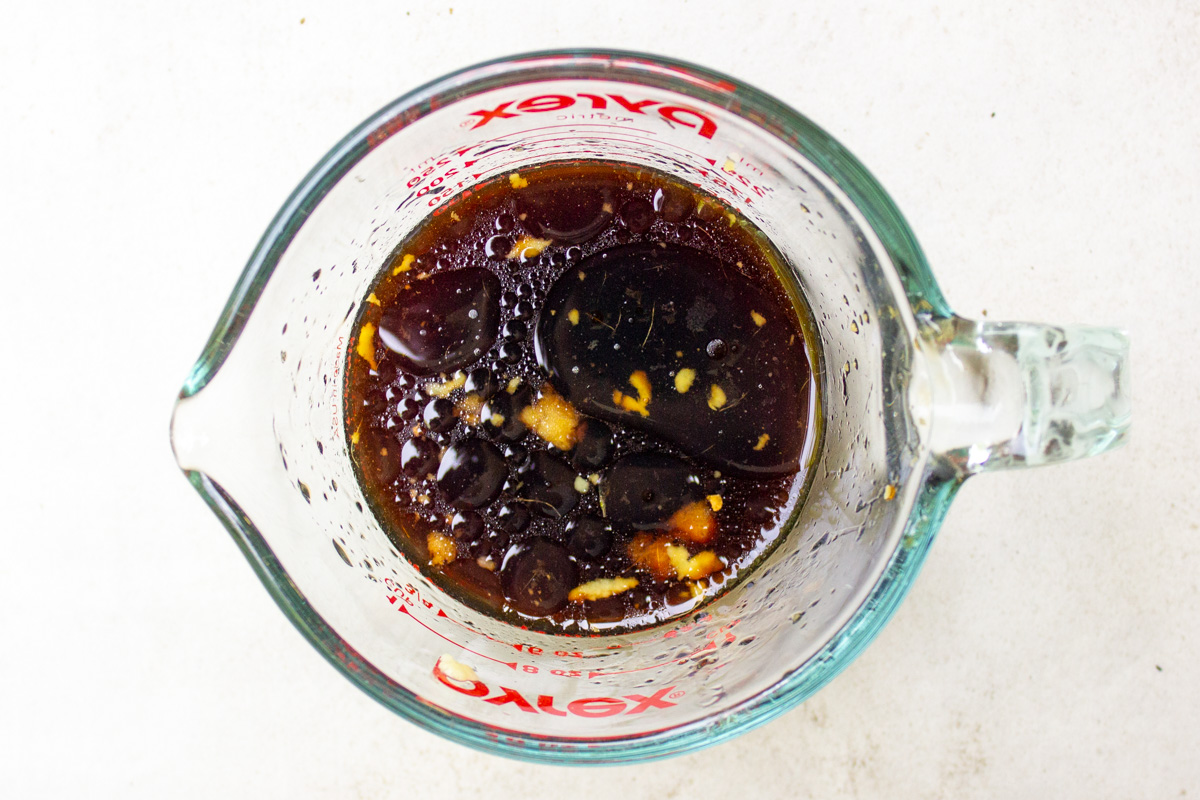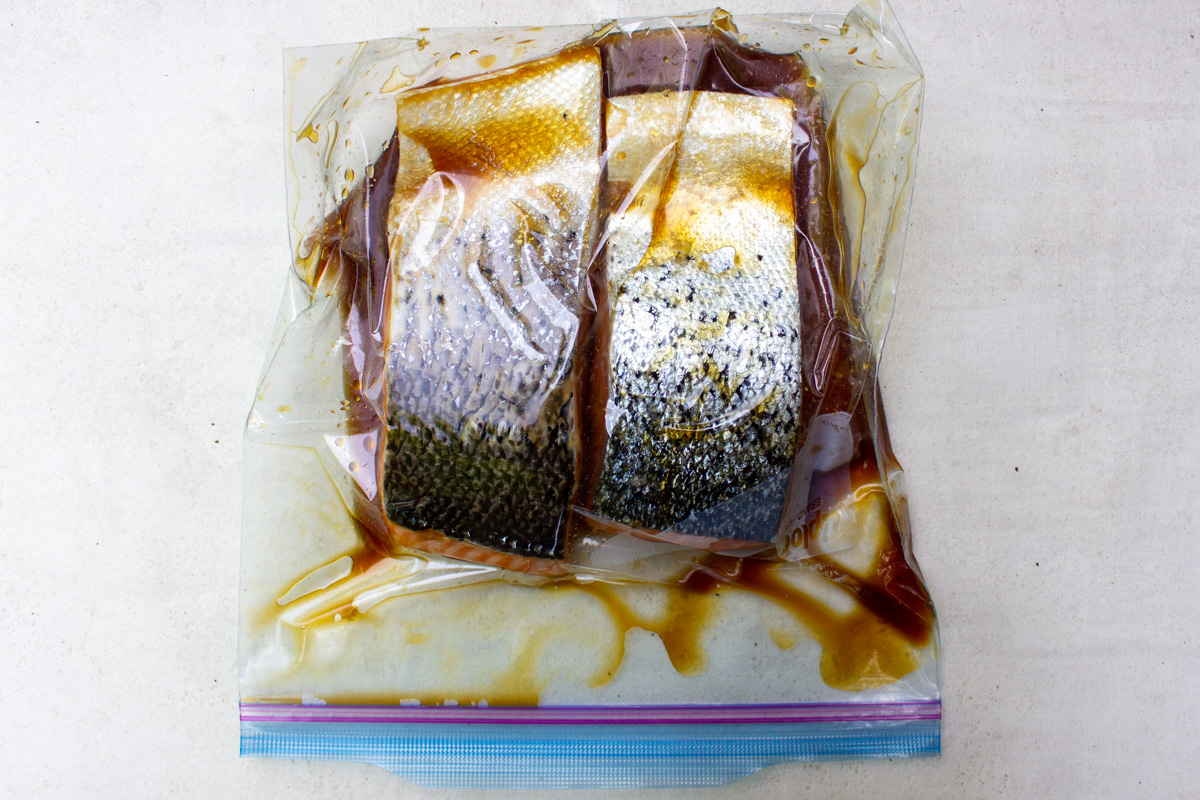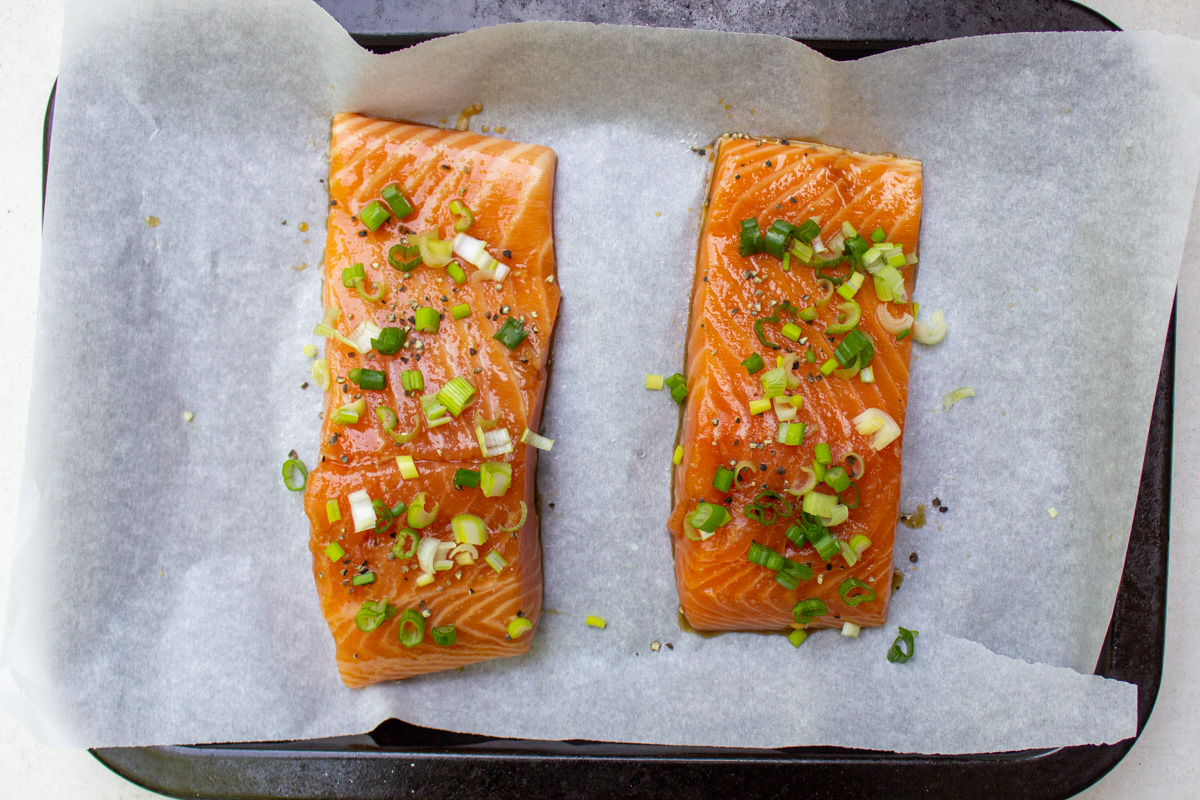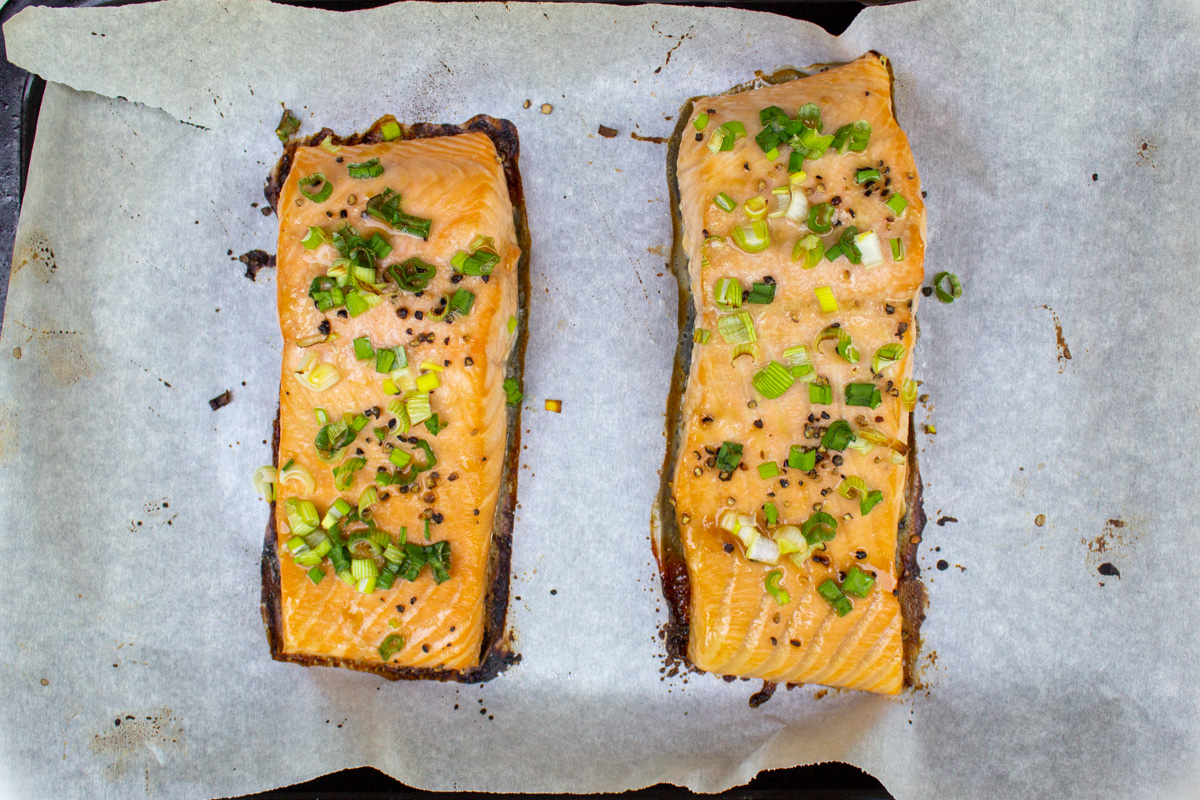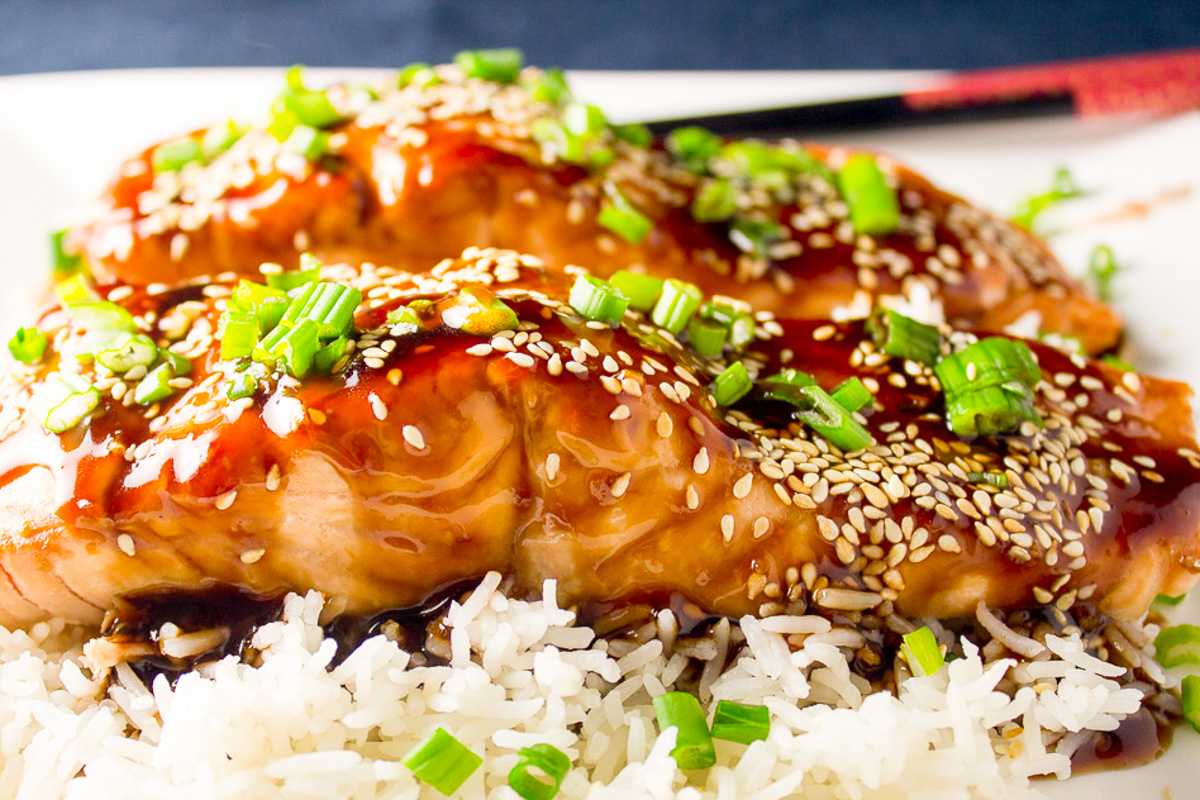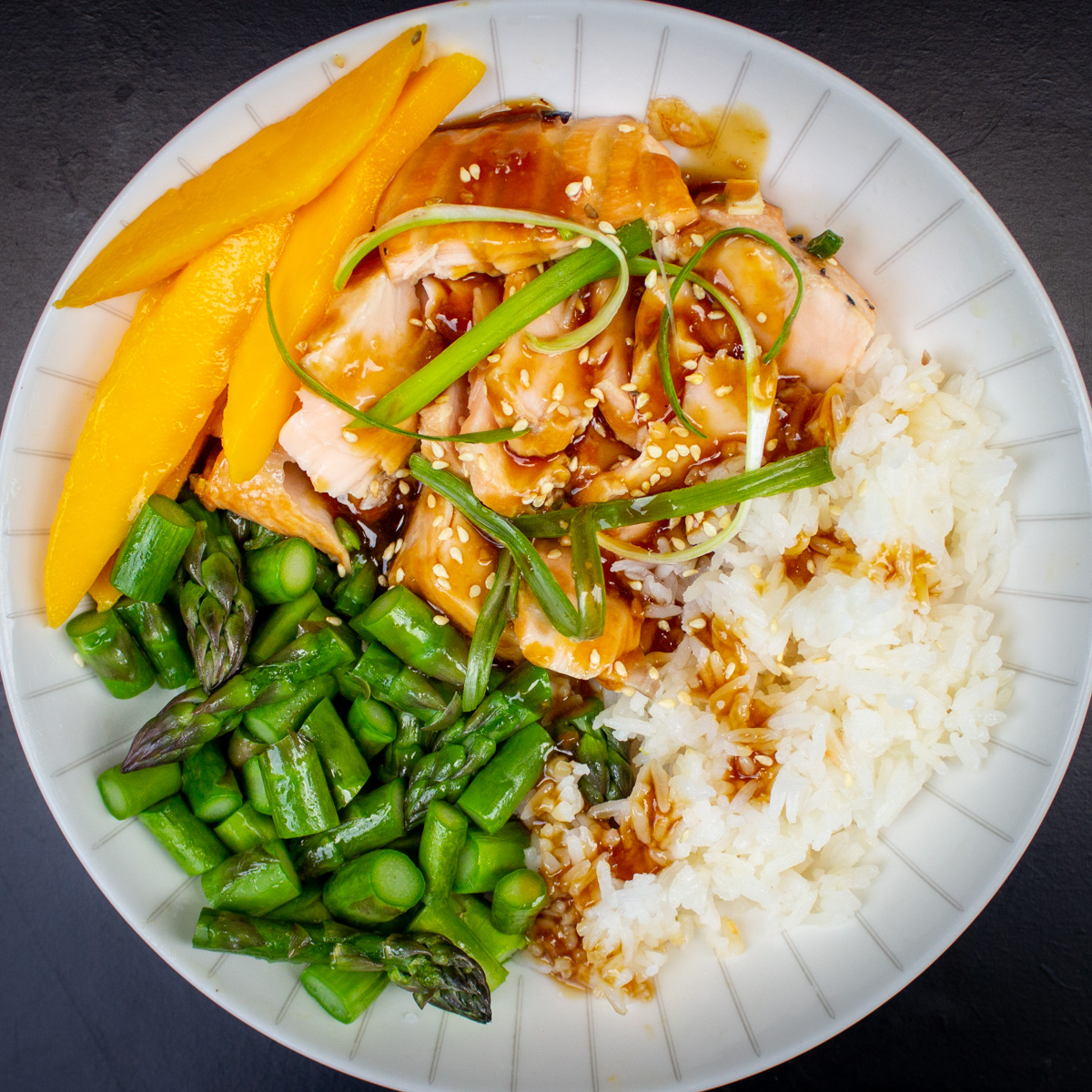 Tips for cooking with salmon.
Leave the skin on when cooking unless you are poaching salmon. The skin acts as a fatty layer to help protect it from drying out as the salmon cooks.
Don't overcook salmon. Properly cooked salmon should have an opaque, warm pink center and you will be able to separate the flesh easily with a sharp knife. The rule of thumb is 10 minutes for 1 inch/2.5 cm of thickness.
To easily remove the skin from salmon: After cooking, with salmon skin side down on the pan, wedge a spatula between the skin and the flesh of the salmon. Then lift the salmon right off, leaving the skin on the pan.
What to serve with teriyaki salmon
Serve the salmon over white rice, cauliflower rice, brown rice, noodles or quinoa.
Here are a few of my favorite side dishes to serve with salmon: Chinese stir-fry green beans, roasted bok choy, easy baby cauliflower, citrus salad or fresh mango salad.
Serve it on a plate with sides or as a teriyaki glazed salmon rice bowl with a few veggies or mango cut into small pieces. An example is pictured above.
Recipe FAQs
Is salmon healthy?
Salmon is one of the healthier choices you can make for dinner. A healthy source of protein and omega-3 fatty acids, Healthline says salmon provides several health benefits and that at least two servings per week can help you meet your nutrient needs and reduce the risk of several diseases.
What is the best type of salmon to buy?
Raw salmon should be moist and not fishy smelling and have no brown or dry spots. Try to get pieces that are the same thickness, so they cook at the same rate. Apparently Wild Alaskan salmon is the healthiest salmon available. I prefer Atlantic salmon to Pacific salmon because it's fattier (but the good kind) which makes it juicier. It's all a matter of taste, though, and what's available where you live. Frozen salmon is just as nutritious as fresh salmon.
How much salmon do I need per serving?
A healthy portion is considered to be 3-4 ounces (85-113g), but most adults will eat 6-8 ounces (170-227g). So it depends on who you are serving!
What is Shaoxing wine?
Shaoxing wine is an essential pantry ingredient in Chinese cooking and restaurants. It's a type of Chinese rice wine that adds that authentic flavor to Chinese dishes. It is darker than clear rice cooking wine and has a deeper flavor. And not the same as rice vinegar. Some good substitutes are dry sherry, fortified wine, or mirin.
How to tell when salmon is cooked
The average cooking time rule-of-thumb for juicy salmon is 10 minutes per inch (2.5cm) of thickness. When pierced with a knife it should separate easily and still be juicy and warm pink inside (not dry and flaky white). It's ready when it is just turning opaque.
The FDA recommends cooking salmon to 145F/62.8C, but in my opinion (and many others), that is way overcooked and results in dry flaky salmon. The best internal temperature with an instant-read thermometer is 130-135F (54.4-57.2C). The temperature will rise a bit with a 5-minute rest.
Shortcuts
Skip the marinating step
Use store-bought teriyaki sauce instead of making your own (if you must!)
Make Ahead
The salmon can be served cool or at room temperature. Make it earlier in the day or a day ahead, cool it then keep it in the fridge in an airtight container. Bring to room temperature before serving.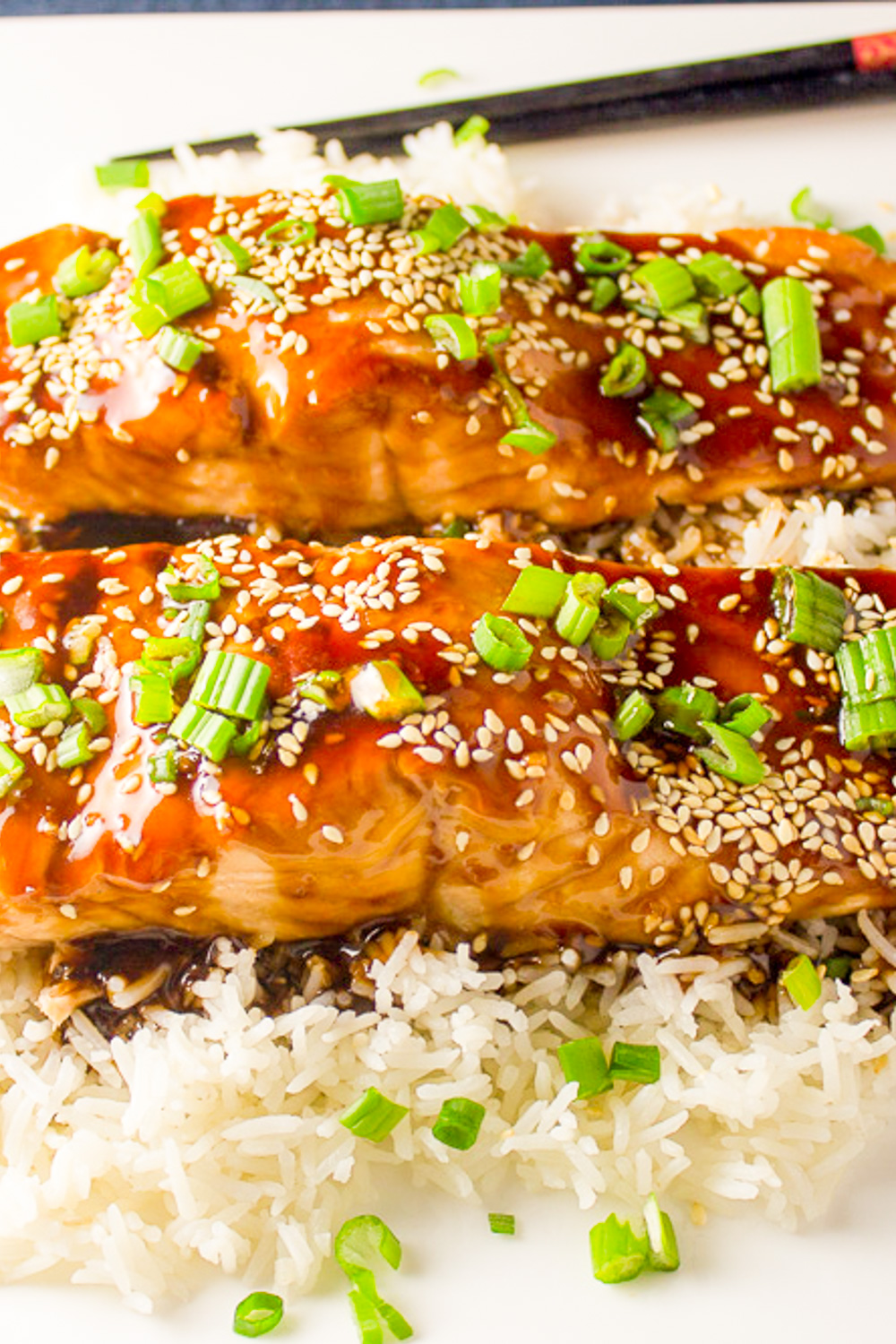 More quick salmon recipes
All these salmon recipes can be made in 20-30 minutes.
If you like this recipe, please leave a 5 star rating 🌟🌟🌟🌟🌟in the recipe card below. And if you REALLY like it, consider a review in the comments. Thanks very much!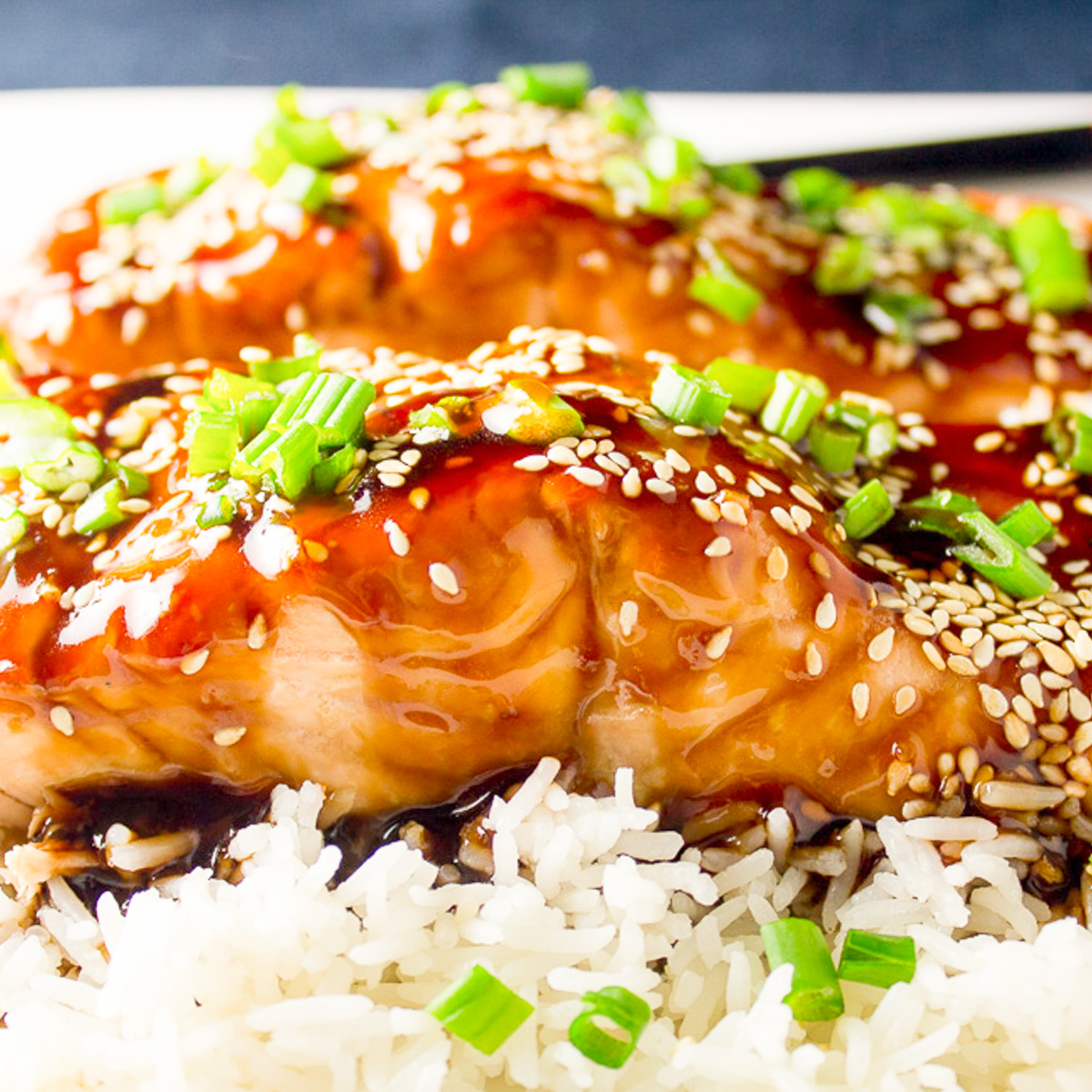 Print Recipe
Pin
Save Recipe
Recipe Saved!
Rate this recipe here
Teriyaki Glazed Salmon (Bake, Grill, Sous Vide)
Transform mild fish into a delicious teriyaki glazed salmon with a sweet, garlicky, gingery umami homemade teriyaki sauce. An elegant meal in just 20 minutes.
Ingredients
1

pound

salmon fillets

2-3 filets or one piece

salt and pepper to taste

1

green onoin, chopped
Teriyaki Marinade/Glaze
1/4

cup

soy sauce

(use low sodium if you have)

1/4

cup

water

3

tablespoon

maple syrup

or honey or brown sugar

1/2

teaspoon

minced garlic

(1 clove)

1/2

teaspoon

grated ginger

1

tablespoon

Chinese wine like Shioxang

or mirin, sherry or fortified wine

pinch of red pepper flakes (optional)

if you like some heat

1

teaspoon

cornstarch (to be added after if marinating)
Garnish options
chopped green onions , sesame seeds. chives, thinly shredded nori seaweed or orange zest.
Instructions
HEAT OVEN to 425F/218C.

MAKE MARINADE/SAUCE: Mix together all marinade/glaze ingredients EXCEPT cornstarch in a microwavable measuring cup or small bowl. You will add the cornstarch later to turn the marinade into a thickened glaze.

MARINATE SALMON: (OPTIONAL) Pour half of marinade in a ziploc bag or shallow bowl. Set aside remaining marinade to make glaze. Add salmon to bag and marinate it for 20-30 minutes. If salmon has skin on one side, let it sit in marinade, flesh side down. You can skip the marinating step if you're in a rush.

BAKE SALMON: Place salmon fillets skin side down on baking sheet lined with parchment paper or aluminum foil sprayed with oil (for easy cleanup). Sprinkle with salt, pepper and green onions. Roast salmon for about 10-12 minutes (rule of thumb is 10 minutes per inch/2.5 cm of thickness) or until salmon is mostly opaque with some warm pink in middle. Note 1 to grill or sous vide.

FINISH DISH: While salmon is baking, whisk cornstarch into remaining marinade. Microwave on high for one minute until glaze has thickened. Stir. Taste and adjust seasonings if needed. If too thick, add a splash of water.

Transfer salmon to serving plate (on top of rice if desired) by slipping spatula between salmon and skin to easily lift salmon off and separate from skin. Pour glaze over salmon. Sprinkle with sesame seeds and green onion. Serve immediately or at room temperature.
Recipe Notes
Instead of baking salmon

, try one of these options:

Sous vide method.  Marinate salmon for 30 minutes with 3 tablespoon glaze, sprinkle of salt and a teaspoon oil. Sous Vide at 130-132F with the following timing:  if salmon is 1/2-1 inch thick, cook minimum 20 minutes (maximum 30 minutes); if salmon is 1-2 inches thick, cook 30-40 minutes.  When finished, remove skin from salmon, pour on glaze and add garnishes.
Grill: heat grill to medium-high heat. Place salmon skin side down and grill for 10-13 minutes (depending on thickness), basting with glaze. 

Shortcuts

Skip the marinating step
Use bottled Teriyaki sauce
Use frozen ginger cubes or ginger paste. 
Use frozen garlic cubes or minced garlic in a jar. 

Make ahead

The salmon can be served cold or at room temperature. 
Make earlier in day or a day ahead, cool it then keep in the fridge. Bring to room temperature before serving. Sprinkle sesame seeds and green onion before serving.
Nutrition values are estimates for a good size portion of salmon.
Nutrition
Calories:
347
kcal
|
Carbohydrates:
23
g
|
Protein:
35
g
|
Fat:
11
g
|
Saturated Fat:
2
g
|
Polyunsaturated Fat:
5
g
|
Monounsaturated Fat:
4
g
|
Cholesterol:
94
mg
|
Sodium:
676
mg
|
Potassium:
953
mg
|
Fiber:
1
g
|
Sugar:
19
g
|
Vitamin A:
184
IU
|
Vitamin C:
2
mg
|
Calcium:
98
mg
|
Iron:
2
mg
Tried this recipe?
We'd love you to rate it above under 'rate this recipe' or in the comment section below. Thanks!