Easy Eggplant Parmesan (30 minutes)
This easy Eggplant Parmesan recipe has no breading, no frying and no pre-salting. It's unfussy, healthy and simply delicious. Good shortcuts cut the time down to 30 minutes. Make it on the grill or in the oven.
Even though it's much lower calorie than the typical Italian-American version, it still tastes like rich comfort food with its blend of melty cheese, basil pesto mixed into tomatoes and soft creamy eggplant.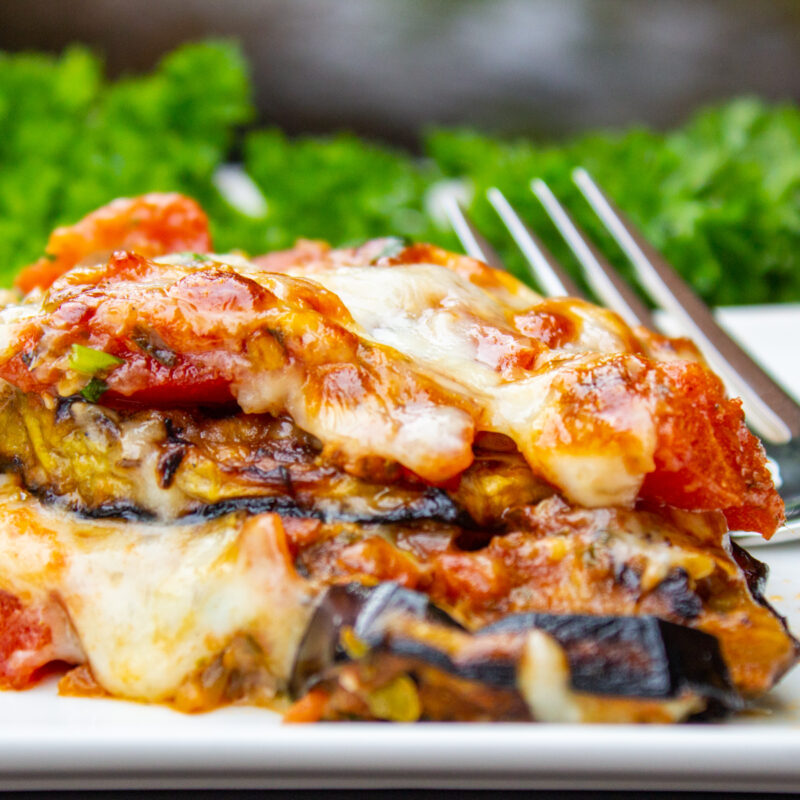 Authentic Italian Eggplant Parmesan actually doesn't use breading so, like our version, it's gluten free. It does, however, fry the eggplant in oil.
This recipe, instead, uses a grill to avoid frying and to cut down on cooking time. Grilling the eggplant takes about 6 minutes instead of 20 minutes in the oven. And using the grill instead of the oven to 'bake' the eggplant Parmesan also reduces cooking time. I did provide oven instructions in the recipe, though, for those who don't have a grill.
All in all, in about 30 minutes you can create a yummy vegetarian lunch, dinner or buffet dish. Serve it with some warm crusty bread, over pasta or with a simple salad.
Tips for Easy Eggplant Parmesan
Eggplant tips
Bigger is not better. Choose 2 medium-small or 1 medium-large eggplant for this recipe. Large mature eggplants tend to be more bitter and have more seeds. Look for an eggplant with a green stem that is firm, smooth and not bruised.
I know some cooks feel they have to pre-salt the eggplant to reduce bitterness, but I find if you buy smaller eggplants, especially in season, bitterness is not a problem.
Tomato Tips
Choose tomatoes that are firm, glossy and heavy for their size – not too soft and no bruises.
If you can't get good tomatoes or they are out of season, buy canned whole tomatoes, preferably San Marzano. Canned tomatoes are picked at the height of the season and make a great substitute. For this recipe use one 28-ounce can which will give you about 2 cups drained tomatoes.
Never refrigerate tomatoes.
I add a pinch of sugar when sautéing the tomatoes to enhance their flavor.
And check out what do do with tomatoes for many other recipe ideas.
Calorie Tips
No breading and frying reduces the calories substantially, but if you want to go even further, just reduce the amount of cheese or use low fat Mozzarella.
I also spray instead of brushing the eggplant slices with oil. I don't suggest drizzling oil as the eggplant will soak it up and you'll end up using much more.
Pesto Tips
Fresh homemade Pesto is amazing and only takes a few minutes to make. Try our Classic Basil Pesto. Don't be afraid to use a store-bought pesto though as I often do for this recipe.
Tailor To Your Taste
When sautéing the tomatoes, try adding olives, capers and/or red chili flakes for heat.
I like a more rustic version that leaves some chunkiness in the tomatoes. You can puree them or even use a marinara sauce instead (another shortcut!).
Add extra fresh chopped basil to the tomato layer or additional pesto when assembling the dish for a stronger basil flavor.
How to make easy eggplant parmesan (no breading, no frying)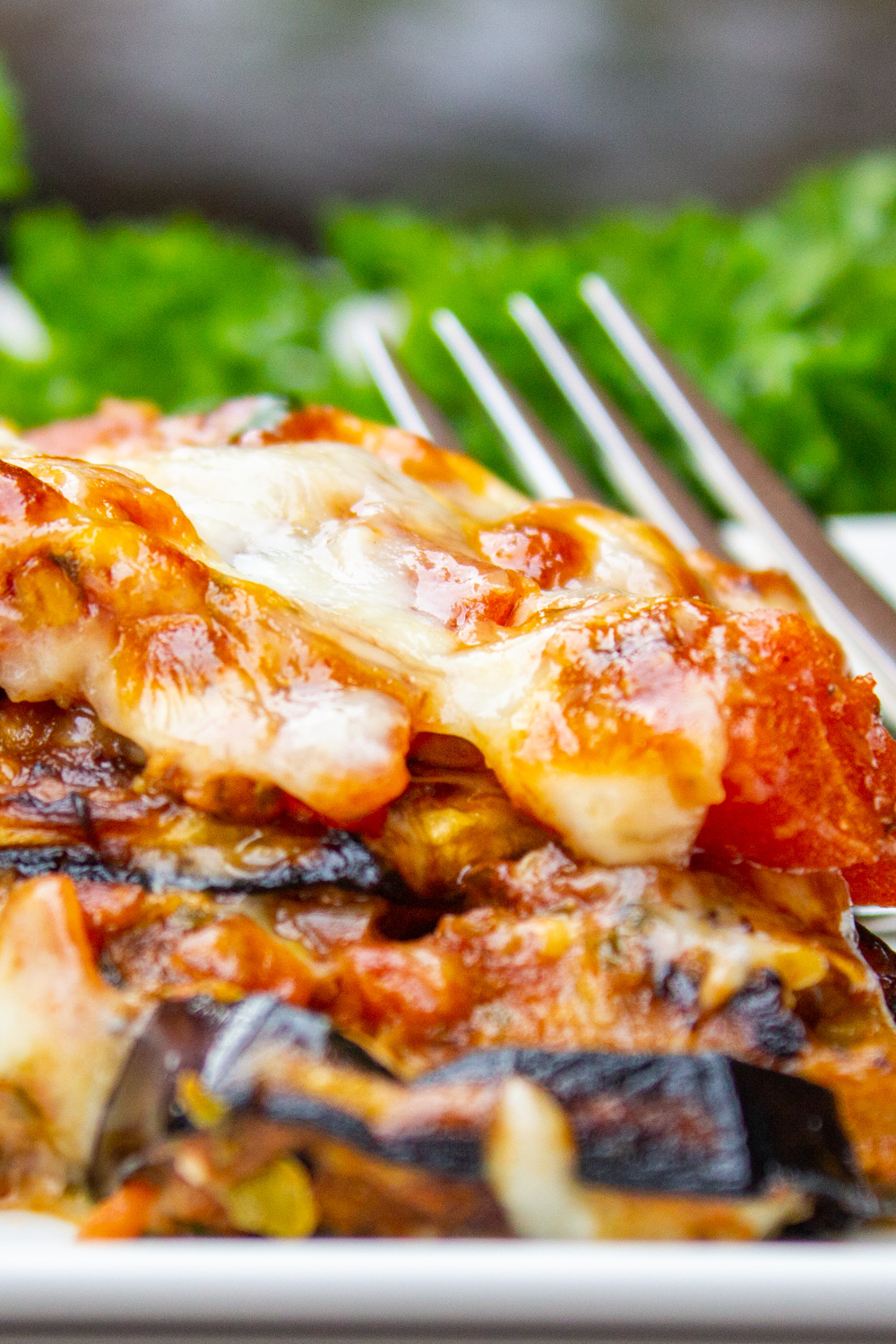 Shortcuts
This recipe uses a number of shortcuts – that don't compromise taste – to cut down on time and effort.
All shortcut options are noted in the recipe.
Make Ahead
Make and assemble the Eggplant Parmesan up to a day ahead. Refrigerate it covered. Grill (or bake) just before serving.
More eggplant recipes
And check out our 25 Meatless Monday dinner ideas.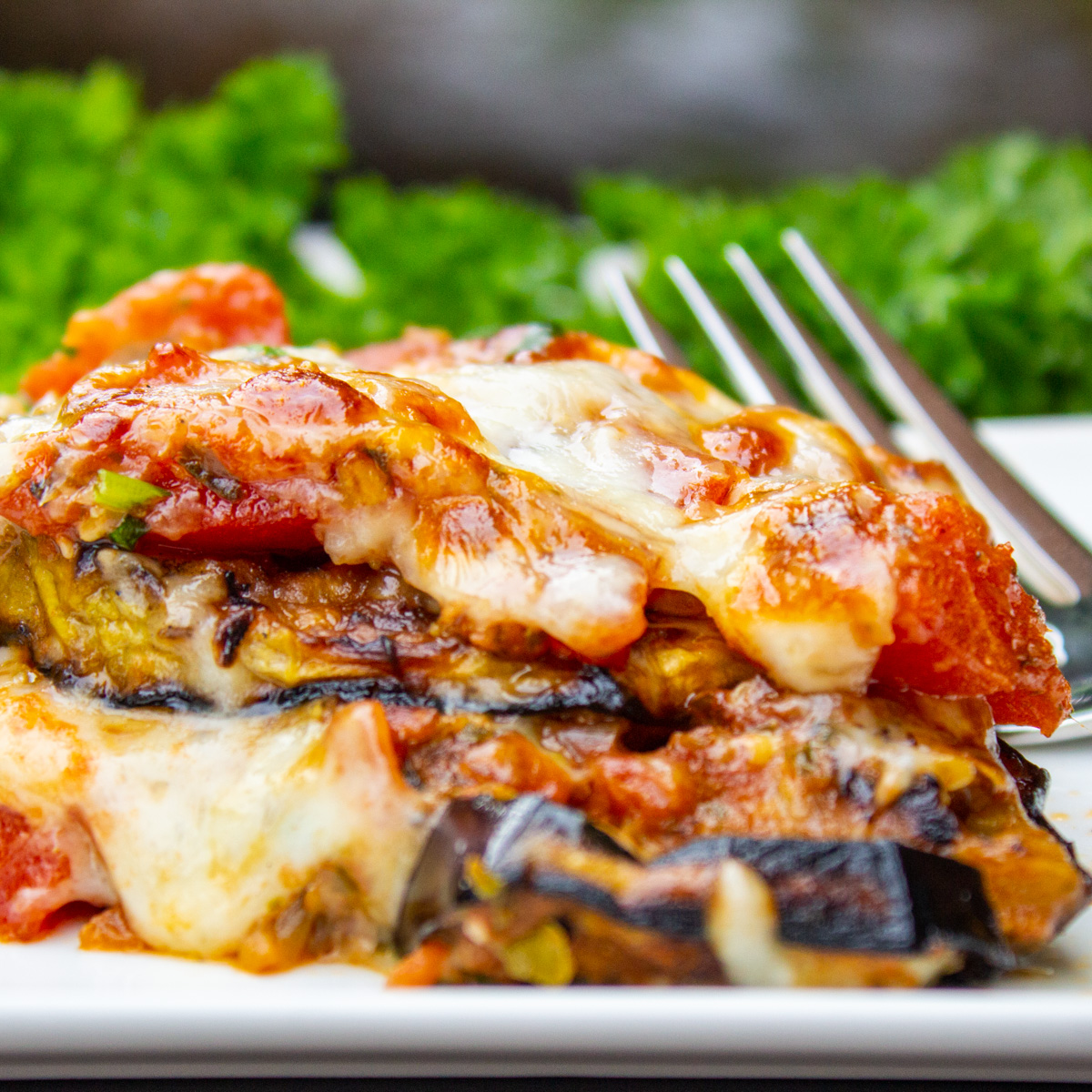 Print Recipe
Pin
Save Recipe
Recipe Saved!
Rate this recipe here
Easy Eggplant Parmesan (30 minutes)
This easy Eggplant Parmesan recipe has no breading, no frying and no pre-salting. It's unfussy, healthy and simply delicious. Good shortcuts cut the time down to 30 minutes.
Ingredients
1 1/2

pounds

eggplant

(1 medium-large or two medium-small ones)

1 1/2

pounds

Plum or Roma tomatoes

(about 4-5 tomatoes) Note 1

3

tablespoon

olive oil, divided

(or 1 tbsp plus oil spray)

1/3

cup

Basil Pesto

Note 2

salt and pepper to taste

pinch

sugar

6

ounces

Mozzarella cheese, thinly sliced

(or 1 1/2 cups shredded)

1/4

cup

freshly grated Parmesan cheese

Garnish: chopped fresh basil

about 2 tbsp
Instructions
HEAT BBQ GRILL to 450-500 F/232-260c. This will be Medium-High heat on larger grills and High on smaller grills. See Note 3 for oven instructions.

GRILL EGGPLANT: Slice off both ends of eggplant. Cut off purple skin if you like, but not necessary. Cut 1/4 inch slices. Brush (don't drizzle) both sides of each slice with olive oil. Alternatively, spray both sides with an oil like Pam. This will use less oil. Lightly sprinkle with salt. Grill for 3 minutes per side or until eggplant is browned and tender.

SAUTE TOMATOES: While eggplant is grilling, roughly chop tomatoes. Heat a sauce pan to medium high and add 1 tablespoon oil. Squeeze some of the juice and seeds from tomatoes, then add to sauce pan. Lightly sprinkle with salt and pepper (about 1/4 tsp). Add a pinch of sugar to enhance the flavor if desired. Cook, stirring occasionally, until most of the liquid evaporates, about 6-8 minutes. Turn off heat and stir in Pesto.

ASSEMBLE EGGPLANT PARMESAN: You will make 2 layers. Line a pan (that can go on a grill) with foil sprayed with oil, or parchment (Note 4) – for easy cleanup. I use a 9 x 13" baking pan (it will only cover the middle – about half – or a 10" cast iron skillet. Layer 1: Place 2 tablespoons tomato mixture on the bottom (covering about 10 inches by 8 inches). Start with a layer of eggplant (use half the slices, slightly overlapping), top with half the tomato mixture, then half the Mozzarella. Layer 2: Repeat for 2nd layer. Sprinkle Parmesan cheese on top.

GRILL EGGPLANT PARMESAN: Place pan on grill. Close lid. l lower the heat to low or medium on the grill under the pan. Grill, uncovered for 10-12 minutes until cheese is bubbly and starting to brown on top. Sprinkle with chopped basil. Let sit 5 minutes to set, then serve immediately.
Recipe Notes
To use canned tomatoes instead of fresh: Drain a 28 oz can of whole tomatoes (use San Marzano if possible). Squeeze tomatoes over sink or bowl to get rid of some of the water and seeds. Sauté as per recipe instructions. 
To make homemade Pesto: Use a store bought basil pesto or make our 5 minute Classic Basil Pesto: Process in food processor until smooth: 1 cup packed Basil leaves, 1/4 grated Parmesan cheese, 2 tablespoons pine nuts or walnuts, 1 teaspoon minced garlic and 1/4 olive oil. (makes 1/2 cup).
To bake Eggplant Parmesan (instead of grilling):

Bake eggplant slices

: Place oiled/sprayed eggplant slices on a large pan and bake them for 20 minutes in a 450F oven, turning once half way through. 

Bake assembled Eggplant Parmesan

: After assembling, bake uncovered in oven heated to 450F for 15 minutes or until cheese is melted and started to brown. Let sit for 5 minutes to set. 

Parchment Paper: Most is good up to temperatures of 425-450F, but Cooks Illustrated use it at temperatures up to 500F. Don't let it overhang too much over the pan (it it turns brown on edges, though, don't worry).
Make Ahead: Make and assemble the Eggplant Parmesan ahead. This can be done a day ahead and refrigerated.  Grill (or bake) just before serving. 
Nutrition values contain full fat cheese. You can reduce fat and calories by using lower fat cheeses. 
Nutrition
Calories:
400
kcal
|
Carbohydrates:
19
g
|
Protein:
16
g
|
Fat:
30
g
|
Saturated Fat:
10
g
|
Cholesterol:
41
mg
|
Sodium:
568
mg
|
Potassium:
825
mg
|
Fiber:
7
g
|
Sugar:
12
g
|
Vitamin A:
2214
IU
|
Vitamin C:
27
mg
|
Calcium:
350
mg
|
Iron:
1
mg
Tried this recipe?
We'd love you to rate it above under 'rate this recipe' or in the comment section below. Thanks!