25 Meatless Monday Dinner Ideas (2022)
Meatless Monday dinner ideas are all about eating less meat. We're sharing some delicious vegetarian dinner recipes for the entire family to get the juices flowing.
Attention meat lovers: We know it can be hard to come up with ideas (beyond tofu). If you check out a few of these recipes, you might just find yourself adding one or two of these meatless Monday ideas to your weekly meal plan 🙂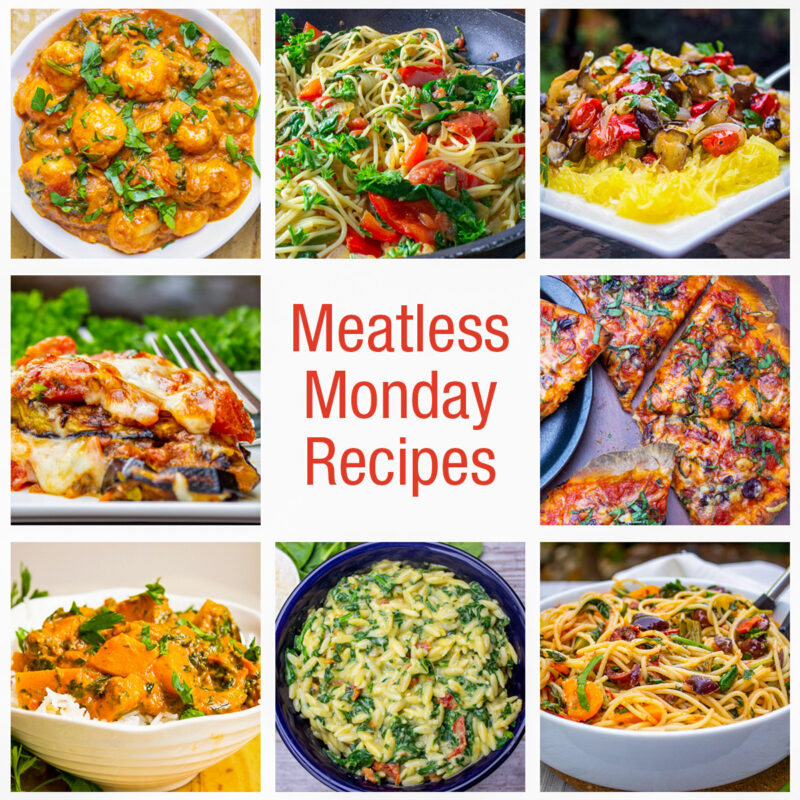 Like many others, I am working on eating less meat. The other kook, Jenna, eats meatless meals every day because she's a vegetarian since 8 years old. Here's how I felt about that back in the day 🤦.
All the meatless Monday dinner ideas below are vegetarian dinners of course, but many are also vegan (which we've noted).
What does Meatless Monday mean?
Meatless Monday, according to Wikipedia, is an international movement that encourages people to reduce their meat consumption for their own personal health and the health of the planet.
It was founded in 2003 and follows the nutrition guidelines developed by the USDA.
Needless to say, 'Monday' is the international campaign pitch. You can certainly eat delicious recipes without meat any day of the week!
Reducing vs. eliminating meat consumption
If you are interested in eating less meat, then you may be surprised that you are part of a movement called Reducetarianism. Apparently, 30 – 50% of people are interested in cutting down on meat.
Reducetarians purposefully and gradually reduce their consumption of meat. One clever suggestion, I thought, was to treat meat as a side dish. Here is the Reducetarianism beginner's guide to eating less meat.
Flexitarians eat mostly vegetarian recipes or plant-based meals and the occasional meat, fish and poultry. They are sometimes called semi-vegetarians.
Pescatarians eat a vegetarian diet plus fish (no poultry or meat).
Why eat less meat?
Benefits to the Environment
"If the average American cut just a quarter pound of beef a week from their diet, about one hamburger, it would be the equivalent of taking 10 million cars off the road for a year." -Sujatha Bergen, Natural Resoureces Defence Council Health Campaigns Director (in Huffington Post article)
The Food and Agriculture Organization of the United Nations says meat and dairy are big contributors to climate change, with livestock production accounting for about 14.5 % of the greenhouse gases that humans emit worldwide each year.
Brian Kateman, author and founder of the Reducetarian Movement, believes that cutting back on meat is more effective than cutting out meat completely. He says that even a 10% reduction can have big effects on personal health, carbon footprint, the lives of 70 billion farm animals and global warming.
Benefits to Your Health
The Mayo Clinic agrees with cutting back on meat rather than cutting it out cold turkey. It suggests trying 1-2 meatless meals a week to start. And when you do eat meat, cut back on portions to about 3 ounces (the size of a deck of cards). The Clinic and most public health researchers believe that reducing meat, particularly red meat, has an impact on lowering the risk of heart disease and chronic conditions like stroke or diabetes.
Quick Easy Meatless Monday Recipes (30 minutes or less)
Meatless Monday Meals (35-55 minutes)
Vegetarian Dinners for Meat Lovers (with plant based meat)
Meal-in-a-bowl Vegan Soup Recipes