I know, I know.  A mac and cheese casserole is old fashion and not too original, but who doesn't crave it once in awhile? Give in. This Spinach Mac and Cheese is creamy, cheesy delicious comfort food.
In the old days, I used to make mac and cheese with Kraft cheese slices (pretty good) and now I've graduated to real cheese.  I also add cooked spinach which doesn't really change the taste much ( helpful with kids?), but adds good nutritional value.
There are tons of Mac and Cheese recipes out there. This is s a good one and fairly simple. There are so many variations on this recipe. I've listed a bunch below. Unfortunately, my husband is a purist, so the only one I get away with is adding some sauteed onions.
I serve spinach mac and cheese with baked beans, a gift to my husband who thinks this is the only way to eat a mac and cheese casserole. If you have an instant pot, these baked beans are amazing. Another side that works well is a marinated tomato salad.
Tailor To Your Taste
Change the cheeses for a different taste e.g. monterey, blue cheese
Use any other short pasta such as fusilli or rigatoni
Add 2 tablespoons of pesto
Saute a cup of finely chopped onion in butter for a few minutes before adding the flour. (I use this one all the time).
Add 1/2 cup chopped sundried tomatoes or 1 cup chopped cooked ham
Substitute broccoli florets for the spinach
Lighten up the dish with 2% milk and low-fat cheese
Jazz it Up
Mix a 1/4 cup panko or bread crumbs with a tablespoon of butter and 2 chopped green onions.  sprinkle over the top before baking.
Shortcuts
I save several steps and time by:
adding the spinach to the noodles while boiling (instead of cooking separately),
using pre-shredded cheese and
lining the pan with parchment paper (zero clean up! another gift to my husband).
Make Ahead Spinach Mac and Cheese
The entire casserole can be completed up until the point of baking. Cover it and keep in the fridge for up to two days.  Bake it uncovered when needed at 375F for 25 minutes.
add spinach in last 3 minutes of boiling macaroni
make cheese sauce
combine sauce, macaroni, spinach
scoop into casserole lined with parchment for easy cleanup
sprinkle with additional cheese
bake mac and cheese casserole


Spinach Mac and Cheese
I know, I know.  A mac and cheese casserole is old fashion and not too original, but who doesn't crave it once in awhile? Give in. This Spinach Mac and Cheese is creamy, cheesy delicious comfort food.
Ingredients
8

oz

elbow macaroni - 2 cups

I use 1/4-1/2 cup less to make the mac and cheese more saucy)

2

cups

frozen chopped spinach (or 4-5 cups fresh baby spinach, roughly chopped)

3

tbsp

butter

2

tbsp

flour

2

cups

whole milk (or 2% if preferred)

(use 2% if preferred or any combination of milk - any type - and cream)

1/2

tsp

salt or more, to taste

(depends on saltiness of cheese)

1

tsp

Dijon mustard (optional)

prepared mustard is ok too

3

cups

shredded cheese. I use half American cheese (or gruyere) and half sharp cheddar cheese

(I/2 cup will be used for topping)
Instructions
HEAT OVEN TO 400F. Line 2 quart casserole with parchment paper (for easy cleanup) or spray casserole dish with oil.

BOIL MACARONI AND SPINACH: Bring salted water to a boil in a large saucepan and add macaroni. Cook as per package directions. 3 minutes before macaroni is cooked, add frozen or fresh chopped spinach. This will slow the boil, so increase heat to medium high to finish cooking pasta to al dente which is what you want. Drain in colander and set aside.

MAKE CHEESE SAUCE: Heat the butter in the saucepan on medium heat. Add the flour and whisk to blend. Cook for 2 minutes. Add the milk. Whisk to blend, Add the salt and mustard (if using). Cook for about 5-7 minutes until thickened. Turn off the heat. Mix in 2 1/2 cups cheese, reserving remaining 1/2 cup of cheddar for topping.

COMBINE SAUCE AND MACARONI: Add cooked macaroni and spinach to cheese sauce. Mix to combine well. Transfer to 2 quart casserole. Sprinkle remaining 1/2 cup shredded cheese casserole. Note 1 for make ahead.

BAKE AND SERVE: Bake for 15-20 minutes until cheese is golden brown on top. Serve with slaw (or our fave), baked beans.
Notes
Make Ahead: Before baking, you can cover the casserole and refrigerate for up to 2 days. Then bake when needed at 375F for 25 minutes.
Tried this recipe?
We'd love you to rate it above under 'rate this recipe' or in the comment section below. Thanks!
Here's two twists on a mac and cheese casserole you might like:
Quinoa Mac and Cheese
Looking for a healthier but equally delicious version of Mac and Cheese? Then Quinoa Mac and Cheese loaded with veggies is it! A perfect vegetarian weeknight meal.
Get the recipe
Asian-Inspired Mac 'N' Cheese Recipe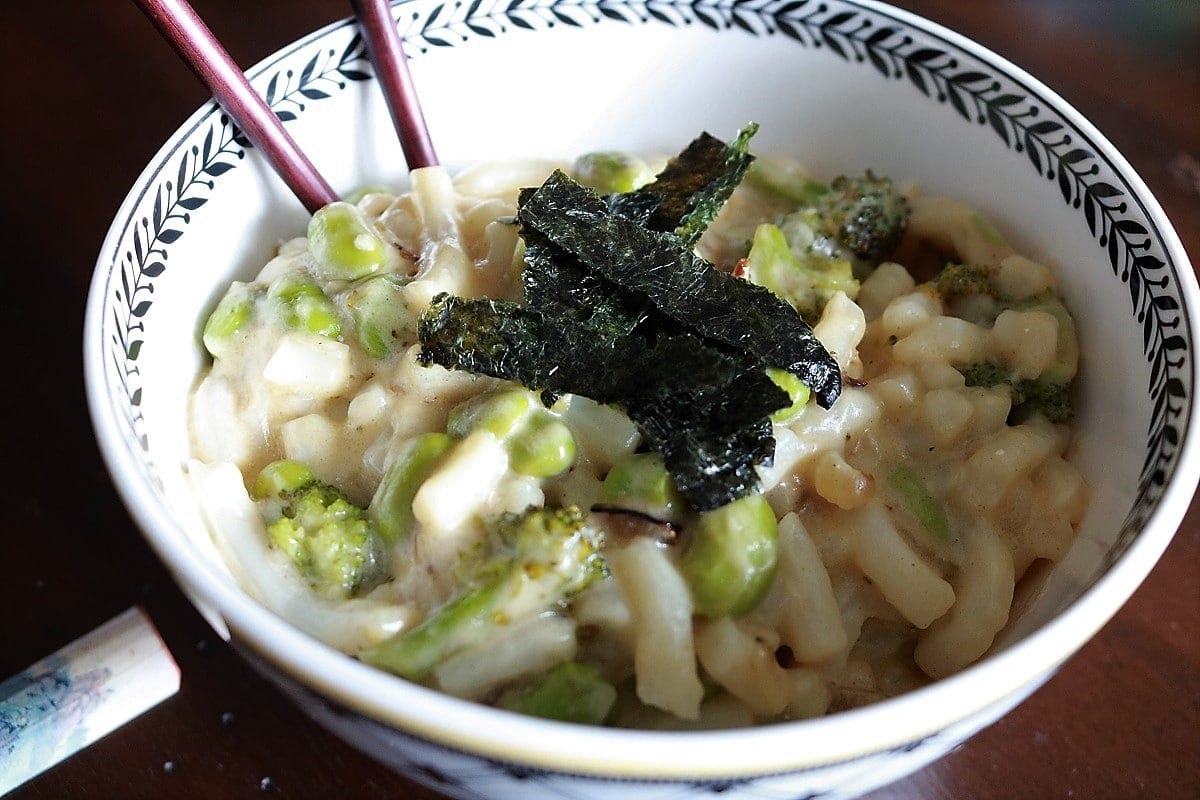 I love the fusion of cultures in Toronto that spills onto the plate. Our Asian-Inspired Mac 'N' Cheese is a twist on the tried-and-true favorite, adding Udon noodles, edamame and seaweed garnish for a delicious Asian flare.
Get the recipe