This spicy cheesy Tomato Spinach Pasta is a quick and easy vegetarian meal. Melty cheese, tangy olives and healthy spinach. A meal in a skillet.
Have only 20 minutes or so to put dinner on the table?  Cutting back on meat meals for the week?  No problem.  This pasta recipe fits the bill.  It has great flavor combined with the comfort food factor, namely melted cheesy pasta.  I upgrade the health profile with extra tomatoes, spinach and high-fiber pasta.The briny olives and chili flakes give it a nice kick, but feel free to leave one or both out if you're not a fan.
I use grated Mozzarella cheese from a package.  Needless to say, fresh small mozzarella balls (Bocconcini) would be even better. Apart from boiling the pasta, this whole dish is prepared on the stove in one skillet in about 20 minutes total, assuming you have a homemade or bottled prepared tomato sauce on hand. Hard to beat that for a quick homemade meal.
And don't worry about leftovers if you have any.  The pasta heats up beautifully in the microwave over the next few days. Serve with a nice hot crusty bread, garlic bread or a simple fig salad, followed by a fresh no-bake Berry Crumble .
Tailor To Your Taste
Use another kind of pasta such as Penne.
Add cooked sausage or chicken chunks for a bulkier meat meal.
Leave out the olives.
Add 1/4 cup chopped fresh basil.
Shortcuts for Tomato Spinach Pasta
Leave out the tomatoes and the extra step of sauteing them if you want (I like the extra chunkiness in the sauce so I add them).
Use garlic from the jar or frozen cubes.






Print Recipe
Pin
Rate this recipe here
Tomato Spinach Pasta
This spicy cheesy Tomato Spinach Pasta is a quick and easy vegetarian meal. Melty cheese, tangy olives and healthy spinach. A meal in a skillet.
Ingredients
1.5

cup

dry fusilli (or other) pasta

2

tsp

olive oil

2

small tomatoes, chopped

(or 4-5 cocktail)

2

tsp

garlic, minced

(2 cloves)

1 1/2

cup

tomato sauce

(we use White Linen from Costco)

5

cup

fresh baby spinach

(or 1 cup thawed and well-drained frozen spinach)

1/3

cup

chopped black olives

1/4

tsp

chili flakes (or more to taste)

1

cup

grated Mozzarella cheese

(or balls, cubed)

1/2

cup

grated Parmesan cheese

salt and pepper to taste
Instructions
BOIL PASTA: Boil pasta in salted water according to package directions. Drain and set aside.

MAKE SAUCE: Heat oil in a skillet to medium high. Add chopped tomatoes. Saute for 3-4 minutes. Add garlic and olives and saute for another minute. Add tomato sauce, then spinach and stir until wilted and heated through, about 2 -3 minutes. Stir in chili flakes.

FINISH PASTA: Add Mozzarella and Parmesan cheeses and stir until melted (or leave Parmesan to pass on the side). Add salt and pepper if needed (olives are salty so may not be needed). Serve with warm crusty bread and butter or garlic bread. This pasta is also great reheated the next day.
Nutrition
Nutrition Facts
Tomato Spinach Pasta
Amount Per Serving
Calories 470
* Percent Daily Values are based on a 2000 calorie diet.
Tried this recipe?
We'd love you to rate it above under 'rate this recipe' or in the comment section below. Thanks!
Other pasta meals you might like:
Mediterranean Pasta
This light Mediterranean Pasta is inspired by Mediterranean flavors of garlic, olives, lemon, basil and tomatoes. It's a great weeknight vegetarian meal in under 30 minutes. 
Get the recipe
Fresh Tomato Pasta with Lemon and Olives
Fresh tomato pasta with lemon and olives is a beautiful blend of sweet summer-ripe tomatoes, lemon-basil zing, salty olives, capers and Parmesan.
Get the recipe
Fresh Vegetable Pasta
This is one of my favorite non-meat meals. Its a light, healthy, zesty, fresh vegetable pasta dish and perfect for spring (or any time for that matter).
Get the recipe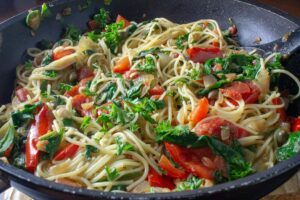 Mushroom Spinach Pasta
This versatile mushroom spinach pasta dish makes for a quick, vegetarian weeknight meal. Creamy, cheesy satisfaction mixed with hearty mushrooms and healthy spinach. 
Get the recipe
Creamy Vegetable Pasta
Jazz up your same-old pasta and tomato meal with this creamy vegetable pasta. It's loaded with veggies and ricotta and ready in under 30 minutes. A great and quick weeknight meal. 
Get the recipe